by Texas Homesteader~
This sweetened sugared popcorn requires only 4 ingredients – popped popcorn, butter, sugar and water. And it comes together super fast too. Especially nice for a movie night or a special snack.
Time's running out! Looking for a quick homemade gift idea? This Sweetened Popcorn can be made into a sweet Christmas Trail Mix. It made for a delicious last-minute Christmas gift idea too.
Although we typically gift our grands Experience Gifts these days, we still wanted something cute to present to them on Christmas day. So we decided to make an easy yet delicious edible gift for them.
I started with this sweetened popcorn treat. It was beyond easy to make. Seriously, as in add 3 ingredients, boil 4 minutes and pour onto popcorn easy! Y'all aren't gonna believe this…
Prepare The Popcorn
First I popped 1/2 cup popcorn kernels. That netted me about 10 cups of popped popcorn.
Then I split the popcorn between two large rimmed baking sheets and spread it out into a single layer on each baking sheet. I did this so there would be plenty of room for coating the popcorn. But you can just use a large bowl if you like.
Be sure to remove any unpopped kernels at this time.
Make The Syrup For Sugared Popcorn
Now it's time to make the sweetener that coats and sweetens the popcorn. And I couldn't believe how easily this part came together.
To add a sweet buttery sugar coating to my popped popcorn I made a syrup in a medium-sized pot:
Melt 2 tablespoons of butter

1/4 cup water

1 cup of sugar
Turn the heat to medium high and while stirring constantly allow the mixture to come to a rolling boil.
Which, you know, happens pretty fast when you're boiling something with this much sugar!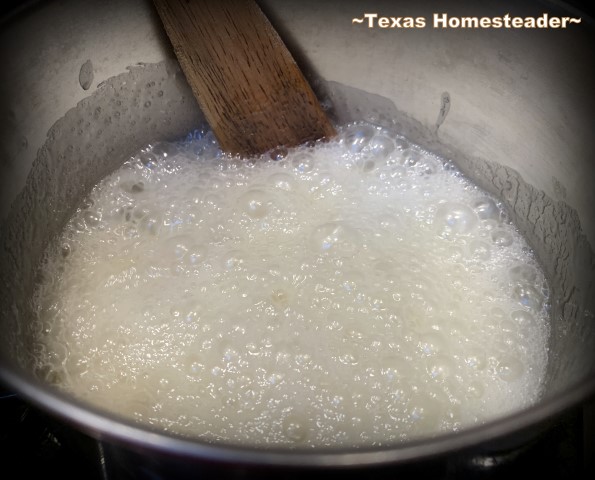 Then I boiled it until it hit the soft ball stage, which is around 235 degrees. It only took about 4 minutes of a rolling boil to hit that temperature.
Coat The Popcorn With Sweetened Syrup
Now I quickly drizzled half of the syrup on each pan of popcorn. The sugar mixture will thicken as it cools, so it's best to work quickly here.
Using two spatulas I quickly mixed & turned the popcorn in each pan so all of the popcorn would be coated.
You don't need to do anything further. The syrup dries and slightly hardens on its own. The popcorn isn't hard-crunchy nor is it sticky. But it is lightly tacky.
Optional Oven Drying For Sugared Popcorn
Since I was making my sugared popcorn into a trial mix I decided to dry the syrup just a little further.
So I stuck the pans of sweetened popcorn in a cold oven and turned the heat to 350 degrees F. The timer was set for 5 minutes.
The popcorn was heated gently as the oven slowly warmed up.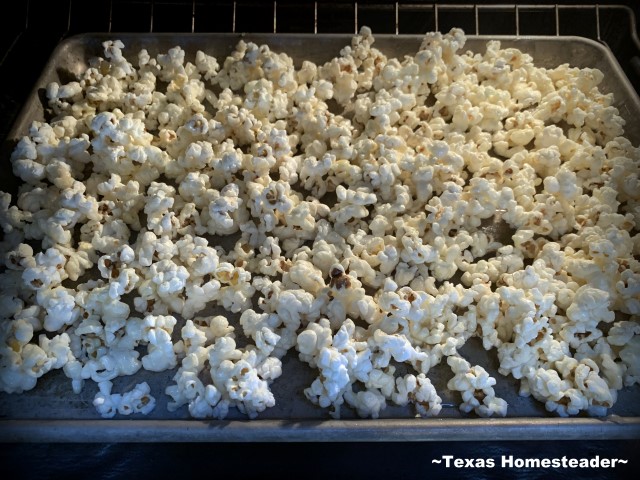 When the timer went off I turned off the heat & set the timer for five more minutes and allowed the popcorn to rest in the residual heat.
This assures that the popcorn doesn't scorch and the sugar coating is dried. I feel it also helps assure that the popcorn stays crispier.
Making Sugared Popcorn Into Christmas Trail Mix
Although sweetened popcorn can be enjoyed just as it is, I added other delights to it to make it into a fun, colorful, sweet Christmas trail mix of sorts.
When deciding what to add to make a trail mix, the world's your oyster here. I was looking for sweet & salty combinations.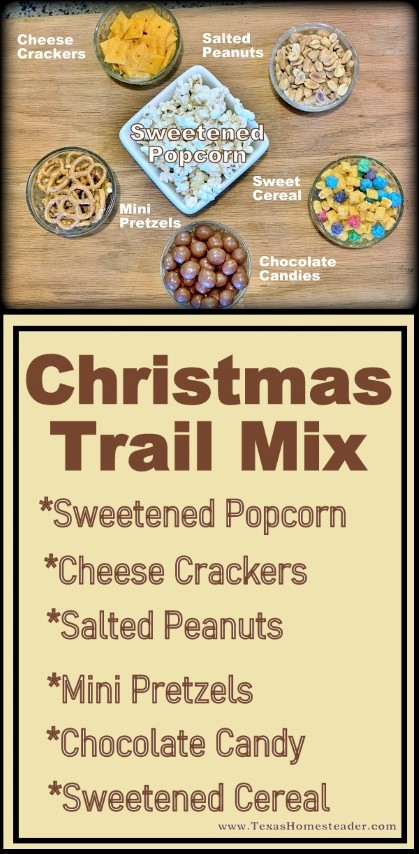 Additions To Make Sweetened Popcorn Into Christmas Trail Mix
To make our sweetened popcorn into a Christmas trail mix of sorts I stirred in:
Salted peanuts

Small cheese crackers

Mini pretzels

Whopper's chocolate candies

Christmas-Colored M&M's (I used Cap'n Crunch cereal instead because M&M's were all sold out in our small-town stores)
I simply gently mixed the additions into my cooled sweetened popcorn. I love the bright colors of this Christmas Trail Mix!
When my trail mix was complete I divided it equally into the Snowman Treat jars I made for our grandkids using large empty peanut butter jars.
Wondering how much trail-mix additions to add? Well filling five large 64-oz jars took this much:
10-11 cups popped popcorn
One 7-oz box cheese crackers
One 7.5 oz jar salted peanuts
One single-serve 3.9 oz bag Cap'n Crunch cereal with Crunch Berries
Two 5-oz boxes chocolate whoppers
One 12-oz bag mini pretzels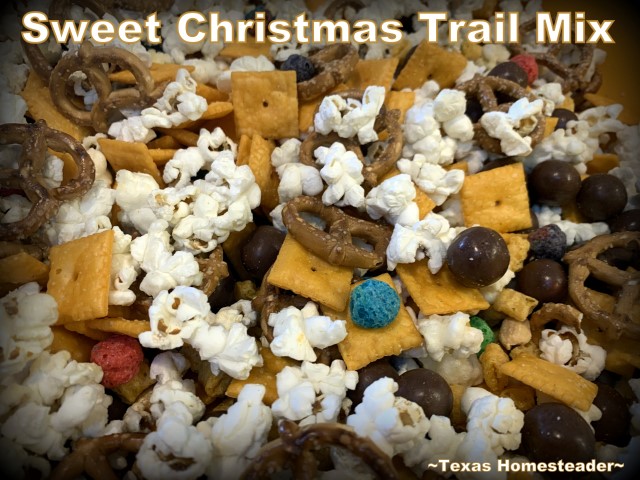 It worked wonderfully for us. If you want to make your sweetened popcorn into a Christmas trail mix, add in any of your own faves.
Maybe add chocolate chips or pecan halves. Perhaps toss in small unwrapped Rolos or mini peanut butter cups. Whatever you like!
Quick Cleanup Saves Time
This gift came together very quickly and it was super simple to make. But I'll warn ya, there'll probably be a sugary mess to clean up afterward. You know, the big baking pans, the pot you make your syrup in, etc.
I found that the quicker you can get to it, the easier it'll be to wash away the dried syrup. Once it dries out even more it takes a little more scrubbing. So I get right to it and clean up quickly afterwards.
But I'm super duper pleased with this portion of our grandkid's gifts. It was very easy to make and mix, and offered lots of eye appeal & delicious snacking for them.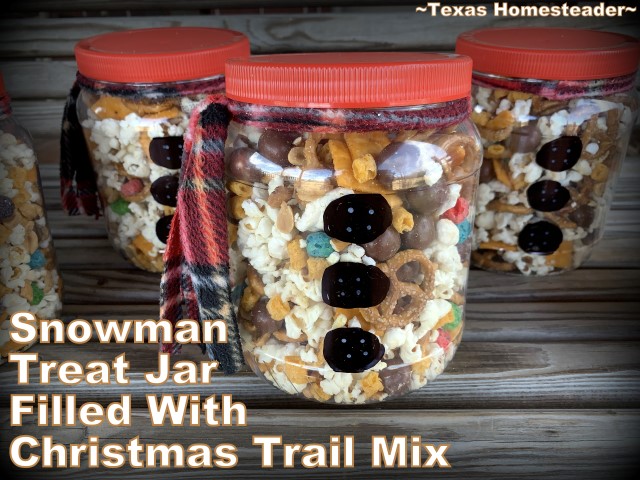 I'm sharing my recipe below as I made it. It makes an inexpensive quick & easy sweet treat.
If you decide to make fun additions to your sweetened popcorn to turn it into a sweet trail mix treat, add whatever you like most!
Did you make this sweetened popcorn? Please rate the recipe in your comment below!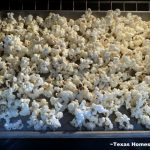 Sweetened Popcorn
This sweetened popcorn treat is light & crispy. I used a cup of sugar for my sweet coating, but you can bring it down to 3/4 cup to make it less sweet. Or use half granulated & half brown sugar if you like. So many options! #TexasHomesteader
Ingredients
Ingredients
10

cups

Popped popcorn

(I popped about 1/2 cup kernels for 10 cups)
Sugared Coating:
1

Cup

Sugar

1/4

Cup

Water

2

Tblsp

Butter

1/4

tsp

vanilla extract
Instructions
Instructions:
Prepare your popped popcorn by first sorting out any unpopped kernels. Then divide popcorn on two large trays, which will make it easier to turn & coat your popcorn. (can use a large bowl instead if needed).

Make sugared coating by boiling 1/4 cup water with 2 tablespoons of butter and 1 cup sugar. Boil until the mixture reaches soft ball stage, or about 235 degrees. (about 4 minutes of rolling boil)

Remove from heat and stir in 1/4 teaspoon vanilla extract until fully combined. Then quickly pour sugared coating over popcorn.

Quickly but gently stir to mix and coat each piece of popcorn.

OPTIONAL: If desired you can further dry the coating by spreading the coated popcorn on a baking tray and placing it into a cold oven.

Set temp to 350 degrees and set timer to 5 minutes. This gradual warming will help dry the sugared coating and keep the popcorn crispy.

After 5 minutes are up, turn oven off and allow to stay in warmed oven for additional 5 minutes.

Remove from oven, stir and enjoy!
~TxH~
This post categorized in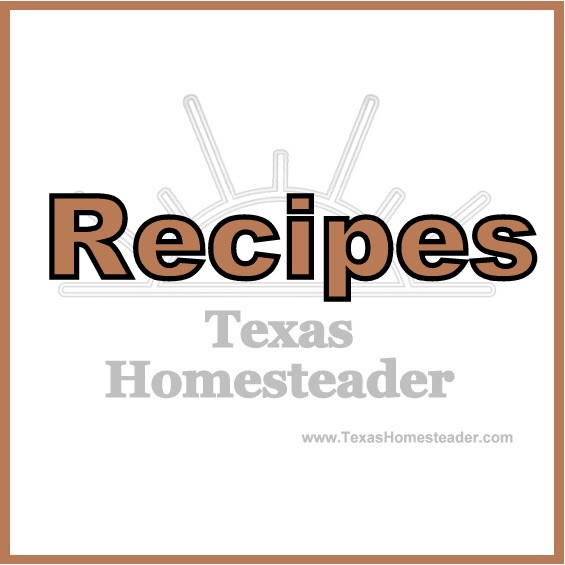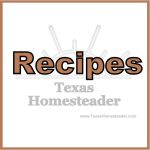 Snacks We Love
Other Christmas Posts You Might Like:
Gift Ideas
Eco-Friendly Gift Ideas: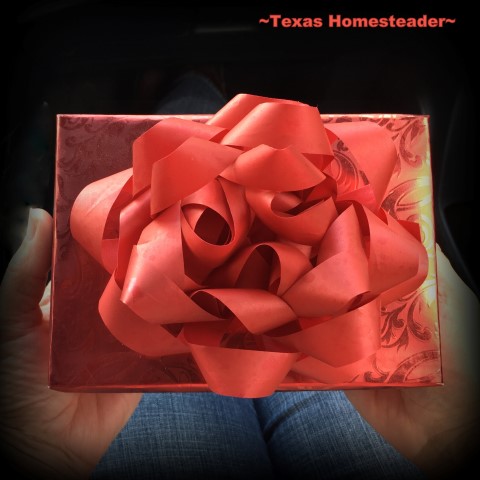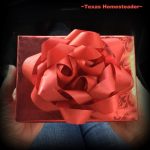 Low-Waste Gift Wrapping & Presentation

C'mon by & sit a spell! Come hang out at our Facebook Page . It's like sitting in a front porch rocker with a glass of cold iced tea. There are lots of good folks sharing! And you can also follow along on Pinterest, Instagram & Twitter
If you'd like to receive an email when a new blog post goes live,
subscribe to our Blog!