by Texas Homesteader ~
Do you need a small gift box? No problem! Did you know you can take last year's beautiful Christmas cards and quickly turn them into cute gift boxes? It's simple and it's zero-waste. Come see how easy it is.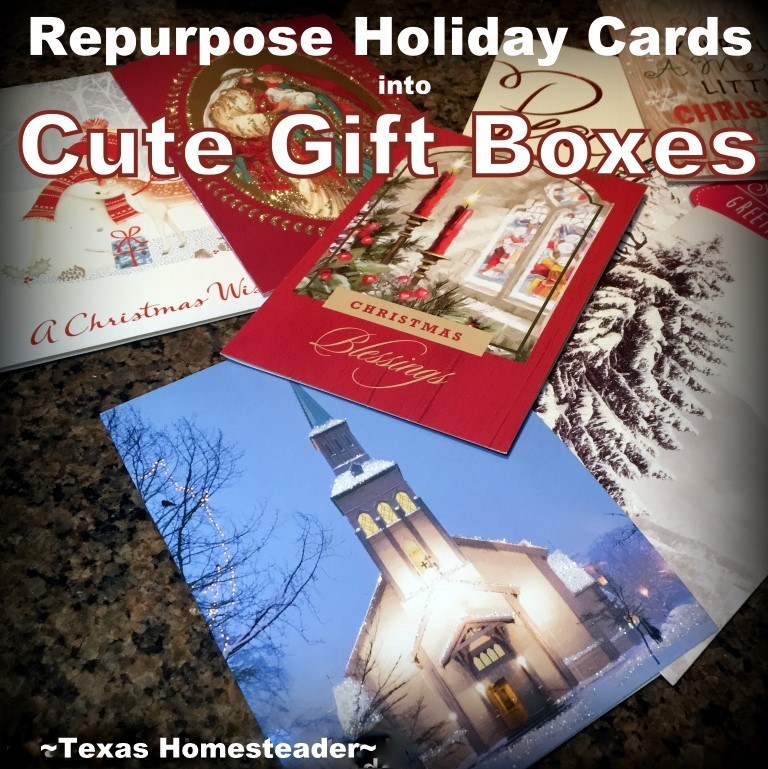 Those beautiful holiday cards! They all come in for weeks and are displayed for their beauty until after the holidays are over. Then what?
Whelp, I'm not throwing them away. These days I'm turning them into small gift boxes. Now isn't that the ultimate repurposing in action?
Repurposing powers: UNITE!
Check out how easy this is, y'all…
Repurposing Last Year's Christmas Cards
I take one of those holiday cards with a cute design on front. It's best to use one that has at least a semi-centered design.
Then I cut the front of the card from the back, leaving me two equal halves of the same card. I'll focus on the front of the card with that beautiful design first.
Front Of The Card Is Top Of The Gift Box
First I'll create the top of my gift box using the front of that pretty greeting card I've just removed.
I flip it over to the blank side & lay a ruler diagonally from corner to corner. With a pencil I make a light mark about the middle of the card. (mark it lightly, you'll be erasing it later)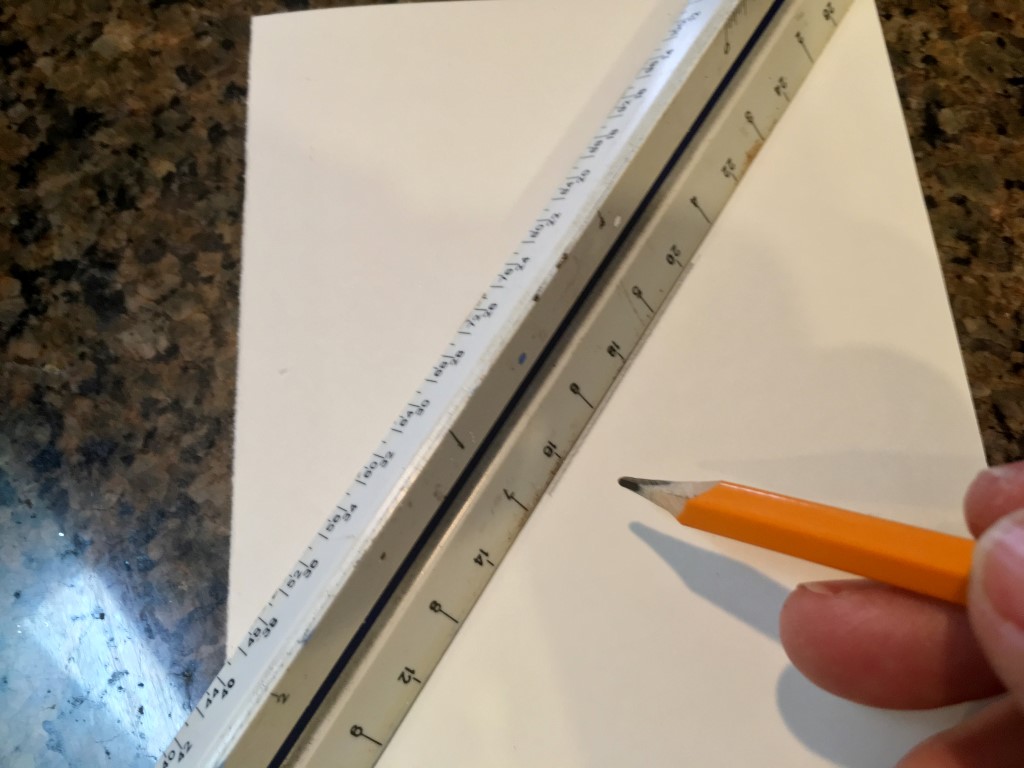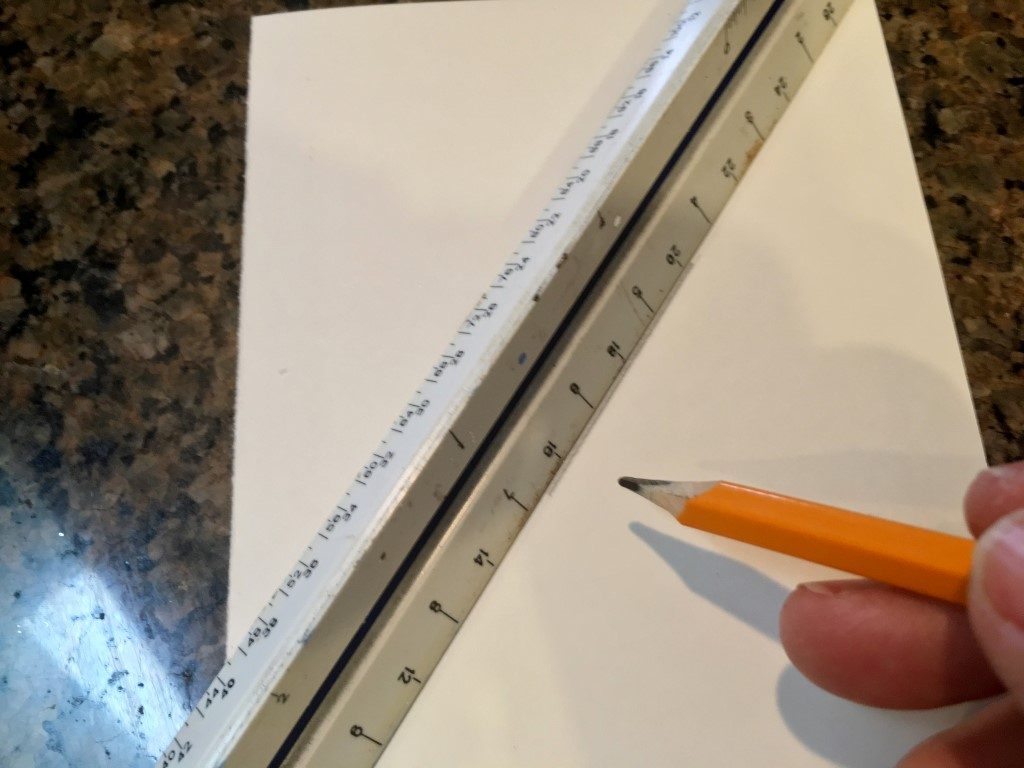 Then I repeat on the other side. What I'm left with is a penciled-in 'X' in the exact middle of the card.
Now I fold the short end to the middle of the X where the lines intersect and press to crease.
I repeat that with the other short end, and then with each long end too.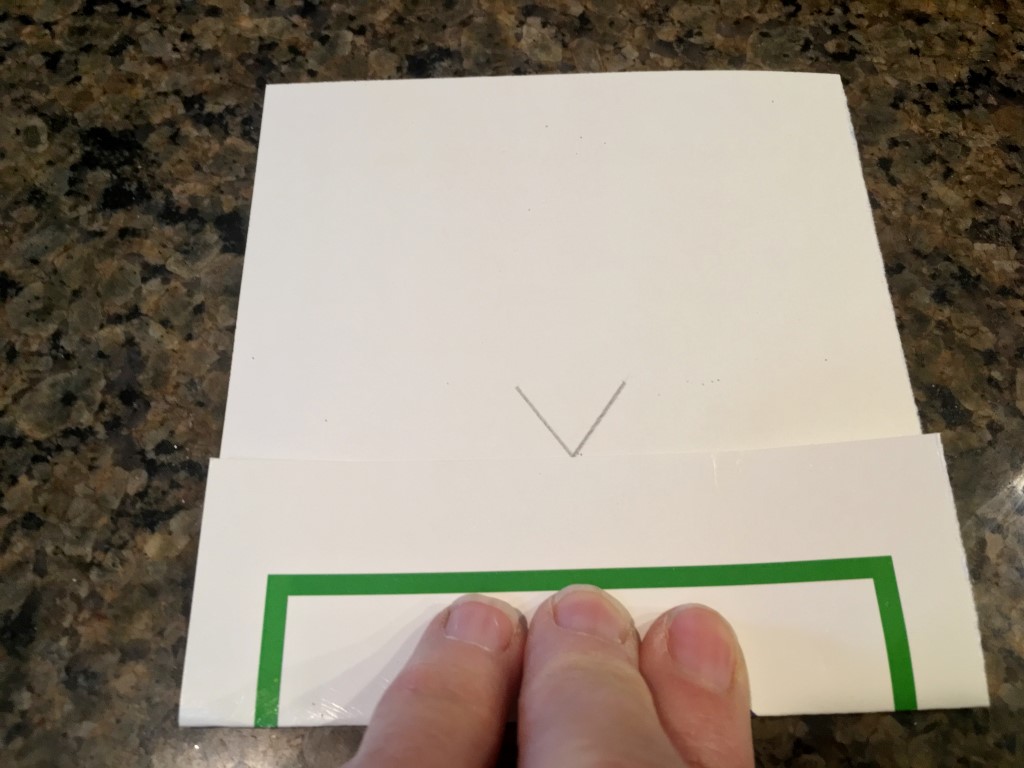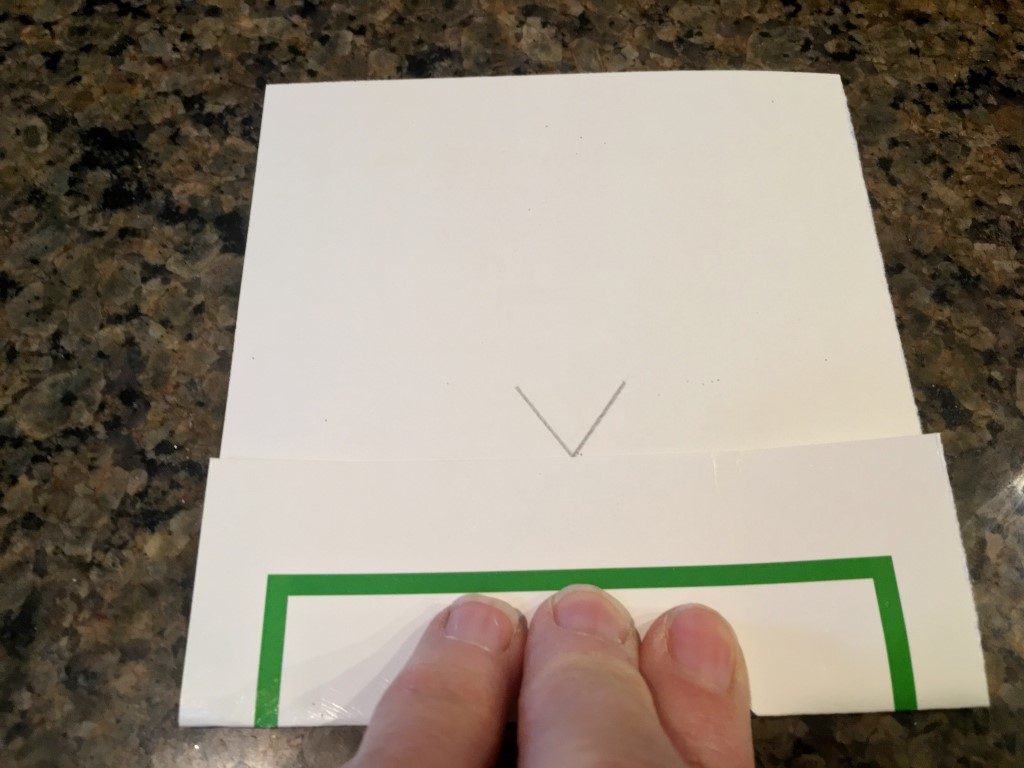 I'm just creasing the sides of my box at this point. I drew lines along the creases so you could view them easier, but you don't have to do that.
You can erase the pencil X now, you no longer need it.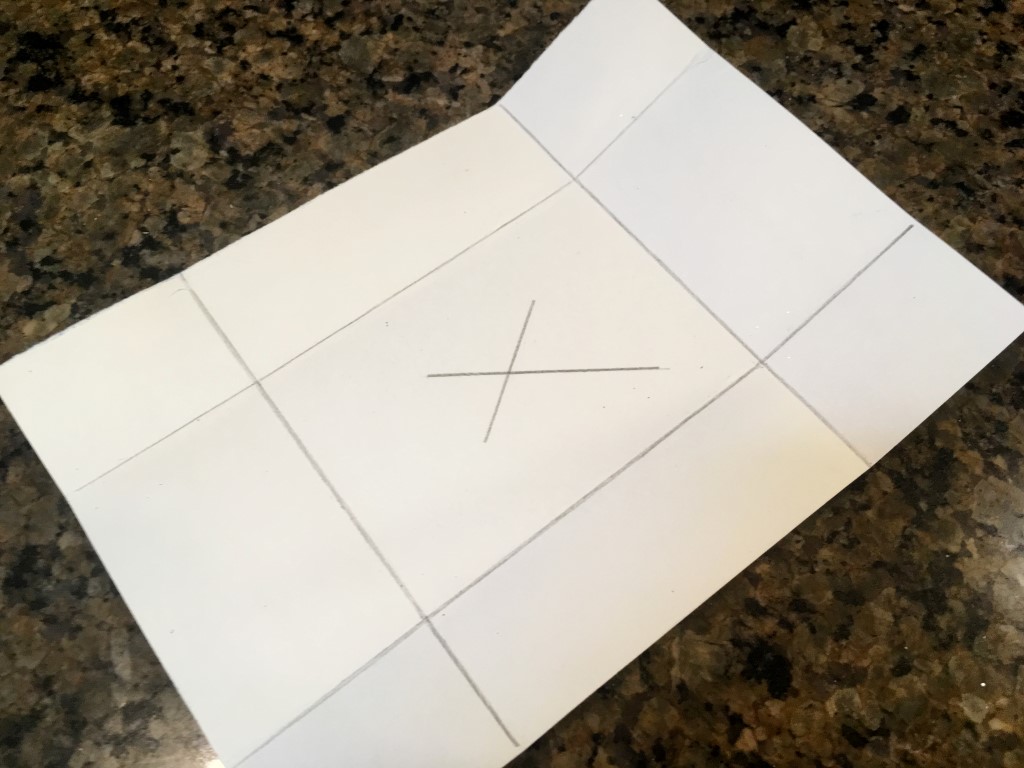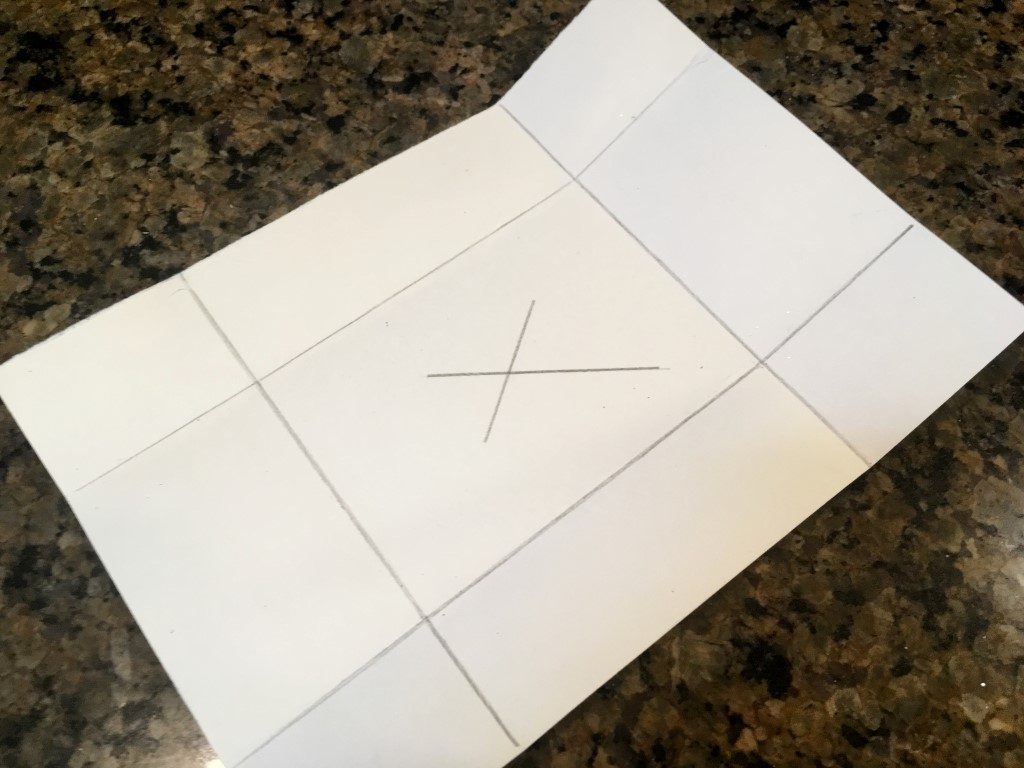 Starting at the corners on the short end, cut the crease alongside the long end just to where the creases intersect.
You repeat this on the other side. These tabs will help form your box.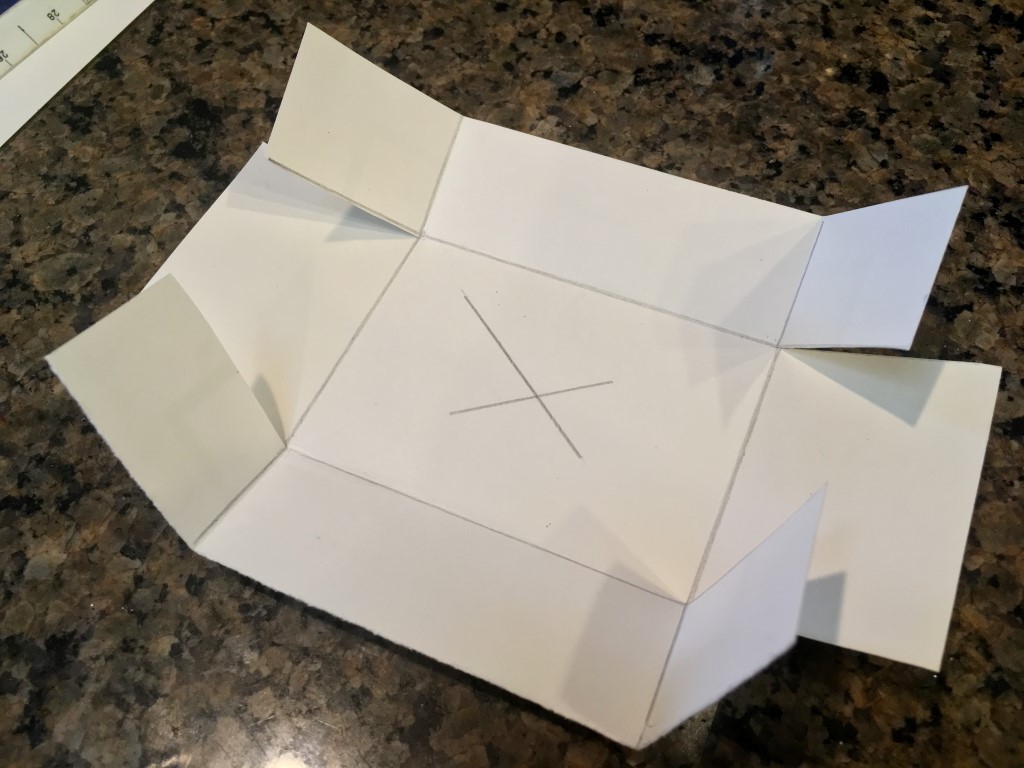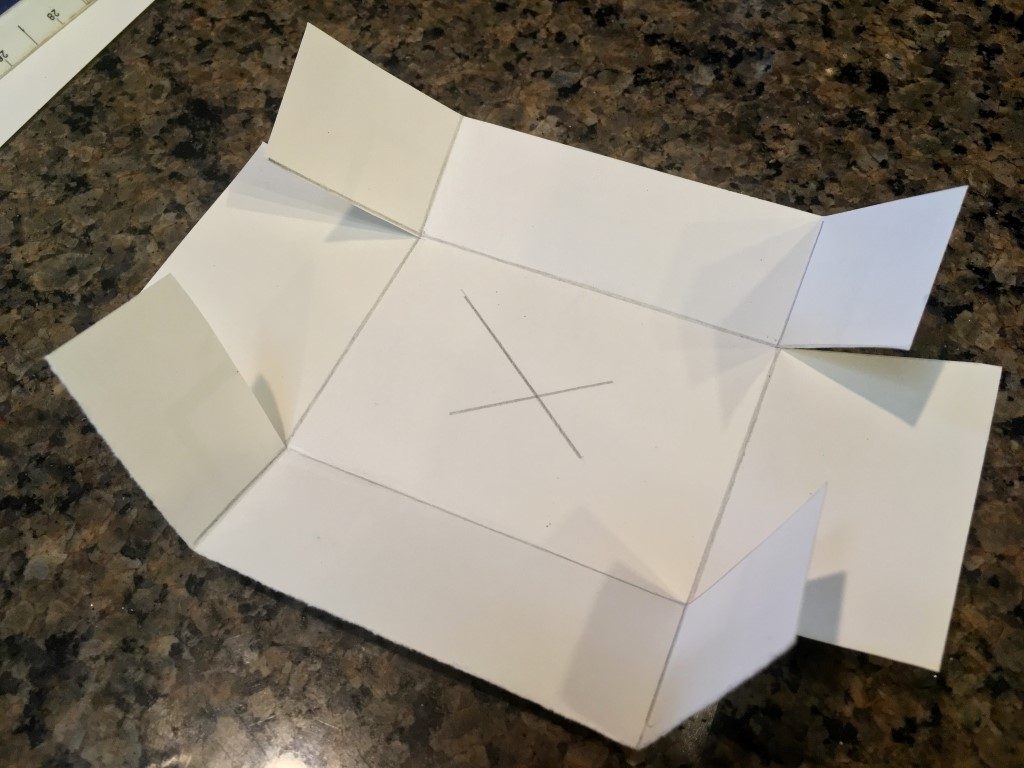 Now you fold the corner flaps together (tape if you want) and then flip the remaining middle tab over and around, creasing the extra length.
It'll be a little longer than the side tabs so it folds over & makes a nice finished edge. If you like you can tape or glue this portion to secure it.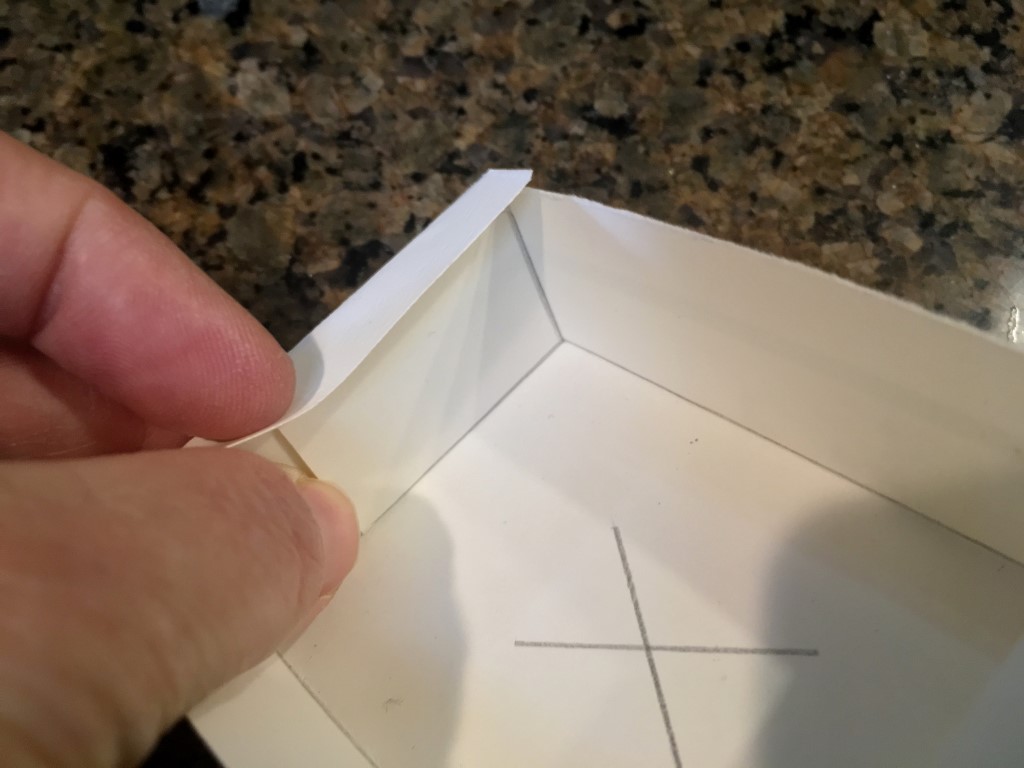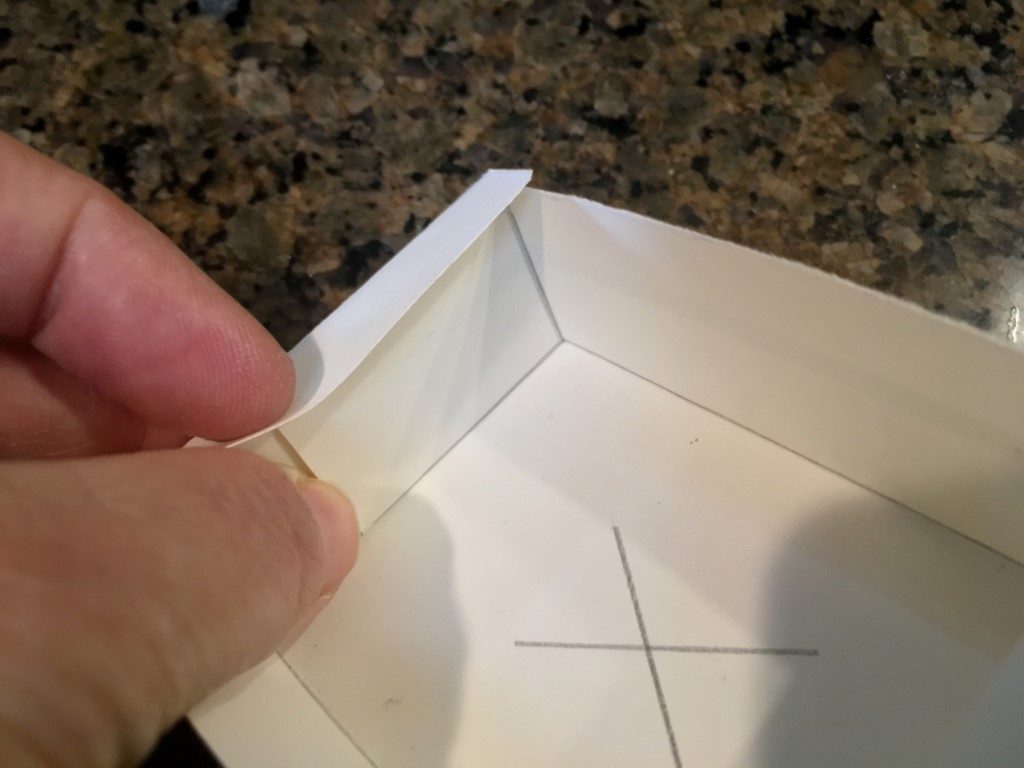 There – the top of our repurposed greeting-card box is complete. Now to assemble the bottom.
Bottom Of Repurposed Christmas Card Gift Box
You've used the front of that pretty card to make the decorative top of your gift box. Now you need to make the bottom of the box with the remaining half of the card.
You want the bottom of the box to be slightly smaller than the top so that the halves will fit together easily but snugly. So I cut 1/4″ inch off of just one of the short ends, and 1/4″ from just one of the long ends.
Now you have a slightly-smaller version of the front of the card.
So you follow the exact same directions for folding, creasing, cutting and BOOM! There's the bottom of your box. The top should slide on it easily yet snugly.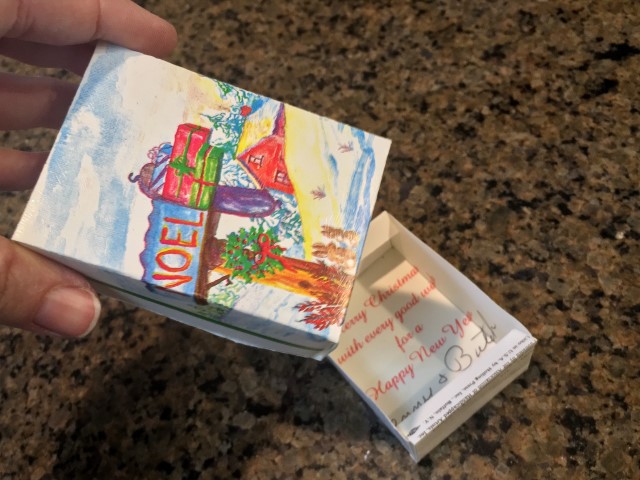 Finished Gift Box From Repurposed Christmas Card
That's all it takes, y'all. What a cute way to repurpose those beautiful cards after they've brought you joy all season. A pretty (yet zero-waste) gift presentation for sure.
I plan to use them to hold our homemade soaps and give them as gifts.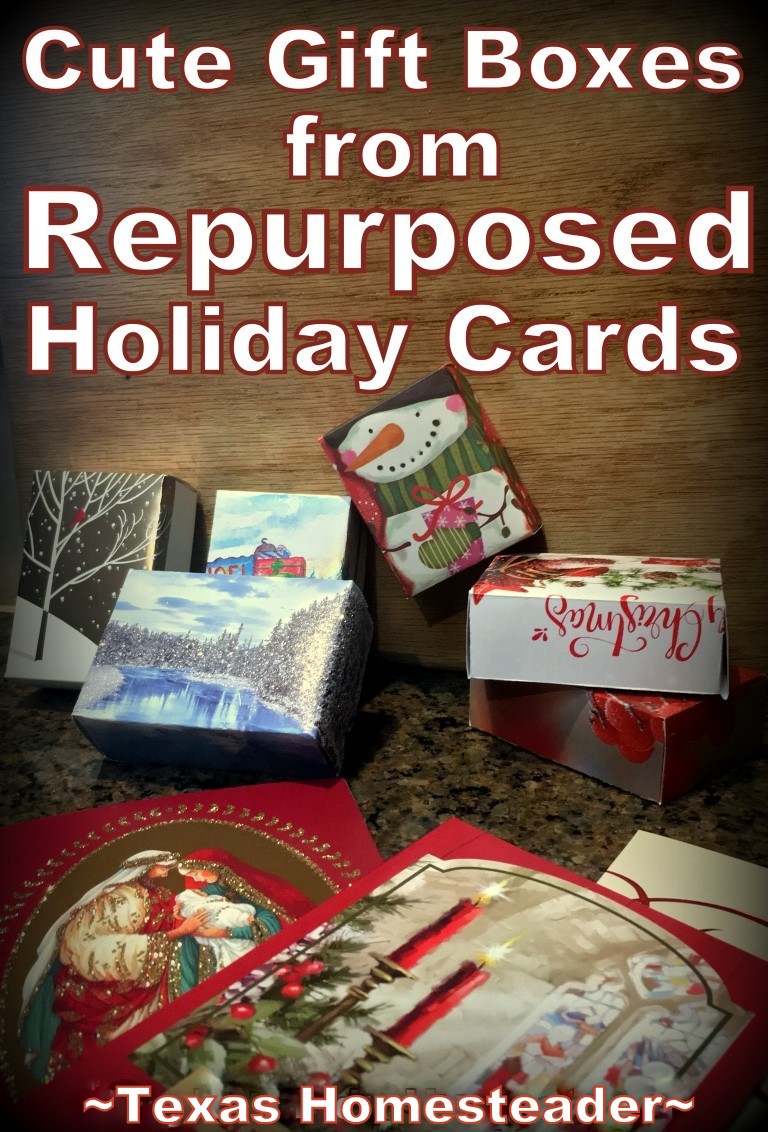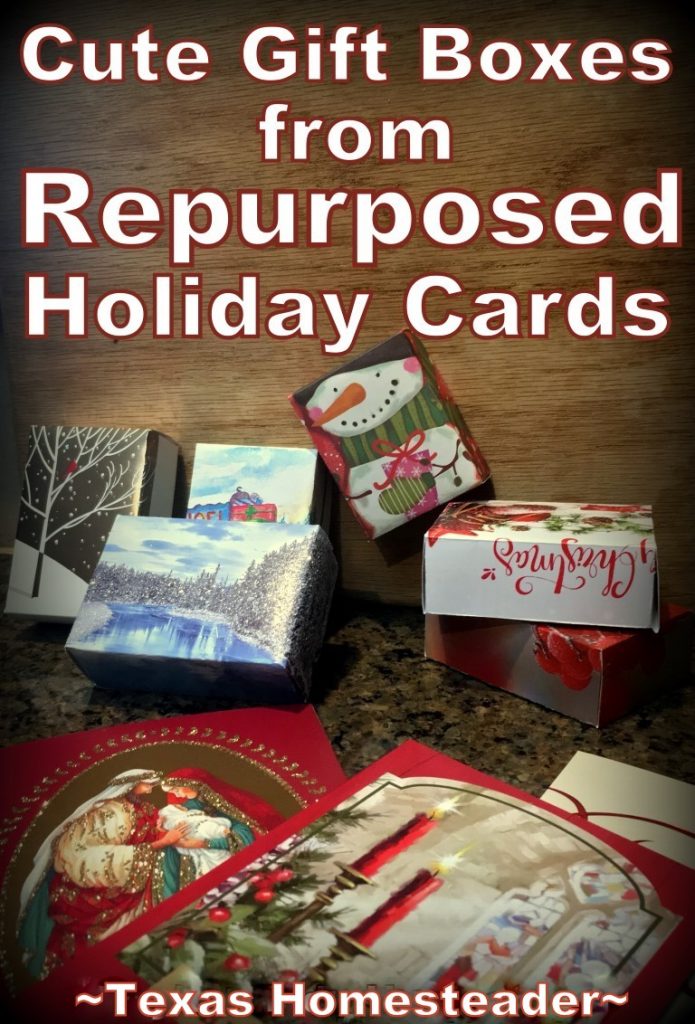 Other Greeting Card Options
You can do the same thing with other greeting cards as well. I enjoy making these small gift boxes from repurposed cute birthday cards and such.
They're the perfect size for a small gift such as a bar of homemade soap or a pair of new earrings.
And re-using these cute cards in such a way helps me to live my zero-waste values. Plus it's EASY! Give it a try.
~TxH~
Other Christmas Posts You Might Like:
Gifts Of Food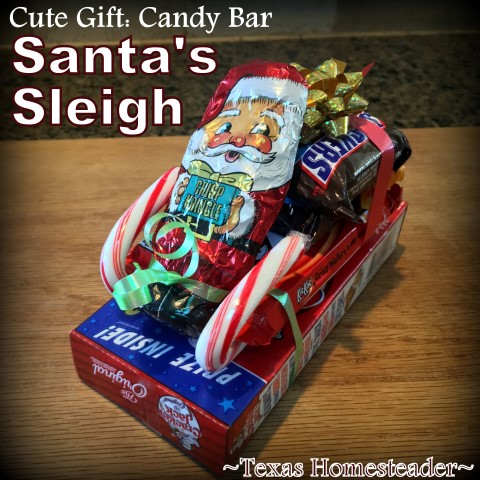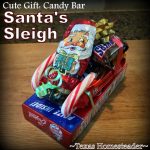 Easy Homemade Gift Ideas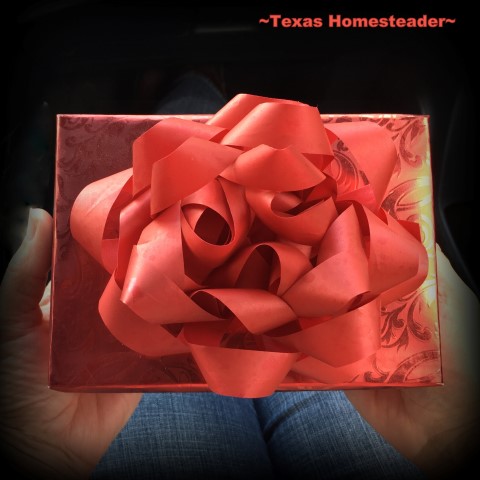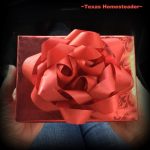 Other Gift Ideas
Low-Waste Gift Wrapping & Presentation
Holiday Cooking Tips
Christmas Season

C'mon by & sit a spell! Come hang out at our Facebook Page. It's like sitting in a front porch rocker with a glass of cold iced tea. There are lots of good folks sharing! And you can also follow along on Pinterest, on Instagram or on Twitter.
If you'd like to receive an email when a new blog post goes live,
subscribe to our Blog!