by Texas Homesteader ~
It's easy to overlook need when your life is going well. You know, when your career is holding steady, your children are healthy and happy, your marriage is strong and you have no sudden unexpected medical conditions to plunge you into that place where no one wants to land…
But what if that weren't the case??
Think about these real-life circumstances for just a moment: What if your spouse left you or died? What if your child developed a serious and very expensive medical condition? What if you were laid off from your posh well-paying career without warning?
Don't kid yourself, these things can happen to any of us.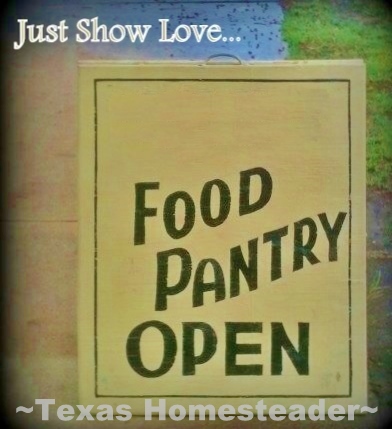 What Does 'Poor' Look Like?
I know several families who are struggling. Some temporarily and very recently due to an unexpected event. Others, due to circumstances beyond their control, have been struggling for longer. Of course on the surface you can't tell that they are struggling.
Many of the things they own were purchased and paid for when times were better for them. And of course nicer clothes can be purchased at a thrift store for very little money.
So can jewelry, household goods and many other things that people like to have. You often can't tell just by looking at someone what their financial circumstance is.
Don't Judge A Book By Its Cover
This is the point of my post: Some who are asking for assistance may be receiving erroneous judgement from others based on false perception. When we look at them we might see nothing different than ourselves.
We may sneer that they really don't 'NEED' the help they're asking for.
Or we suspiciously suspect that they probably have enough money to fill their own needs if they really wanted.
We may judge that if they don't have enough money, maybe they should just work harder if they're in a bind.
But it's important to remember that we don't know their circumstances.
You certainly can't tell a person's need by looking at them!
Think about it – if hard times fell for you, you'd not just start dressing in rags to announce to the world that your world was crumbling. You'd not suddenly 'look the part'. And neither will anyone else.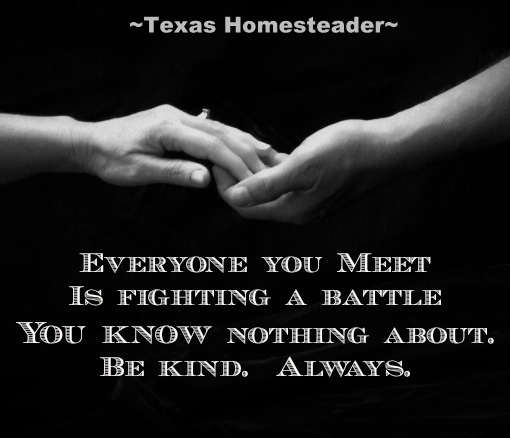 Here's my wish:
Two special seasons are upon us. The season of Thanksgiving when we're reminded to be thankful for our blessings whether large or small. And also Christmas when we all feel that tug to be mindful of others' circumstances.
I hope we all remember that we're all just one terrible situation away from being on the receiving end of others' generosity.
So please don't judge a book by its cover!
We don't know what life is like behind closed doors for that person we're looking at. But she's worthy of our help and our love.
~TxH~
Other Humanity Posts
Other Inspirational Posts
…and MANY MORE!

C'mon by & sit a spell! Come hang out at our Facebook Page . It's like sitting in a front porch rocker with a glass of cold iced tea. There are lots of good folks sharing! And you can also follow along on

Pinterest

, Twitter or Instagram
If you'd like to receive an email when a new blog post goes live,


subscribe

to our Blog!
Save
Save
Save