by Texas Homesteader ~
Do you sometimes feel inadequate comparing your life to the perfection you're reading on your friends' social media posts?
It's up to you, the reader, to realize your friends are sharing the most fun parts with ya. And that's WONDERFUL!
But their lives are no more perfect than yours.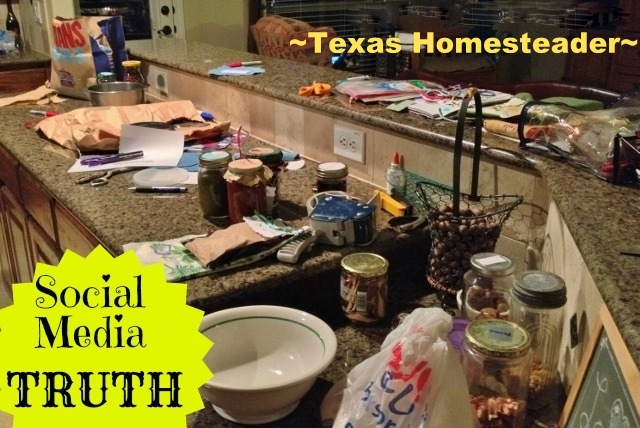 Unhealthy Comparisons On Social Media
It's common knowledge that many people start to feel inadequate when seeing friend's social media posts about their Martha-Stewart styled holidays, picturesque vacation views, lavish special-occasion dinners, etc.
The reader sometimes compares their normal everyday life to the sparkly perfection they're reading about from their friends' posts. Their perfect holiday or perfect children. Their perfect vacation or perfectly made & presented home-made meal.
Now I've never been affected negatively by reading Facebook posts because I look at it this way: People are NOT gonna post the boring parts of their lives, only the shiny parts. And I know that's wonderful!
I actually enjoy reading about what's going on outside these four walls. But it got me to thinking…
Authentic Life Is Sometimes Messy
Because of these flawed perceptions a battle cry goes out for people to show the more 'authentic' side of their lives so others reading their stories won't feel inferior.
We're encouraged to plaster posts showing burnt cakes or messy living rooms on their newsfeeds instead.
But I think it's MORE important for readers to realize that the fun posts they're seeing have nothing to do with being less authentic.
It's up to each of us to realize what we're seeing in those posts are the fun parts of other's lives.
Read that again – It's up to the reader.
Deciphering Social Media Posts For Yourself
It's not that we're not showing others the messy parts of our lives enough. But we're viewing other's posts we shouldn't self-depreciate our own lives thinking our FB friends' lives are perfect.
I don't have any interest in seeing someone's unmade bed or disaster in the kitchen (unless it's done as a laughing matter) and I'm sure other readers feel the same. And that's ok!
It's up to each person to keep a healthy balance in their own minds & not make ridiculous and unrealistic comparisons about their own lives.
Sharing Positives In Our Lives
Recently I was trying to decide what flavor endless soup I wanted to make for our weeks' worth of lunches. I decided to make a good hearty stew.
It was delicious, and I wanted to share with our followers. I know I often find inspiration in these kinds of posts and I was hoping to help inspire others who are trying to find easy ways to eat simple, healthy, homemade meals as well.
So when I snapped a picture of the stew to share on Texas Homesteader's Facebook page, I positioned the bowl on a plate and fanned out the bread slices so it would look nice.
But you certainly couldn't see the preparation dishes cluttering the sink in the background.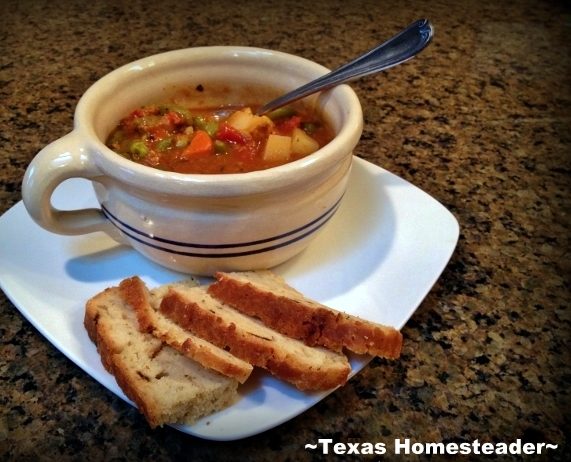 And when I take a picture of our pup sitting on the fireplace rug to share with our Facebook readers, I'll crop out the spots where embers have popped out over the years & scorched that hearth rug.
During the holidays when RancherMan & I are assembling our homemade Christmas gifts I don't share the messy preparation surfaces. Just the pretty wrapped packages.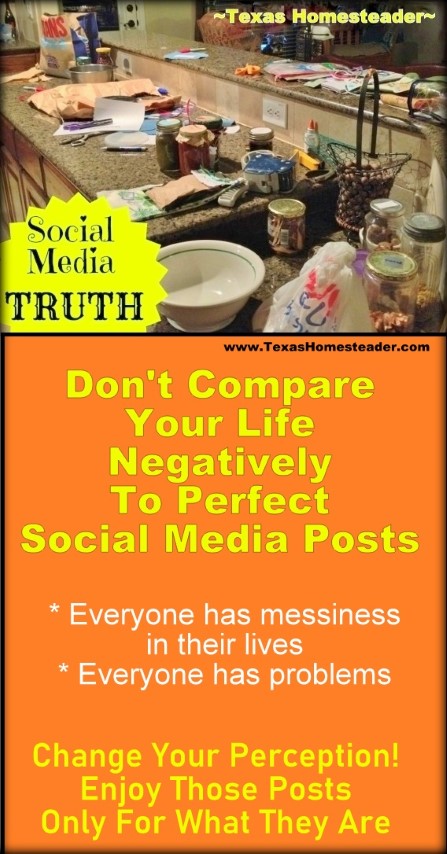 That's not to make you think we don't have messy parts of our lives here at our Homestead. It's because the focus of what I want to share is a hearty bowl of stew, a cute fuzzy dog and pretty wrapped packages!
Putting Your Best Foot Forward
I mean, take yourself out of online mode and think about real-life circumstances for a minute.
Are you being less than authentic when you put on makeup before work? I mean, you're purposely hiding blemishes on your face with makeup. (unless you're one of those lucky people with flawless skin!)
What about when you slip into that beautiful new dress for a night on the town? Because you're dressing up for this special occasion, are you being less authentic?
And does that beautiful dress mean you don't have a comfy but worn pair of sweat pants in your closet?
Of course not!
When I'm receiving guests at our home, would I purposely drag them through our mud room so they could see how 'real' our lives are to keep from being less authentic for their perceptions?
Um, no. I'd bring guests into our home through the living room. (hopefully after it's been tidied and presentable for company.)
Proper Perception Balance Is Up To The Reader
So remember when you're reading your friend's fun social media stories – their lives are not more perfect than yours.
Their vacations are not without bumps in the road and their families are not without the blemishes all families have in one way or the other.
They're going through life just as you are. Enjoying the good parts and doing their best to look past the not-so-fun parts.
It's important to realize that when you're browsing. Enjoy the story and know that we're all in the same boat.
I'm not sure 'perfection' is even in the vocabulary here at our Homestead. But we're lovin' REAL life (blemishes and all) here.
Love to all!
~TxH~
Other Humanity Posts
Other Inspiring Posts
…and MANY MORE!
Other Christmas Posts You Might Like:


C'mon by & sit a spell! Come hang out at our Facebook Page . It's like sitting in a front porch rocker with a glass of cold iced tea. There are lots of good folks sharing! And you can also follow along on Pinterest, Instagram & Twitter
If you'd like to receive an email when a new blog post goes live,
subscribe to our Blog!
Save
Save