by Texas Homesteader 
I've read how people are oftentimes negatively affected by reading about others' festivities on Facebook. You know, holiday pics, vacation photos, or lavish special-occasion dinners, etc. It's common knowledge that many people start to feel inadequate when reading about Martha-Stewart styled Christmases or picturesque views one of their FB friends enjoyed on their vacation.
The reader might begin to compare their normal everyday life to the sparkly perfection they're reading about from their friends' posts. Their perfect holiday or perfect children. Their perfect vacation or perfectly made & presented home-made meal. 
Now I've never really been affected negatively by reading Facebook posts because I look at it this way: People are NOT gonna post the boring blah parts of their lives, only the shiny parts. And that's ok!  I actually enjoy reading about what's going on outside these four walls.  But it got me to thinking…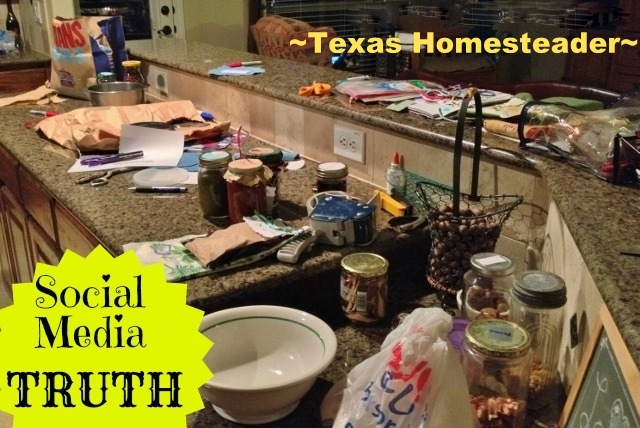 Recently I was trying to decide what flavor endless soup I wanted to make for our weeks' worth of bone-warming lunches during this cold weather. I decided against the Mexican or Italian flavored that I usually go for and opted instead to make a good hearty stew-styled soup. It was delicious, and I wanted to share with our followers. I often find inspiration in these kinds of posts and I was hoping to help inspire others that are trying to find easy ways to eat healthier as well.
But when I snapped a picture of the stew to share on Texas Homesteader's Facebook page, I positioned the bowl on a plate and fanned out the bread slices so it would look nice. But you certainly couldn't see the preparation dishes cluttering the sink in the background.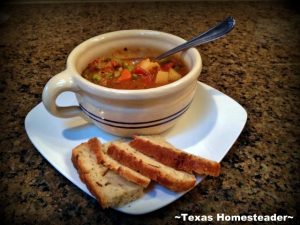 And when I took a picture of our mini-schnauzer Bailey sitting on the fireplace rug to share with our Facebook readers recently, I cropped out the spots where embers have popped out over the years & scorched that hearth rug. I wanted to show how fuzzy she's gotten this winter, not my ugly ember-pocked rug.
And when RancherMan & I were assembling our homemade Christmas gifts during the holidays we had all manner of materials spread out on my kitchen counter tops. My mama always taught me that presentation is half of the gift. There was brown paper & ribbon, bows, glue, denim material and special-edged scissors. There were the jars of our homemade goodness and pretty towels & special serving bowls to use to present our gifts to our loved ones. It looked like an explosion in my kitchen!
But while it was all going on I was snickering at the complete chaos, enough so that I snapped the picture above. But unfortunately only AFTER half of the top bar had already been cleared.  Trust me when I say it was MUCH worse than the picture shows…
So when you're reading FB posts about what's going on in people's lives, remember they're sharing the shiny parts with ya. Their lives are not more perfect than yours. Their vacations are not without bumps in the road and their families are not "The Walton's" perfected. They're going through life just as you, enjoying the good parts and doing their best to look past the not-so-fun parts.
Just realize that fact when you're browsing. Enjoy the story and know that we're all in the same boat. I'm not sure 'perfection' is even in the vocabulary here at our Homestead. But we're lovin' REAL life (blemishes and all) here.
Love to all!
~TxH~
Other Christmas Posts You Might Like:
Gift Ideas
Low-Waste Gift Wrapping & Presentation


C'mon by & sit a spell!  Come hang out at our Facebook Page . It's like sitting in a front porch rocker with a glass of cold iced tea.  There are lots of good folks sharing!  And you can also follow along on Pinterest, Instagram & Twitter
If you'd like to receive an email when a new blog post goes live,
subscribe to our Blog!
Save
Save