by Texas Homesteader ~
WHEW – things are getting interesting! RancherMan & I have embarked on a month-long grocery no-spend challenge.
Although we didn't purposely stock up before this challenge (which to me would have defeated the purpose) we did start out with healthy & overflowing pantry & freezers.
Week One was a breeze, no real changes necessary except that I had to start making lots of homemade bread. Then Week Two was a little bit more of a challenge, but still doable.
But now the pantry is getting more & more bare & the freezers are emptying out nicely. How did we fare for week three? Read on, dear friends.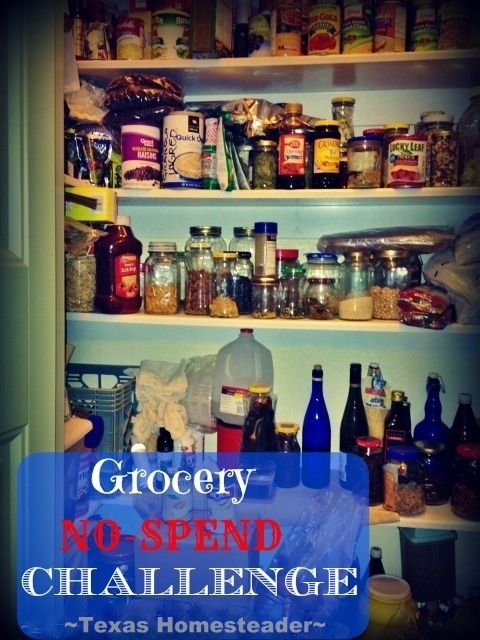 I got real close to burnout last week trying to keep RancherMan in grab-n-go foods.
Although he's never complained, I'm struggling trying to make it easier for him and I'm really feeling stressed about it.
So we came to a compromise – I'd keep as much grab-n-eat food made for him as I could but he would more often accept what's available.
One way I've adjusted is by presenting him more often with my weekly endless soups for his lunches instead of his favorite sandwiches, so bread consumption dropped. WOO-HOO, hear those choirs of angels singing!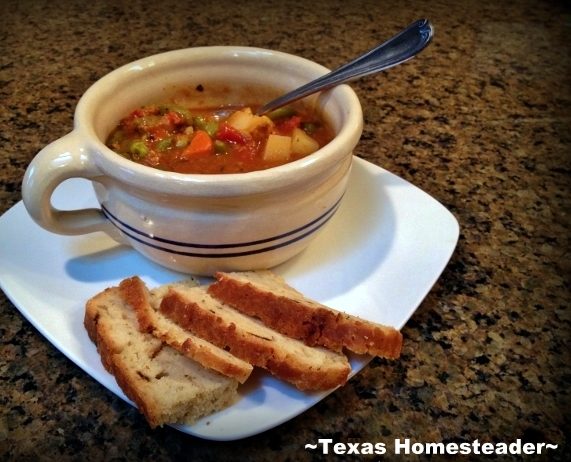 Of course going into this challenge we knew there would be one allowance right off the bat.
RancherMan & I have a special tradition for Valentine's Day, we make each other a special fru-fru meal using more expensive ingredients that wouldn't normally be on our menu.
Thankfully my handsome man is already very romantic. We don't buy each other gifts for Valentine's Day, or flowers, or cards. The meal we prepare for each other is our gift of love.
This year he fired up the grill & we had grilled sirloin steaks, grilled whole jalapenos, green beans and baked potatoes.
We also enjoyed a salad comprised of different lettuces, baby spinach, broccoli & tomatoes. For dessert we had blueberry cheesecake.
We had the blueberries and green beans so we bought everything else (an exception that was allowed under our February grocery challenge rules).
I did buy a whole gallon of milk to make the cheesecake since there was only $0.26 difference between 1/2 gallon & full gallon. It just didn't make financial sense to only buy half as much.
The cost for this delicious romantic dinner for two? Only $18. No lines, no waiting.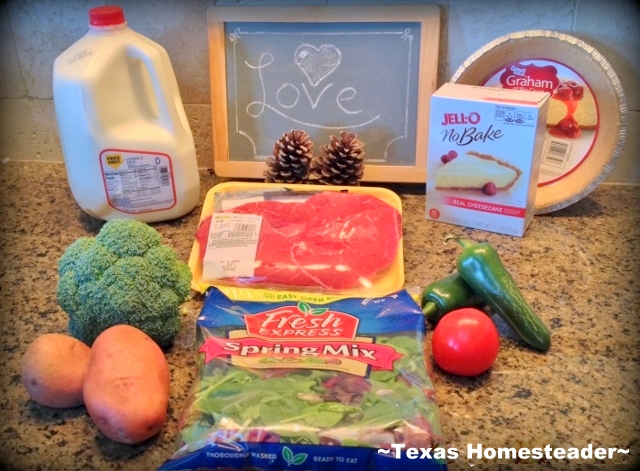 There was plenty leftover for another steak dinner the next night, a meal we relished all over again. Then I focused on using the leftover fresh ingredients quickly.
That salad mix was shredded and the leftover half tomato was chopped & used for tacos. The leftover broccoli was steamed for a healthy delicious side dish, the stems of the broccoli were peeled and chopped small and added in with my broccoli rice dish later in the week.
And since the weather turned cold this week and I still have plenty of dried beans in the pantry, I whipped up a big honkin' batch of homemade chili to enjoy for supper one night & lunches several other days.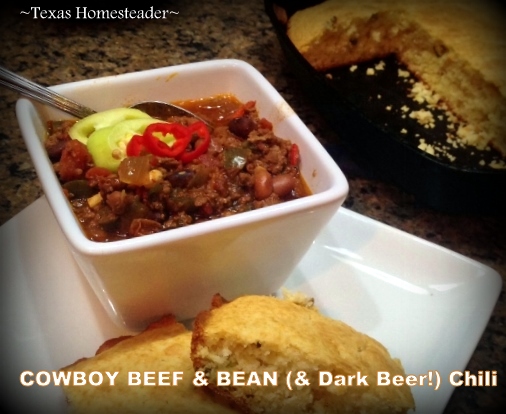 I also was able to use up some baked turkey from the freezer and stuffing from the pantry. .
And I finally got down to that frozen tuna steaks and baked up some fillets. Lots of food that had been waiting in our pantry/freezer is now being consumed – LOVE IT!
So far we're still hanging fine with our no-spend challenge and as a result our pantry and freezers are down to a much more reasonable level.
As I knew it would, this challenge has made me very aware of the blessing of the food abundance in our home. And although I was already very good at keeping food waste to a minimum, this challenge has made me focus even more strongly on not wasting food, even bread crumbs & broccoli stems.
Next week our youngest daughter has said she wants to drive to the ranch and spend the day with us. She's having to work on her birthday and this will be her celebration with us.
I'm thrilled not only to be able to visit with her but that she wants to spend this special time with US. But since this will be the last week of our challenge, putting on a special birthday celebration meal might REALLY be a challenge! Tune in next week for the finale and see how we manage it.
~TxH~
If you want to follow along to see how we did each week, you can see:
Grocery No-Spend Challenge: Week 1
Grocery No-Spend Challenge: Week 2
Grocery No-Spend Challenge: Week 4