by Texas Homesteader ~
I love chili that contains beans, but RancherMan typically declares that it's not 'real chili' if it contains beans. But I appease his purist NO BEANS IN THE CHILI mindset by including one of his favorites – dark beer!
Recently a call went out by Working Ranch Magazine for our favorite recipe to be included in their Dinner Bell feature and of course I submitted this chili recipe.
It won the contest! (blushes) What an honor.
I've been asked several times to share my recipe so here it goes!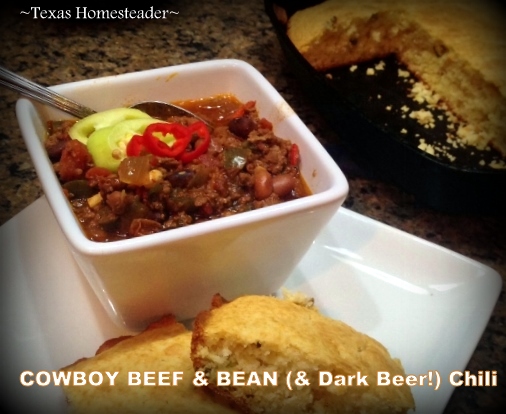 (NOTE: I often serve this delicious bone-warming chili with a big batch of homemade Jalapeno Cornbread cooked up fresh in my grandmother's cast-iron skillet!)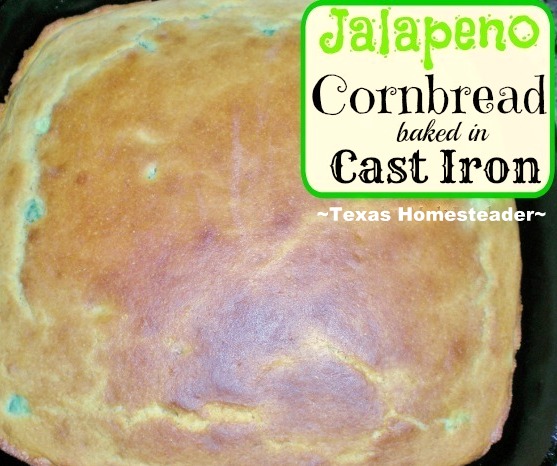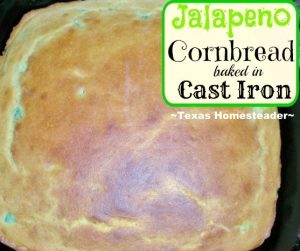 I will say that this cornbread recipe is light, fluffy & moist – not like the dry cornbread we've all been forced to choke down at one time or another. It's one of RancherMan's favorite bread sides and he brags about it all time time.
(Blushes) Awwwww RancherMan, you sweet-talking man, you…
The complicated chili instructions look sumpin' like this:
But now back to the chili. The recipe is beyond easy! Brown the meat, saute the onions/peppers and dump it all in a stock pot to cook with the other ingredients. But because I'm a lazy, errrr, I mean BUSY cook, I typically use my slow cooker instead. I just dump everything in & let the slow cooker do all the work until I figure the flavors are all married & stuff… I typically start late morning & just let it do its thing until around supper time.
Yep, I'm a shoot-from-the-hip cook like that!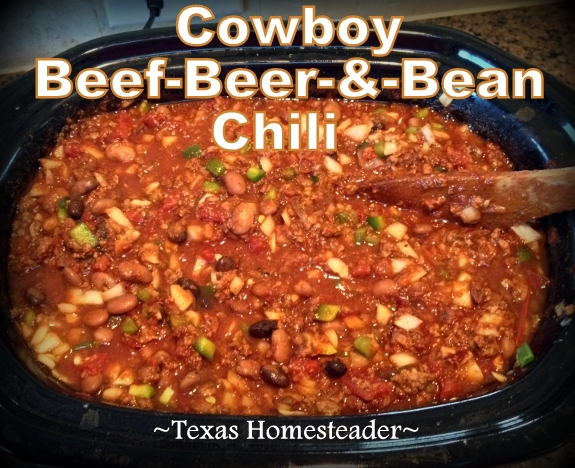 Is the recipe flexible? Well of course, or else it would have never made it in my kitchen!
I often use chili-ground venison or pork from RancherMan's hunting harvests in place of the ground beef. And I've used pintos in place of black beans when that's what we had in the pantry.
And the crushed tomatoes – whatever I've got handy needing to be used. Sometimes it's rotel and sometimes just diced tomatoes, I typically try to get the measurements about the same but otherwise the sky's the limit.
And I also like to toss in about 1/4 cup of masa harina in the last hour or so of cooking just to thicken everything up too, but that's totally optional. RancherMan likes it that way best.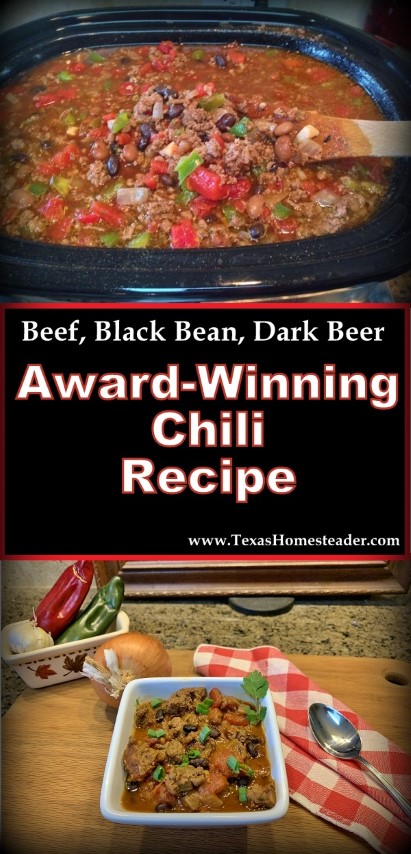 So without further adieu – here's my RancherMan-Pleasing chili recipe: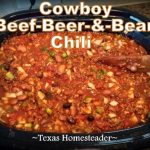 Cowboy Beef, Beer & Bean Chili Recipe
Thick, hearty chili made with beef, black beans and dark beer. This recipe won an award in 'Working Ranch Magazine'. #TexasHomesteader
Ingredients
2

lbs.

lean ground beef

95% lean

1

large

onion,

chopped (about 1.5 cups)

2

cloves

garlic,

minced

2

medium

bell peppers,

chopped

1

large

jalapeno pepper

seeded, finely chopped (omit seeding if you like the heat)

1/4

cup

chili powder

1

Tbsp

ground cumin

1

tsp.

dried crushed oregano

1

tsp.

dried crushed thyme

1/8

tsp.

ground red pepper

1.75

cups

beef broth

(or 14-oz can )

1

28-oz can

crushed tomatoes,

undrained

1

14-oz can

zesty-style diced tomatoes,

undrained

1.5

cups

dark beer

(or 12-oz bottle)

1/3

cup

tomato paste

2

15-oz cans

black beans,

drained & rinsed (about 3 cups)

2

Tablespoons

honey

optional

chopped fresh cilantro

optional

Salt & Pepper to taste

(I start with 1 tsp each)

1/4

cup

Masa Harina , optional

(To thicken during final hour of cooking)
Instructions
Instructions
Brown ground meat in stockpot over medium heat until meat is no longer pink, breaking up into crumbles. Remove with slotted spoon and set aside. Pour off all but a tablespoon of the grease.


Add onions and garlic; cook and stir 3 to 5 minutes or until onions are tender. Then add bell peppers and jalapeño; cook and stir 3 to 5 minutes more, or until peppers are tender.

Return beef crumbles to stockpot. Add chili powder, cumin, oregano, thyme and red pepper. Stir in crushed tomatoes, diced tomatoes, broth, beer, tomato paste and honey; bring to a boil. Then reduce heat; cover and simmer 45 minutes.


Uncover stockpot; add masa harina if desired & continue simmering 30 minutes or until thickened to desired consistency, stirring occasionally. Stir in beans; cook 5 to 10 minutes or until beans are heated through. Season with salt and black pepper, as desired. Garnish with cilantro, if desired.
Recipe Notes
I like to ladle this hearty chili into big bowls and top with spicy sliced peppers and include our favorite homemade Jalapeno Cornbread. Yum. Bon Appetite!
~TxH~
Our Favorite Soups
Want to see other Meal Ideas?



Pork Roast Recipes:
Recipes Using Leftover Roast:


C'mon by & sit a spell! Come hang out at our Facebook Page. It's like sitting in a front porch rocker with a glass of cold iced tea. There are lots of good folks sharing!
And you can also follow along on Pinterest, Twitter, Instagram
To receive an email when a new blog post goes live it's EASY to
Subscribe to our blog!
Save
Save