by Texas Homesteader ~
Instant Pot goulash needs only 4 minutes of pressure cooking. It's a delicious one-pot meal made FAST for those busy nights! And it's the perfect comfort food too.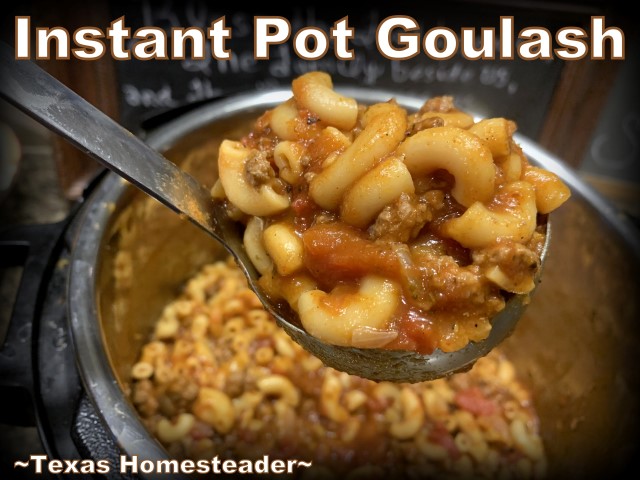 Using An Electric Pressure Cooker
It's true, I was late to the game in getting my very own Instant Pot. Oh sure, others raved about their Instant Pots, but I just wasn't convinced.
Until I was!
Now I use my Instant Pot All. The. Time.
Simple Instant Pot Goulash Recipe
One of my favorite meals to make with it is Instant Pot Goulash. I mean – brown the meat, dump in the rest of the ingredients, press a button for 4 tiny minutes cook time & walk away?
Yeah, that's my kinda cooking, y'all!
And goulash is a favored childhood memory of mine. Now THAT'S true comfort food!
This one-pot recipe couldn't be easier. Check out these simple ingredients.
1 pound ground meat

1 onion, chopped

2 cloves garlic, minced

1 can spaghetti sauce

2 cans diced Italian-flavored tomatoes

2 teaspoons paprika

3 tablespoons soy sauce

2.5 cups broth

2.5 cups elbow pasta
Cooking Meat, Onions & Garlic
First I turned my IP to 'sauté' and cooked the ground meat, chopped onions & minced garlic together until the meat was fully cooked. It only took a few minutes.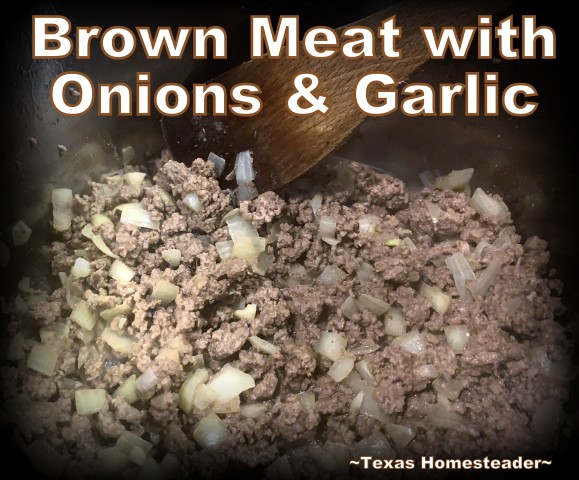 When the meat was browned with onions/garlic I drained the fat and added the other ingredients
Initially I thought 3 tablespoons of soy sauce was going to be excessive. But it wasn't, it was perfect. So I never skip that even though my cooking self raises an eyebrow when adding it. LOL.
A quick stir to incorporate everything and then I placed the IP lid on top, locking it into place.
Quick Cooking Goulash With A Pressure Cooker
I set my Instant Pot setting to manual high pressure and pressed the +/- button to set the time for 4 minutes.
Wait, 4 minutes??!!
Yep, that's right. This recipe only needs to be pressure-cooked for 4 tiny minutes. How's THAT for fast??!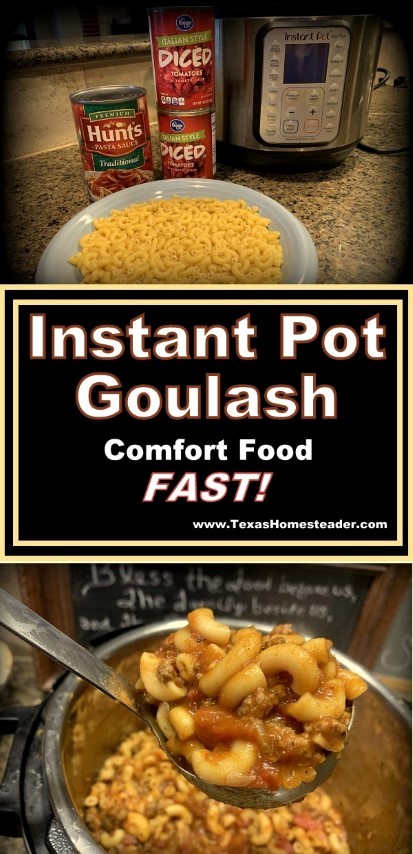 When the timer was up I did a quick release of pressure. One last stir and we were good to go.
What Food Is Easiest Cooked In An Instant Pot?
Since getting my Instant Pot I've found all kinds of dishes to love it for. Making Instant Pot Broth for instance.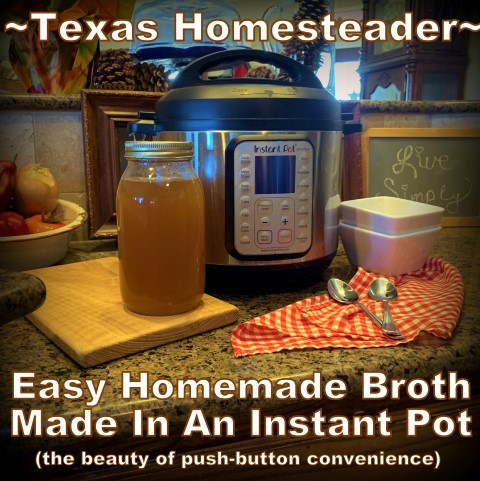 Instant Pot Roast with lots of savory brown gravy.
Cooking Dry Beans in the IP is game changing y'all. So fast!
Cheesecake In An Instant Pot Oh my…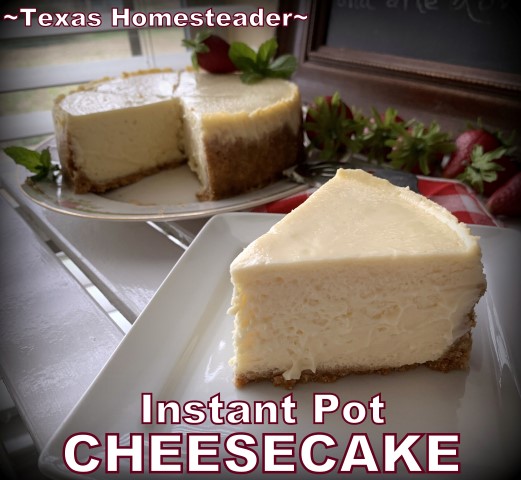 You can see the list of all my favorite IP recipes:

But in the meantime, here's the easy Instant Pot goulash recipe as I make it:
Did you make this Instant Pot Goulash recipe? Please rate the recipe in your comment below!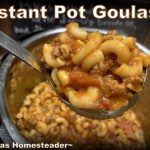 Instant Pot Goulash
This Instant Pot Goulash recipe needs to pressure cook for only 4 minutes. That's a super fast comfort-food meal. #TexasHomesteader
Ingredients
Ingredients:
1

lb

ground meat

I used plain ground pork

1

large onion,

chopped

3

cloves

garlic,

minced

1

24-oz jar

spaghetti sauce

2

15-oz cans

Italian-Flavored diced tomatoes

(can add 2 tbsp Italian Seasoning if plain)

1

Tablespoon

chili powder

2

teaspoons

paprika

3

Tablespoons

soy sauce

2 1/2

cups

dry elbow noodles

2 1/2

cups

broth

(can use water if needed)

salt and pepper to taste

(I used 1 tsp each)
Instructions
Instructions:
Turn the Instant Pot onto sauté. When hot, add 1 pound of ground meat, 3 cloves minced garlic,1 teaspoon salt, 1 teaspoon pepper, and 1 chopped onion. Cook until meat is browned.

When meat is browned drain fat then add 1 can spaghetti sauce, 2 cans Italian-flavored diced tomatoes, (plus 2 Tablespoons Italian seasoning if diced tomatoes are plain), 1 Tablespoon chili powder, 2 teaspoons paprika, 3 Tablespoons soy sauce, 2 1/2 cups broth, and 2 1/2 cups elbow noodles.

Lock lid into place & set your Instant Pot to manual high pressure for 4 minutes.

When timer is up perform a quick release of pressure.

Give everything a good stir and serve hot.

OPTIONAL TOPPING OPTIONS: If desired you can top with Parmesan Cheese, or sour cream, or spicy jalapenos if desired. Whatever you like!
~TxH~
This post categorized in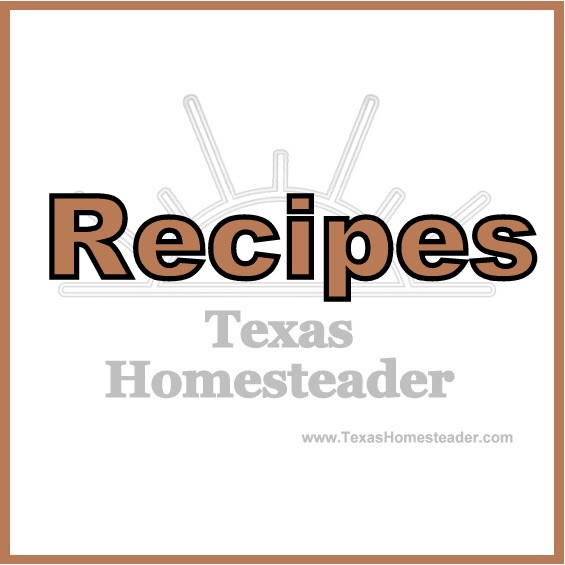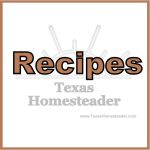 Other Instant Pot Recipes:
Want to see other Meal Ideas?





C'mon by & sit a spell! Come hang out at our Facebook Page. It's like sitting in a front porch rocker with a glass of cold iced tea. There are lots of good folks sharing!
And you can also follow along on Pinterest, Twitter, Instagram
To receive an email when a new blog post goes live it's EASY to
Subscribe to our blog!