by Texas Homesteader ~

Looking for a fast supper idea? Chicken Pot Pie from scratch is super fast when you use leftover chicken. I made the pie crusts & cream of chicken soup from scratch too but you can use purchased crust & soup instead if you like. Fast, easy & DELICIOUS!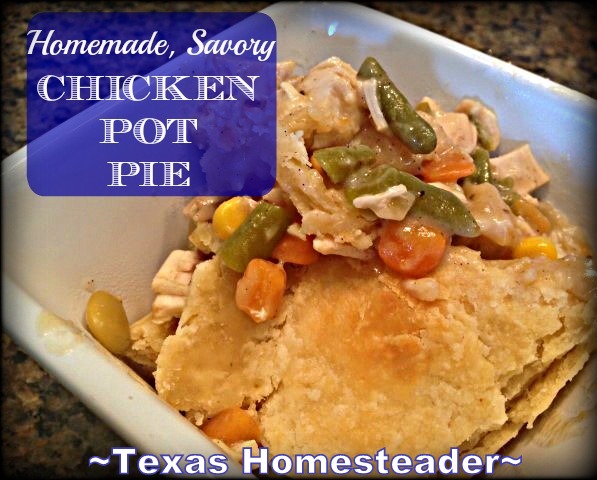 Jump to Recipe
Leftover Chicken For FAST Chicken Pot Pie
A few days ago RancherMan & I were delighted to receive a visit from two of our children and two of our grandchildren. For some reason I seem to always stress about the food when we have company – what to serve? Will there be enough? Will they like it?
On this day I was hoping to make something in the slow cooker so that I could spend more time visiting with our kids and grandbabies. So I decided on an inexpensive $5 whole chicken because I knew I could make a delicious Slow-Cooker Chicken, only I'd leave out the heavy spices for the grandchildren's sake.
Our chicken dinner was delicious. The next day I pulled the meat from the bones & cooked the carcass into healthy chicken broth. (6 pints!) Then I sectioned the leftover meat into three hefty meal-sized portions for RancherMan & me.
Now that's a lot of mileage from one $5 chicken! With one of the three portions of leftover meat I decided to make some homemade chicken pot pie for supper.
Making A Quick Homemade Flaky Crust
I wanted to make my chicken pot pie from scratch. Sometimes I use my standby Homemade Pie Crust except I use bacon grease instead of shortening for a savory twist.
But more often than not I whip up a simple oil-based crust. This kind of crust is easiest because I can simply mix it up & press half on the bottom/sides of the casserole dish. That means I don't have to roll the crust out and gently transfer to the casserole dish without cracking it. (I suck at that!)
Of course I do still have to roll out the top crust for 'pretty', but at least I cut that chore in half. The pie crust shown in the recipe below is almost always the one I use for my chicken pot pie.
So I divided the crust dough in half and pressed half of the dough onto the bottom & sides of my dish.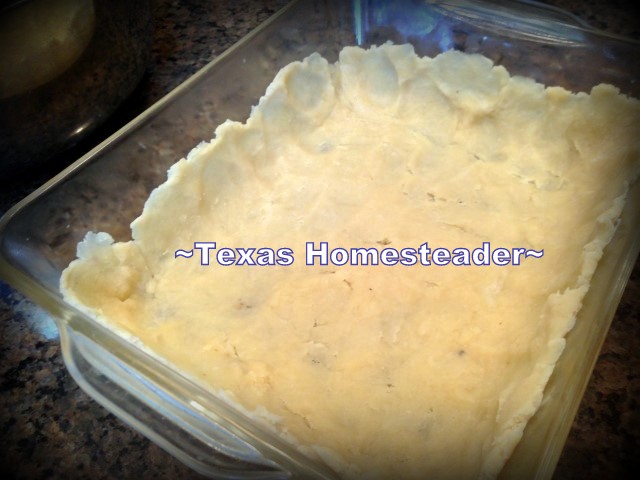 Then I chopped up about 2 cups of leftover chicken and laid it over the dough. Then I opened up two standard-sized cans of mixed vegetables, drained them and poured the vegetables on top of the chicken.
Homemade Cream of Chicken Soup
Finally I made cream-of-chicken soup using chicken broth, milk and flour. As soon as it was as thick as I wanted I pulled it off the stove and poured it over the chicken & vegetables.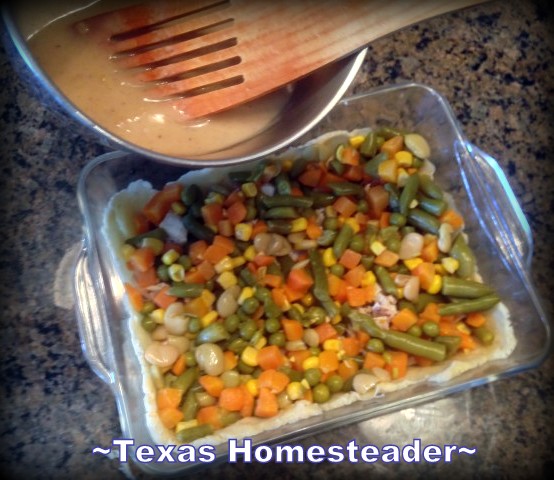 NOTE: I made my cream of chicken soup homemade. But you can just use a can of cream of chicken soup here. If you want to make it homemade instead the recipe for homemade cream of chicken soup is included in the recipe below.
Finally I rolled out the last half of the crust and placed it on top making several slits in the crust to allow steam to escape. With the leftover pastry trimmings I rolled a rope to edge my chicken pot pie, placing shallow decorative slashes in the dough to make it 'prettiful'.
Mama always told me that half the meal is in the presentation. So I always try to make it look nice for my handsome RancherMan.
Baking The Chicken Pot Pie
Now all that's left is to put this dish of homemade deliciousness into the oven. I wanted to use my table-top toaster oven to cook it so I could place it outside on a folding table and keep that cooking heat OUTSIDE where it belongs!
Since the heating element in the tiny oven was so close to the crust I covered the top with foil for the first half of cooking and then removed the foil so the the crust could brown beautifully during the final cooking time.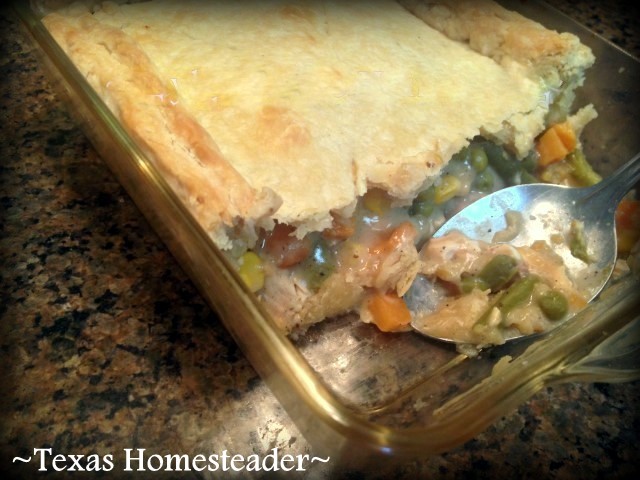 All in all it took about 40 minutes to brown to my liking.
When I brought it out from the oven the aroma was so enticing, there were plenty of ooohs and aaaaahhhhs from RancherMan to go around.
I served it up for supper & he raved about the meal. So I thought I'd share the easy recipe with you today: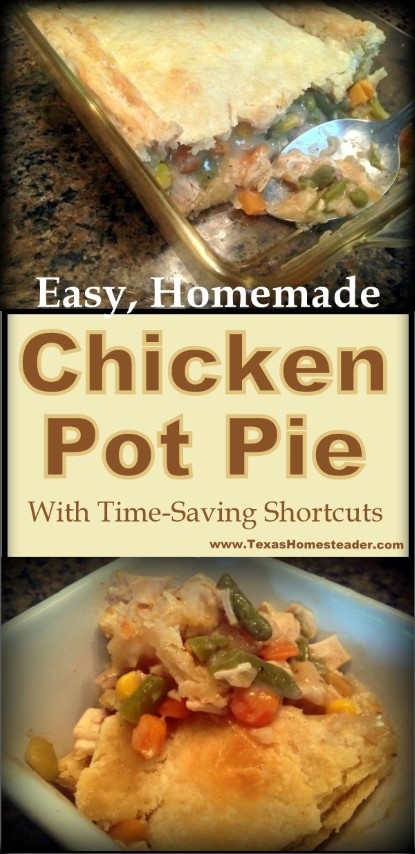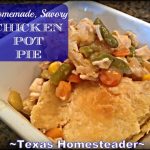 Homemade Chicken Pot Pie
A quick and delicious meal. Just use a pre-made pie crust, add chopped leftover chicken, add cream of chicken soup & top with the other pie crust.  A delicious comfort-food meal that comes together quickly. #TexasHomesteader
Ingredients
2

Cups

Leftover Cooked Chicken,

cubed

2

Cans

Mixed Veggies,

drained

1

10.5 oz can

Cream of Chicken Soup

(instructions below for homemade Cream of Chicken Soup, if desired)

2

9-inch

Pie Crust Dough

(instructions below for homemade pie crusts, if desired)

Salt & pepper to taste
Instructions
Divide pie crust dough in half. (directions below for homemade pie crust option if you'd like to make it yourself) Press half the dough onto the bottom & sides of a deep 8" casserole dish.

Top the crust with the following layers spread evenly: 2 cups chopped cooked chicken topped with the previously-drained cans of mixed vegetables and finally spread the cream of chicken soup evenly on top - do not stir. (directions below for homemade cream of chicken soup option if you'd like to make it homemade instead)

Top Chicken Pot Pie with remaining pie crust and crimp edges. Cut 3-4 slits in the top crust to allow steam to escape.

Place casserole dish uncovered in preheated oven and bake for 35 - 40 minutes or until pastry is golden brown.
Directions For Homemade Cream of Chicken Soup Option:
For Homemade Cream-Of Chicken Soup: (Omit if using canned soup) In a saucepan over medium heat, sauté 3 Tablespoons minced onions & 3 Tablespoons chopped celery in 2 Tablespoons butter until translucent.

Stir in 4 Tablespoons flour, and 1/4 teaspoon celery seed. Slowly stir in 2¼ cups chicken broth and ¼ cup milk.

Simmer over medium heat until thick. Remove from heat, salt & pepper to taste.
Directions For Homemade Flaky Pie Crust:
For Homemade Pie Crust: (Omit if using purchased pie crusts) In a medium bowl, whisk together 2⅔ cup all-purpose flour and ½ teaspoon regular table salt.

Add ¾ cup vegetable oil and lightly stir with a large spoon until most of the flour is incorporated and pea-sized meal forms.

Add 5-6 Tablespoons of cold water 1 Tablespoon at a time, stirring to incorporate after each addition.

The finished dough should be soft and pliable, not cracking and dry. Add another teaspoon of oil to get there if necessary, but do not add any extra water. 
~TxH~
Links In This Post
Recipes with Leftover Pork Roast:
New Meals Remade With Leftovers
…and MUCH MORE!


C'mon by & sit a spell! Come hang out at our Facebook Page . It's like sitting in a front porch rocker with a glass of cold iced tea. There are lots of good folks sharing! And you can also follow along on Pinterest, Twitter & Instagram
If you'd like to receive an email when a new blog post goes live,
subscribe to our Blog!
Save