by Texas Homesteader ~
Don't buy that cream-of chicken soup. It's so easy to make cream of chicken soup (or any of the other cream-of soups) yourself in minutes. Some broth, milk, a little flour and whatever add-ins you want are all that's required. So easy!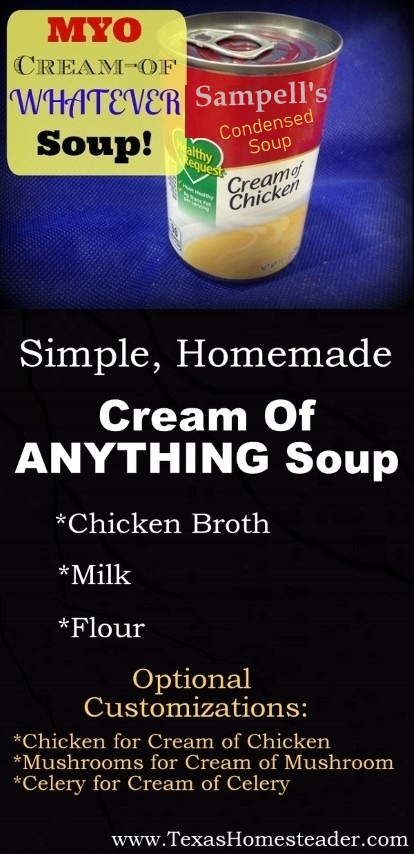 Cream Of Chicken Soup For Recipes
Recently I wanted to make my handsome RancherMan a homemade Chicken Pot Pie, but I wanted to make it totally from scratch.
Cooking with cream-of-something soups helps to make recipes quick & easy. But you know those commercial cans of soup are full of sodium.
Now don't get me wrong, I have a can of the stuff sitting in my pantry for 'those' moments. But whenever possible I like to make my own cream-of-Chicken soup. (or celery, or mushroom, or…)
The good news is that it's so super easy to make myself. That the can of commercial stuff is still sitting unused in my pantry. Check it out, y'all!
Benefits Of Homemade
This homemade cream of chicken soup is made with wholesome ingredients from my own kitchen. Ingredients I recognize and can pronounce!
And although the commercial stuff sells for $1.79/can at our local store, my homemade version costs only pennies. I'm using such goodness as homemade chicken broth & fresh or dehydrated veggies from my garden.
So let's get to putting this soup together!
Simple Ingredients
First I measured out my homemade chicken broth. I wanted to use some dehydrated onions in my soup for extra flavor so I tossed a couple of tablespoons of them into the broth so they could rehydrate right in the broth at the same time!
(If I'm making another kind of cream-of soup such as celery I'll toss in my dehydrated celery at this time) I
If you don't have dehydrated veggies it would be fine to toss in finely chopped onion or celery here instead…
After about 5 minutes of simmering my dehydrated veggies are ready to go. I add some milk, flour & spices. Whatever my palate is in the mood for and whatever spice would go well with the dish I'm making.
Often it's just salt & pepper but I'll also add in minced garlic or chopped thyme if the mood strikes me.
Yep, shootin' from the hip – that's the way I cook here on the Homestead!
Thickening The Soup
Now comes the even easier part: Simmer & stir until it gets as thick as I want it and BOOM! Cream-of-Chicken Soup! Sans the tin can and much of the salt, along with any of the other ingredients I could never pronounce.
If you want a heartier soup you can add shredded chicken. But since I wanted this soup to go into my chicken pot pie which already had the chicken for my recipe, I used this soup just like this! I've also used this soup recipe with shredded chicken added when making chicken & rice. Quick. Easy. Dee-LICIOUS!
So my chicken pot pie was super fast and absolutely delicious. I used that easy Cream-of-Chicken Soup, a homemade pie crust and leftover chicken to make a delicious homemade Chicken Pot Pie for our supper.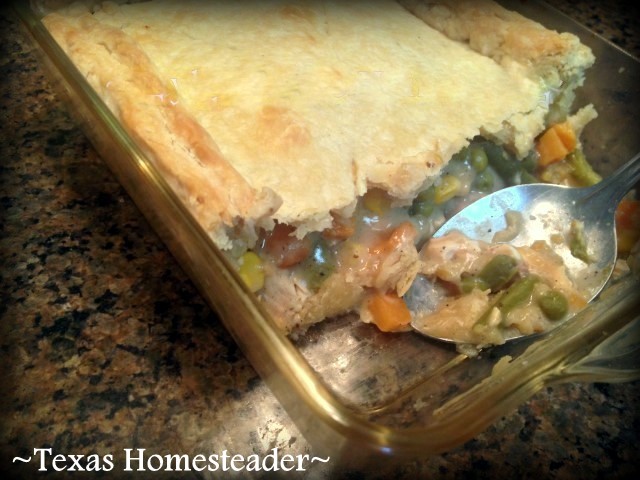 It worked perfectly and there were rave reviews about my homemade meal from my handsome RancherMan. Now that's a response that always warms my heart…
Lots Of Benefits To Homemade
Making my own cream-of-chicken soup from scratch is of course less expensive than the commercial counterpart. It's also healthier. And both of those reasons are driving forces behind my decision to make things for myself that I used to buy instead.
But for me the main reason is that in addition to those two benefits, my homemade soup's more environmentally friendly. There's no landfill-bound used can from my soup.
And c'mon let's admit it: it's empowering to take steps to being self reliant. Making these things for yourself just makes you feel good! 🙂
So if you'd like to step away from the soup aisle at the grocery store and enjoy a less expensive, less wasteful and healthier option, give this recipe a try. It's very flexible since you can add seasonings as your taste dictates.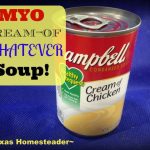 Cream-Of-Chicken Soup
No need to run to the store when you need a can Cream of WHATEVER soup.  It's quick & easy to make yourself!  And without those questionable ingredients in the canned stuff. #TexasHomesteader
Ingredients
2 1/4

Cups

Chicken broth

1/4

Cup

Milk

4

Tablespoons

All-purpose flour

1/4

teaspoon

Celery seed

Salt & pepper to taste

Leftover shredded chicken

optional
Instructions
In a small bowl mix 4 Tablespoons flour, salt, pepper, and 1/4 teaspoon celery seed.

In a saucepan over medium heat, add flour mixture & slowly stir in 2 1/4 cups chicken broth and 1/4 cups milk. Simmer over medium heat until thick. (You can add leftover shredded chicken if desired for a meatier soup.)

Remove from heat and use in the place of a can of Cream-Of-Chicken soup in your recipe!
~TxH~
Our Favorite Soups
Want to see other Meal Ideas?



Pork Roast Recipes:
Recipes Using Leftover Roast:
Want More Cooking Tips & Recipes?
SIDE DISHES
DESSERTS
BREAD
INGREDIENTS
FOOD SAFETY


C'mon by & sit a spell! Come hang out at our Facebook Page. It's like sitting in a front porch rocker with a glass of cold iced tea. There are lots of good folks sharing!
And you can also follow along on Pinterest, Twitter, Instagram
To receive an email when a new blog post goes live it's EASY to
Subscribe to our blog!
Save
Save