by Texas Homesteader ~
*contains affiliate link
In our family there are certain dishes that are requested year after year for certain family members to bring to special meal gatherings.
For my mother it's her chocolate pies.That delicious family recipe goes back at least to my great grandmother and maybe even further. It's a highly-guarded secret family recipe.
RancherMan always gets requests for his delicious version of green bean casserole. And sister usually gets requested to make her deviled eggs.
For me? It's a dish I call Cherry Shtuff.
I'm not really sure what its official name would be – maybe cherry salad? Maybe cherry fluff?
Whatever the official name is, in our family for decades it's been called Cherry Shtuff and it's a non-negotiable part of the holidays!
Luckily for me it's super easy to whip together and requires NO COOKING.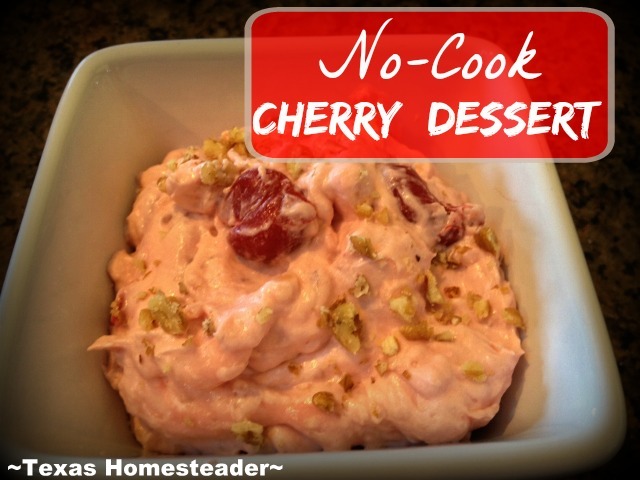 First I assemble the ingredients: a can of cherry pie filling (I like Comstock brand the best but it's pretty pricey so today I'm using a generic brand), a block of cream cheese, a can of crushed pineapple, sweetened condensed milk (I make my own but you can buy a can if you like) and a small tub of whipped dessert topping.
UPDATE: These days I make my own Cherry Pie Filling.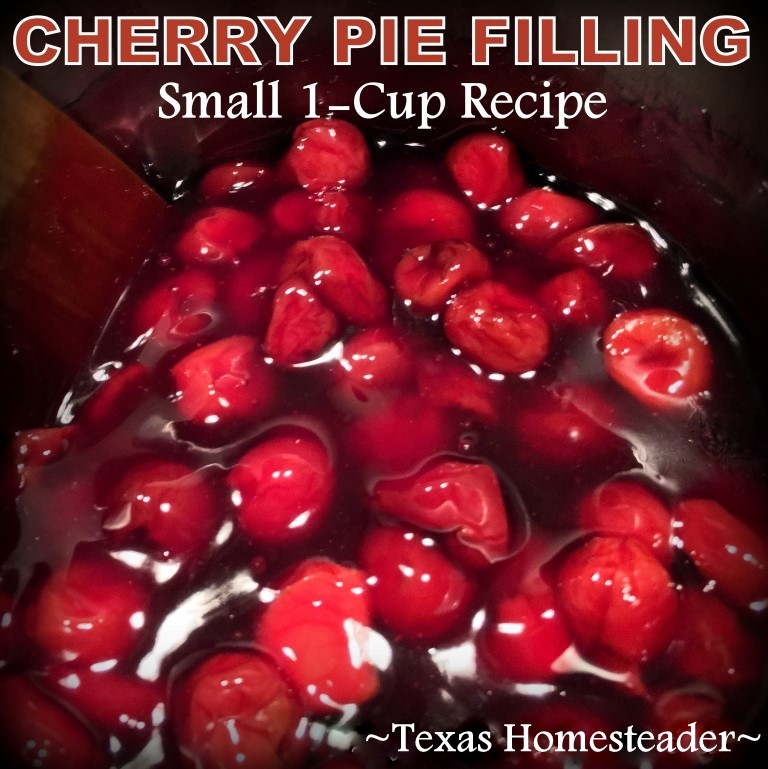 Here's how my no-cook Cherry Shtuff dessert all comes together:
First I drain my pineapple and set it aside.
Now when our kids were small our youngest daughter always asked to drink the drained pineapple juice. So even now when I'm making Cherry Shtuff for the holidays I miss her asking for it!
Sweet memories…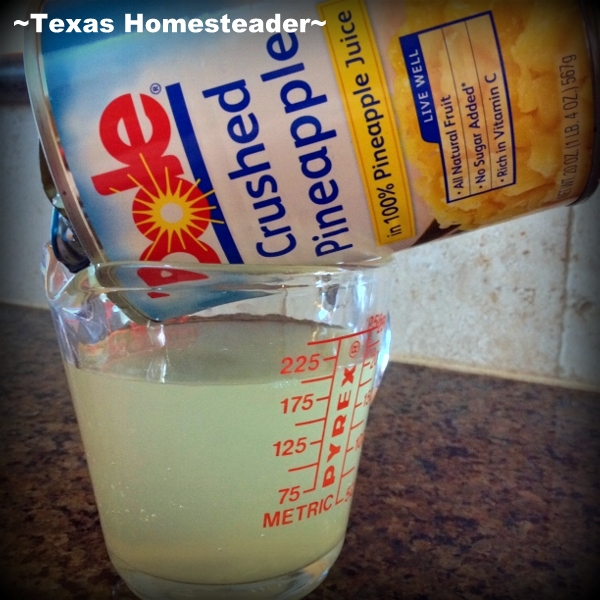 Thinking ahead and bringing the cream cheese out of the fridge to soften before starting this recipe would have been just great.
But sometimes during the holidays we highfalutin' chefs don't practice much forethought. Or is that just me? (eh hemm…)
(Note: Some links in this post are for further information from earlier posts I've written. But links preceded with * are affiliate links. If you click them and buy something (almost anything, not just the item noted) I could receive a small purchase. But the price you pay will NOT change. It's an easy way to support this blog without anything coming out of your pocket. So click often! Thank you!)
Using a fork and then a whisk to try to smoothly blend my cold cream cheese with my sweetened condensed milk just wasn't doing it for me. I just couldn't get it smooth enough.
But several weeks ago I bought a * Ninja Master Prep Set and I can't say enough about it. (No, they didn't pay me a dime to say that – I just love it that much!)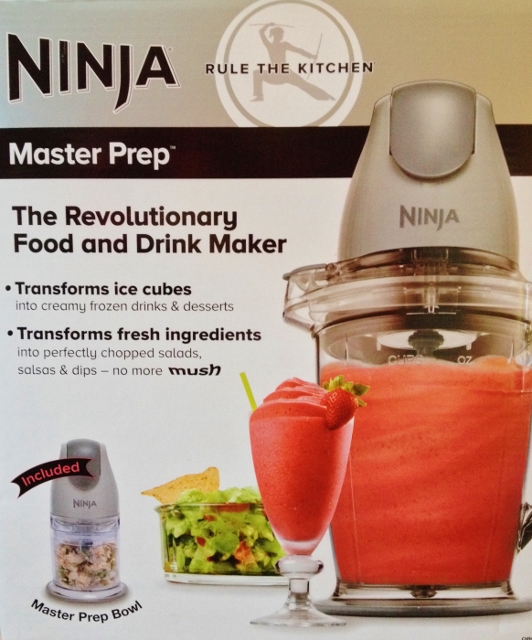 So RancherMan suggested using the Ninja since I already had it out on the counter (duh!)
Since I'd already dirtied the smaller Ninja while making my homemade sweetened condensed milk I wanted to use it instead of dirtying up my larger Ninja as well. But I was afraid it wouldn't hold all of the milk/cream cheese mixture at once without making a mess. (see?? FORETHOUGHT!)
To avoid a mess I put half the milk and half the cream cheese into the smaller Ninja. Then I whirred it around for about 10 seconds and it was perfectly smooth & creamy.
I poured it into my mixing bowl and then I did the second half. Done and DONE!
Mixing Up The Dessert
Now that my cream cheese & milk mixture is smooth and poured into my mixing bowl I add a can of cherry pie filling and fold it all together.
Then I stir the drained pineapple into the mixture, and finally I fold in the whipped topping.
You can use the whole tub of whipped topping, but I find that it makes it a little TOO fluffy for my liking. I usually use about 3/4 of the tub.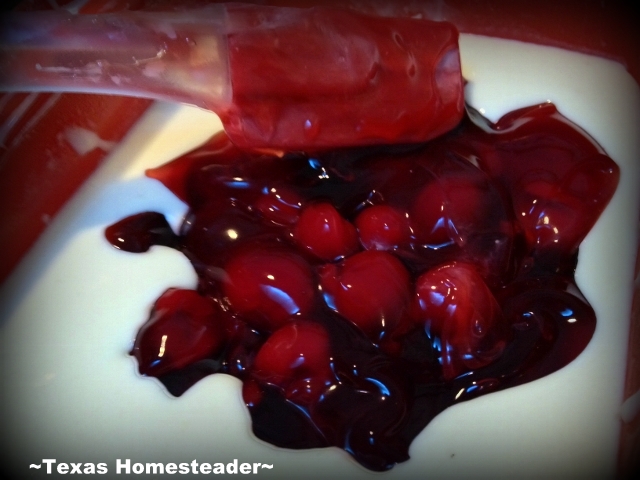 When all is blended thoroughly I typically sprinkle chopped pecans on top to make it look pretty and to give it a light nutty crunch.
Now I'm all done – dessert in minutes with no cooking!
And because you asked so nicely I'll share my recipe with you!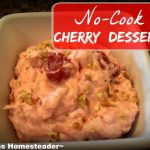 Cherry Shtuff - Quick & Easy No-Bake Cherry Dessert
Ingredients
1

21-oz can

Cherry Pie Filling

(or you can make your own)

1

20-oz can

Crushed Pineapple

drained

1

14-oz can

Sweetened Condensed Milk

(or make your own)

1

8-oz block

Cream Cheese,

room temperature

1

8-oz tub

Whipped Topping

Chopped nuts for garnish

(optional)
Instructions
Directions:
Drain crushed pineapple & set aside.

Blend room temperature cream cheese & sweetened condensed milk until smooth.

Add Cherry pie filling, drained crushed pineapple and whipped topping and fold until thoroughly blended. Garnish with chopped nuts if desired.

Refrigerate until serving
~TxH~
Want More Holiday Cooking Tips & Recipes?
SIDE DISHES
DESSERTS
BREAD
INGREDIENTS
FOOD SAFETY
Save
Save