by Texas Homesteader ~
A mandatory part of all our family holiday traditional meals is RancherMan's Green Bean Casserole. He admits that it's ridiculously easy to make. No complicated instructions here – this is the EASIEST green bean casserole ever!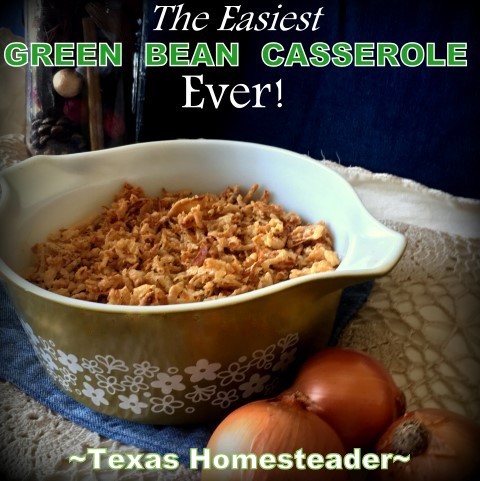 Family Holiday Traditions
Special family holidays like Thanksgiving & Christmas require two non-negotiable dishes to be provided from RancherMan & me:
It's requested that I bring my desserty dish that I make with cherry pie filling, whipped topping, crushed pineapple, and my own quick homemade Sweetened Condensed Milk.
Sometimes I add chopped pecans if there are no allergies to work around. We've named the dessert 'Cherry Shtuff'.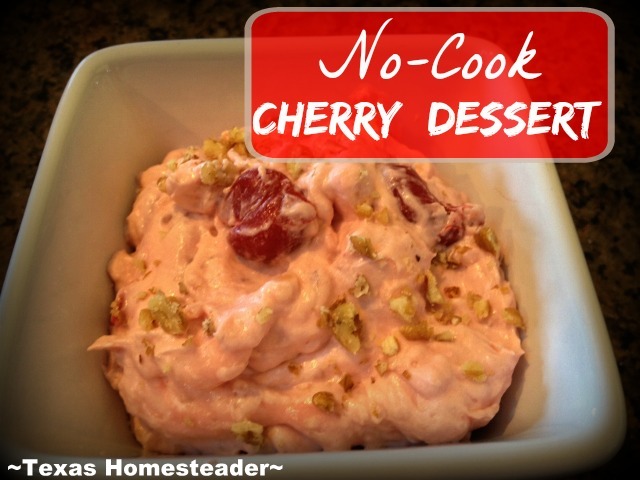 Also on the must-have menu is RancherMan's Famous Green Bean Casserole.
Now I'm not exaggerating here, those dishes are NON NEGOTIABLE. We can bring other dishes to the gatherings if we like as long as these two specialties are included!
I've already shared my Cherry Shtuff recipe with you dear readers, but I've recently had several requests to share RancherMan's most-requested dish. Today's the day!
Simple Green Bean Casserole Ingredients
First he brings out the few simple ingredients that his recipe requires:
Canned green beans (he uses french-cut style),

Cream of mushroom soup,

French's Fried Onions.
Now it's tradition that he uses this awful, ugly green casserole dish to make it in. We have others but this is the only one he will use.
Can you say "1960's Avocado Green"? (groan…)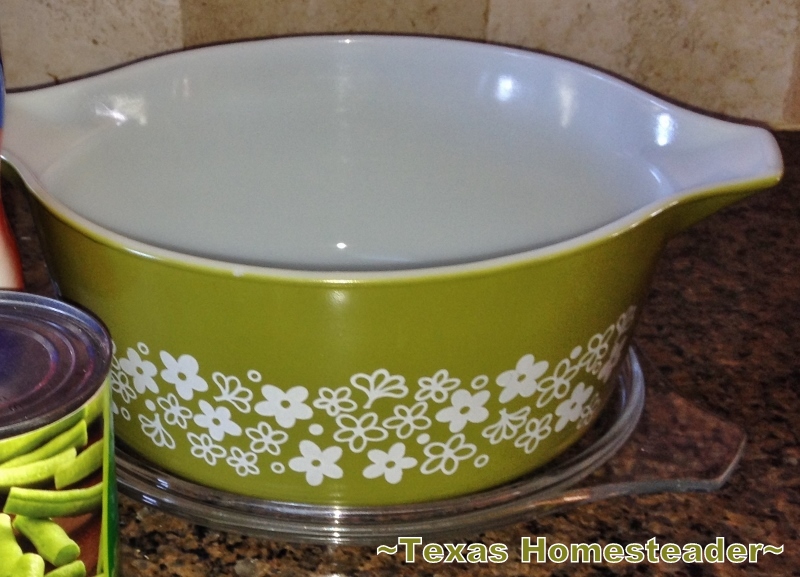 I've tried to sneak it out in the Goodwill pile on more than one occasion. But I've now resigned myself that this ugly dish will be stored in my kitchen cabinets ad infinitum to be used twice a year, every year, without fail. LOL
Green Bean Casserole Comes Together Fast
Now with lightning speed he assembles his dish:
Drain one can of green beans and add to the casserole dish

Add the second can of green beans without draining

Stir in cream of mushroom soup and 1/2 of the fried onions

Place the casserole in the oven that's been preheated to 350 degrees for about 15 minutes

When it's hot & bubbly add the rest of the French's fried onions to the top

Return the dish to the hot oven until lightly browned
(I should note here that I much prefer making my own Homemade 'Cream-Of' Soup.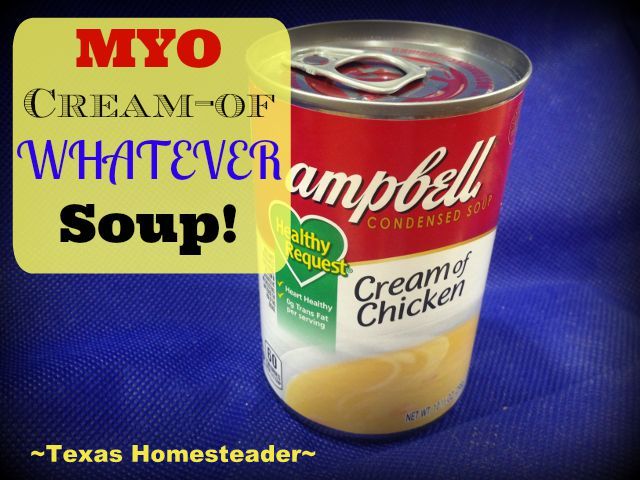 But there's no way I'm not gonna get in RancherMan's way or touch his recipe! LOL)
Simple Yet Delicious Green Bean Casserole
Anyway – Voila! RancherMan's Green Bean Casserole!
It's not made complicated by various fru-fru ingredient additions. And it's absolutely delicious in its simplicity.
When we gather for the holidays, everyone brings a dish so we always have lots of food.
Sometimes if we're lucky we can bring back home a small leftover serving of my cherry shtuff dessert or a smidge of another dish we brought.
But there are never (read NEVER) any leftovers of RancherMan's green bean casserole.
Yeah, it's that good.

RancherMan's Simple Green Bean Casserole Recipe
And now, without further adieu, here is RancherMan's much-requested green bean casserole recipe:
Did you make this dish? Please rate the recipe in your comment below!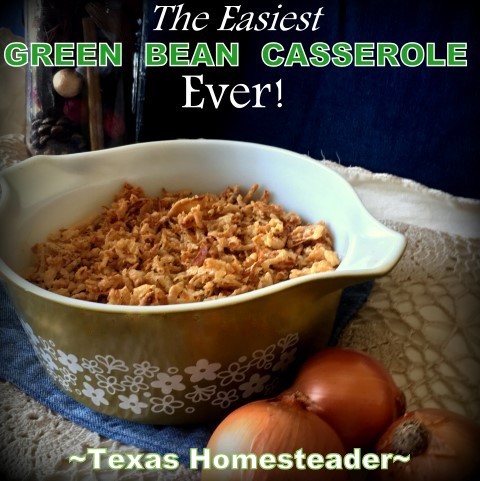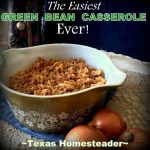 RancherMan's Green Bean Casserole Recipe
French-cut green beans, cream of mushroom soup and french-fried onions make a delicious holiday dish - green bean casserole. #TexasHomesteader
Ingredients
2

14.5 oz cans

Green Beans

- we like French-Cut style

1

10 oz can

Cream Of Mushroom Soup

1

6 oz pkg

French Fried Onions
Instructions
Directions
Preheat oven to 350 degrees

Drain only one can of green beans and add to casserole dish. Add remaining can of green beans without draining.

Stir in 1 can cream of mushroom soup and about 1/2 of the container of french fried onions. Stir gently to incorporate.

Place casserole into preheated oven and heat until thoroughly heated and barely bubbling. (about 15 minutes)

Remove casserole dish and sprinkle remaining fried onions on top of casserole. Return casserole to oven until the top is lightly browned (about 5 minutes)
~TxH~
This post categorized in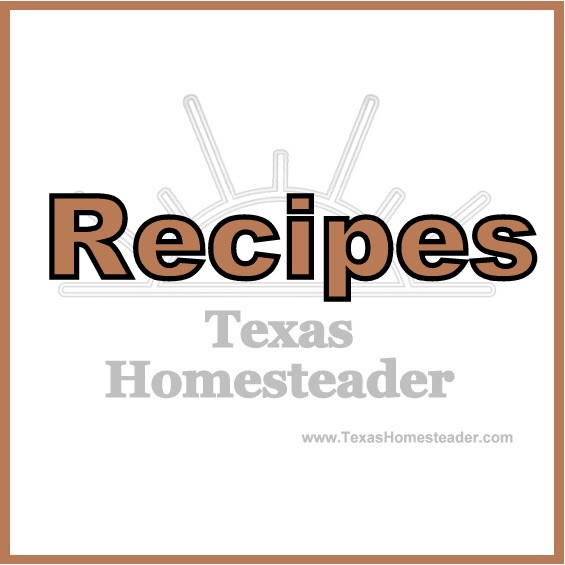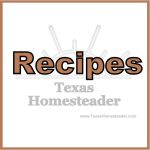 Want More Holiday Cooking Tips & Recipes?
SIDE DISHES
DESSERTS
BREAD
INGREDIENTS
FOOD SAFETY


C'mon by & sit a spell! Come hang out at our Facebook Page . It's like sitting in a front porch rocker with a glass of cold iced tea. There are lots of good folks sharing! And you can also follow along on Pinterest, Instagram & Twitter
If you'd like to receive an email when a new blog post goes live, subscribe to our Blog!
Save
Save