by ~ Texas Homesteader ~
Many delicious desserts need only a simple mix-n-fill graham cracker crust to hold them. This recipe uses just THREE ingredients to make a sweet, buttery crust in minutes.
You're not going to believe how easy this is!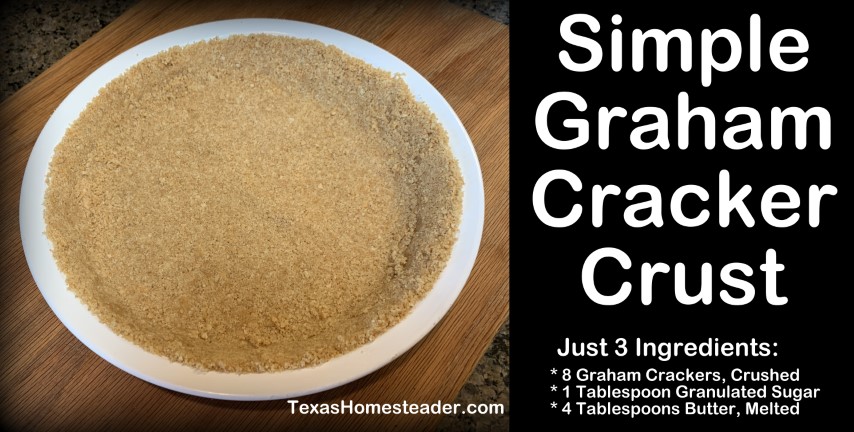 (Note: Some links in this post will take you to other related articles for further information. But links preceded with * are affiliate links. If you click and buy something I could receive a tiny commission.)
Simple Homemade Graham Cracker Crust
Making a homemade graham cracker crust can be done in mere minutes using only 3 ingredients:
8 whole graham crackers, crushed (approx 1 cup graham cracker crumbs)

4 Tablespoons butter, melted

1 Tablespoon granulated sugar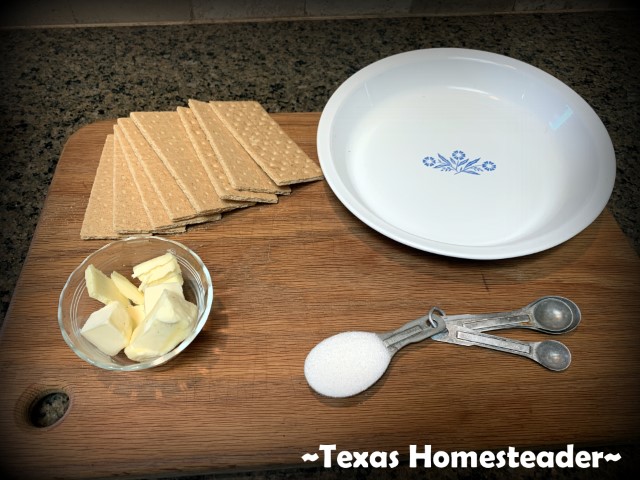 How To Easily Crush Graham Crackers
There are a couple of simple ways to crush those graham crackers into crumbs:
Food Processor: Pulse to break the graham crackers up and then blend to crush into fine crumbs.
Rolling Pin: Place graham crackers in sturdy zippered bag. Use a rolling pin to crush graham crackers into fine crumbs.
How I Crush Graham Crackers Into Crumbs
I have a small food blender that I use to crush my graham crackers. I first break them apart and drop them into this small blender. Then I first pulse, then process fully to turn my graham crackers into crumbs.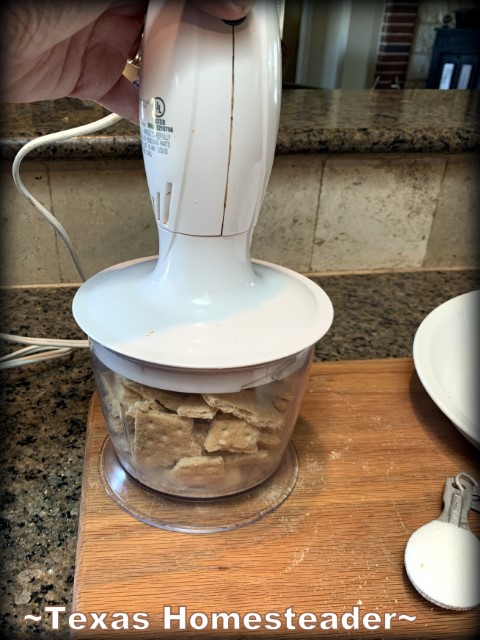 Afterwards I add 1 Tablespoon of sugar and pulse again to blend. Now all that's needed to complete my crust is that melted butter.
Melted Butter for Graham Cracker Crust
I add 4 Tablespoons of butter into microwaveable measuring cup and microwave for just a few seconds to melt the butter.
Then I pour the melted butter into the graham cracker mixture, pulsing once again to blend completely.
Adding Graham Crackers To Pie Plate
My graham cracker crust is ready! So I just dump the mixture into my pie plate.
As the butter cools it will become more rigid So I press the crumbs into place, first with my fingers and then lightly with the back side of a measuring cup.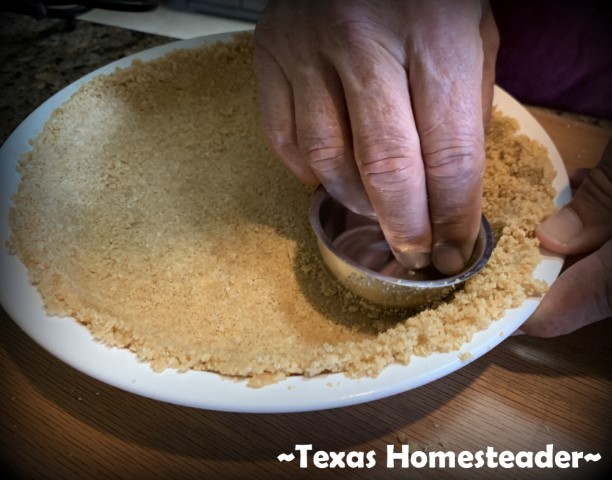 Helpful Note: It's helpful to leave the top edge slightly rounded to make it easier to get the server spatula behind the crust when serving your dessert.
Now my graham cracker crust is complete! See what I told ya? Mere minutes!
What Size Pie Dish Does This Graham Cracker Crust Fit?
Depending upon your dessert and how thick you like your graham cracker crust, there are a few options for sizes of pie dishes you can use:
9″ Pie Dish – My pie pan is a vintage 9" CorningWare pie dish that once belonged to my grandmother. This graham cracker crust works great for a standard *9″ Pie Pan (ie: not a deep-dish).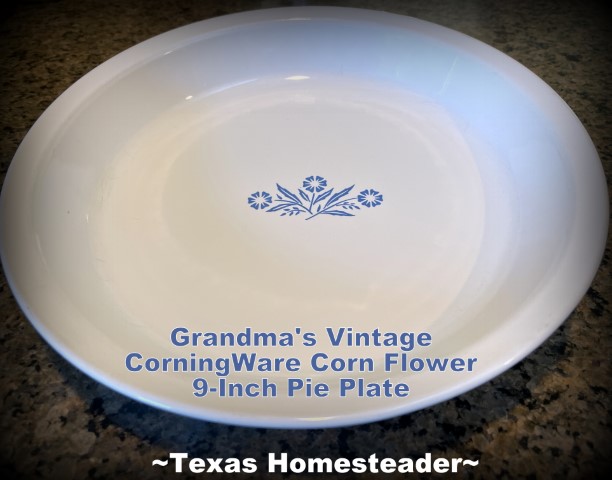 8″ Pie Dish – Depending upon how thick you prefer your graham cracker crust this would also work in a 8" pie pan as well. The crust would be just a touch thicker than when made in a 9″ pie plate.
7″ Springform Pan – I also use this recipe for my Instant Pot Cheesecake made in a*7-inch Springform Pan. (but I press the crust up the sides when making cheesecake)
Does This Crust Need To Be Baked?
I never pre-bake my graham cracker crusts. Just press into a pie plate and start filling it up.
I've read if you want to pre-bake your graham cracker crust a quick 10 minutes in 350 degree F. oven should do the trick.
Be sure to cool the crust afterward if you're adding a no-bake dessert filling for your pie.
What Desserts Need A Graham Cracker Crust?
You can fill this simple crust with your favorite fillings. Links in this list will take you to the recipes.
Our favorite desserts that use graham cracker crusts are: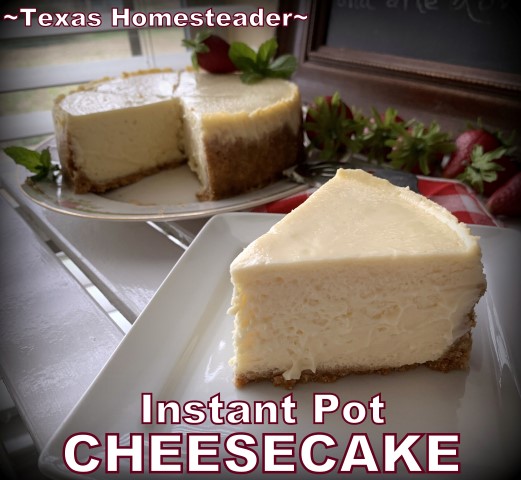 But really, there are so many desserts that go well with a simple graham cracker crust. Keep this easy recipe handy to whip up at a moment's notice.
Did you make this Graham Cracker Crust? Please rate the recipe in your comment below!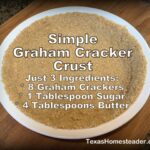 Simple Graham Cracker Crust - Only 3 Ingredients!
This easy graham cracker crust uses only 3 ingredients to make a sweet, buttery crust in minutes. #TexasHomesteader
Ingredients
8

whole graham crackers, crushed

(approximately 1 cup graham cracker crumbs)

1

Tablespoon

granulated sugar

4

Tablespoons

butter, melted
Instructions
Break 8 graham crackers into large chunks. Place pieces in a small food chopper/blender first pulse to chop up graham crackers, then blend to make fine crumbs.

Add 1 Tablespoon granulated sugar, pulse to blend.

Add 4 Tablespoons melted butter, pulse to blend.

Place mixture in 9" pie pan and press firmly along bottom and up sides of pie pan.

Fill with pie filling of choice. Enjoy!
Recipe Notes
If you don't have a food chopper you can use a sturdy zip-top bag and rolling pin to crush graham crackers into crumbs.
Pie Crust Tip: It's best to round the top edges of your pie crust instead of pressing to a point to make it easier to serve.
~TxH~
This post categorized in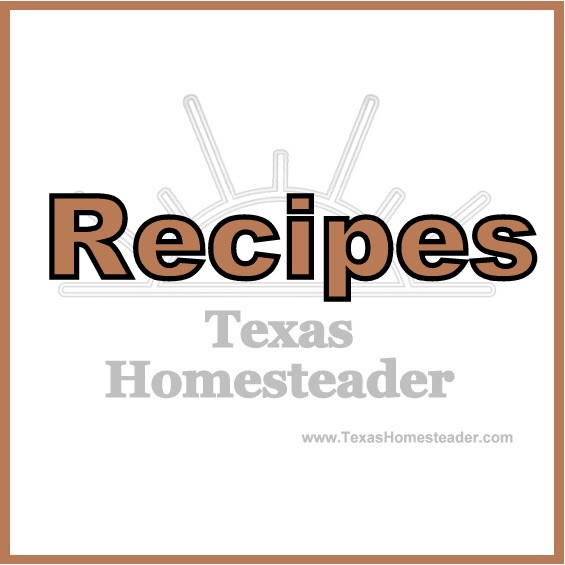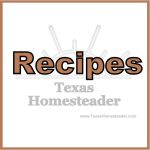 Other Easy Desserts


C'mon by & sit a spell! Come hang out at our Facebook Page . It's like sitting in a front porch rocker with a glass of cold iced tea. There are lots of good folks sharing! And you can also follow along on Pinterest, Twitter or Instagram
If you'd like to receive an email when a new blog post goes live,
subscribe to our Blog!