by Texas Homesteader ~
I love strawberry shortcake, don't you? Recently I wrote about making homemade strawberry shortcake dessert for my handsome RancherMan and two of our grandbabies. It was a lip-smacking dessert that looked and tasted like I'd been in the kitchen for hours.
I'll never tell them that it was super-easy to whip it all up from scratch – even the shortcake! C'mon y'all, I'll let ya in on how I did it.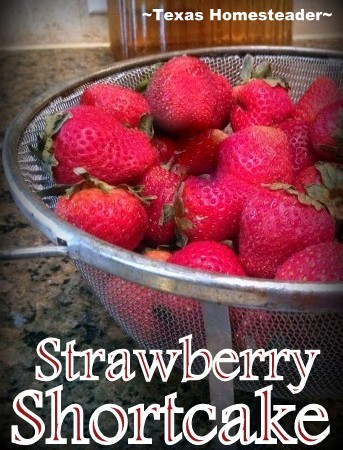 Homemade Shortcake
First I made the Homemade Shortcake. It only needed a 20-minute stint in the oven so it didn't take long at all before it was baked and cooled. I placed it on a baker's rack & covered it with a clean tea towel. It'll be ready & waiting when it's time for dessert.
I went ahead & put my KitchenAid bowl & beater in the freezer at this time too. I've heard it helps speed up the time to make homemade whipped cream. (I can vouch for that – it does!)
Sugaring The Strawberries
Now let's turn our attention to those delectable strawberries. I rinsed and drained them well. Then I cut off the green-leaf top and sliced them thinly. I placed the slices in a bowl and each time I laid down a layer of strawberries I added a hefty sprinkling of sugar.
This accomplishes two things – the sliced strawberries are further sweetened and this procedure causes them to release some of their juice. I'll be using that juice for my strawberry shortcake dessert.
When the strawberries had been sliced & sugared I placed another bowl on top of them to cover and left them on the counter to do their thaaaang for a couple of hours.
Thickening Strawberry Juice
When I came back to check them they had juiced quite well. So I poured the strawberry juice into a pan and heated it slightly with just a sprinkling of cornstarch to thicken it a bit. I guess I used about a 1/4th teaspoon but this will depend upon how much juice you have to be thickened.
This thickening step only took about 2 minutes. Then I stirred the thickened juice back into the strawberries.
Assembling Strawberry Shortcake Dessert
When it was time to enjoy our strawberry shortcake I quickly whipped up homemade honey-sweetened whipped cream. I was pleasantly surprised at how quickly the whipped cream came together. I'd never made it homemade before!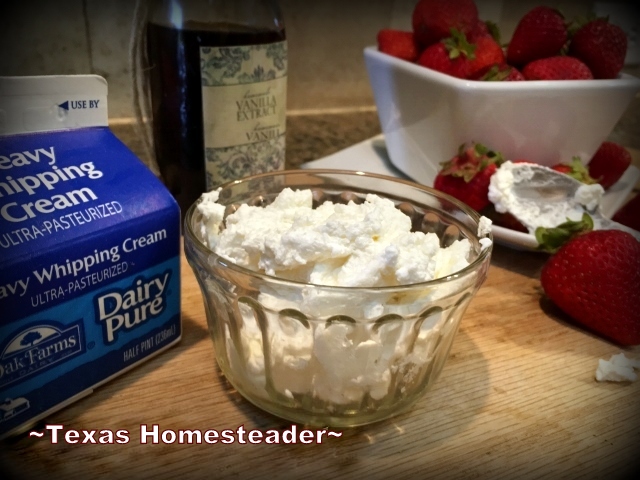 Then I sliced the shortcake into wedges and split each wedge in half so I'd have a top & bottom. Onto the bottom section of each wedge I added a hearty portion of the strawberries and a dollop of whipped cream. I replaced the top of the shortcake and added more strawberries & another large dollop of whipped cream.
I garnished the top with a few strawberry slices for 'pretty'. RancherMan & the grandbabies loved it!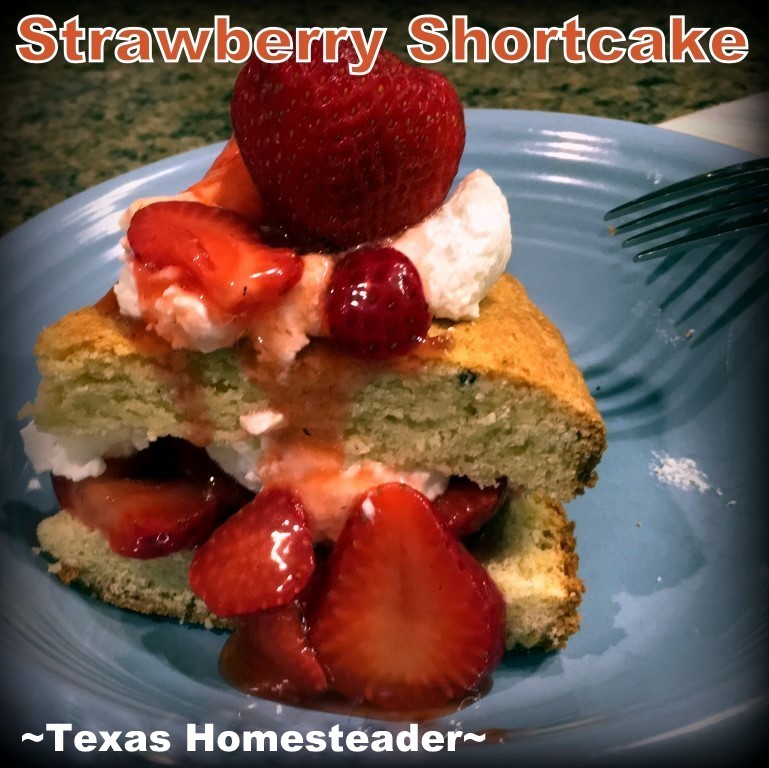 Yep, in my grandbabies' eyes I get to be classified as 'Grandmother of the Year' even with such little effort on my part.
(walks to darkened center stage and takes microphone)
"I'd like to thank my KitchenAid, without you I couldn't have done this. And I'd like to thank RancherMan and my grandbabies for their unfaltering support." LOL!
~TxH~
Strawberry Shortcake
Other Easy Desserts


C'mon by & sit a spell! Come hang out at our Facebook Page . It's like sitting in a front porch rocker with a glass of cold iced tea. There are lots of good folks sharing! And you can also follow along on

Pinterest

,Twitter or Instagram
If you'd like to receive an email when a new blog post goes live,


subscribe

to our Blog!
Save
Save
Save
Save
Save