by Texas Homesteader ~
If you've got a can of cherry pie filling and some flour tortillas, you've got dessert! Cherry pie tortilla rolls are simple and delicious as they are. Or you can add a dollop of whipped cream for a little sumpin' sumpin' extra.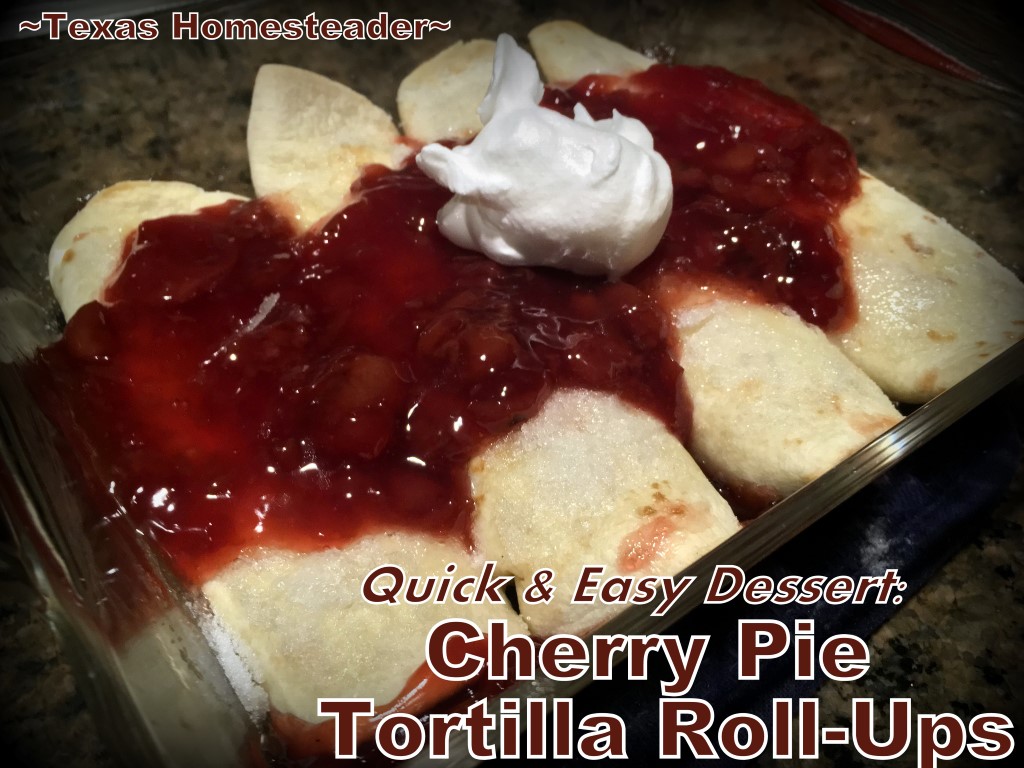 I've made Apple Pie Rolls using some of my home-canned Apple Pie Filling. It's delicious!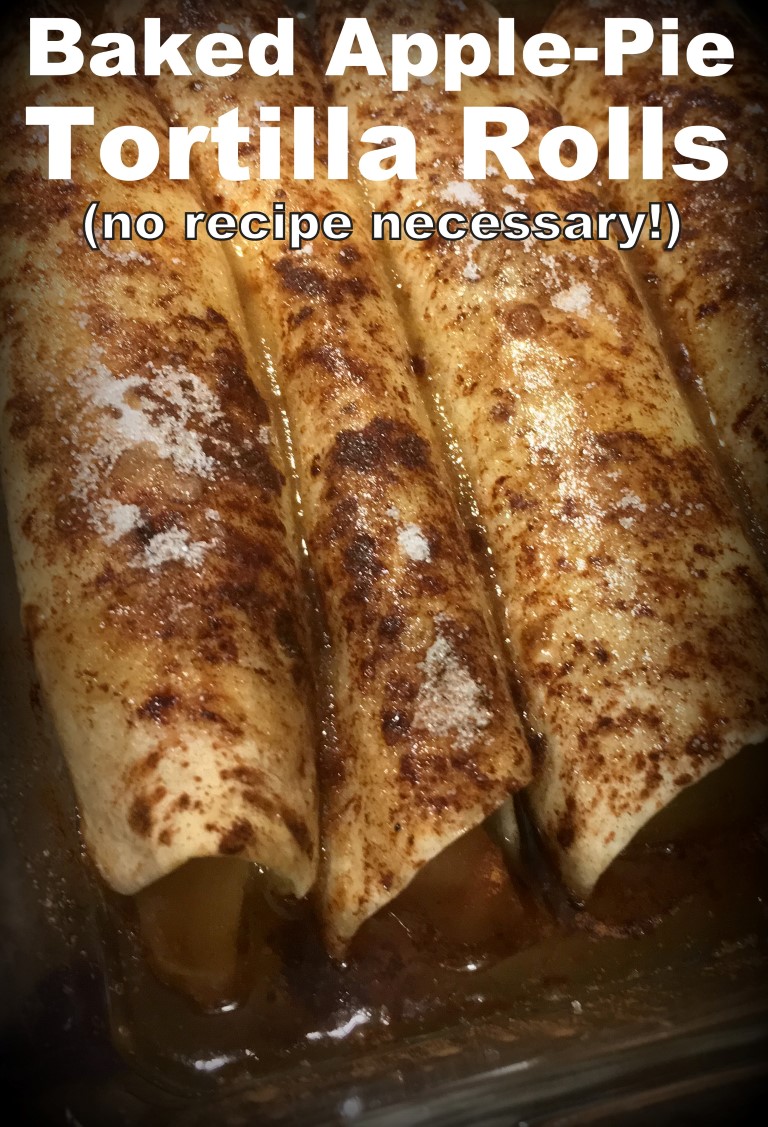 But now I'm thinking about cherry pie tortilla rolls…
Dessert For Unexpected Company
RancherMan & I don't always eat dessert, but when we do it's usually something quick & easy. I've simply cut berries in a bowl and topped with quick homemade honey-sweetened Whipped Cream.
Or enjoyed our healthier version of 'ice cream' that uses frozen bananas and berries.
Or even whipped up a quick chocolate pudding. All delicious, all quick & easy.
But when unexpected company comes, I want something that's a little different (but still easy 'cause, you know, I'm a lazy cook!)
The quick-read version of Cherry Pie Tortilla Rolls:
Spoon cherry pie filling into flour tortillas,

roll tightly,

place in baking dish,

bake 350 degrees for 10-15 minutes.

DONE!
Assembling Cherry Pie Tortilla Rolls
Making these cherry pie rollups are about as easy as it gets. First I whipped up my homemade cherry pie filling because it's quick & easy & I had all the ingredients.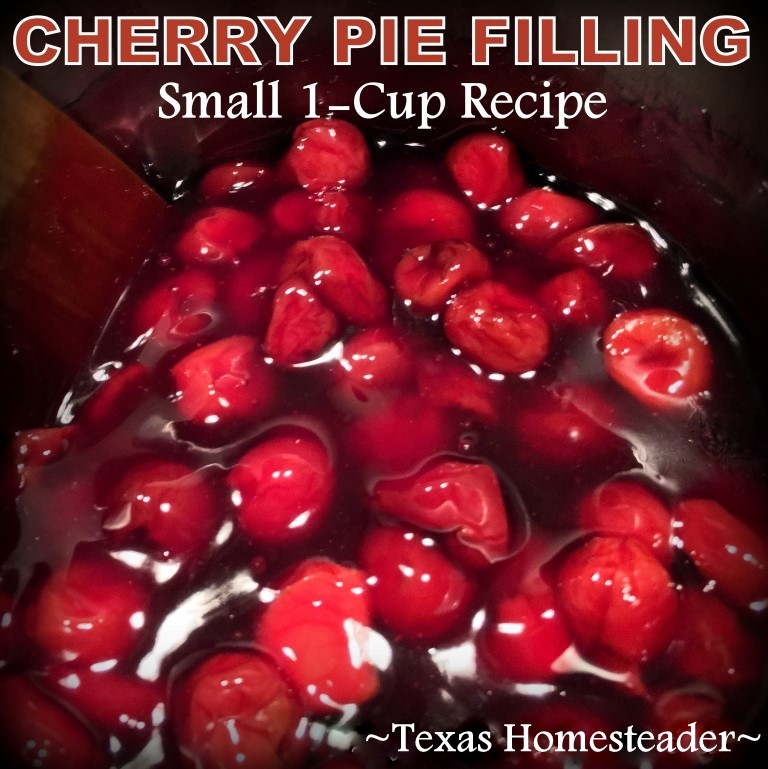 But you can totally use a can of commercial cherry pie filling to make it even quicker & easier! Whatever you've got works here.
Assembling Cherry Pie Tortilla Rolls
Now I pull out a few flour tortillas and heat them lightly in the microwave to make them easier to roll.
I put a couple of spoonsful of cherry pie filling along the length of each tortilla & roll it up tight. Then I place each one seam-down in a small baking dish.
When they're all assembled I drizzle some melted butter and a sprinkling of sugar on top of all of them. I just like the finish this gives 'em but it's totally optional.
Now all that's left is to toss 'em in the oven that's been heated to 350 degrees Fahrenheit. It doesn't take long, I bake them for only about 10-15 minutes.
If you want to keep the edges soft you can cover them, but RancherMan prefers the edges to be lightly crunchy. So when I make these I always leave the baking dish uncovered.
Topping The Tortilla Rolls
When I remove them from the oven they smell divine. Sometimes I'll top them with a little more cherry pie filling, some honey-sweetened whipped cream or even CoolWhip.
Mama always says "presentation is half the dish!" And mama's always right.
Dessert in a flash. Done & done!
~TxH~
This post categorized in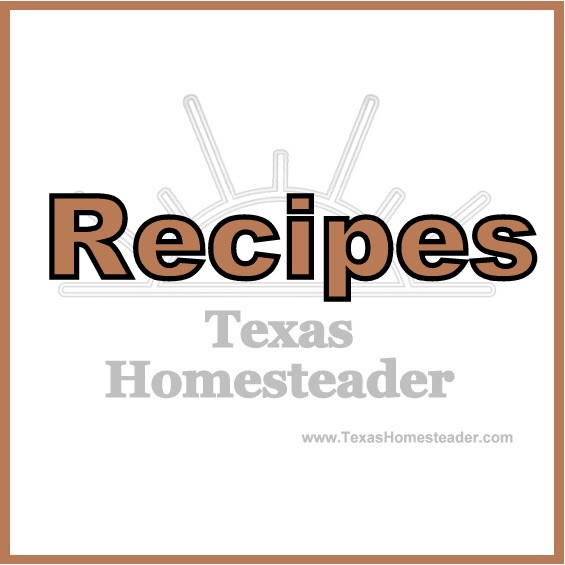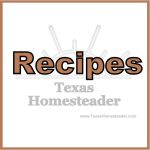 Other Easy Desserts


C'mon by & sit a spell! Come hang out at our Facebook Page . It's like sitting in a front porch rocker with a glass of cold iced tea. There are lots of good folks sharing! And you can also follow along on Pinterest, Twitter or Instagram
If you'd like to receive an email when a new blog post goes live,
subscribe to our Blog!