by Texas Homesteader ~
RancherMan & I love the native birds, albeit not all the bird poop they leave on the porch. All those birds were landing on (and POOPING on) our porch railings. What a mess!
Come see the oh-so-simple Homestead Hack solution we came up with!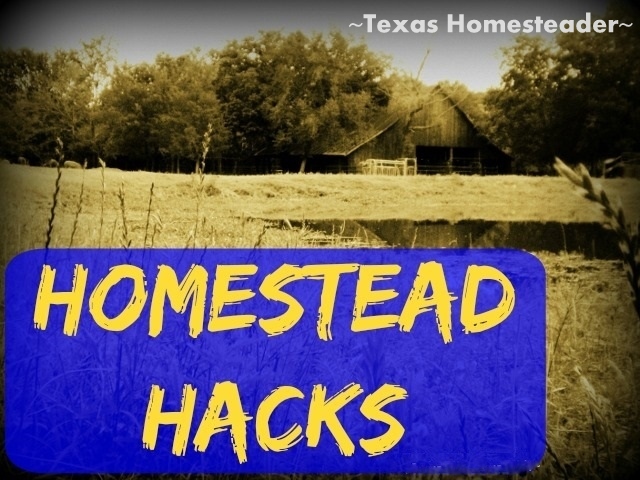 Enjoying Native Birds In Our Yard
We have a bird feeder out back that we keep filled so we can enjoy all those beautiful, cheery birds.
(be sure to check out my Bird-Feeding Homestead Hack where I share how we keep 'em fed on the CHEAP!)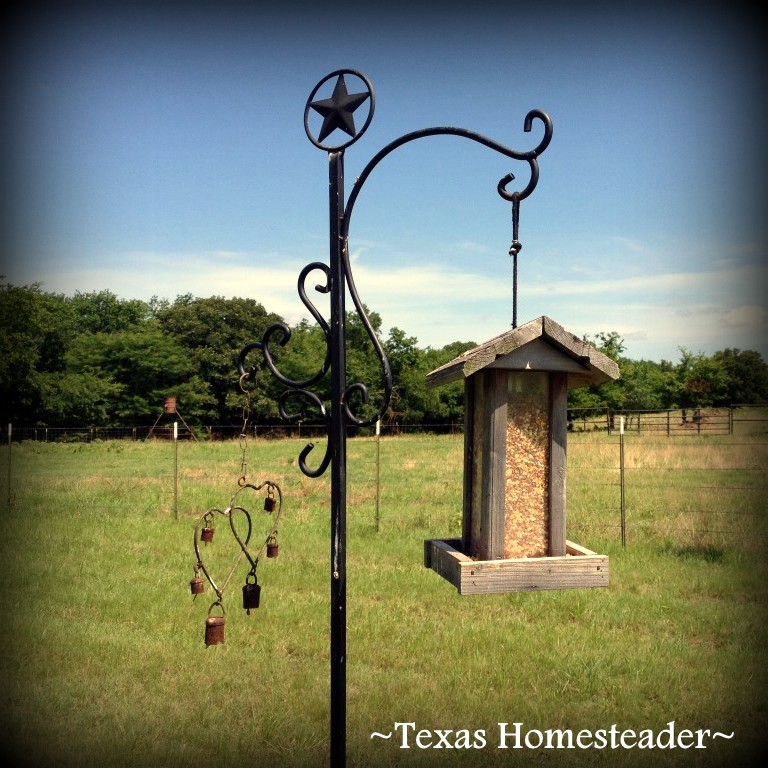 And as you may already know, recently RancherMan & I had a porch extension built. We spend lots of time out there enjoying the birds and the scenery.
But ugh, the birds use the railings as their perch. And there was always mounds of poop building up along the railings and on top of the built-in benches too. Until…
How To Eliminat Bird Poop On A Porch Railing?
I don't want to reduce the amount of birds frequenting our back yard. I really enjoy watching them.
There are always a wide variety of birds near our feeder. And they nest nearby too, raising their young. Oh how I love it all!
But I needed to be able to easily steer them away from using our porch railings as a stopping point. But how?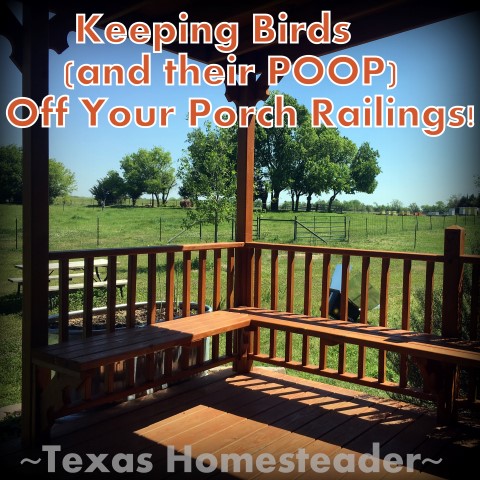 In a perfect world I'd be able to enjoy the porch & that gorgeous view and still keep everything looking natural. We'd be able to entertain guests out there, looking over a beautiful horizon and maybe sipping a cold glass of iced tea. It was the perfect entertaining spot after all.
But how do I keep the birds we love from pooping all over the railings?
Bird Poop Makes A Mess On Porch Railings
As you see in the photo below, all those birds leave a little something behind as they congregate on the railings. And with so many of them, there was lots of poop let me tell ya!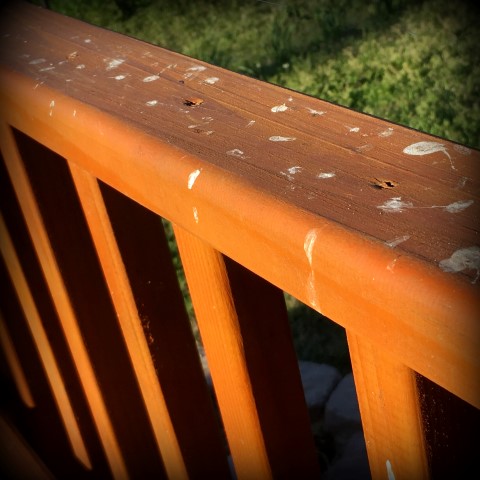 So even with constant cleaning of the bird droppings, it was always back within minutes. How disgusting!
A constant, never ending chore. Especially if we would be entertaining guests there.
And heaven forbid unexpected company showed. That meant I'd have to stutter my apologies as I did my best to quickly clean a place for our guests to sit.
And then remind them not to rest their arm on the rail. Ewwwwww. How embarrassing. But what's the solution? Hummm…
How To Stop Birds From Perching On Porch Railing
I needed a way to enjoy the birds in the yard but discourage them from our porch. But how?
Well, what if I ran a string along the rails about 4″ high between the porch's poles? Yeah! That might make landing on our porch rail less attractive to them.
They'll try to land but with a string above the rail they won't be able to actually land on the rail. And with a 2″ to 3″ gap between the rail and the string they won't be able grip the string with their feet either.
Their weight may push the string down but not enough to touch the rail to give them a more solid footing. Hopefully that way they'll give up and perch elsewhere!
I asked RancherMan what string he'd like me to use and he said "Why don't we just use fishing line? It's cheap, it's easy and it will be almost invisible!"
Why RancherMan, that's brilliant! Let's give it a try.
Using Fishing Line To Discourage Birds
So we took some inexpensive fishing line and wrapped it around the first post and strung it tightly to the second post, running it about 2″ to 3″ above the rail.
We stretched the fishing line tightly & tied it to the first post. Then we ran another line between that post and the next.
As you can see by the photo below, the fishing line really is almost invisible! So it doesn't detract from the beauty of our view of our yard nor watching the beautiful birds at our feeder.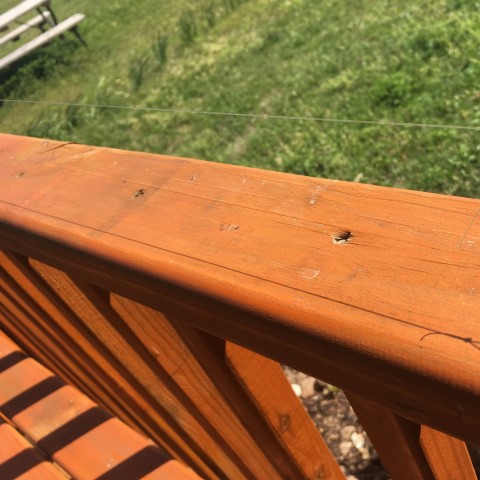 Would The Fishing Line Trick Work?
But would our little fishing line hack actually work? Would the birds find a way around our barrier?
Perhaps they are too smart for our little trick and they'll lite on the edge of the rail instead? Or maybe the fishing line will stretch enough to sag all the way to the rail under the bird's weight and make no difference at all.
So to observe the effectiveness, RancherMan & I sat on our porch swing to see if our little trick would work. Since the birds are used to us being out there they will tropically flitter about the porch area even in our presence.
So we enjoyed the afternoon with a glass of iced tea and watched the birds coming and going. But none would lite on the railings. EUREKA! It seemed to like a charm.
Next we evaluated the effectiveness when we weren't outside with the birds. That way there would be even more birds flittering around to test the string solution even more.
But even over the next several days, nary a single bird dropping was to be found on our porch rail.
Tips For Successful Fishing-Line Rail Runs
I feel there are a few secrets to success for running this fishing line along a rail to keep birds off:
Fishing line should be run about 2″ high from the railing

Line must be pulled tight so it won't sag to the rail if landed upon by birds.

Distance between posts should be 6-ft or closer – no long runs.
This is the perfect solution for us. There are still lots of birds in the back yard for us to enjoy, but they stay away from the porch now.
And because the fishing line's almost invisible it doesn't detract at all from the beauty of our porch. Now the bird poop won't detract from our enjoyment of our porch either!
Want To Read More About Our Porch Extension?


C'mon by & sit a spell! Come hang out at our Facebook Page. It's like sitting in a front porch rocker with a glass of cold iced tea. There are lots of good folks sharing!
And you can also follow along on Pinterest, Twitter, Instagram
If you'd like to receive an email when a new blog post goes live,
subscribe to our Blog!