by Texas Homesteader ~

As anyone who's battled (and LOST) the war with Bermuda grass in their flower beds knows, it's almost impossible to eliminate.
The underground rhizomes break easily, leaving the next generation of Bermuda-grass-misery ready to thwart your best efforts again and again. But I've found a solution!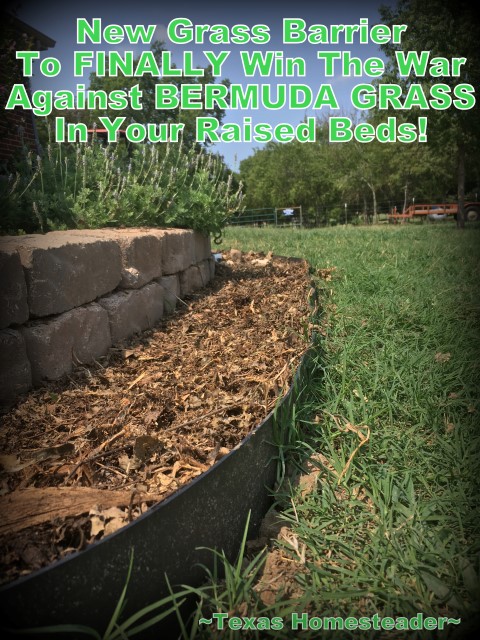 Protecting A Landscape Planting From Bermuda Grass
RancherMan & I had a beautiful porch extension built last year. And we landscaped it with pretty raised beds.
But wait. WHAT'S THIS??? Even though we took precautions to keep the Bermuda grass out, it tried to march into our beautiful raised beds anyway!
In researching ways to tame the Bermuda-grass, RancherMan stumbled upon a grass barrier that looked promising. It stops the underground rhizomes as well as the above-ground runners. How exciting!
I contacted the company to see if they'd be interested in sending me a sample of their product to try & review. They agreed and the barrier was sent to me promptly.
As usual, remember that just because an item is offered at no cost in exchange for my review, I owe it to my readers to be honest and open about the pros and cons of the product I'm reviewing. I always disclose to the manufacturers that I will not offer a false positive review in exchange for free product!
About The Grass Barrier
From the parent company Lewis Bamboo:
Our long lasting barrier is made in the USA from 100% recycled HDPE. Grass Barrier is not brittle like injection molded material and does not splinter like fiber and composites. Our barrier has a smooth surface for a clean appearance and doesn't hold dirt. We use 100% HDPE plastic so our product will never rust like metal edging. Grass Shield can last over 100 years & has an ASTM D 4833 puncture resistance of 200 pound-force.
Well that sounds good to me! Let's give it a try.
1st Grass Barrier Installation Attempt & Fail
As instructed we unrolled it in that hot Texas sun and let it relax & become more pliable. Then we easily cut it to length with an ordinary pair of tin snips.
We were instructed to use a trenching shovel to bury the barrier 6″ below the ground, leaving a 4″ lip above ground.
It was recommended to dig a 6″ deep trench to install the grass barrier. But we were going through a drought so the ground was dry and hard.
So instead we used a flat-head trenching shovel to cut the soil 6-8 inches down, pushing & pulling the shovel to make a narrow opening in the soil.
When the area was ready to accept the barrier we slid it into place, chunking up the hard dry soil best we could on either side to snug it in. Then we stood back & looked at our handiwork.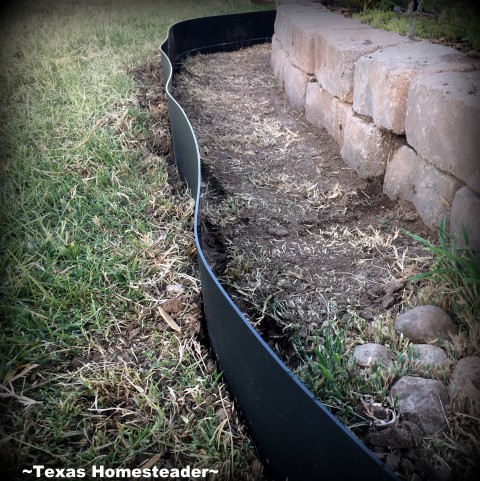 Hummm, those waves… RancherMan was not a fan of that.
Maybe there wasn't enough room for the barrier to settle smoothly since we cut only a narrow slit in the ground. Perhaps the hard soil is forcing the barrier into awkward angles?
So we pulled it all out and started over.
2nd Installation Of Grass Barrier
This time RancherMan used a sharp-shooter shovel. Instead of cutting an opening in the soil we instead actually dug a flat-bottom trench 3″ to 4″ wide.
We felt that would allow the barrier to bend more gently & hopefully keep the barrier from rippling.
Bury Grass Barrier 6″, Leave 4″ On Top
To keep Bermuda rhizomes from going under the barrier it's recommended to bury it 6 inches deep. This gives a 4″ lip remaining above the ground to keep the runners from growing over the barrier & into your beds.
But RancherMan didn't care for the look of that much barrier above ground. So we contacted the folks at Lewis Bamboo and asked them if we could install ours a little deeper.
They responded that we could, but with less than 4″ above ground we'd need to maintain the grass more often to make sure it didn't grow over the barrier.
So RancherMan only left about 3″ above ground instead of the recommended 4″.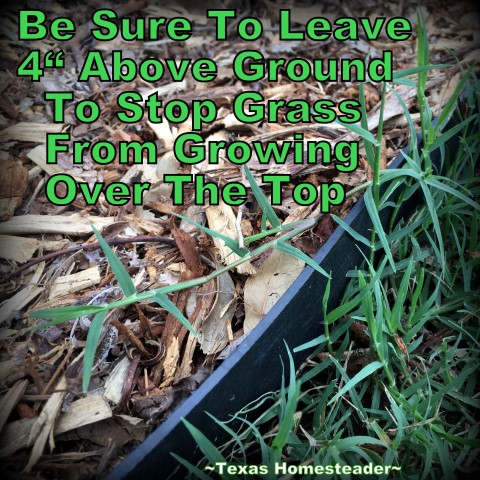 But be aware there's a reason they recommend the ratio of barrier beneath vs. above ground.
For the best effectiveness and as instructed, bury 6″ underground, leave 4″ above ground.
Grass Barrier Ripples Remain
After installation we replaced the soil evenly on both sides as instructed on their website. The rippling was better but still very noticeable.
I asked Lewis Bamboo about this and the reply was:
I think what is causing the ripples is the soil compression during thermocycling. This should be lessened once the soil has properly settled from being excavated.
In all fairness we've been dealing with drought so I'm not sure how much the soil has actually settled. So I waited for several months.
Although the rippling improved, it's still noticeable even now. I'm more interested in stopping the Bermuda grass so this small aesthetic difference is minor in our experience.
Killing The Bermuda Grass Inside The Barrier
After the grass barrier installation I used an herbicide to kill the Bermuda Grass within the barrier area.
It's important to assure Bermuda grass is actually dead before attempting to plant your area within the grass barrier.
A one-time application will almost never actually kill Bermuda.
So I waited until I saw sprouts from underground rhizomes and sprayed again.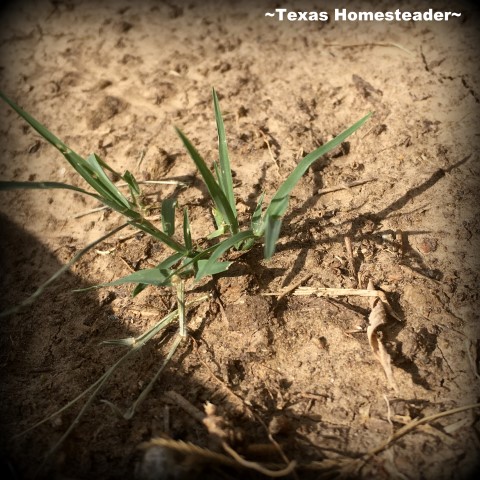 I felt the effects of the drought kept the grass from taking in the herbicide completely. I really needed to assure the grass was dead before testing.
I actually had to spray herbicide 4 separate times to finally kill the Bermuda grass. So stay diligent to kill those sprouts for good before planting!
After waiting a week following the final spot spray I saw no indication of sprouting grass. So I finally moved on to the testing phase.
Testing Grass Shield For Effectiveness
We didn't want bare ground between the barrier & the raised beds so we added shredded wood mulch in this area.
It softened the look and I was hoping that filling in this area would help round out those ripples. But it doesn't seem to have made a difference.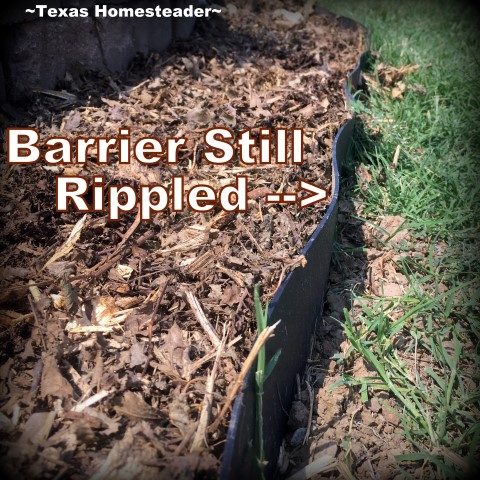 RancherMan suggested crushed rock or pea gravel might be better. But we used wood mulch because we can obtain it for free in our county.
Plus I think it looks nice too.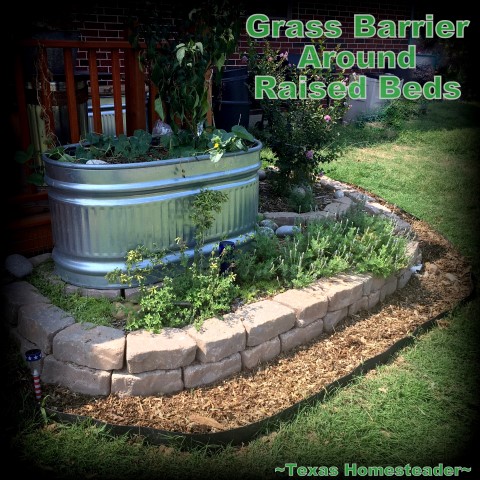 2023 Bermuda Grass Barrier Update
Even after 5 years (and counting) I see no further resurgence of Bermuda grass sprouts inside the barrier. Nor is Bermuda grass sneaking in from beneath the barrier.
But as the wood mulch deteriorated and gradually turned into soil, many other airborne weed seeds (NOT Bermuda grass) floated in and took root. I found myself on my hands & knees pulling weeds way too often.
So I raked away the mulch, laid flat some plastic cattle-feed sacks and poured concrete, topping it off with pea gravel to keep any seeds from taking hold.
I'm hopeful this significantly reduces weeding now and maintenance down the road.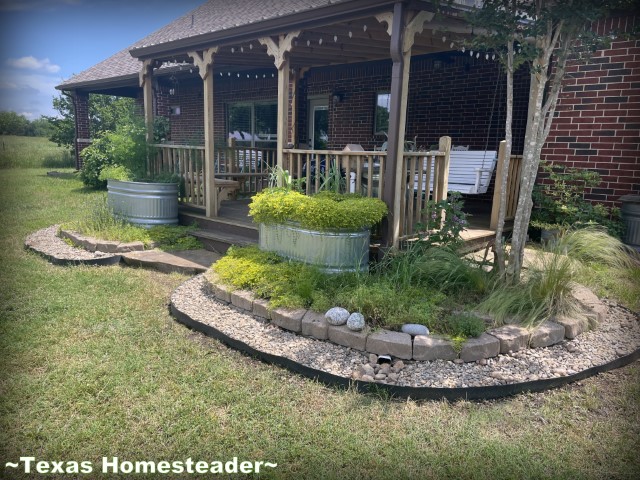 It appears I finally won the war against that blasted Bermuda grass in my raised beds. Hip-Hip, HOORAY!!
(Note: Some links in this post will take you to other related articles for further information. But links preceded with * are affiliate links. If you click and buy something I could receive a tiny commission.)
If you don't already have it, you can totally *Try Amazon Prime For FREE for 30 days. Then place your order & get your free shipping, etc. Keep prime for 30 days FOR FREE & try it out – streaming movies, music, free shipping – the whole 9 yards! If you don't want to continue you can cancel within 30 days and pay nothing for the Amazon Prime membership trial run.
Grass Barrier Installation Tips From Our Experience
Roll grass barrier out in the sun for a while to soften it somewhat & make it easier to manipulate.
Don't just dig a deep notch & slide the barrier in. Go head & dig a 4″ wide trench. Trust me, installation will be easier.
When they say leave a 4″ section above ground, take their word for it. Your future maintenance will be lessened.
In installing the grass barrier we used a paint pen line to mark the above-vs-below ground section. This made it easier for us to see when we had the barrier level.
We installed this barrier during the heat of summer and during a wicked drought. Even watering the ground to try to soften it, we struggled. It's much easier to install when the ground is soft, and much more pleasant to install when it's not 100 degrees outside!
Back-fill the excavation dirt quickly while it's still loose to keep the dirt from drying out & becoming hard clods.
Bermuda Grass Barrier Pros & Cons
Pros
Seems to have effectively stopped Bermuda grass from infiltrating our planting areas and raised beds even after several years.
Low-tech and poison-free method of keeping grass out of raised beds
Sold in assorted lengths so less need to combine lengths & make joints
Easy to cut to the required length with ordinary cutters or razor knife

Appears to be durable with RancherMan's use of the weed-eater around the barrier
Cons
To date, the barrier continues to have a ripple in its appearance.
RancherMan's not fond of the look of the required 4″ of barrier above ground.
All in all I'm pretty happy with this grass barrier. I'm planning to purchase more this spring to line my veggie garden where Bermuda is also a constant battle. I found this *Grass Barrier at Amazon too.
Do you face the same Bermuda grass battles? Now there's HOPE! Feel free to contact the Grass Barrier folks (various links below). Tell 'em the Texas Homesteader sent ya!
~TxH~
This post categorized in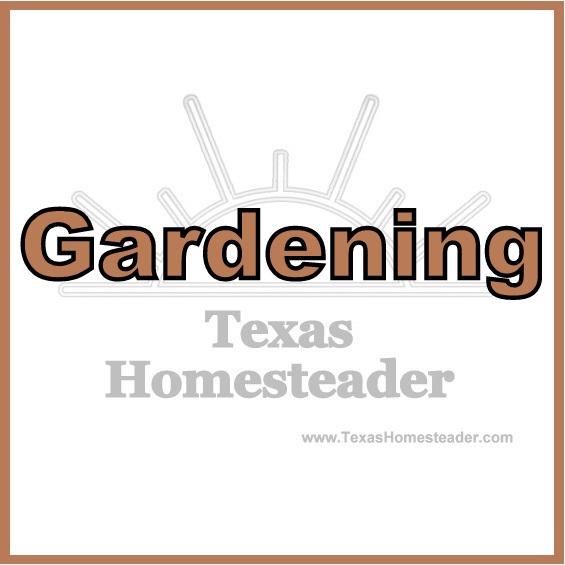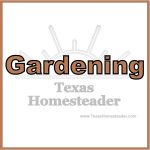 More About Our Outdoor Living Area
NE Texas Native Trees & Plants
See All Posts About Native NE Texas Plants & Animals
My Favorite Garden Hacks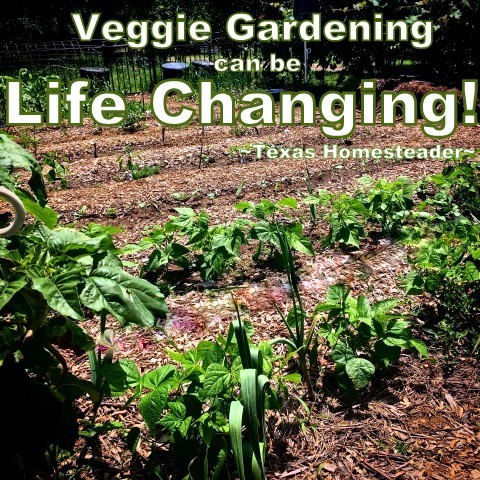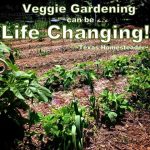 Garden Planning
Seed Planting
Soil Health
Garden Styles
Garden Plants/Harvest
How To Plant & Grow The Best Tomatoes
Water/Irrigation/Drought
Weed Control
Garden Tips


C'mon by & sit a spell! Come hang out at our Facebook Page. It's like sitting in a front porch rocker with a glass of cold iced tea – lots of good folks sharing! You can also follow along on Pinterest, Twitter or Instagram.
If you'd like to receive an email each time a new blog post goes live it's EASY to
Subscribe to our blog!
Lewis Bamboo & Grass Barrier