by Texas Homesteader ~
I was able to repurpose an old, rustic, rusted & misshapen galvanized tub to add beauty to our porch landscape. I planted a blueberry in it and I love how it looks.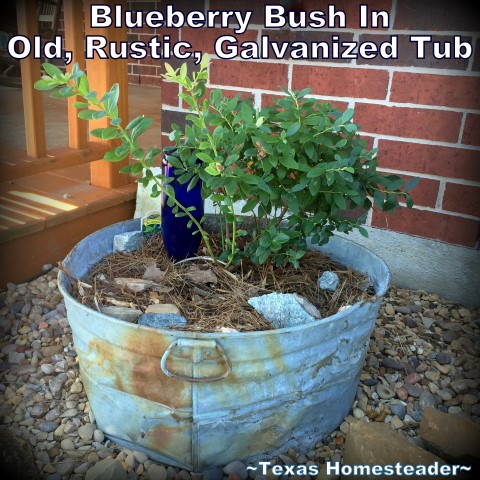 Difficulty Growing Blueberries
I love blueberries. And I'd love to grow my own. But I've planted blueberry bushes repeatedly only to have them succumb. I guess I'm not paying enough attention to the acidity. I'd given up on growing blueberries.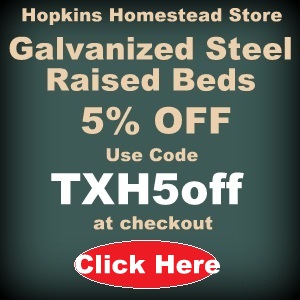 But recently at a plant fair, RancherMan caught me looking longingly at the blueberry bushes. Seeing my apprehension he said "But, you LOVE blueberries".
Well, yes, but…
The woman at the booth overheard & said this blueberry was a miniature so it works well in a large pot. And she mentioned that if you have it in a pot, it's easier to moderate and correct the PH levels.
Hummmm…. SOLD!
Galvanized Metal Garden Theme
I knew I wanted to incorporate it into our backyard landscaping. When we had our porch addition built we used lots of galvanized metal.
We bought 2 large galvanized water troughs and planted them up with mostly edibles. It looks awesome.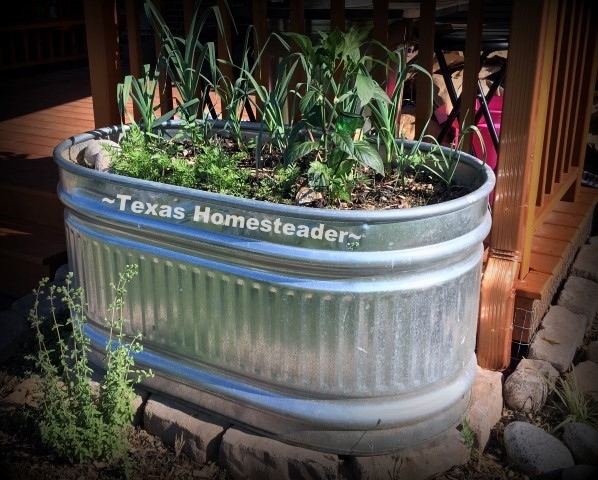 And we use another large galvanized water trough for a rainwater catchment container. I even dropped a couple of goldfish into that trough. Oh how I love it!
So what about this blueberry… Should I plant it in a galvanized tub?
YES!
But I don't want it shiny & new. I want it to look old, with a rustic patina.
Vintage Galvanized Tub
Then I remembered a very old galvanized tub I'd found years ago that the previous homestead inhabitants left behind.
It had been crushed over the past decades as wind had apparently blown it around. It ended up entangled in the bottom of a fence line way out in a back pasture.
But It always gave me a hint of nostalgia, a Whisper Of Past Lives, so I've never removed it. I allowed it to stay where it was but smiled when I passed it from time to time, thinking of those people in the past that had used it in their day-to-day lives.
But now?
Repurposing That Old Galvanized Tub
I asked RancherMan if he thought he'd be able to salvage it. He said it would be a challenge, but he'd try.
I really, REALLY wish I'd taken a picture of that old rusted tub before he started working on it. Oh it was bad.
Really bad.
The bottom was 3/4 rusted out. The tub was horribly misshapen too. But RancherMan went to the pasture and brought it up to his workshop anyway.
He hammered it back into a round (ish) shape again and asked if that's what I wanted. Yeah, I like it!
Then I asked him to cut out the entire rusted bottom of the tub. That'd leave it open for the roots of my blueberry bush to have plenty of room to grow.
And there was a small spot in the back of the tub was completely rusted out too. So we used a leftover section of our Bermuda Grass Weed Barrier to close it off so the tub would hold the soil.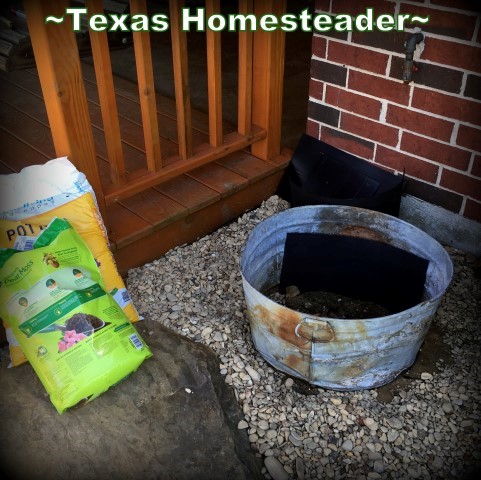 Like I said – it was in BAD shape! But for my rustic-themed project it will be absolutely perfect.
Planting My Blueberry Bush In The Tub
When all was ready I added soil and peat moss (for the PH) and planted my blueberry bush. And I used my larger TerraCotta Spike which uses a repurposed wine bottle to keep it watered more evenly. I love the look of the blue glass too.
I absolutely love the way this planting turned out! It's exactly as I'd envisioned it in my head.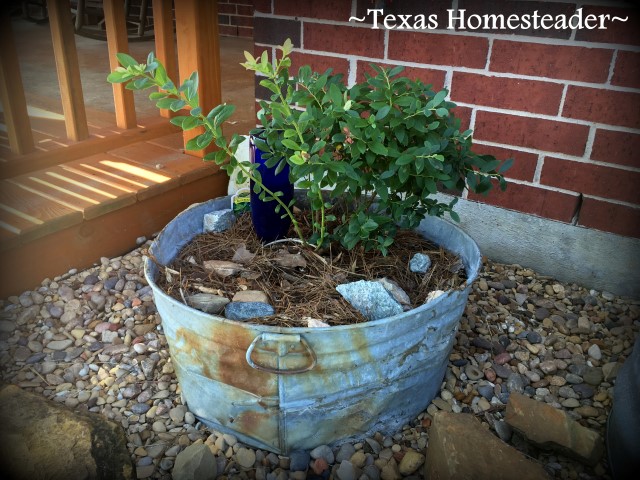 Plus I love that I've been able to repurpose that old tub that was used by the homesteaders before us. It's a sentimental part of our homestead's history.
I really love the old, rustic look of this planting. And my new blueberry bush loves it here too!
Since planting it here a few years ago my blueberry bush has flourished. It's now about 2.5 – 3 times as tall as the photos and filled out beautifully too. And I've finally been able to harvest my own fresh blueberries.
Plus, y'all know how I love edible landscaping principles. Just because it provides food doesn't mean it can't be a pretty part of your landscape.
~TxH~
Links Included In This Post:
Want To Read More About Our Porch Extension?
My Favorite Garden Hacks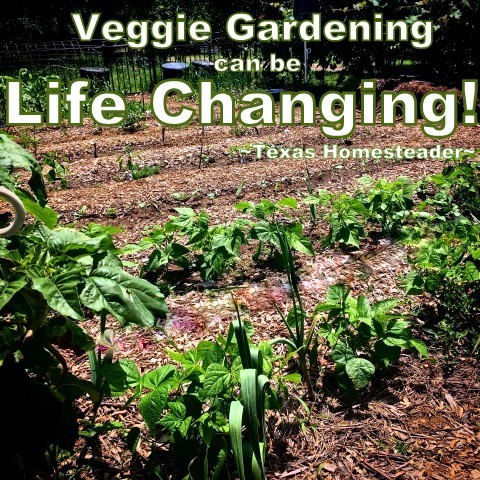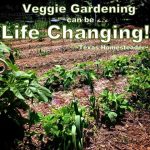 C'mon by & sit a spell! Come hang out at our Facebook Page. It's like sitting in a front porch rocker with a glass of cold iced tea – lots of good folks sharing! You can also follow along on Pinterest, Twitter or Instagram.
If you'd like to receive an email each time a new blog post goes live it's EASY to
Subscribe to our blog!