by Texas Homesteader ~
Mulch is a valuable asset in your garden. It preserves moisture, moderates soil temperatures and helps keep your plants healthy too.
But don't assume your only option is to buy mulch! Check with your city, utility company or local extension agent & you could get it FREE!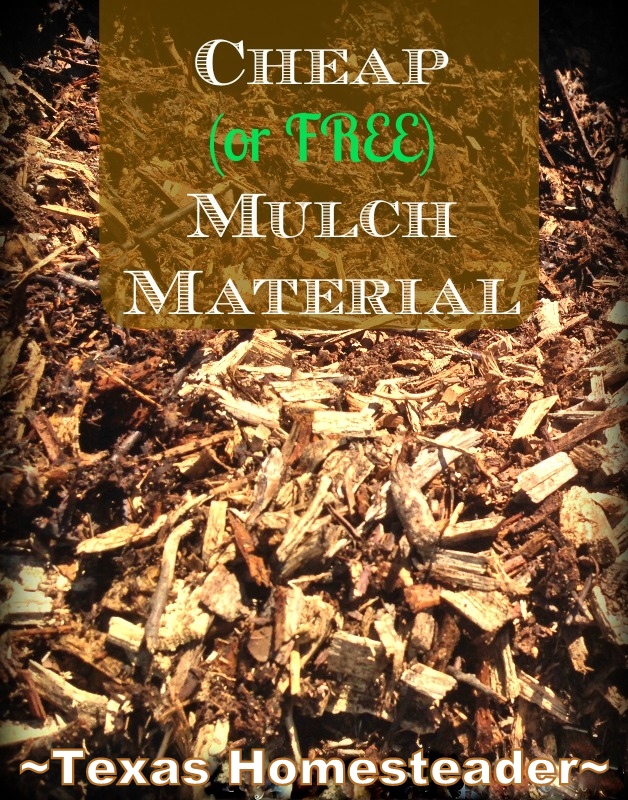 Bermuda Grass In The Vegetable Garden
I've fought (and lost the battle) against Bermuda grass in my garden every year. It would simply grow into the garden from outside the garden fence.
From there it would grow under the boards of my raised beds and into my vegetable beds, where it was almost impossible to remove.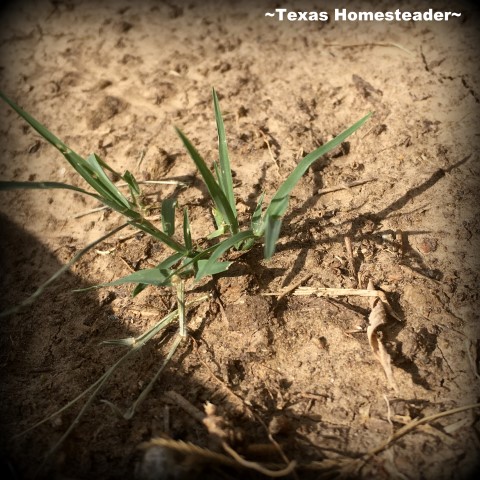 Those underground rhizomes would grow beneath the wood border making them nearly impossible to remove completely.
So we ripped those wood raised bed borders up and decided to just plant in rows instead.
But how will we keep that Bermuda from coming in through the perimeter of the garden fence?
Keeping Bermuda Grass Out Of The Garden
I decided to make it difficult for a Bermuda grass runner or rhizome to survive long enough to reach my garden by making a wide walkway around the entire perimeter of the garden.
I'd line the area first with empty feed sacks RancherMan has saved for me. This will deprive the soil beneath of light so that nothing can to grow there.
Then I'll top it with bark mulch to make it look nice as well as give me an easy walking surface. This wide surface should Bermuda grass at bay since it will have to grow a long time just to reach my garden soil.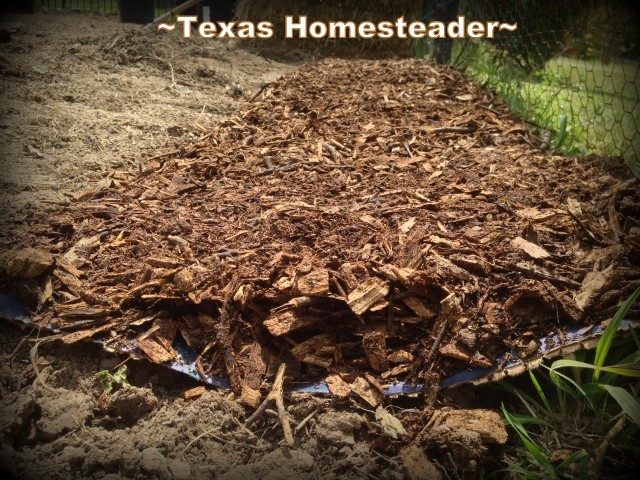 But I needed a cheap (or even FREE) source for wood chips.
Can You Get Wood Mulch From Utility Companies?
Many people have said they contacted their utility companies who were all too happy to drop off chipped wood from trees they had to trim from around their power lines.
But when I reached out to our utility company they said they contract that work out.
I requested that they give me the names of the companies they used and I'd contact them all, to which they replied with a list of four very generic company names.
I googled them for contact info and contacted all four companies. Not a single one even replied. (Sigh…)
My County Services Had
Free Wood Mulch Options
When we lived in a Dallas suburb the city had a location where residents could come pick up mulch and wood chips for free.
Offering free wood mulch is beneficial to the city not to have to haul that botanical matter to the landfill. And it's also obviously beneficial to the residents to be able to use that material.
Plus it also makes an impact in water reduction since compost conserves moisture for gardens.
But even with all these benefits I was not aware of any such service in our county. So in desperation I contacted our county extension agent (she's great by the way!).
I was in luck! The extension agent said there was indeed such a service in our county located at a nearby city park.
The place in the park where they stored the wood mulch was unmanned. Residents simply pulled up next to the wood-chip pile and filled up their buckets or the beds of their trucks.
And it was all FREE.
So RancherMan & I loaded about seven large 30-gallon empty cattle protein buckets into our truck and headed to the park.
Free Wood Mulch, No Plastic Bags!
Now I already knew this park was here, we'd passed it many times before. But we had never actually stopped in. It was a lovely place!
And the beautiful sunshiny day meant there were families with their kids all enjoying the park. They were having picnics, playing Frisbee or feeding the ducks at the pond. Lovely!
We're going to have to bring our grandbabies here soon!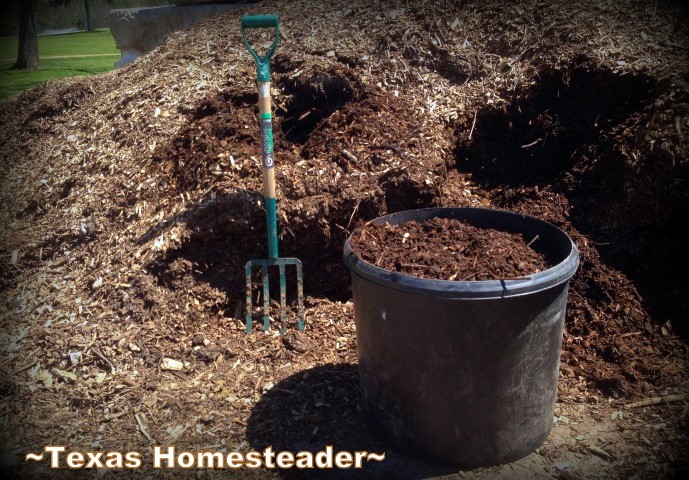 In no time RancherMan & I had all our buckets filled and headed back home.
How Much Bark Mulch For Our Garden?
In all it took a total of 14 buckets of bark mulch to thickly line my garden perimeter pathway in an 18-inch wide strip.
It took another 7 buckets of bark for the 18-inch rows between my planting rows.
We'll probably go one more time and fill the 7 buckets so I can thicken the mulch on the walkways.
Using Waste Products In The Garden For FREE!
I love that I was able to use items that would otherwise go to waste to actually benefit my vegetable garden:
The paper sacks I used to line the garden pathways were just a waste product of our cattle feed.
Wood mulch is a natural material that will degrade over time and be mixed back into the garden soil in subsequent years.
The paper should allow slow percolation of rainwater. It also will slowly degrade over time and be mixed back into the garden soil.
In the meantime, the earthworms will love it, which also will improve my garden soil. SCORE!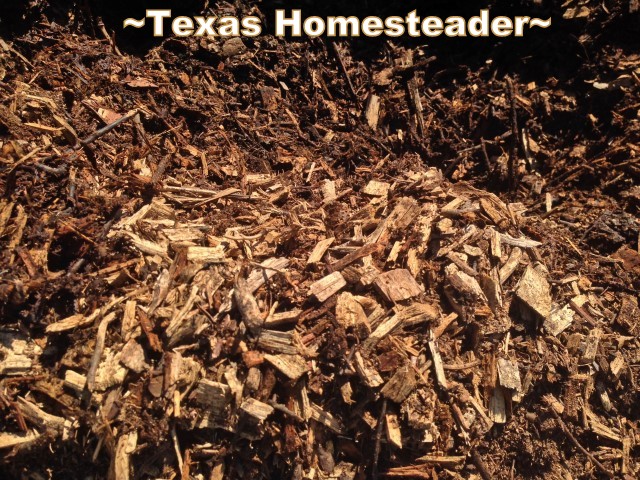 Purchased Bark Mulch Is Expensive, And WASTEFUL!
While at a local big-box home improvement store shortly afterward I saw bags of wood mulch being sold for $3.30 per 2-cubic foot bag. It's convenient, but I figured I'd do the math…
Each of our buckets would hold over 2 bags worth of mulch, so for just what I've used so far my wood mulch would have cost us at least $130 to buy!
Then we'd have to figure out what to do with all the dang plastic bags they are sold in. (have I ever mentioned how much I. Hate. Plastic??)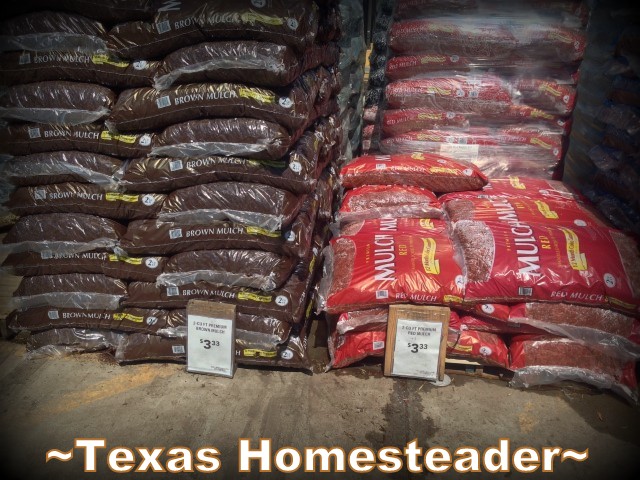 As it was, all it cost us was a couple of pleasant trips to a nearby park and our time – no disposable plastic trash!
It was a good thing for us financially, a good thing for the environment and a good thing for the city to not resort to hauling this precious material to the landfill.
The moral of the story is this: Check with your city (or county) and don't assume your only option is to buy this stuff!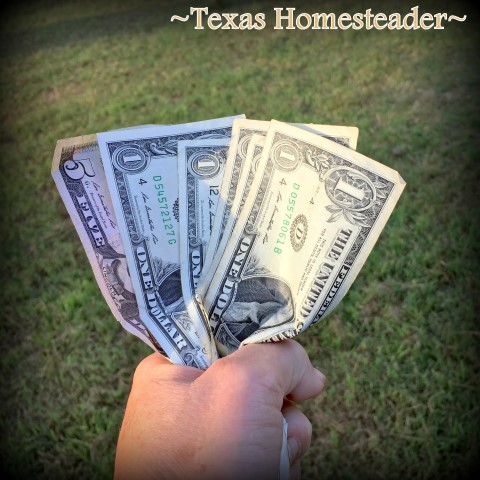 Many cities have similar services so check with your city, utility companies or even call your local extension agent like we did. As it was in our case, it can be a trifecta win for you as well!
~TxH~
My Favorite Garden Hacks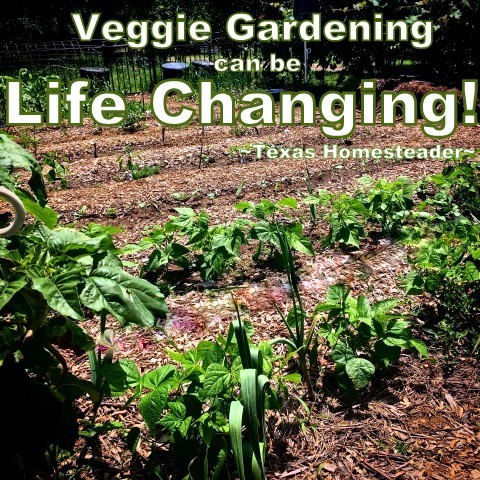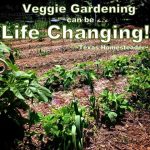 Garden Planning
Seed Planting
Soil Health
Garden Styles
Garden Plants/Harvest
Water/Irrigation/Drought
Weed Control
Garden Tips


C'mon by & sit a spell! Come hang out at our Facebook Page. It's like sitting in a front porch rocker with a glass of cold iced tea – lots of good folks sharing! You can also follow along on Pinterest, Twitter or Instagram.
If you'd like to receive an email each time a new blog post goes live it's EASY to
Subscribe to our blog!