by Texas Homesteader ~
Did you know that young, tender luffa is actually edible??!! Yep, it's a delicious, tender, and surprisingly pest-free substitute for zucchini in the garden.
That's right, if you harvest your young luffa when they're only about 5" long they're very similar in taste and texture to a zucchini squash. No, really!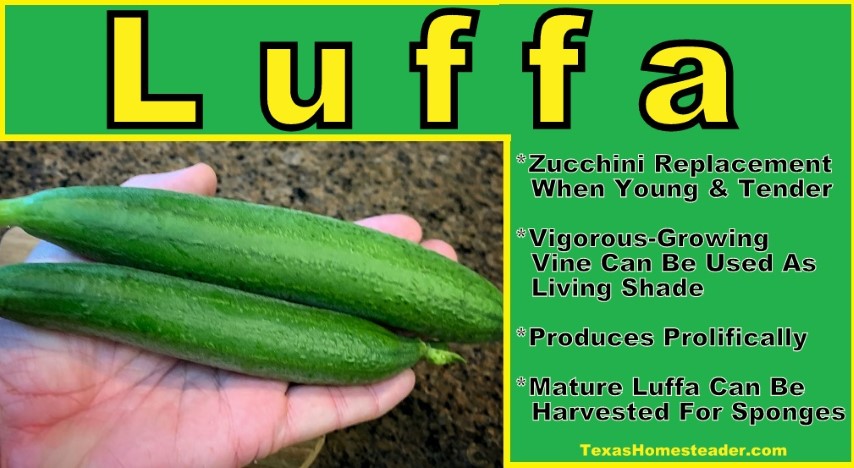 For the last several years I've grown Luffa (some spell it loofah). There are many reasons for that garden-planting decision besides just growing my own luffa sponges.
Luffa Benefits: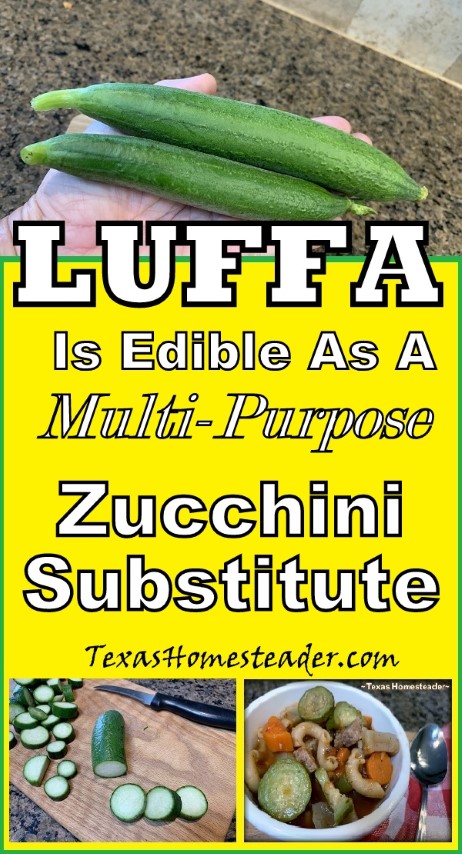 Truly, I can't recommend growing luffa enough, y'all. Just look at these benefits:
*Attracts & feeds honeybees and other pollinators
*Pretty vine can be used as a living shade.
*Young 5" luffas are edible as a zucchini substitute
*Squash bugs never bother my luffa (That's HUGE!)
*Luffa produces prolifically
*If allowed to mature, luffa becomes a handy scrub sponge
*One mature luffa provides lots of seeds for next year's garden & for sharing

I'll break it down for ya below. Check it out.
Pollinators Love Luffa Blooms
As beekeepers, first and foremost (as with almost all of my planting decisions) I plant luffa to benefit the pollinators. Those bright cheery yellow luffa flowers really attract them. I mean, a lot.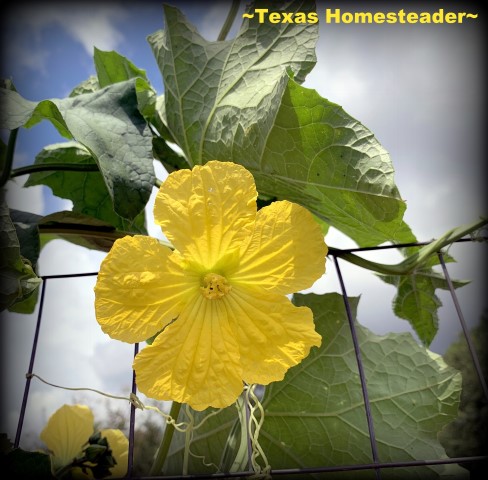 The bees love luffa blooms even more than the sunflowers I planted for them. Yeah, I know. I didn't believe it either. But it's true.
Hardy Living Shade
Secondly and pretty important as well is the fact that a luffa plant is a vigorously-growing vine with large leaves. And it loves growing in the heat of a Texas summer.
So I take advantage of both of those luffa attributes and grow the vines along the fence that divides the chicken yard from my vegetable garden. Why did I choose this location to plant luffa?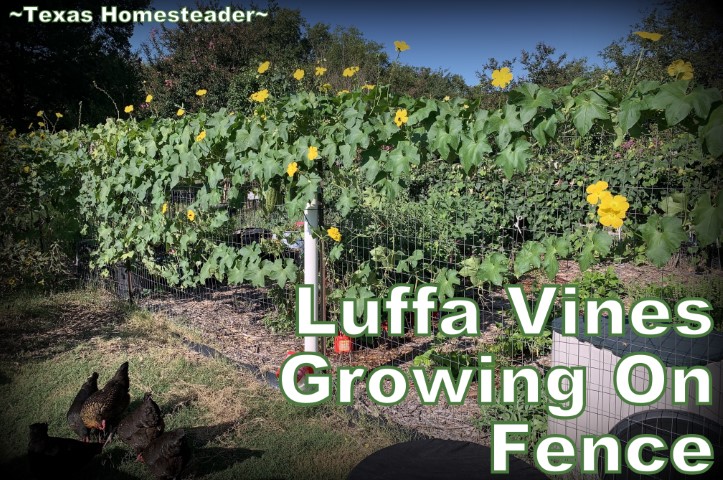 Not only am I attracting pollinators to my garden area with those yellow blooms, but the big luffa leaves make a hardy living shade screen for our chicken yard on the other side of the fence.
I've planted it on the west side of the chicken yard to help keep the chickens cool, especially from the hottest west sun in the afternoons.
All Natural Home-Grown Luffa Sponges
Also, you know, you can grow them into mature luffa sponges. When one sneaks by and I don't get a chance to harvest before it gets too large I simply allow it to grow into a full-grown luffa.
Even though my intention was to eat that luffa while it was small, it's still not wasted because I use luffa sponges a lot in our home.
I have luffa disks beneath our homemade soaps on the side of the sink to keep the soap from making a mucky soapy mess.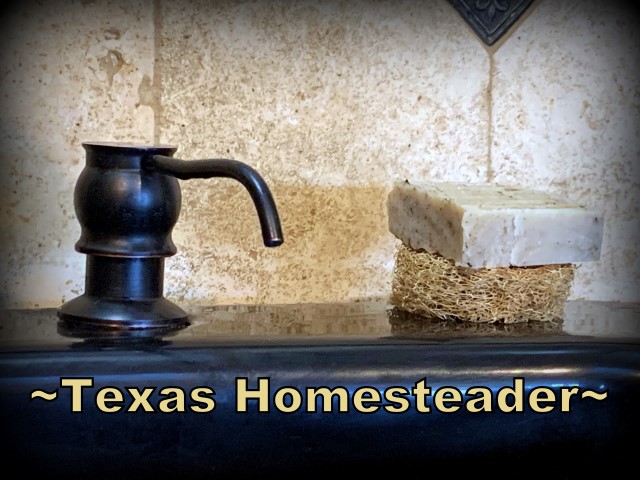 We also made Luffa Soaps last year as part of our Homemade Christmas Gift baskets. It was a great homemade gift idea that was very well received.
And RancherMan & I use luffa soap often when we shower to make sure we scrub off any chiggers before they cause too much grief. (Read the Facts & Fallacy About Chiggers) What a dual-purpose benefit, y'all!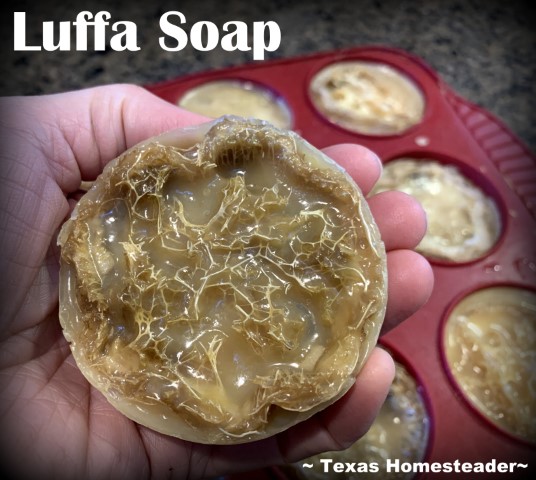 And I even make Flat Luffa Sponges for cleaning. I simply cut the core from the center of the luffa gourd and lay the remaining scrubby surface out flat. Then I cut it to size and use it for scrubbing!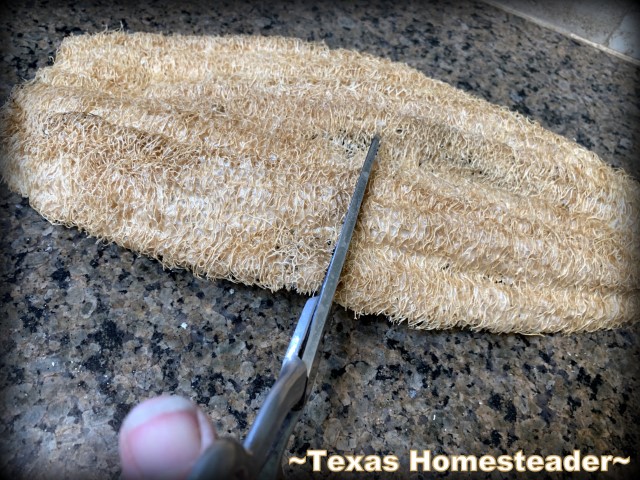 When the luffa sponge has done heavy duty I simply toss it in the compost and grab a new one. It's a great zero-waste cleaning option for our eco-friendly home.
I use these flat luffa sponges in the kitchen to scrub dishes, sinks, countertops & stovetop.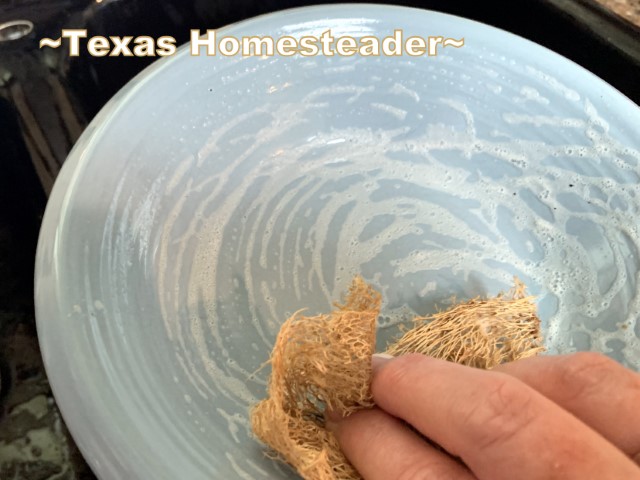 I also have one in my bathroom cleaning kit to scrub sinks, tubs and showers. And heck, I have a nearly endless supply coming in. That makes them dang near FREE since they're just luffas that got away from me too long to harvest tender!
Growing Luffa To Eat
But here's the greatest dual-purpose benefit of growing luffa: If you harvest it when the luffa is small – about 5" or so – it's tender and zucchini-esque instead of having the tough fibrous characteristics it obtains when it's mature.
Luffa is in he same family as pumpkin & squash – Cucurbitaceae. So I make full use of those young tender luffa by eating them as squash. The taste and texture of young, tender luffa is very similar to zucchini.
No, REALLY!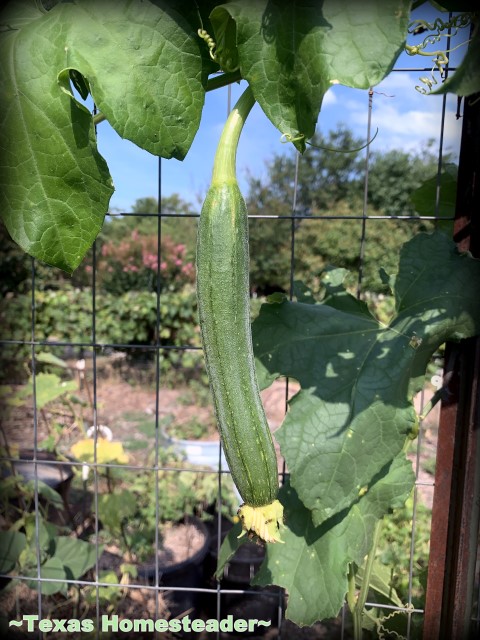 I like to slice them and sauté them in a little butter with onions and garlic for a simple side dish. Or roast them along with other veggies for a delightful side with a little more punch.
Sometimes I toss them into my Italian-flavored Endless Soup that I like to serve for our healthy lunches.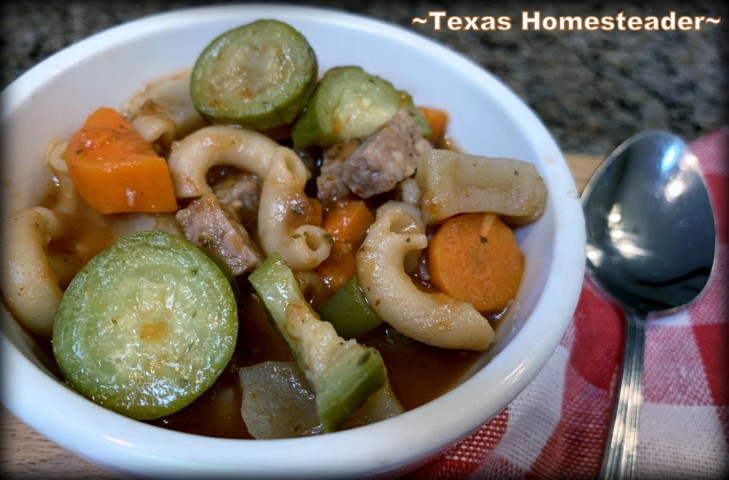 There are just so many options. I just use young luffa the same as I'd use zucchini.
Convincing A Questioning Palate
My sweet sister-in-law is a wonderful cook. She was intrigued when I mentioned to her that luffa was edible if harvested very young. So I gave her some of the day's luffa harvest and she took them home awaiting inspiration.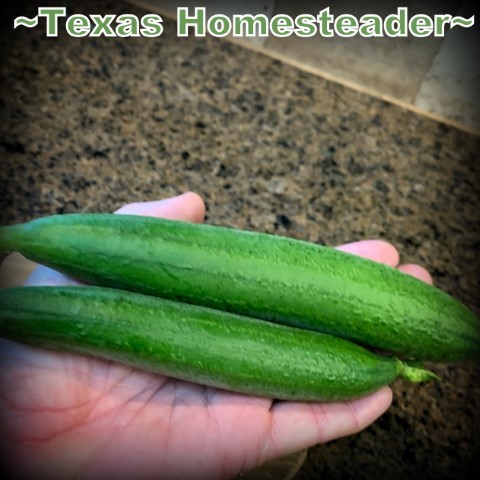 She decided to use it with a pasta dish, the perfect pairing for a zucchini accent. She served her dish for supper and when she asked my brother what he thought of the zucchini, he said it was delicious. Then she broke the news to him: "It's not actually zucchini, it's luffa!"
His eyes got big and he said, "You fed me LUFFA? You mean like like the SCRUB SPONGE??!!"
I'm not gonna say he was surprised that luffa was edible, but he may or may not have immediately googled it to make sure. HA!
Luffa Is A Prolific Producer
You know the jokes about gardeners so excited about the first zucchini from their garden? They relish gobbling up those fresh zucchinis at first, then offer it to very grateful family members next, then friends, then acquaintances before finally shoving sacks of fresh zucchini toward complete strangers.
Yeah, RancherMan & I just can't eat that much zucchini. So I only plant ONE zucchini plant in my garden. But still it often produces more than we can eat. So like every other gardener since the dawn of time, I offer excess zucchini freely to friends & family before finding ways to preserve it.
I've not really been pleased with the thawed texture of previously-frozen zucchini. So dehydrating has been my only option, which I'll then use for wintertime soup.
Although it takes a little longer to start producing, your luffa vine produces prolifically too. My one vine provides a few luffas every day. But because the zucchini-substitute is harvested at a smaller size it doesn't overwhelm me like zucchini always did.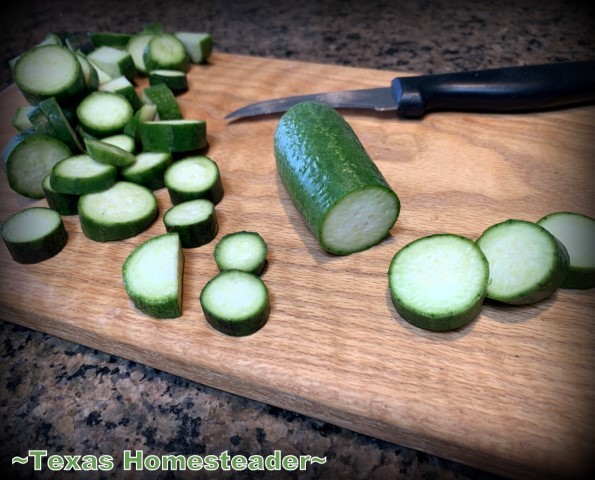 Luffa gives you every bit as many fruits, but they're smaller when they're harvested. So it's easy to take a couple of harvested luffa, chop & sauté them for a side. (knowing of course there will still be more tomorrow!)
Growing Luffa In The Garden
Luffa has a longer maturation date. It's said they need about 4 months of warm weather to produce a mature luffa sponge.
So I'll often start them in my Indoor Greenhouse to give them a jump-start. Then I plant the seedlings in the garden with the rest of my veggie plants when the danger of frost has passed.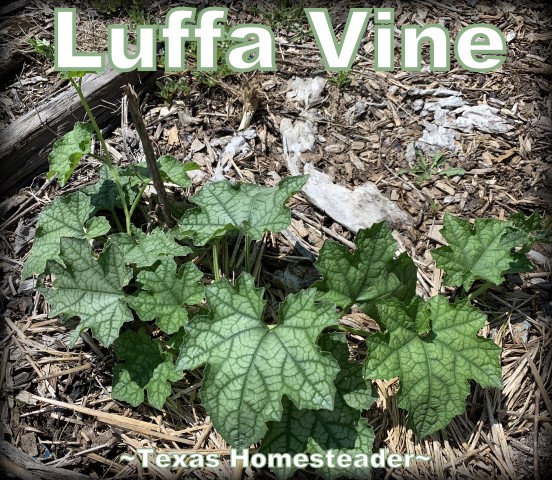 That luffa grows into a long, tenacious vine. Soon pretty yellow flowers began to appear. Our honeybees love them and visit them every day.
But for what felt like forever I didn't see any luffa growing. The luffa would flower, then the flower would fall off the next day.
Then one day a tiny luffa appeared. YEA! Once the luffa vine started producing, there were new luffas growing every day.
Luffa And Garden Pests
Plus (and this is a BIG BONUS) I've noticed in my garden that squash bugs don't seem to bother luffa like they do my squashes. So I will often plant luffa along with my zucchini.
Since luffas take longer in the season to produce I'll enjoy zucchini in the early garden months. Then when the squash bugs decimate the zucchini plants (and despite my best efforts they aaaaalways do) I'll use the young luffa for a zucchini substitute for the rest of the gardening season.
But I'm thinking I'll skip the heartache of fighting (and losing the battle) with squash bugs. Maybe next year I'll just plant the luffa in place of the zucchini.
Maturing Luffa For Sponges
I'll also get actual Luffa Sponges from this garden planting too. I can of course simply allow the luffa to just grow to maturity. But it's more often than not actually an accidental decision on my part. I'll miss a small luffa hidden behind the leaves until it grows too much to still be tender.
In those cases I just allow them to continue growing into a mature luffa. Soon those luffas will grow to 1-2 feet long or more.
Now if you're growing the luffa for sponges, keep this in mind: A couple of luffa vines can give you about 50 mature luffas. And that many 2-ft-long luffas can have a weighty punch.
So if you're growing many luffas to maturity you want to make sure you have a very long & sturdy trellis to hold them.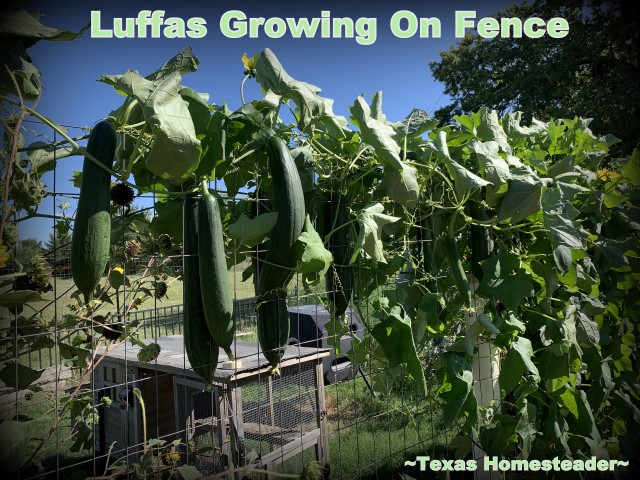 So go ahead and plant a luffa in your garden. Give it a long and sturdy trellis. Then reap the benefits of this multi-functional plant
~TxH~
This post categorized in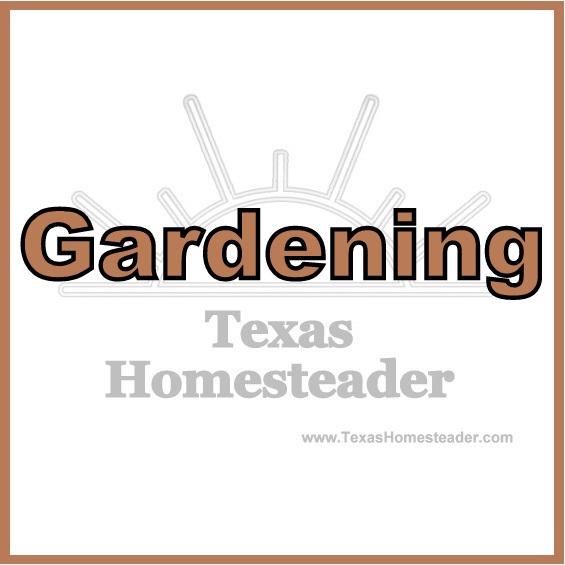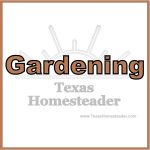 Links In This Post:
My Favorite Garden Hacks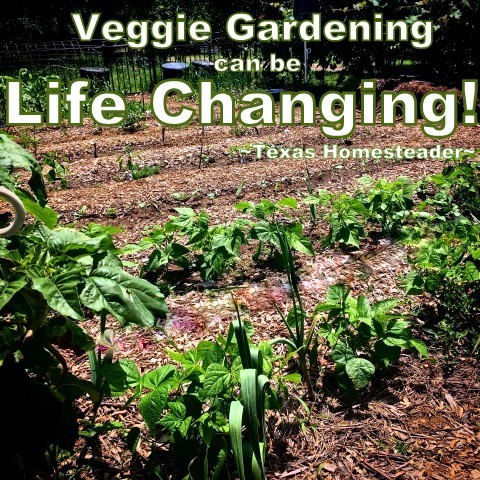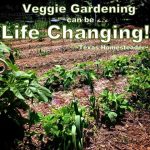 C'mon by & sit a spell! Come hang out at our Facebook Page. It's like sitting in a front porch rocker with a glass of cold iced tea – lots of good folks sharing! You can also follow along on Pinterest, Twitter or Instagram.
If you'd like to receive an email each time a new blog post goes live it's EASY to
Subscribe to our blog!