by Texas Homesteader ~
Lunches at our house are always fend-for-yourself style.
Typically for summertime lunches RancherMan & I each just grab a quick sandwich of some kind. But in the wintertime I hunger for something a little more substantial. And something hot. I really enjoy soups in the winter for hot and healthy nutrition.
Come see how I put together what I call 'Endless Soup'. By using this method we both have hot, healthy lunches for a week!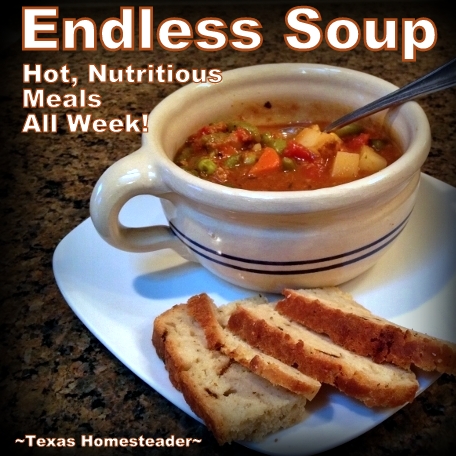 Assembling the Soup
I start with a meat base by cooking some kind of meat seasoned with onions and garlic. The simplest option is just ground meat. After draining the meat I start assembling my soup.
I'll add homemade stock. This will be whatever broth I have in the freezer – chicken, turkey, beef or veggie. Finally we're ready to start adding the vegetable portion of our soup.
What To Use Up First
On this day I begin my veggie additions by raiding the fridge for leftover veggies from last night's meal. This assures leftovers are used first to eliminate food waste possibilities. Then I add several different kinds of fresh or preserved veggies.
And lastly I add a handful of rice. I love a brothy soup but RancherMan prefers less broth. So by adding a handful of rice the excess broth is soaked up.
When the soup is finally comprised of all the ingredients I like, I simmer it until the rice is tender, about 20 minutes.
Now we're ready to enjoy a steaming bowl of soup for lunch. I like to toast some rye bread to go with it – it's a very hearty meal. When we're finished with lunch the remaining soup is stored in the fridge.

Replenishing The Soup Pot
The next day when lunchtime rolls around I'll pull out the soup and stir in a can of veggies, juice & all. This adds another serving to the soup & I love the blending of flavors that results.
Then we repeat each day until close to the end of the week when I stop adding new veggies to the pot. In a day or so we finish consuming the soup that remains.
At first my endless soup is pretty meat-heavy, a favorite for RancherMan. But as the week progresses it gets more veggie heavy, my fave. So we're both pacified, not to mention fed hot healthy meals all week long.
The Real Beauty of Endless Soup:
Makes use of anything waiting to be eaten so it doesn't go to waste,
Is different every time based on what's available in the freezer/fridge/pantry,
Has so much less salt & preservatives than soup that's purchased in the store, and
Made right in your own kitchen for just pennies!
I've heard of doing something similar by having a special container in the freezer where everything left over after supper gets added until it's full enough to make soup.
I've done that too and although it works well, this method keeps RancherMan & me in bone-warming soup lunches all week long. Plus it's resulted very little actual kitchen time – you KNOW I love that!
UPDATE: Endless soup isn't just for winter nutrition, it can be enjoyed in the summer months too! I'm adding extra veggies to my diet & putting the excess garden veggies to good use by making an endless summer-vegetable soup. Today I used vegetable broth to rehydrate my dehydrated cabbage & purple onions and also to lightly cook fresh summer squash, zucchini, green beans, asparagus beans, chopped tomatoes and a small handful of whole wheat pasta to soak up the extra broth. I stirred in some chopped fresh basil & sage from the garden too.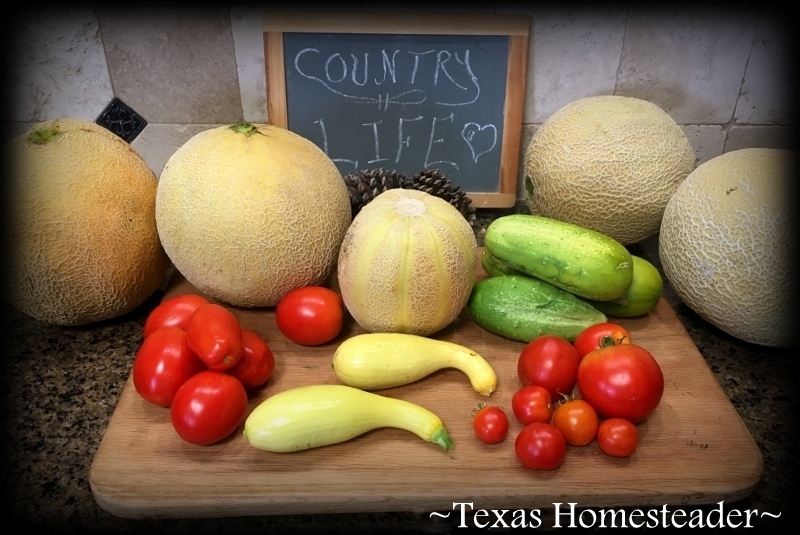 I do whatever I have to so I make sure none of my fresh, healthy garden produce is going to waste.
And this endless soup means lunches for the week are heat-n-eat fast!
~TxH~
Our Favorite Soups
Want to see other Meal Ideas?



Pork Roast Recipes:
Recipes Using Leftover Roast:


C'mon by & sit a spell! Come hang out at our Facebook Page. It's like sitting in a front porch rocker with a glass of cold iced tea. There are lots of good folks sharing!
And you can also follow along on Pinterest, Twitter, Instagram
To receive an email when a new blog post goes live it's EASY to
Subscribe to our blog!
Save
Save
Save