by Texas Homesteader ~
*contains affiliate link
Southwest Style Quesadillas are a quick guest-worthy meal. Flour tortillas are filled with cheese, tender-crisp veggies, corn & black beans and grilled to crispy perfection. Add chicken or beef if you want an even heartier quesadilla.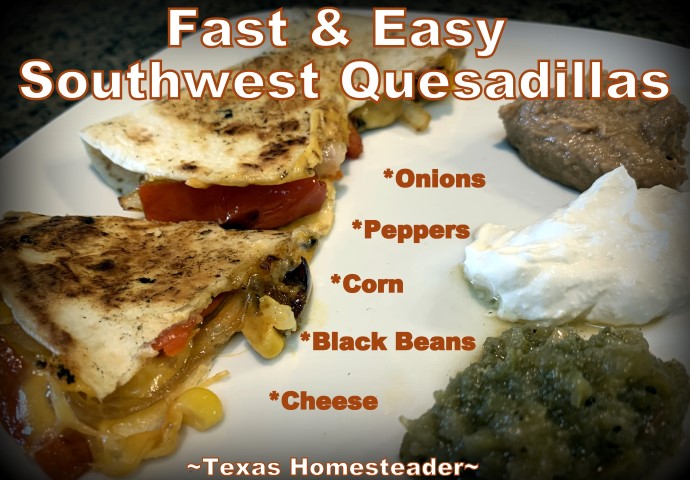 (Note: Some links in this post will take you to other related articles for further information. But links preceded with * are affiliate links. If you click and buy something I could receive a tiny commission.)
Southwest Quesadillas A Quick Meal
Sometimes you need to get a meal on the table quickly. Maybe it's just been an incredibly busy day. Or perhaps unexpected company stops by.
My go-to arsenal for a quick and easy meal is to whip up quesadillas. They're fast, they're delicious and by golly they're always a crowd pleaser.
If it's early spring, Spinach Quesadillas are always delicious. And I've been known to use leftover meatloaf to make a Quick & Meaty Quesadilla.
But today I thought I'd make quesadillas with a southwest flair. Southwest Style Quesadillas are made with:
Gathering Quesadilla Ingredients
First I'll gather my ingredients. If I have them I prefer to use both green and red/orange/yellow bell peppers.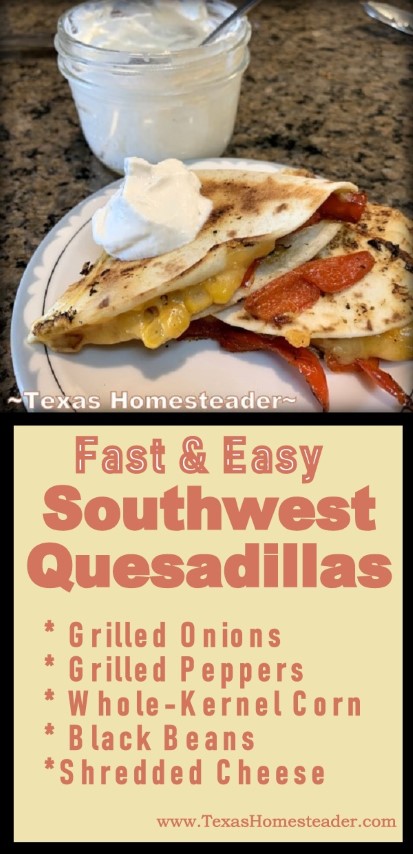 The color combination of those veggies just makes a more vibrant quesadilla.
And mama always says presentation is half the meal!
Sautéing Onions & Peppers for Quesadillas
I have a *2-burner cast iron griddle that I use a LOT! And today is certainly no exception.
To prepare for my quesadillas I fire up the stove burners, place about a tablespoon of Bacon Grease on my griddle and allow it to melt.
I typically use bacon grease for my griddle because it's a free byproduct of bacon. Plus I like the flavor it adds. But feel free to use another kind of fat here – butter, oil, whatever.
When the griddle is hot & the bacon grease is melted I add my onions & peppers. I'll keep it stirred occasionally with a spatula to make sure it cooks evenly & to keep it from burning.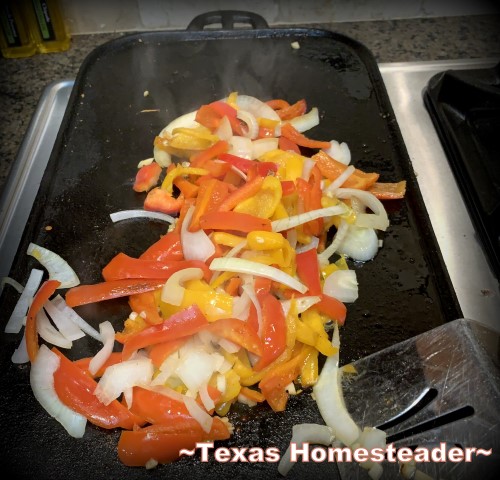 It's funny, THIS is the phase of the meal that always gets the most rave comments from both RancherMan as well as any guests that may be present. I've gotta say I agree with them.
RancherMan wonders if there REALLY is any better aroma than the delightful smell of onions & peppers cooking?? LOL
Anyway, when my vegetables are cooked to tender-crisp I start assembling my quesadillas. I'll move the cooked veggies to one corner of the griddle and fetch my flour tortillas.
Assembling Southwest Quesadilla Ingredients
The griddle's already been oiled to cook the veggies. But if needed I'll re-oil the surface for the southwest quesadillas.
Onto the griddle goes a tortilla. First I sprinkle a little shredded cheese on 1/2 of the tortilla. Then I layer a hearty helping of my freshly-grilled veggies and a spoonful each of corn and black beans on top of the cheese.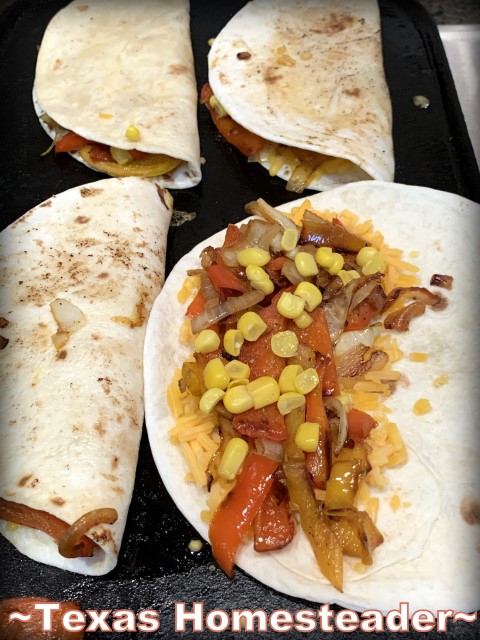 If I'm adding chicken I'll add it now. And to top everything off, another sprinkling of cheese is added before folding the tortilla in half.
The cheese layer on top & bottom will melt and anchor all my fillings together within my quesadilla.
I repeat this process until I have as many quesadillas as I need. Now I simply allow the griddle to cook the tortilla to a nice, crispy brown.
Then I carefully flip it to crisp the other side too. A couple of minutes is all it takes to brown each side. Now it's time to eat!
Serving The Quesadillas
I'll place the hot southwest quesadillas on a cutting board and cut it into 3rds. You know, just because I like the way it looks.
Plus I feel it makes it a little easier to eat them too.
What Are Good Quesadilla Toppings?
It's fun to top homemade quesadillas with something extra tasty. There are several delicious topping options we use for quesadillas:
Now dinner is served!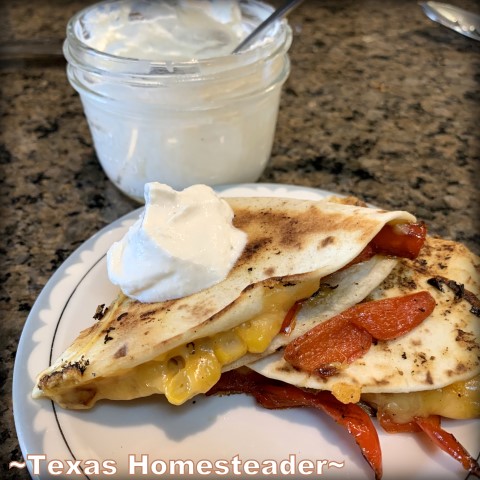 It's funny, these southwest quesadillas are super quick and easy to make but guests always rave about the fuss I must have made.
I won't tell them how easy it is if you won't. (shhhhhhh….)
~TxH~
Links In This Post
Want to see other Meal Ideas?





C'mon by & sit a spell! Come hang out at our Facebook Page. It's like sitting in a front porch rocker with a glass of cold iced tea. There are lots of good folks sharing!
And you can also follow along on Pinterest, Twitter, Instagram
To receive an email when a new blog post goes live it's EASY to
Subscribe to our blog!