by Texas Homesteader ~
When chatting with our youngest daughter recently about our typical menu here at the ranch she remarked that we eat lots of pork and asked if we ever got tired of it. I guess I never really thought about it.
RancherMan is an accomplished hunter and we always have pork in the freezer. Sometimes there is other game in our freezer as well, but there's never a shortage of wild pork.
It's so lean and super easy to flavor & incorporate into many dishes the same as you would other meats.
I've made pork roasts and meatloaf, pulled pork BBQ, pulled pork carnitas tacos, and grilled ribs. There are so many delicious savory recipes to use up our supply of pork.
Today I'm using that ground pork for an easy slow-cooker enchilada casserole.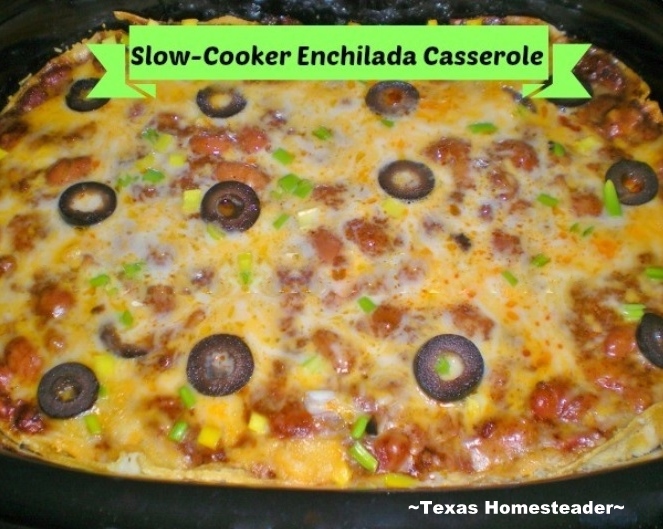 I had enchiladas on the menu but my corn tortillas weren't cooperating and kept breaking instead of rolling up.
(UPDATE: I now make my own easy corn tortillas!)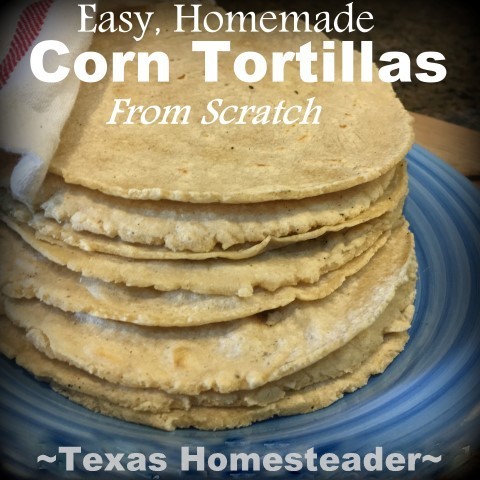 Enchilada Casserole In Slow Cooker
I stumbled upon a recipe at A Lavender Life for an enchilada casserole. Hummm… I hadn't thought about a casserole but that might solve some stubborn tortilla problems for me.
Since RancherMan & I had an appointment right around the supper hour I decided to make the casserole in my slow cooker.
I used that recipe as a base but c'mon y'all, you KNOW I can't stick to a recipe as it's written! I like to amend recipes to suite our tastes as well as be able to use the food I have on hand.
My Version of the Recipe
Here's how I ended up making my casserole:
I pulled out about 2 lbs of ground wild pork (you can use standard ground beef if you like) and my own homemade mixture for taco seasoning.
And I also pulled from the freezer the last 3 frozen tomatoes from last year's garden (my recipe could have used more), a couple of onions and 2 garlic cloves from the garden as well as a can of homemade pintos and a can of homemade chili.
I cooked the garlic & onions first in bacon grease on medium heat until they were translucent. Then I added the ground meat.
When the meat was cooked I drained it of what little fat had accumulated. I returned the meat to my cast-iron skillet & added about 4 tablespoons of my homemade taco seasoning.
I blended my now-thawed tomatoes until they were smooth and poured it all into the skillet. When all was thoroughly mixed I mashed a can of my homemade pinto beans and mixed it into the meat mixture.
Layering The Enchilada Casserole
Now I turned my attention to those dang stale crumbly tortillas.
I lined my slow cooker with those ornery corn tortillas, overlapping in several places, and topped them with 1/2 of my meat/bean mixture.
And I sprinkled just a little shredded cheese on top and some sliced ripe olives. Then I added another layer of overlapping corn tortillas and the rest of the meat/bean mixture. I topped with another light sprinkling of cheese and a few sliced olives.
Then I capped the entire casserole with a final layer of overlapping tortillas, added a container of my homemade chili and a more generous coating of cheese.
I decorated the top with a handful of chopped chives and a few sliced olives.
The ingredients are already cooked so I turned the slow cooker on low. Then RancherMan & I left for our appointment, which took us away from home for about 2 hours.
When we arrived home the house smelled Dee-LICIOUS! I had planned to serve some homemade Ranch-Style Beans as a side dish but RancherMan said a hearty bowl of this casserole sprinkled with a few sliced jalapenos would fit the bill nicely for supper. Now that's quite an endorsement.
And since I've once again used the cook-once-eat-twice method of cooking there will be several servings for me to put in the freezer for quick suppers later. Gotta love it!
By using food I'd already prepared such as homemade pinto beans, chili and taco seasoning this recipe was very inexpensive.
And those containers for leftovers in the freezer are all reusable so it's environmentally friendly as well.
But even if you have to purchase those ingredients it's an easy recipe that comes together quickly. And really, who doesn't love slow-cooker convenience?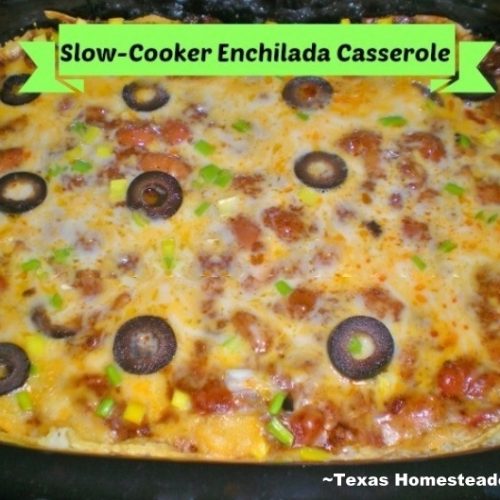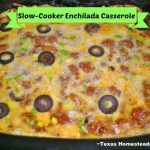 Wild-Pork Slow Cooker Enchilada Casserole
We use ground pork from a wild hog harvested from our property, but you can use regular sausage or hamburger with the same great results. #TexasHomesteader
Ingredients
2

lbs

Ground Meat

2

medium

Onions,

chopped

2

cloves

Garlic,

pressed

12-15

Corn Tortillas

2

15-oz Cans

Tomato Sauce

4

Tablespoons

Taco seasoning

1

15-oz Can

Refried Beans

1

15-oz Can

Chili

1

16 oz Bag

Shredded Mexican Cheese (or to Taste)

Ripe olive slices & chopped green onions for garnish

(Optional)
Instructions
Cook onions & garlic until translucent and add ground meat. Continue on medium heat until meat is cooked and stir in taco seasoning. Add tomato sauce & refried beans to meat mixture

Line a slow cooker with tortillas, freely overlapping. Spoon 1/2 of the meat/bean mixture over the tortillas and sprinkle lightly with cheese. Repeat tortilla, meat/bean and cheese layer with the other 1/2 of your meat/bean mixture.

Top this with more tortillas, freely overlapping, and spread a can of chili over the top. Sprinkle with about a cup of cheese. Decorate with sliced ripe olives and a sprinkling of chopped green onions.

Put lid on slow cooker and turn on low until all is heated through and cheese is melted, about 2 hrs.
Pork Roast Recipes:
Recipes with Leftover Pork Roast:
New Meals Remade With Leftovers
…and MUCH MORE!


C'mon by & sit a spell! Come hang out at our Facebook Page . It's like sitting in a front porch rocker with a glass of cold iced tea. There are lots of good folks sharing! And you can also follow along on Pinterest, Twitter & Instagram
If you'd like to receive an email when a new blog post goes live,
subscribe to our Blog!
Save