by Texas Homesteader ~
Do you hate to waste money on hard, stale taco shells? If you've got plain corn tortillas you can easily make them into the crispy taco shells you love. Check out this Homestead Hack for making your own lightly crispy (aka: not shatter-hard) taco shells.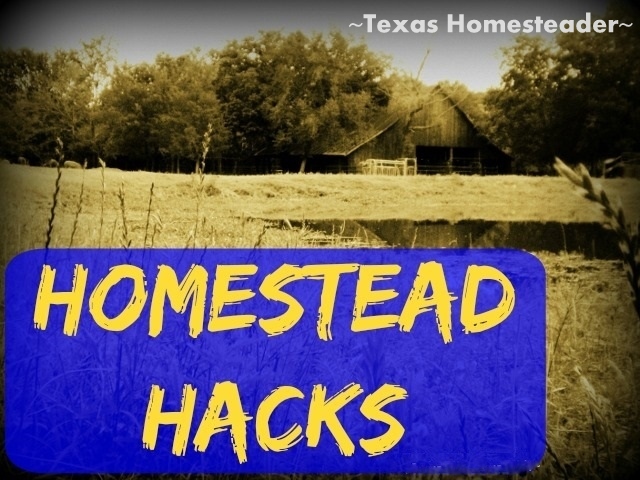 The other night I made a pork roast in my slow cooker. Since I often use the Cook-Once Eat Twice method I cooked a LOT of roast that night! That's ok, I was cooking with planned leftovers in mind.
The next day I'd planned to to turn some of that leftover roast into carnitas tacos. But ugh, I thought about the taco shells.
Shortcuts For Next Night's Meal
I'm always keeping my thoughts on how to simplify things in the kitchen. Cooking is just not my favorite thing to do.
My planned leftovers idea was to enjoy roast & potatoes for supper that night, then make our favorite Carnitas Tacos with the leftovers the next night.
So I preplanned what would be added with the roast to be used for tomorrow's supper. (taps on noggin) See? Not just a hat rack, my friends!
Along with my roast I cooked up the taco veggies at the same time.
I heaped in plenty of chunky onions and sliced red, yellow & green bell peppers. I like the many colors this will offer to our tacos tomorrow.
But what about those crispy shells? Will we have to go to the store and buy them? Ugh.
Then I remembered something I'd read years ago about how to easily make taco shells as you need them. Now's a perfect time to give 'er a try!
Crispy Taco Shells Needed
DANG I hate to buy crispy taco shells! They're always so hard & brittle. Plus several are often already broken in the package when I buy them.
Oh, and you have to buy 12 at a time, much more than RancherMan & I need. So many in the package will just be wasted.
Plus more times than not they just taste stale to me. How I hate wasting money buying crispy taco shells. So what to do?
Maybe I can make those crispy taco shells myself! Yes, yes I can.
Corn Tortillas Into Crispy Taco Shells
First I bought a package of corn tortillas. (UPDATE: I now make my own Corn Tortillas in minutes and for pennies!) I brought out the number of corn tortillas that I wanted to make into crispy taco shells.
(now's the complicated part, y'all) I just laid each tortilla across a wire on the rack in my oven and closed the oven door. I didn't spray them with anything, I didn't butter or oil them. I didn't even add any seasoning to them. Nothing!
I suppose you could lay each tortilla across two racks to try to make a wider taco shell. When making a wider bottom to them the taco shells will actually stand on their own while you fill them.
Although I can see the convenience in that, to me they're also harder to eat when the bottom is squared. We much prefer our taco shells to be narrow enough to bite into easily.
So only one wire was beneath each taco shell I was baking.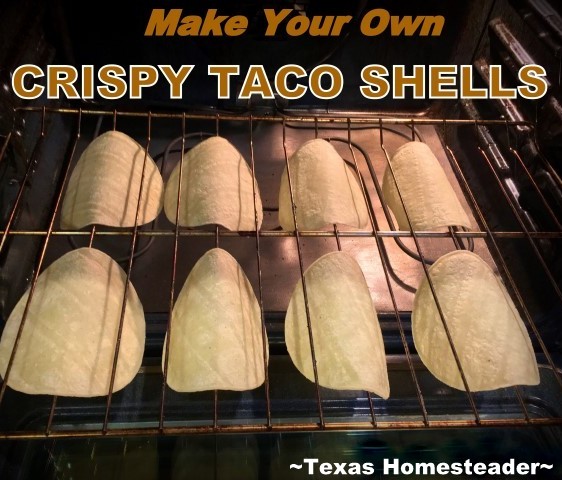 Quick Taco-Shell Crisping In The Oven
Then I turned the oven on to 350 degrees and set the timer for 5 minutes. The corn tortillas enjoyed that slow warming-up time in the oven.
When my timer went off I turned the oven off and sat the timer again for 5 minutes. My tortillas continued to crisp as the oven was slowly cooling.
When the timer went off this second time I pulled my taco shells from the oven. They were narrow enough for easy eating & lightly crisp.
NOTE: Don't expect these homemade crunch taco shells to be hard and shatter-crunchy like the commercial shells y'all.
These will be lightly crisp and they'll hold together when filling instead of snapping in two. We love 'em.
And where a raw corn tortilla would have torn when filling, these crisped ones flexed enough to fill without breaking. They held together beautifully as we stuffed them full of flavorful shredded pork.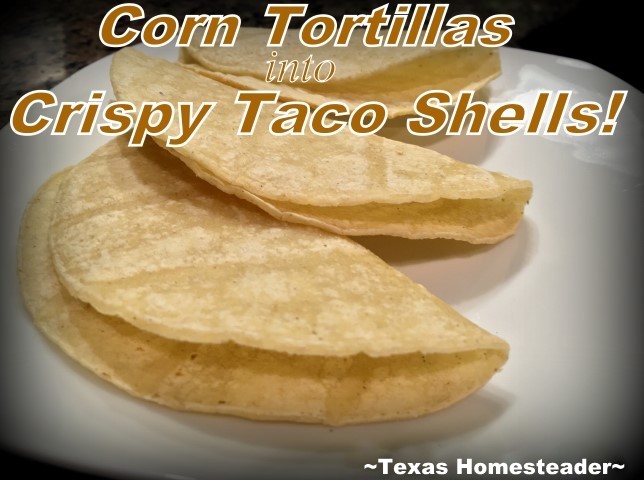 Something I'll caution about:
My first batch of taco shells baked up beautifully. But when we wanted leftovers for lunch the next day the tortillas were a day older.
So some of the tortillas cracked at the wire. One tortilla cracked all the way through and fell from the wire to the oven floor below.
I was able to open the oven door & fetch that tortilla with my tongs before it made a burnt mess.
But be sure to stay by your oven with a pair of heat-proof tongs at the ready in case your tortillas do this!
I've pre-heated day-old tortillas in the microwave for a few seconds which seemed to help them bend without breaking somewhat, but keep an eye on 'em, y'all!
Now that we've enjoyed our carnitas tacos, what will I do with the leftover corn tortillas in the package?
Oh those won't be wasted either. I'll oil & season them to make them into baked tortilla chips!
bon appétit!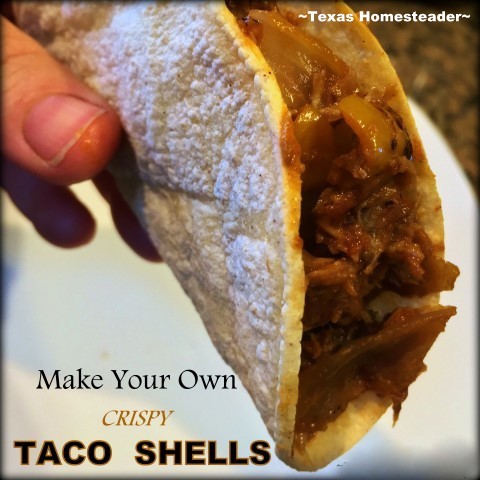 ~TxH~
This post categorized in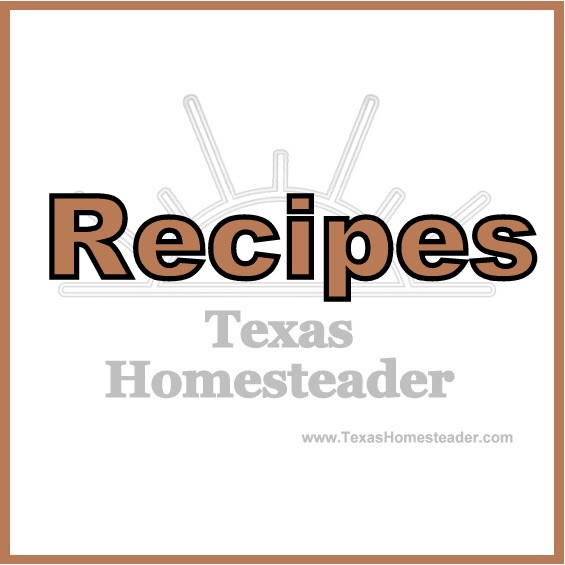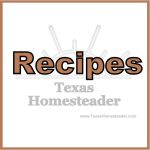 Our Favorite Tex-Mex Recipes
…and MUCH MORE!


C'mon by & sit a spell! Come hang out at our Facebook Page . It's like sitting in a front porch rocker with a glass of cold iced tea. There are lots of good folks sharing! And you can also follow along on Pinterest, Twitter & Instagram
If you'd like to receive an email when a new blog post goes live,
subscribe to our Blog!
Save
Save
Save