by Texas Homesteader ~
*contains affiliate link
I have a simple Southwest Chicken recipe that I cook outside using just the power of the sun!
One of the included vessels when I bought my solar oven is a double-stack black enamelware covered pan. That will be perfect for today's dish: Southwest Chicken served on a bed of seasoned brown rice.
Quick & easy, mix it & forget it. The whole meal cooks at the same time!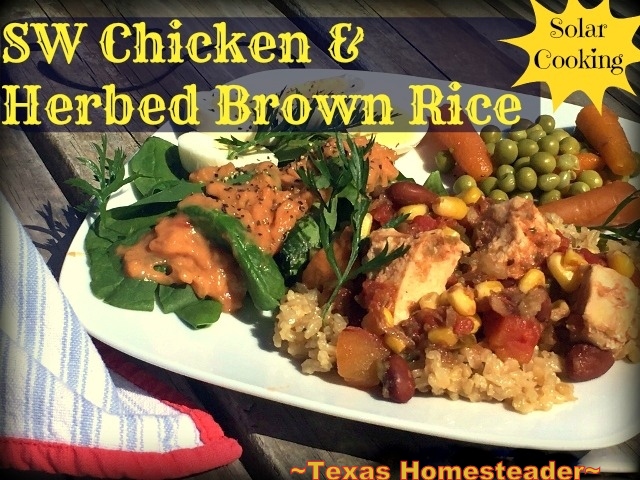 (Note: Some links in this post are for further information from earlier posts I've written. But links preceded with * are affiliate links. If you click them and buy something (almost anything, not just the item noted) I could receive a tiny commission. But the price you pay will NOT change. It's an easy way to support this blog without anything coming out of your pocket. So click often! Thank you!)
Keeping Heat Outside In Hot Summer Months
Our homestead is located in the hot & humid south. Here in NE Texas I do all that I can to keep that heat outside where it belongs when the temps (and the humidity) start to go up. I have many ways of doing this.
For instance, our tea is brewed in a repurposed hourglass-shaped jar on the picnic table, courtesy of the sun. And our clean laundry is almost always dried outside on our *Retractable Clothesline, even in the colder winter months.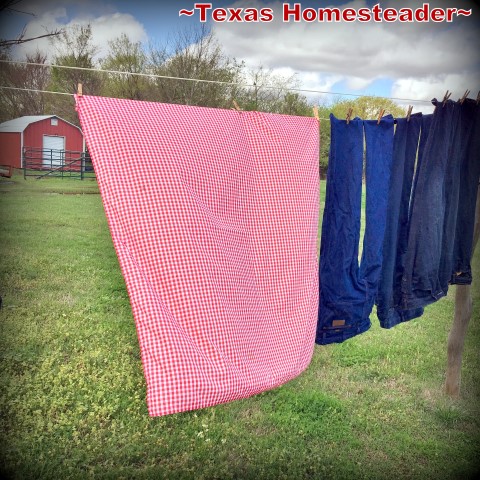 But one of my favorite ways to keep heat outside is by using my *Solar Oven to cook our food.
My solar oven came with an enameled cooking set so I typically use those items when I'm cooking with the sun. But I've also used other cooking vessels such as casserole dishes or even my slow cooker's removable crock!
Today I'll for cooking my SW chicken casserole as well as seasoned brown rice. And I'll be using those double-stacked black enameled pans and a see-through lid.
SW Chicken Ingredients
I pulled out two boneless skinless chicken breasts & cut them into bite-sized pieces. Then I tossed 'em in one of the enamelware pans and added 1 drained & rinsed cup of pintos (although black beans would be good too).
Then I added a cup of drained corn that was also in my freezer from the corn-on-the-cob glut last year. A cup of homemade salsa and a can of Rotel. A quick mix and now it's time to turn my attention to the brown rice.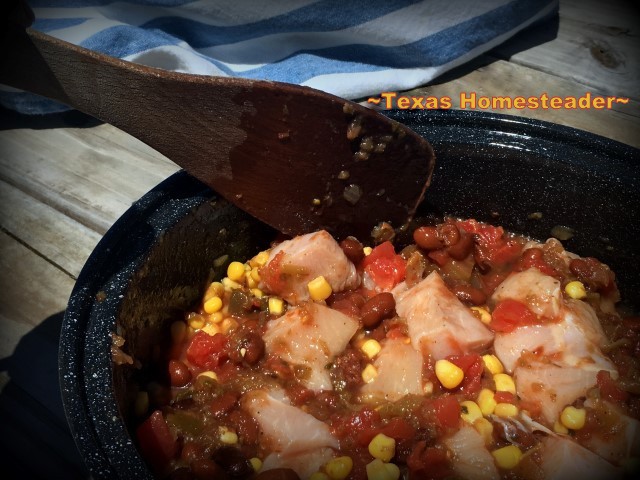 Seasoned Brown Rice
The ratio for cooking rice is 1 part rice to 2 parts water or broth. So I measured 1 cup of brown rice and poured it into the second pot. Then I added 2 cups of Homemade Broth.
I wanted a little extra flavor in my rice so I added an Herb Bomb from my freezer. This is simply chopped fresh herbs from last year's garden placed in an ice cube tray and topped with olive oil. So I plopped an herb bomb in with the rice & broth and gave it all a stir.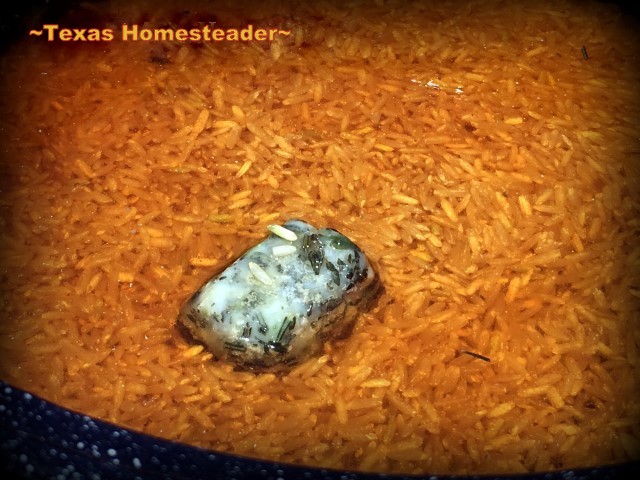 The pot with the rice was covered with a see-through top and then stacked on top of the pot with the chicken mixture. It's all gonna cook at the same time!
I positioned my solar oven toward the sun and then placed this double-stacked pan inside and closed the solar oven door. Now I'm free to tend to my other tasks for the day.
Adjusting The Solar Oven
(NOTE: The newer solar ovens have a sun tracker attachment. This little cube makes it SO much easier to track the sun properly! Since mine wasn't sold with one I recently bought the retrofit kit and added to my solar oven. I highly recommend this helpful little amendment)
I periodically adjust the sun oven to track the sun. The oven quickly heated to about 325-330 degrees.
*About My Solar Oven: For those of you asking, I have a Sun Oven brand solar oven and I LOVE IT! If you've been waiting to get a solar oven of your own – now's the time!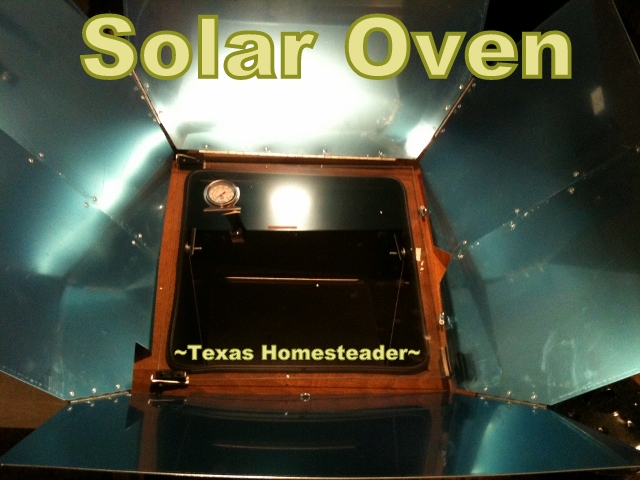 With the see-through lid on the brown rice pot, I'm watching for all the water to be absorbed into the rice. When I see that, I know it's done!
Supper Is Served!
My chicken & rice was done in just under 2 hours. Your time will certainly vary based on many variables. How high the sun is in the sky, what cookware you're using, how often (if at all) you adjust your oven's position to track the sun, etc.
But here's the great thing about the timing of cooking this dish: When the liquid is gone from the rice, you're done!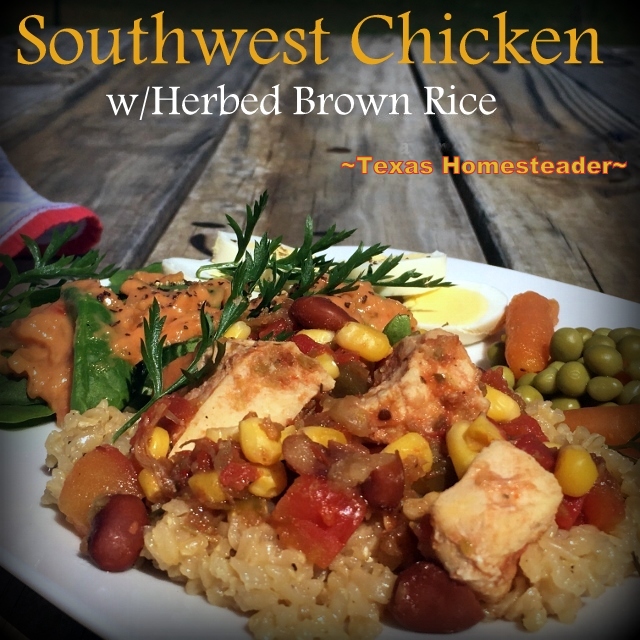 And with a solar oven, your food's not going to burn anyway. So I just kept an eye on that see-through lid and pulled everything when the liquid was gone from the rice. Done & DONE!
Yes, of course I'll share the recipe for my solar-cooked SW Chicken!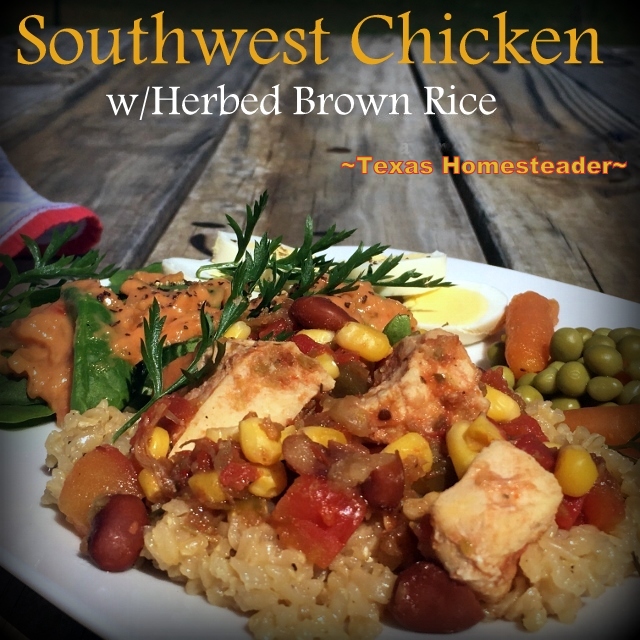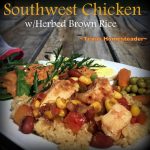 SOLAR COOKING: Southwest Chicken w/Herbed Brown Rice
I love cooking with the sun! This Southwest Chicken w/Herbed Brown Rice couldn't be easier. Toss in the ingredients, give a quick stir and let the sun do the rest!

Ingredients
Chicken Mixture
2

Boneless, Skinless Chicken Breasts,

chopped

1

cup

Black or Pinto Beans

, drained & rinsed

1

cup

Whole Kernel Corn

, drained

1

cup

Chunky Salsa

1 14.5

oz can

Rotel Tomatoes

, undrained
Brown Rice Mixture
1

cup

Brown rice

2

cups

Broth

1

Cube herb bomb

(or minced herbs of choice)

Salt to taste
Instructions
Set up solar oven. Use double-stack enamelware pans with see-through lid.


Mix all ingredients for chicken into one pan. Mix all ingredients for rice in another pan. Stack rice pan on top of chicken pan. Cover with see-through lid.

Place covered stacked pans in solar oven and cook until liquid is absorbed from rice pan (about 1.5 - 2 hrs).

Carefully remove pans from solar oven and bring them into house. Fluff rice with fork and place serving on plate. Top rice with SW Chicken mixture. Enjoy!

~TxH~
Links In This Post
Looking For More Solar-Cooking Recipes?
You can see our other SOLAR oven articles

here


C'mon by & sit a spell! Come hang out at our Facebook Page . It's like sitting in a front porch rocker with a glass of cold iced tea. There are lots of good folks sharing! And you can also follow along on Pinterest,Twitter or Instagram
If you'd like to receive an email when a new blog post goes live,
subscribe to our Blog!
*Amazon
Save
Save
Save
Save
Save
Save
Save
Save
Save