by Texas Homesteader
*affiliate link
As I rose early one morning and glanced out the window at yet another beautiful sunrise, I wondered if the day would be good to bake bread outside. The clouds are beginning to burn off. And a quick check of the forecast shows that the weatherman promises lots of sun and low wind.
Of course in a solar oven you need the sun to bake bread, but wind can sometimes wreak havoc with the reflectors. With promise of low wind, I decided to go for it!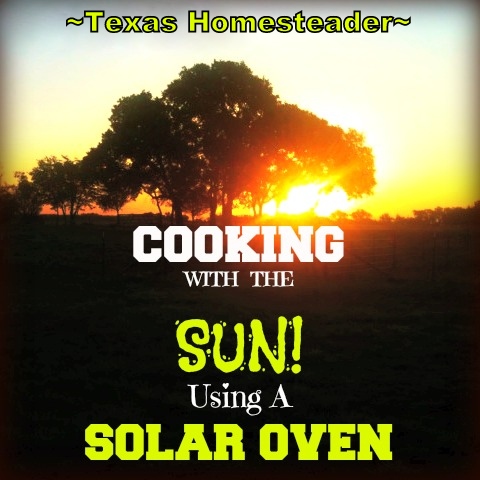 You've just got to love those precious souls that wake up eager to greet the day. You know the ones – they spring out of bed with a smile on their lips and a song in their heart?
Well unfortunately that's not me. Oh I love mornings but I'm certainly in slow gear until I receive coffee-inspired motivation.
So into the kitchen I shuffle, yawning and still half asleep – morning coffee still firmly gripped in my hand. Luckily I know myself well enough that I've started using several Bread-Making Shortcuts. I've already premixed the dry ingredients for my bread recipe and placed them in baggies.
I simply pull out one of the premixed bags of dry bread ingredients. Then I mix it with the wet ingredients & yeast. Now I set it aside for the first rise, punch down and shaping.
By the time the loaves are shaped I've set up the *solar oven and it's ready to go. Since the winter sun here in North Texas is still pretty low in the southern sky, the oven is tilted pretty strongly to the south to channel the sun's energy directly into the oven.
*About My Solar Oven: For those of you asking, I have a Sun Oven brand solar oven and I LOVE IT! If you've been waiting to get a solar oven of your own – now's the time!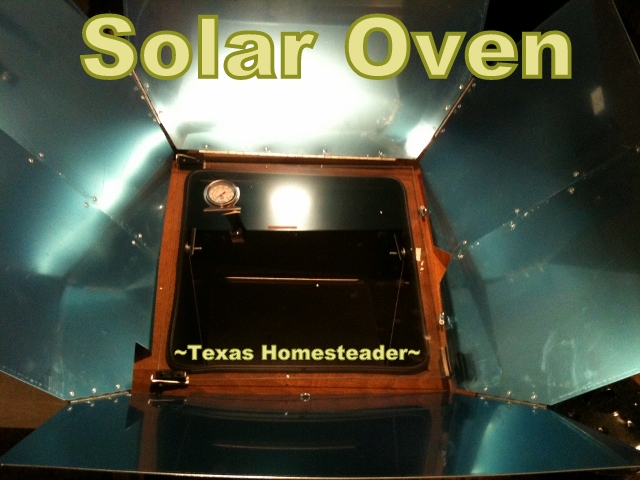 The bread pans go into the oven to rise a second time. I keep the oven door ajar so it doesn't get hot enough to actually bake the bread but offers a warm environment which will allow the bread to rise beautifully.
When the second rise is complete I close and latch the oven door. Even though the temps today are a chilly 40 degrees, the temperature inside the oven rises quickly to over 300 degrees.
About thirty minutes later I brush melted butter on the crusts to both soften and add the flavor RancherMan loves. Fifteen minutes later this bread is ready to come out of the oven. (inhales deeply….) There's nothing like the smell of fresh-baked bread!
Have any of you tried a solar oven? Do you have any advice to share?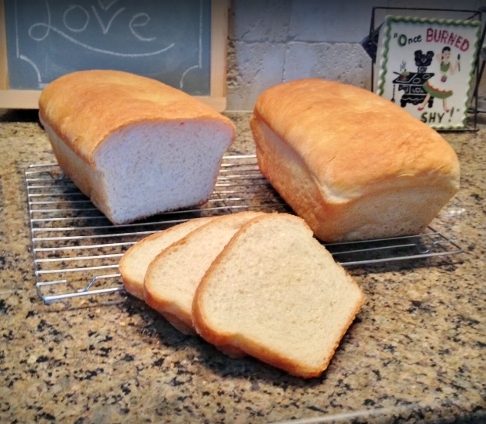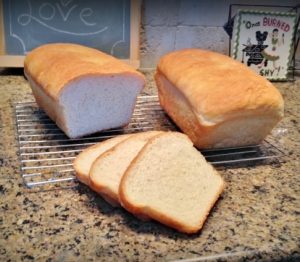 UPDATE: Previously my bread recipe always seemed result in a pretty heavy and dense loaf, so I've changed to a KitchenAid Sandwich Bread recipe that delivers a light, fluffy loaf every time!
~TxH~
Looking For More Solar-Cooking Recipes?
You can see our other SOLAR oven articles

here
Other Favorite Breads


C'mon by & sit a spell! Come hang out at our Facebook Page . It's like sitting in a front porch rocker with a glass of cold iced tea. There are lots of good folks sharing! And you can also follow along on Pinterest,Twitter or Instagram
If you'd like to receive an email when a new blog post goes live,
subscribe to our Blog!
*Amazon Affiliate
Save
Save
Save
Save
Save