by Texas Homesteader ~
I love the ease & convenience of beer bread with this mix-n-bake no-knead recipe. I wondered if I could make a Savory Pesto Version? As it turns out yes I can! I'm sharing the recipe, check it out.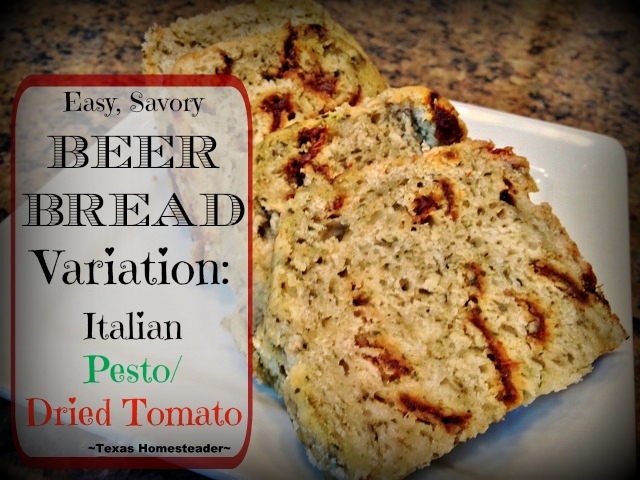 Dinner Party – Bringing Bread
Recently we were planning a family gathering. When I asked what I could bring they listed several potential options. But one option was to bring bread of some sort (pesto bread was the recommendation).
Of course I could just buy the bread and that would be simple too. But I always prefer for both financial as well as environmental reasons to make these things myself whenever possible.
So I'm wondering… why can't I pull out the last of my homemade basil pesto that I have stored in the freezer, thaw it, add some of my dried tomato leather & swirl it through the batter of plain beer bread to accomplish this feat with less bread-baking time in the kitchen? Hummmm…
Multi-Tasking In The Kitchen
Since there are several items I'll be baking today for our family gathering, I'll certainly be multi-tasking since each recipe has to be timed perfectly.
I'll be making a couple of different varieties of savory breads that I've never made before and also a double-batch of my rich chocolaty homemade brownies plus my favorite no-cook chocolate frosting for the brownies.
So I need to time not only the actual mixing up of the recipes but also the timing of which item goes first for me to begin preparing the next to take its place in the oven when it's done.
Plus while it's all coming together I'll also need to take photos of the bread prep along the way so I'll have them to include in this blog post.
WHEW! I'm feeling a little bit like a power-baking Wonder Woman right now…
Ready?? Set?? GO! LOL
Deciding On Pesto-Flavored Bread
So I pull my basic quick beer bread recipe & read it over. I decided to make one loaf of Pesto-Flavored Bread & one loaf of Rosemary/Cheddar-Flavored Bread.
But for today's post I'll focus on the Pesto Bread.
So I sat to work figuring out how to wing this recipe. Hey winging a recipe should be my Wonder Woman Super Power. I seem to do it all the time (although not always successfully… LOL)
First I pulled out all of the ingredients I'd need for my bread & measured them out.
I mixed up the dry ingredients & kept the other pre-measured ingredients such as flour, salt, etc. handy so I could add & mix quickly.
For my Italian Pesto flavored beer bread I brought out my frozen pesto, chunked up some dried tomatoes, a handful of shredded mozzarella cheese and Italian spices.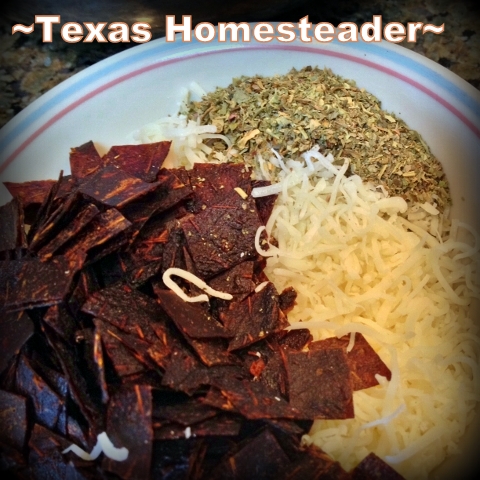 Oh yeah baby, that's the ticket! Let's see how this all comes together.
The thawed pesto looked a bit wet to me so I strained the excess oil into a separate container. Once that excess oil had been strained away it's time for me to start mixing up my pesto bread. Take a deep breath, here we go!
Baking Pesto-Flavored Beer Bread
To the pre-measured flour mixture I add the bottle of beer and set to adding my pesto add-ins:
I stirred in about 1/3 cup of thawed/drained pesto & 1/2 cup of mozzarella cheese, as well as about 1/3 cup of dried chopped tomato leather that I had dehydrated from my garden last year. And I also added a tablespoon of dry Italian seasoning.
Then I mixed it all together and poured it into a 9×5 loaf pan that I'd already oiled using some of that highly-flavored pesto oil I'd drained away from the pesto.
When I poured the batter in the pan I also brushed some of that reserved pesto oil onto the top of the batter. Ummmm… smells wonderful!
I slid the bread pan into my oven that had been preheated to 350 degrees. The bread was then baked for about 45 minutes.
Then I pull the pan from the oven and pour on top of the bread about 4 Tablespoons of the remaining fragrant pesto oil. This helps keep the crust nice & soft.
It sizzles as it runs toward the edges of the pan and it smells amazing! I return the loaf to the oven for the final 10 minutes baking time.
Cooling The Pesto Beer Bread
When the bread was baked I removed the pan from the oven and placed the pan with the bread in it on a baker's rack for a few minutes to allow it to begin cooling.
Since there's cheese in this bread there tends to be portions that stick to the side of the pan sometimes. So I slid a butter knife between the bread & the pan to make sure it was all loosened up. Then I removed the bread from the pan.
I placed the still-hot bread on my baker's rack & covered it with a clean kitchen towel to allow it to cool completely.
After is was cooled I sliced it up in preparation for transporting it to our dinner party. The smell of pesto was heavenly. The bread was hefty, moist & soft. And you could see plenty of tomato in the bread too.
But the taste?? Absolutely DELICIOUS!
I like to play with the flavors of beer bread. Since it's mix-n-bake and no-knead, this beer bread is a much streamlined bread recipe and fun to experiment with different flavors.
Here's the recipe I used for this quick & easy yet delicious pesto-flavored beer bread: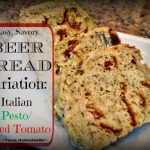 Basic Beer Bread
This pesto sun-dried tomato version of standard beer bread is a quick, no-knead winner! Mix & bake and enjoy with supper tonight. #TexasHomesteader
Ingredients
3

cups

All-Purpose Flour

1

Tbsp.

Baking Powder

1

tsp.

Salt

1/4

cup

Sugar

1

12 oz

beer

(or 1 1/2 cup)
(Optional Stir-In Options for Pesto Bread)
1/2

cup

Mozzarella Cheese

1/3

cup

Basil Pesto

1

Tablelspoon

Dry Italian-Flavored Herb Mixture

(basil, oregano, thyme, etc)

1/3

cup

Dried Tomato Leather,

chopped

4

Tablespoons

reserved pesto oil or olive oil
Instructions
Preheat oven to 375 (350 degrees for glass pan.)


Mix dry ingredients together, then slowly add beer & stir to combine. Add the desired stir-in options for Pesto Bread & blend thoroughly.


Transfer batter into well-oiled 9x5 glass loaf pan and bake on middle rack for 45 minutes.

Remove pan from oven and using basting brush, use 4 tablespoons of reserved pesto oil (or olive oil) to coat the surface of the loaf & return it to the oven for an additional 10 minutes baking time.

When baking is complete, remove the pan from the oven, carefully remove bread from pan and place on baker's rack. Cover the hot bread with a clean towel & allow to cool completely.
~TxH~
This post categorized in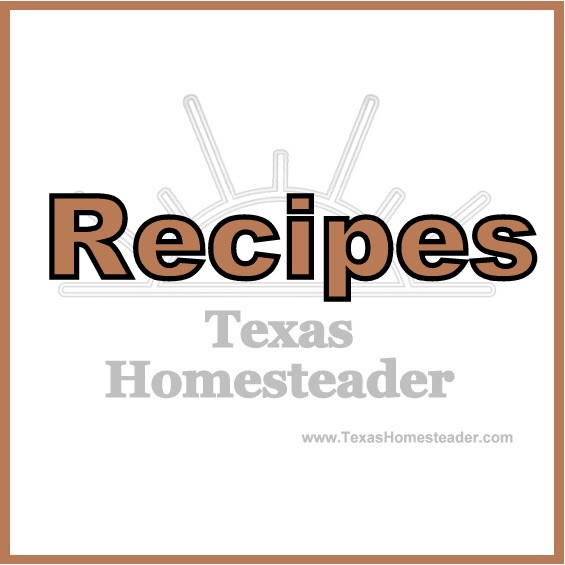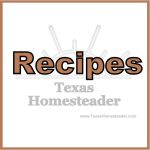 Other Favorite Breads


C'mon by & sit a spell! Come hang out at our Facebook Page . It's like sitting in a front porch rocker with a glass of cold iced tea. There are lots of good folks sharing! And you can also follow along on Pinterest, Instagram & Twitter
If you'd like to receive an email when a new blog post goes live,
subscribe to our Blog!
Save