by Texas Homesteader ~
This simple, moist and zesty jalapeno cornbread recipe is on tight rotation in my Homestead kitchen. Lightly sweet cornbread that bakes up fast in a cast-iron skillet. You can leave out the jalapenos if you don't like spicy food. Either way – your choice!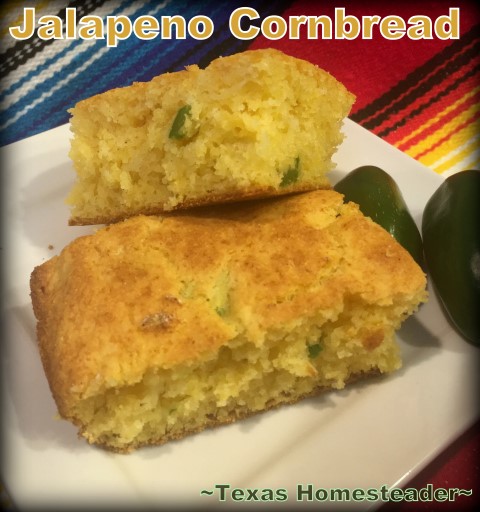 Searching For A Good Cornbread Recipe
When I'm looking for a new recipe I'll do an internet search, read the reviews, pick a recipe and just go with it. If we like it the recipe stays in my rotation.
But each and every recipe I've tried for cornbread has been lacking something. And usually a little on the dry side too.
Then recently a dear friend brought homemade cornbread to us. It was tasty, lightly sweet and perfectly light textured. We loved it!
I begged for the recipe and she shared it with me. (Thanks Virginia!) I made this cornbread with chopped jalapenos tonight to go with a hearty pot of ham and beans for supper.
But it also pairs nicely with my homemade Beef & Black Bean Chili. Or any soup, stew or bean recipe really.
RancherMan is a certified bread-a-holic. So I'm aaaalways baking bread!
You can see all my Bread Recipes here –>

Cornbread is the easiest bread to bake. And this one is absolutely delicious! Yes, I'll share.
Simple, Wholesome Ingredients
First I pulled out and measured the ingredients for my homemade Cornbread:
1 cup yellow cornmeal,

1 cup all-purpose flour,

1/4 cup sugar,

4 teaspoons baking powder,

1/2 teaspoon salt,

1 cup milk,

1 egg,

1/4 cup vegetable oil,

1-2 chopped jalapenos (optional)
I love the simple & wholesome ingredients in this recipe.
The oven was preheated to 425 degrees F. and I placed my cast iron skillet in the oven as it was preheating.
I think placing the batter in hot cast iron gives the cornbread a nicer crust, don't you?
Mixing Up The Cornbread Batter
While the oven (and the skillet) were preheating I mixed the dry ingredients in a small bowl.
Then in a separate bowl I mixed the milk, egg and vegetable oil until blended.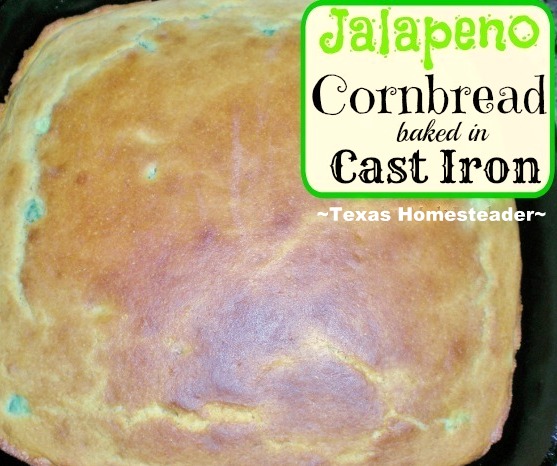 Then I combined the ingredients in both bowls, stirring until blended. I tossed in some chopped jalapenos and then stirred the batter just until the ingredients were fully incorporated.
I like my food spicy so I didn't seed the peppers. But for a more docile palate the peppers can be seeded to reduce the heat somewhat. Or heck, leave them out completely if you're not into spicy food. The cornbread is delicious either way.
Now I pulled the hot skillet from the oven and greased the bottom of the skillet with unsalted butter. This is to assure that buttery crisp crust that we love so much!
As a side note – look at that beautiful pitch-black flawless cast iron surface of my grandmother's antique skillet. It's had almost 100 years of TLC and it holds many more years than that in its future! (sigh….) Oops, off track again…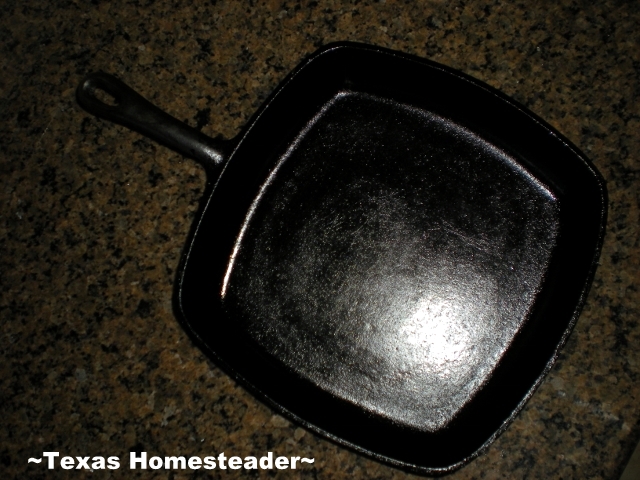 Baking The Cornbread In Cast Iron
Now I pour the batter into the hot skillet and place the skillet back in the oven to bake. About 20 minutes later the cornbread is beautifully brown.
When I bring the cornbread out of the oven I brush unsalted butter across the surface – just my preference.
We enjoyed the cornbread very much and it's certainly now in my permanent recipe rotation. 🙂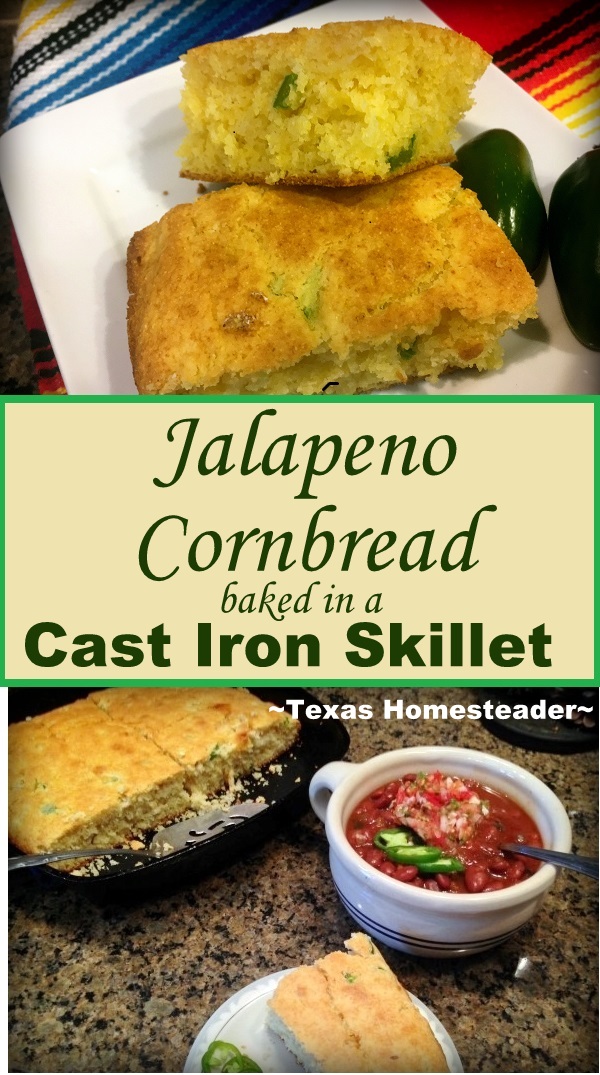 Here's the recipe as Ms. V. gave it to me. Give it a try!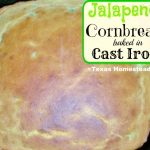 Jalapeno Cornbread
A light, fluffy spicy homemade cornbread sure to please! #TexasHomesteader

Ingredients
1

cup

enriched yellow corn meal

1

cup

all-purpose flour

1/4

cup

sugar

4

teaspoons

baking powder

1/2

teaspoon

salt

1

cup

milk

1

egg

1/4

cup

vegetable oil

1-2

chopped jalapenos,

(optional)
Instructions
Preheat oven to 425 degrees. Place cast-iron skillet in oven as it is preheating.

Mix dry ingredients in a bowl and set aside. In another bowl mix milk, egg and oil until blended. Add chopped jalapenos. Combine wet ingredients with dry ingredients and stir until moistened and fairly smooth (about 1 minute.)

Carefully remove hot skillet from oven and grease with butter. Pour batter into skillet and bake 20 to 23 minutes or until toothpick inserted in the center comes out clean.
Recipe Notes
(Note: You can use an 8 inch cake pan that has been greased or sprayed instead of a cast iron skillet)
Mexican-Flavored Cornbread: Stir 1 cup whole kernel corn, 2 tablespoons chopped green chilies and 1/2 teaspoon chili powder and follow baking directions above. Remove from the oven and top it with 1/2 cup of shredded cheddar or Monterrey jack cheese if desired.
~TxH~
Other Favorite Breads


C'mon by & sit a spell! Come hang out at our Facebook Page . It's like sitting in a front porch rocker with a glass of cold iced tea. There are lots of good folks sharing! And you can also follow along on Pinterest, Instagram & Twitter
If you'd like to receive an email when a new blog post goes live,
subscribe to our Blog!
Save
Save
Save