by Texas Homesteader ~

There's not a much better comfort food than homemade Chicken & Dumplings. This is a favored recipe in my Homestead kitchen and the ultimate comfort food. Check it out!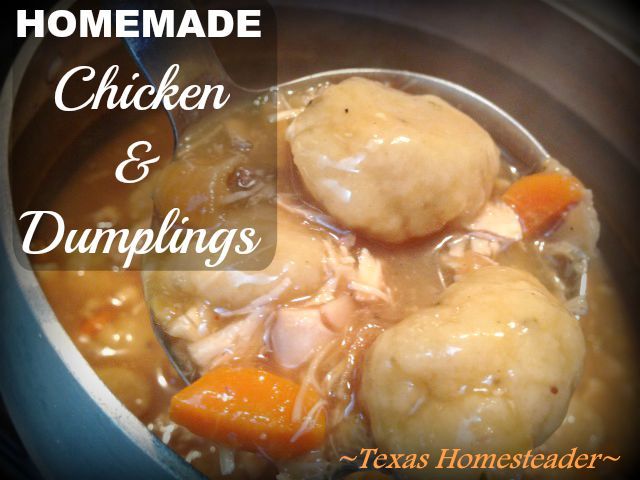 Flexible Chicken & Dumplings Recipe
I always have homemade broth on hand. So when I have leftover chicken it's my kinda quick & easy southern comfort to whip up chicken & dumplings from scratch.
It's a very versatile recipe and you can add whatever seasonings float your boat.
I'll share the basic recipe I use, although I'll admit I throw in whatever sounds good at the time or whatever I have waiting to be used.
I've used beef broth instead of chicken broth, carrots, no carrots, celery, no celery, etc.
All came out deliciously.
Although I'll be canning my chicken broth this winter so I can store it in the pantry, when I make broth during the heat & humidity of a typical Texas summer I freeze it instead.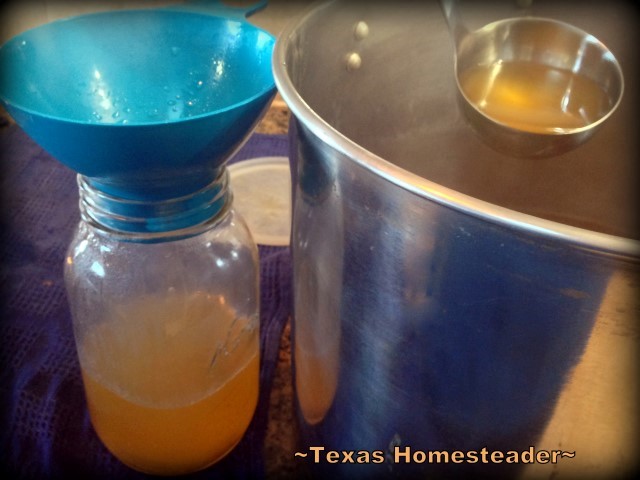 I just can't stand the thought of adding even more heat & humidity to the house by canning when other options such as freezing broth exist!
So if I'm using frozen broth, the night before I simply take a container of chicken broth from the freezer and place it in the fridge to thaw overnight.
Add Vegetables to Chicken & Dumplings Broth
The following day when I'm ready to start making my chicken & dumplings I'll pour the broth into a deep pot & put it on the stove to simmer.
Oftentimes I'm making use of dehydrated vegetables to use in my chicken & dumplings. If so I toss in a handful of whatever dehydrated veggies I want now so they can rehydrate right there in the broth. Typical additions for me are chopped onion and celery and also chopped carrot.
If you don't have dehydrated veggies, adding the fresh counterparts into your broth at this point would be appropriate.
I also chop about 2 cups of leftover cooked chicken and set it aside. I want to have it ready to drop into the simmering broth at the end.
You can use more or less chicken based on how much leftover chicken you have available or how meaty you want your chicken-n-dumplings to be.
See what I mean? Flexible!
Making Chicken & Dumplings Dough
While the broth is simmering and the veggies are rehydrating/cooking I whip up my homemade dumplings.
It's quick using only a bit of flour, some baking powder, milk, shortening (or bacon grease) and seasonings.
My typical seasoning is simply salt, coarsely-cracked pepper and thyme.
This makes a pretty stiff dough.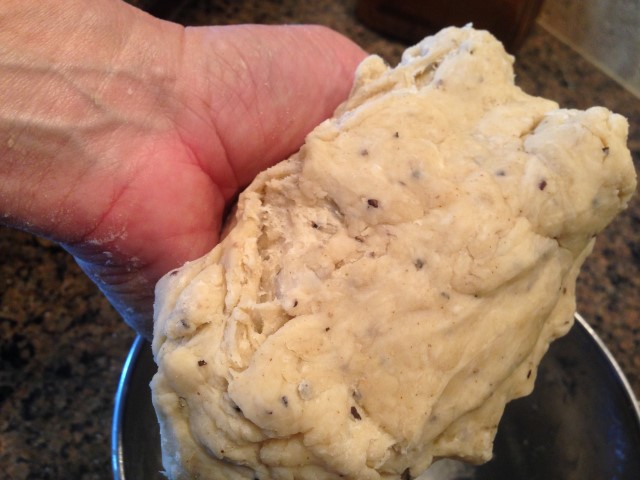 Cooking The Dumplings
Now that my broth is simmering nicely I pinch off about a teaspoon of my dumpling dough. I roll it into a small ball & press it gently between my palms to flatten it somewhat before dropping it into my broth.
This procedure is continued until all my dumplings are simmering in the broth. I give one very gentle stir and put the lid on the pot to allow it to simmer for 12-15 minutes. (depending upon the size & thickness of your dumplings).
It's important not to stir the dumplings too much when they are in dough form as they will dissolve into your broth.
(Ask me how I know. Eh hemmm….)
How To Thicken Chicken & Dumplings Broth
After the dumplings have cooked I remove the lid and stir again very gently. RancherMan loves a thick chicken & dumplings. And oftentimes after this simmer time, my chicken & dumplings broth is still not quite as thick as I like it.
If that's the case I'll take a jar and add about 1/4 cup of flour with enough cool water or broth to make a thin paste, stirring until the flour is completely incorporated and no lumps remain.
Then I pour this thickening into my simmering broth, stirring very slowly & gently. My broth always thickens up beautifully.
Now is the time to drop in my chopped chicken. One more stir and I leave it on the stove just enough for the chicken to get heated through.
This chicken & dumplings recipe fed RancherMan & me a hearty supper. Plus I still had enough leftovers for a couple of lunches for each of us.
Cook-Once, Eat Twice, bebe – gotta love it!
Did you make these Chicken & Dumplings? Please rate the recipe in your comment below!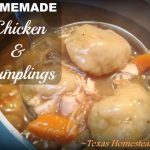 Chicken & Dumplings Recipe
Leftover chicken makes a homemade chicken & dumplings dish quick and easy! Lots of chicken & pillowy dumplings in a thick sauce. Yum! And really, does it get any better than homemade chicken & dumplings? #TexasHomesteader
Ingredients
Ingredients
5

Cups

Chicken Broth

2

Cups

Chopped Cooked Chicken

2

Tablespoons

Minced Onions

1

Tablespoon

Chopped Celery

Dumplings

(recipe below)
DUMPLINGS:
2 1/4

Cup

All-Purpose Flour

1/2

teaspoon

Baking Powder

1/4

teaspoon

Dried thyme

1

teaspoon

Salt

(or salted chicken seasoning)

1

teaspoon

Coarsely-Cracked Black Pepper

1/4

Cup

Shortening

(sometimes I use bacon grease instead)

1/2

Cup

Milk
Instructions
Dumpling Directions
Combine flour, baking powder, thyme, salt & pepper. Cut in shortening, add milk and knead until all ingredients are combined to make a stiff dough. Set aside.
Chicken & Dumplings Directions:
In a medium-large stock pot bring broth to a boil and add vegetables.

When broth is simmering start dropping in dumplings by pinching off 1-teaspoon dumpling dough, rolling into a small ball and pressing the dough ball between palms to flatten slightly. Drop dumplings into simmering broth.

When all dumplings are in the broth stir gently, cover pot and simmer for 12-15 minutes, depending upon the size and thickness of your dumplings.

If broth is not thick enough after the dumplings are fully cooked, mix up about 1/4 cup of flour with enough water or broth to make a thin paste & stir slurry until no flour lumps remain. Then pour into simmering broth and stir very gently just to incorporate thickening and keep dumplings from sticking to the pan.

When broth is as thick as you want, add the diced cooked chicken and heat a few minutes more until heated through.
~TxH~
This post categorized in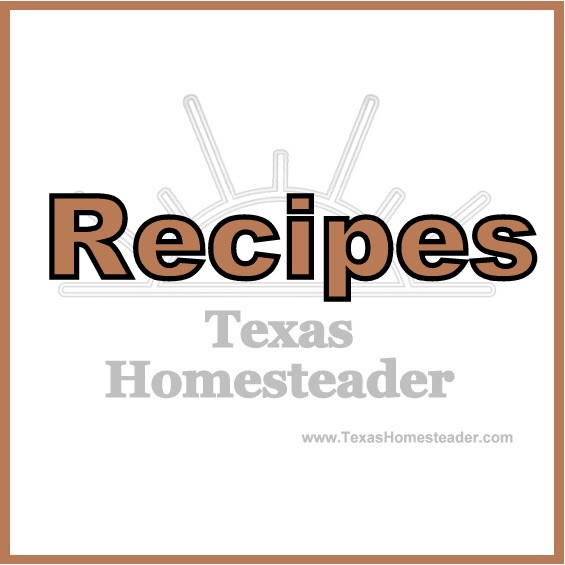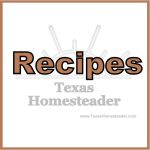 Want to see other Meal Ideas?



New Meals Remade With Leftovers


C'mon by & sit a spell! Come hang out at our Facebook Page . It's like sitting in a front porch rocker with a glass of cold iced tea. There are lots of good folks sharing! And you can also follow along on Pinterest, Twitter & Instagram
If you'd like to receive an email when a new blog post goes live,
subscribe to our Blog
Save
Save
Save