by Texas Homesteader ~
*contains affiliate link
Meatloaf is a versatile comfort food and we enjoy it often. It's a flexible recipe and you can use crumbled leftover meatloaf in many dishes on subsequent nights to get supper on the table FAST!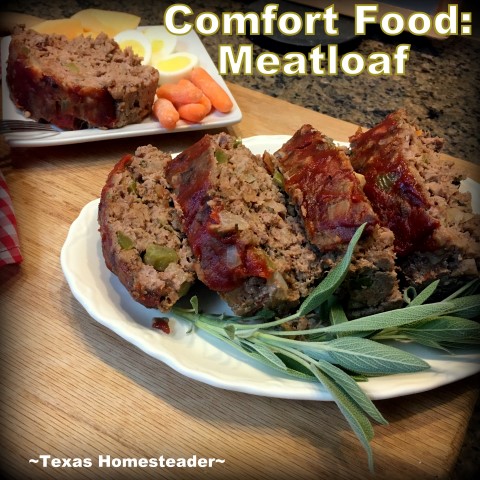 (Note: Some links in this post are for further information from earlier posts I've written. But links preceded with * are affiliate links. If you click them and buy something (almost anything, not just the item noted) I could receive a tiny commission. But the price you pay will NOT change. It's an easy way to support this blog without anything coming out of your pocket. So click often! Thank you!)
Cook-Once, Eat-Twice Cooking Saves Time
My recipe uses a standard oven, but I share solar oven cooking instructions too.
We've been dealing with quite the heatwave here in NE Texas. And much of the country is in the same grip of summer heat too.
When it's this hot outside I try to keep the cooking heat out of our home. For me, that means I'm using my solar oven almost every day. (have I mentioned how much I love that thing??!!)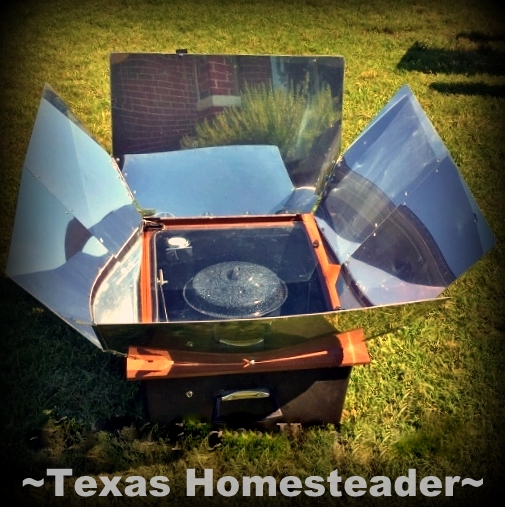 Today I'm sharing how I used my Cook-Once, Eat-Twice method of cooking to whip up two large loaf pans of meatloaf.
Sure, I used my solar oven to do the cooking. But my recipe below gives directions for using a conventional oven.
So whichever method you choose to cook your meatloaf, you're guaranteed to get a delicious meaty comfort-food entrée with plenty leftover for the freezer too for quick heat-n-eat suppers another night.
I mean, a night off cooking? YES PLEASE!
Can You Use Meatloaf For Other Dishes?
I make meatloaf often. Since I'm making two meatloaves at one time I'm also utilizing Planned Leftovers. That's where I intentionally cook up more of a main dish than we'll eat with plans of remaking it into different dishes later.
We'll enjoy hearty slabs of meatloaf for supper, supplemented with a few sides.
Then I'll slice up the remaining meatloaf and freeze it into meal-sized servings.
Different Way To Use Meatloaf:

Crumble Into Spaghetti

Make Hearty Enchiladas

Beefy Fried Rice
Meatloaf is a great prepared entrée to have ready & waiting in the freezer!
What Ingredients Go In Meatloaf?
Meatloaf is pretty forgiving and flexible to your own tastes. Here's how I make my meatloaf. (the actual recipe is at the end of this post)
Two lbs ground meat. I often use ground wild pork but feel free to use whatever ground meat you have.

Large eggs

Bread Crumbs

Chopped Onions & Bell Pepper, minced garlic

Seasonings – Salt, pepper, sage, thyme are my favorites.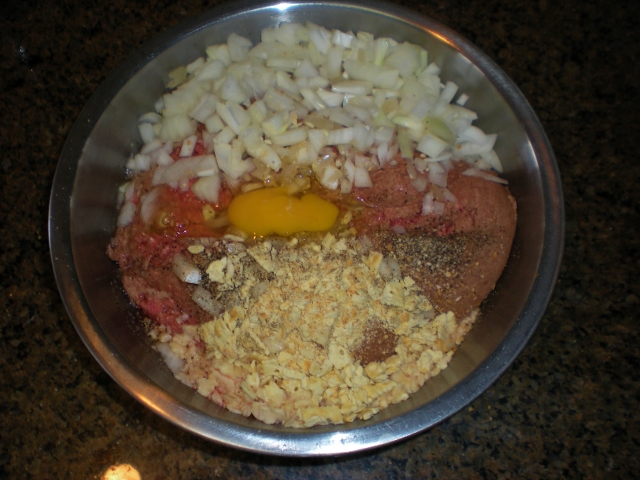 Now using clean hands I mix it all together thoroughly. Then I divide the meat mixture between two 9″x5″ loaf pans and I'm ready to cook 'em up!
If you're using a conventional oven, just bake your meatloaves at 350 degrees for about an hour.
You want to get the internal temperature of your meatloaf to 160 degrees to make sure it's cooked thoroughly.
Summer Solar Oven Cooking Option
Although the recipe below is for traditional oven cooking, today I'll be loading these loaf pans into my * Solar Oven.
*About My Solar Oven: For those of you asking, I have a Sun Oven brand solar oven and I LOVE IT! If you've been waiting to get a solar oven of your own – now's the time!
Because of the moist heat and the power of the sun, it's nigh impossible to actually burn the meatloaves in the solar oven.
So the amount of time spent inside the solar oven isn't as important as the meat's internal temperature attained at the center of the loaf pans.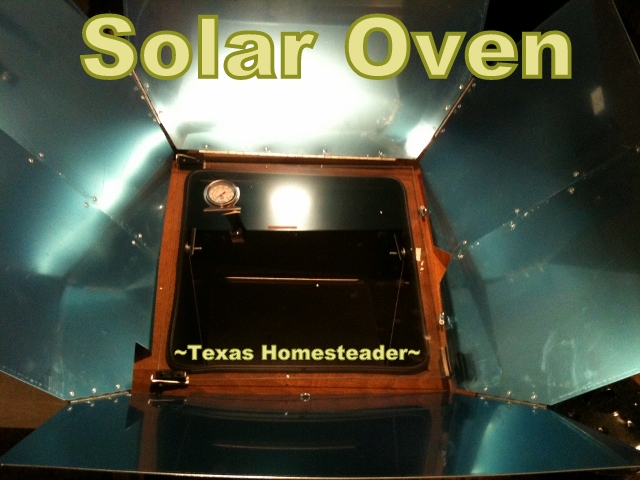 Tracking Meatloaf Internal Temperatures
Ground beef meatloaf should attain an internal temperature of 160 degrees F.
I'm able track the meat internal temperature easily using a meat probe.
Back in the day I used a *temperature probe that connected to a little display box. It would beep at me when the selected internal temperature was attained. But I'd have to be outside to hear it.
Wireless Bluetooth Meat Thermometer Ideal For Solar Cooking!
Since then I've discovered a much better Bluetooth version of meat thermometer and things have gotten even easier!
This *Meater Meat Probe reports directly to my cell phone, which is nice when dealing with a solar oven.
This keeps me from having to go outside each time to check temps or realign the oven. I can monitor it all from the comfort (and the AIR CONDITIONING) of my home. I love this thing!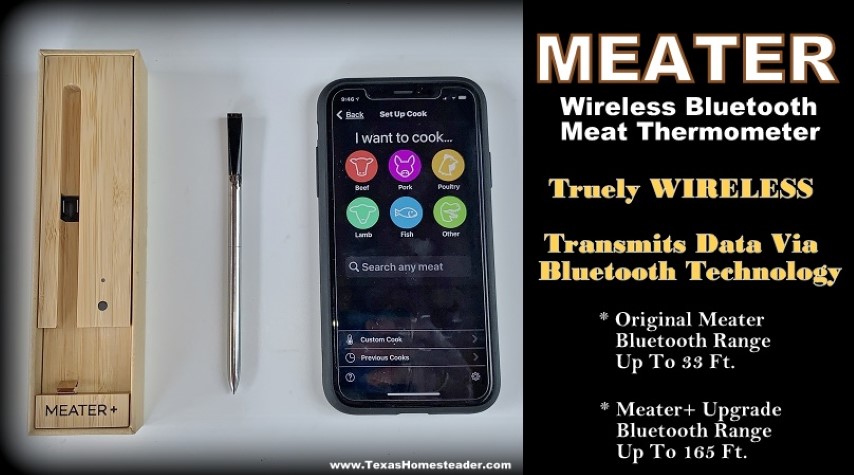 My *Meater Meat Probe tracks the internal temperature of the meat as well as the ambient temperature of my solar oven.
When I see the ambient temperatures begin dropping I know it's time to go out & adjust the oven's direction to realign it to track the sun.
Can You Cook Meatloaf In A Solar Oven?
I love my solar oven for all kinds of cooking, including meatloaf. Solar cooking time can vary based on how strong your sunshine is, how much cloud cover is present and how often you adjust your oven to follow the track of the sun.
So I slide my meatloaves into my solar oven and adjust the angle to where the solar oven is pointed most directly toward the sun. (This is made much easier with the Sun Tracker Cube option on my solar oven)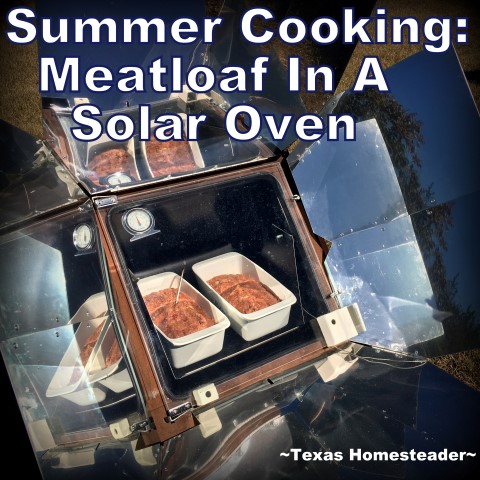 I check my temps occasionally and take an opportunity to re-adjust my oven as the sun moves across the sky.
About 1.5 hours later, my meat thermometer reads 160 degrees.
I bring in my meatloaves and spread a little ketchup on top of the loaves. Sometimes I'll sprinkle dried herbs, a couple of drops of Worcestershire or a drizzle of honey into my ketchup before spreading it across the loaves, but all of that is optional.
Then I pop them back into the solar oven for about 10 minutes just to set the glaze.
What Side Dishes Go With Meatloaf?
Now I bring my meatloaves into the kitchen and allow them to rest while I put together my sides.
Mashed Potatoes

Green Beans

Buttered Carrots
When it's so hot outside I often pair our meatloaf meal with a cooler sides.
Raw Carrots,

Sliced Cantaloupe,
Homemade Freezer Convenience Food
Plus after tonight's meal I'll have many more servings in my freezer. So when RancherMan & I drag our tired bodies into the house after a long, hot, grimy day in the pasture, I'll have plenty of heat-n-eat options as close as my own freezer.
No need to start from scratch every time you enjoy a home-cooked meal…
Aaaah the joys of having already-prepared homemade entrees in your freezer! It's my best tip for serving Homemade Meals Daily The EASY Way!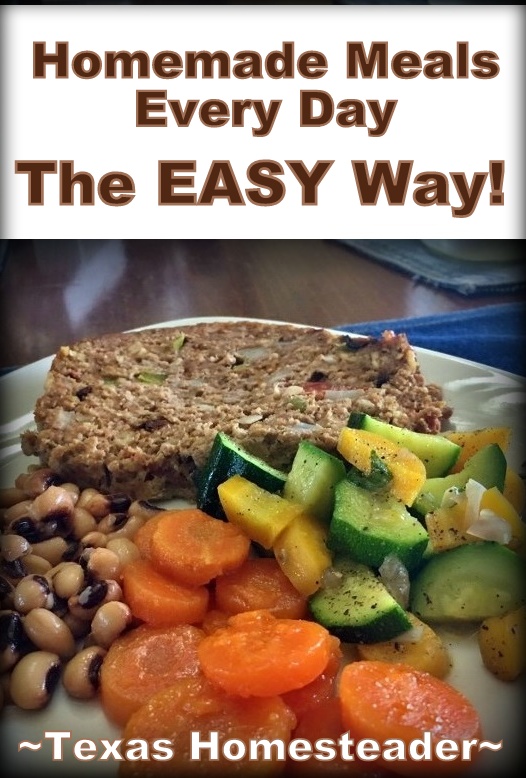 Here's my meatloaf recipe for oven baking.
(If using a solar oven it takes approximately 1.5 hours cook time to attain 160 degrees F internal temperature, but this time varies based on weather conditions)
My recipe makes 2 large 9″x5″ loaves:
Did you make this meatloaf? Please rate the recipe in your comment below!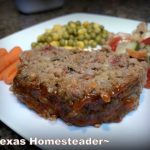 Savory Homemade Meatloaf Recipe (makes 2 loaves)
I like to make several meatloaves at a time as part of my Cook-Once, Eat-Twice method of cooking. This meatloaf is one of RancherMan's Faves! #TexasHomesteader
Ingredients
Ingredients
2

lbs

ground meat

(I used a mixture of ground beef & ground wild pork)

2

carrots, shredded

(about 1 cup)

1

yellow onion, finely chopped

(about 1.5 - 2 cups)

1/2

bell pepper, chopped

(about 1/2 cup)

1

14.5 oz can

chopped tomatoes,

drained

2

cloves

garlic, pressed or minced

(I use 3 cloves, we like garlic!)

2 - 2½

cups

breadcrumbs

(Sometimes I use a box of stuffing mix as a shortcut!)

4

large

eggs

1

tsp

prepared mustard

1

Tbsp

Worcestershire sauce

3-4

tsp

Herb seasonings of choice

(I used 2 tsp thyme, 1/2 tsp sage, 1/2 tsp roasted ground coriander, 1/2 tsp rosemary, 1/4 tsp garlic powder )

salt & pepper To Taste

(I used 2 tsp salt, 1 tsp pepper)

ketchup for topping

optional
Instructions
Directions:
Into ground meat add all other ingredients except ketchup and mix with hands until all ingredients are thoroughly combined.

Separate meat mixture into 2 glass loaf pans and pat into a firm loaf, gently sloping to the sides. This helps drain off the fat.

Bake in 350 degree oven for about an hour or until meat is brown & fully cooked (thermometer inserted into center of meatloaf should read 160 degrees.)

Remove meatloaves from oven & spread ketchup on top of the cooked loaves and return to the oven for 10 additional minutes if desired.
Recipe Notes
BAKER'S NOTE:  If your ground meat is very lean, it could result in a more crumbly meatloaf. In that case it's helpful to add another egg and 1/4 cup breadcrumbs for each pound of extra lean ground meat used
This post categorized in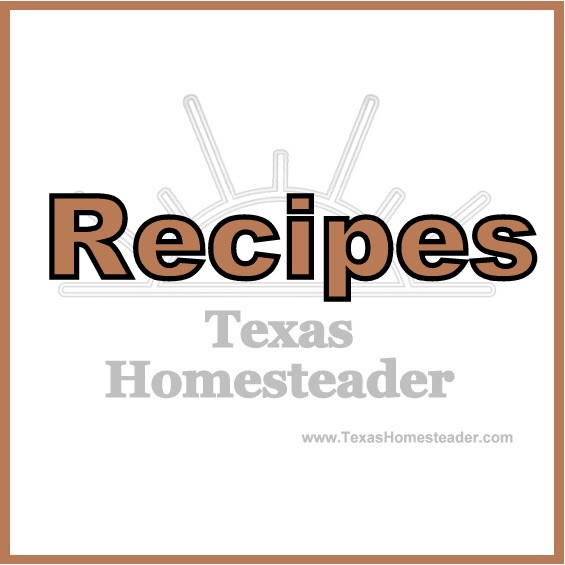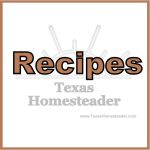 Looking For Other Solar-Cooking Recipes?
You can see our other SOLAR cooking articles

here
~TxH~


C'mon by & sit a spell! Come hang out at our Facebook Page. It's like sitting in a front porch rocker with a glass of cold iced tea – lots of good folks sharing! You can also follow along on Pinterest, Twitter or Instagram.
If you'd like to receive an email each time a new blog post goes live it's EASY to
Subscribe to our blog!
*Amazon affiliate link