by Texas Homesteader ~

During the brutal heat of a Texas summer I like to serve cooler food that doesn't require much time in the kitchen. This pasta salad is super-fast with Herb-Bombs!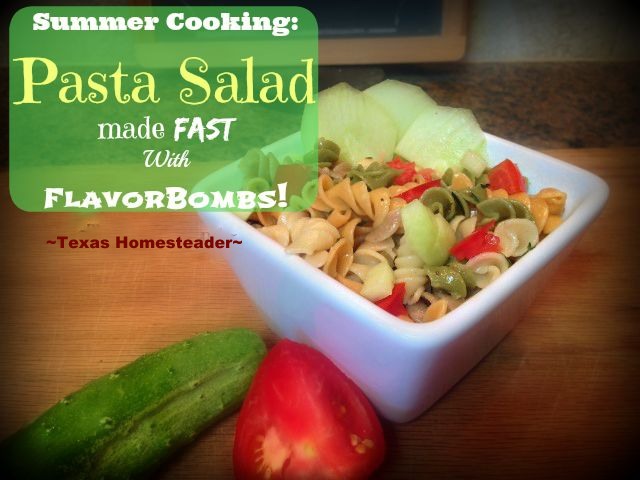 Can You Freeze Herbs In Oil?
Of course! Freezing chopped fresh herbs in oil is a great way to preserve that fresh taste for later.
I've shared with you my procedure for making Herb Bombs – ice-cube sized bundles of deliciousness that include chopped fresh herbs and garlic from my garden topped with olive oil & frozen in an ice cube tray.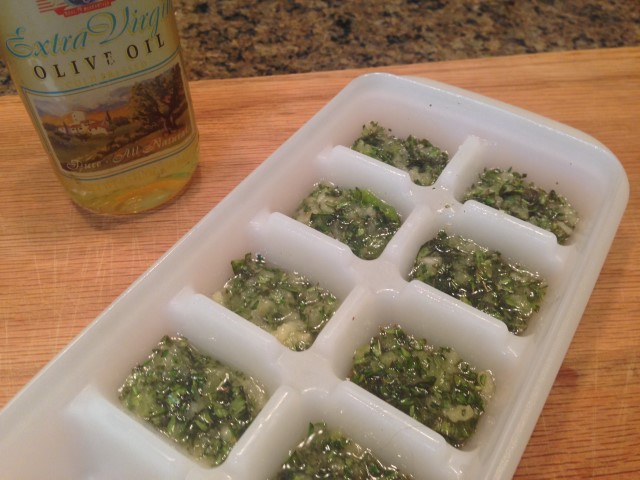 I've used these Herb-Bombs to quickly & easily make my plain rice much more flavorful.
But today I'm going to be making pasta salad. During these dog days of summer I'm always looking for cooler dining choices that don't require lots of time in the kitchen.
Using Frozen Cubes Of Garlic & Herbs In Olive Oil
BOOM! Enter this pasta salad made super-fast with my premade Herb Bombs made with olive oil & fresh herbs & frozen into cubes!
I'd already made two different kinds of Herb-Bombs. One kind was made with rosemary, garlic, thyme, basil & sage.
And I've made another Italian-flaired one with heavier garlic & basil and including some of my dehydrated tomato powder stirred in. Let's see how this pasta salad thing goes…
Making a Basic Pasta Salad
Making a basic pasta salad is pretty easy. I used tricolored pasta, it's colorful and fun. And it cooks in only 7 minutes.
Here's how I made it
3 cups of dried rotini pasta.

Enough salted water or broth to fully submerge pasta while cooking.

Boil pasta 7 minutes & strain

.
When the pasta was cooked I transferred it to a bowl and stirred in a couple of flavor bombs. Those frozen cubes melted into the hot pasta and added quite the explosion of flavor.
(deep breath…) Oh. My. Goodness. The aroma going on in my kitchen was amazing. As the herb bombs melted they added a touch of olive oil as well as all those fresh minced herbs.
I tasted the pasta salad and thought it would do quite well as a basic stand-alone pasta salad as-is.
Delicious & Colorful Fresh Vegetable Add-Ins
But I had a some fresh garden tomatoes just begging to be used.
Now my mama always told me presentation is half the dish, and mama's always right!
I knew the bright red tomatoes would not only be tasty but also add some color.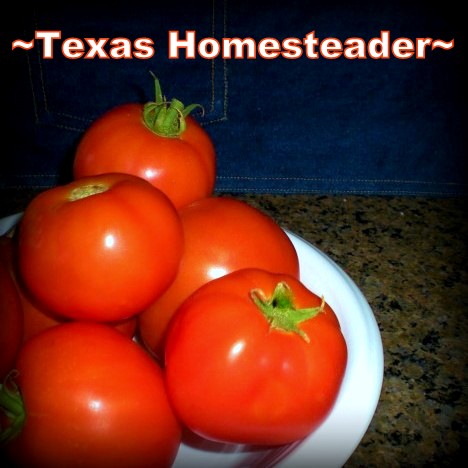 So I chopped up one of those bright red orbs of summer and stirred it into the pasta. It gave my pasta salad just a little more taste of summer.
But what about cucumbers? I've planted heirloom pickling cucumbers and they're actually producing very well.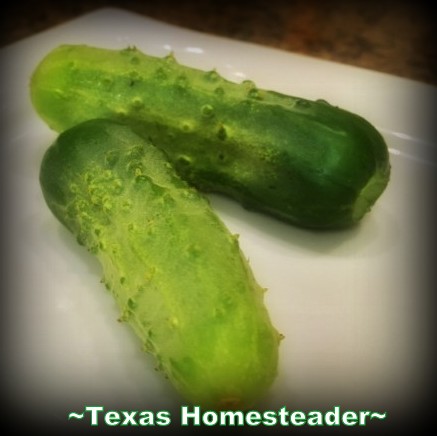 Nothing feels quite as cool on a hot summer day as a crisp cucumber. So I chopped up a cucumber harvested fresh off the vine and stirred it into my pasta salad as well. DELICIOUS!
I also added a couple of drops of lemon juice to give my salad a little citrus kick. But these are all only additions I made to suit our tastes. In my opinion this pasta salad is a winner either way!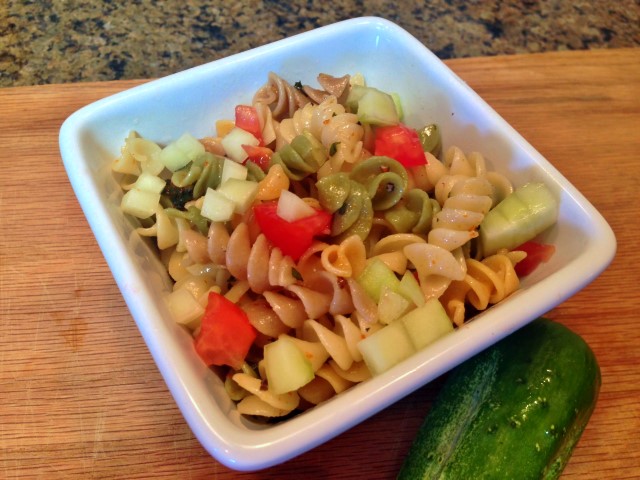 Pasta Salad Made The Way You Like It
I love that you can go as basic or as *WOWSER* as you like with this salad. And it doesn't take much time at all in the kitchen.
If you want it's delicious on its own and you can serve it as-is.
Or if desired you can chop up whatever veggies you have in your garden that would go well in a pasta salad. I'm thinking purple onion would be delish stirred into this salad too. Whaddya think??

Without further adieu, here's my Quick Pasta Salad recipe. Give it a try, I know your family will love it as much as we do.
Did you make this dish? Please rate the recipe in your comment below!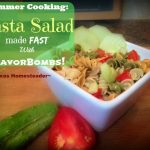 Cold Pasta Salad Made FAST With Frozen Herbs / Olive Oil
When it's hot outside you want something cool to go with supper.  Check out this quick-n-easy pasta salad uses a frozen cube of minced garlic, fresh herbs and olive oil for a flavor explosion. #TexasHomesteader
Ingredients
3

cups

dry rotini pasta

1

teaspoon

of salt

2

Herb-Bombs

(or minced fresh herbs & olive oil)

Enough broth or water to cover pasta
Instructions
Bring salted water to a boil. Add dry pasta and stir thoroughly. When water returns to a boil, continue boiling pasta uncovered for 7 minutes, stirring occasionally.

Strain cooked pasta in a mesh colander and place hot pasta in a bowl.

Add about 1 Herb-Bomb per about 1.5 cups dry pasta, or to your taste. (I used two Herb-Bombs for three cups of dry rotini pasta) If desired you can substitute herb bombs with minced fresh herbs such as basil, rosemary & oregano and a splash of olive oil.


Stir to thoroughly coat pasta - may add a few drops of lemon juice to add a little acidity. Chopped tomatoes are a nice stir-in, and chopped cucumbers go well too.
~TxH~
This post categorized in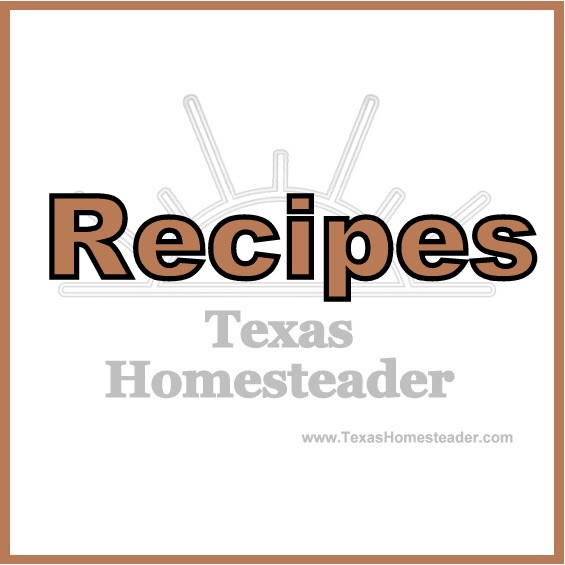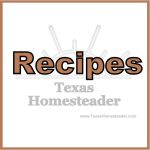 Other Side Dishes We Love
…and MANY MORE!


C'mon by & sit a spell! Come hang out at our

Facebook Page

. It's like sitting in a front porch rocker with a glass of cold iced tea – lots of good folks sharing!
To receive an email when a new blog post goes live it's EASY to
Subscribe to our blog!
Save
Save
Save
Save