by Texas Homesteader ~
*contains affiliate link
Okra Fritters are chopped seasoned okra that's been mixed, battered & fried to crispy deliciousness. It's the perfect thing to make from all that excess garden okra.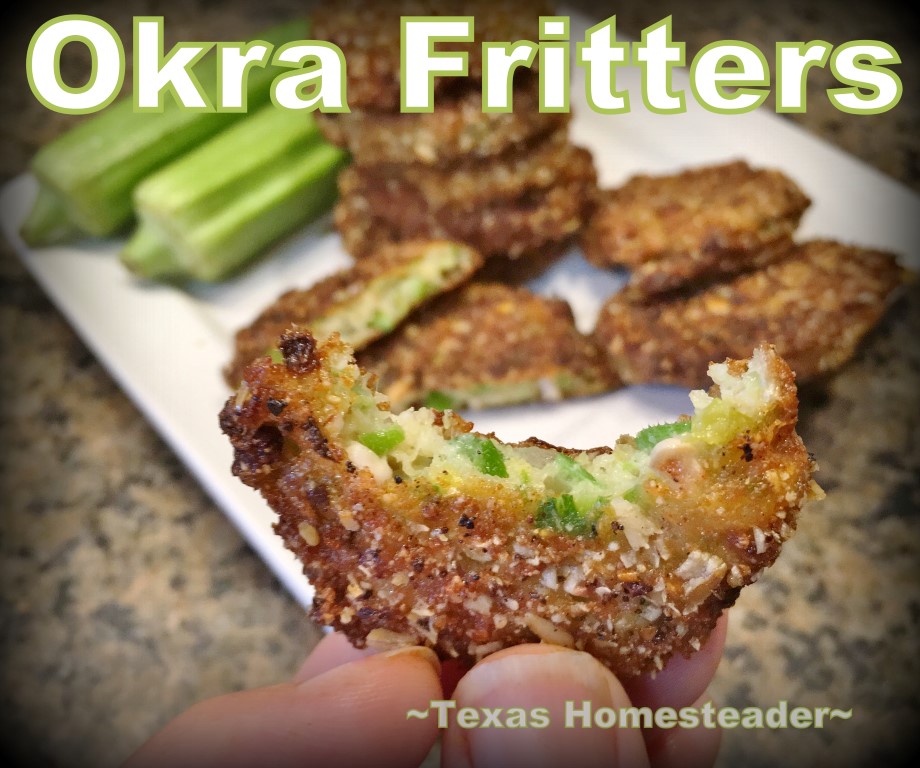 (Note: Some links in this post will take you to other related articles for further information. But links preceded with * are affiliate links. If you click and buy something I could receive a tiny commission.)
Okra Overproduces In The Garden
There are a few veggies that are really a powerhouse in the garden. Squash & okra come to mind.
They'll grow & produce in the most challenging weather, usually producing well enough for you to eat as much as you want & still have plenty to share with friends & family.
How To Disguise Okra's Mucilage Inside Texture
I've never really gotten onboard with the mucilage texture inside of okra. So I'm always looking for ways to disguise that off-putting okra feature while still enjoying the veggie.
Fried okra – the okra slices are small and frying to crispiness seems to reduce the sliminess texture for me.
Pickled okra – I like the tanginess and the okra are all very small.
Okra and Tomatoes – My grandma made this – the acidity of the tomatoes disguised the chopped okra.
Enjoying okra in those ways seemed to cover up the slimy okra texture for me.
What To Do With A Bag Of Okra?
Luckily I was gifted with a bag of okra from a friend's garden. So I got to enjoy okra without having a boatload and having to figure out what to do with it all!
But included with this bag of okra was a recipe for okra fritters.
Okra fritters? I'd never heard of such. But reading the recipe it looked super simple so I decided to give it a try.
Mixing Up Okra Fritter Batter
I mixed some flour, cornmeal and salt into a bowl. Then I chopped up my okra. (because I was afraid just slicing it wouldn't disguise the okra's internal texture that I'm not fond of.)
I also chopped some onion and roasted hatch chile peppers because we didn't have any jalapenos.
Lazy-Cook's Vegetable Chopping Tip
I'm not gonna lie, I took the cheater's shortcut in chopping all those veggies. Because, well, I'm too lazy to stand there & chop it all with a knife.
I roughly chopped the veggies & tossed them all in my *Pico de Gallo Chopper.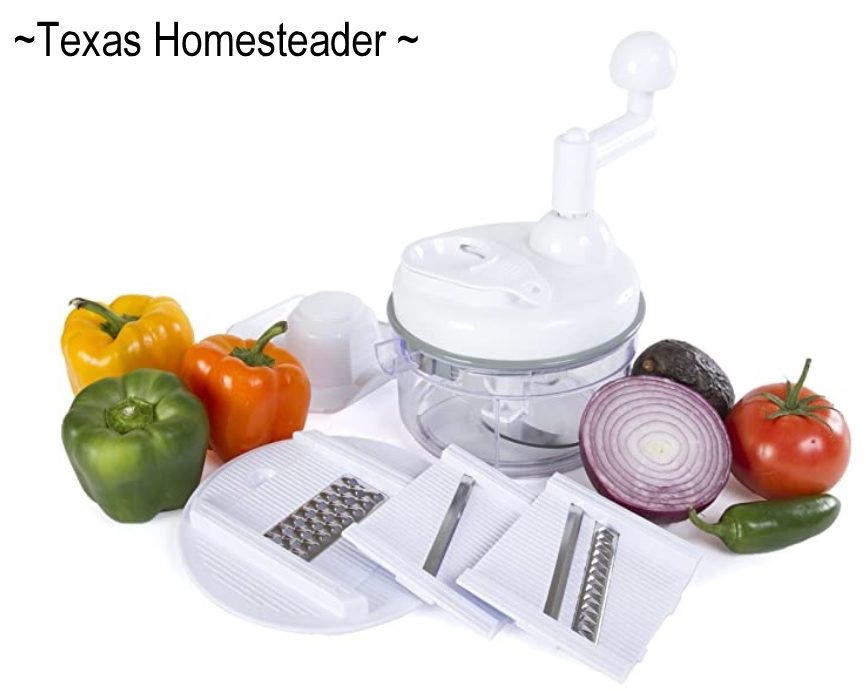 A few turns of the handle and BOOM! All chopped to perfection!
After all the drudgery of finally getting all the veggies chopped 😉 I mixed the chopped veggies in with the flour mixture until it was fully incorporated.
In another bowl I mixed the egg & milk until it was smooth. Then I combined the contents of the two bowls together, stirring until fully mixed.
How To Fry Okra Fritters
It's show time! I grabbed my cast iron skillet and put some oil in the bottom and let it heat just a bit. When the oil was hot I scooped about a tablespoon of fritter batter and dropped it into the hot oil in the skillet.
I pressed the dough down with the spatula to flatten it slightly and allowed it to cook until brown. It only took a couple of minutes.
Then I flipped the fritters and cooked the other side. The hot fritters were placed on clean newspaper to drain while I cooked the rest.
What Size To Make Fried Fritters
Larger-Sized Fritters
At first I was trying to make the fritters larger, about Potato Cake sized. But I didn't like those as well but RancherMan preferred them that way.
Smaller Fritters Rolled In Breadcrumbs
Then I brought the size down to only 1 tablespoon of batter per fritter. And before dropping the fritters into the hot oil, I rolled them in breadcrumbs.
Again, this is similar to my procedure when making potato cakes. I typically like a crust on the outside and the softer part on the inside. I actually preferred the okra fritters made this way.
Smaller Fritters, Not Rolled in Breadcrumbs
Finally I tried making the 1-tablespoon-sized fritters but without coating with breadcrumbs.
RancherMan said there wasn't enough difference in these compared to the ones coated in breadcrumbs, so he didn't think I should bother with that step next time. And I agree the difference was subtle, but I still like the breadcrumb-coated version best.
Anyway, the world is your oyster – Fix 'em the way you like 'em!
Here's the recipe.
(Oh and thanks for the recipe, Sandra!!)
Did you make these Okra Fritters? Please rate the recipe in your comment below!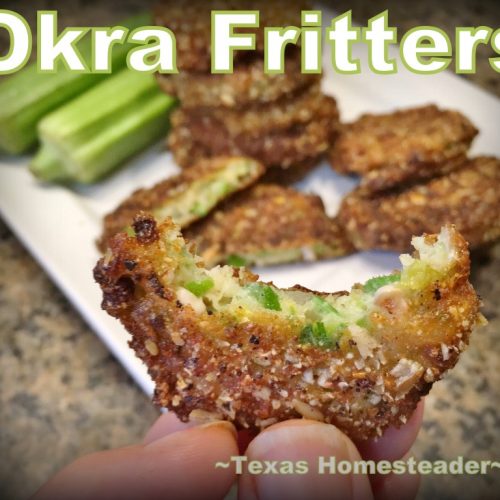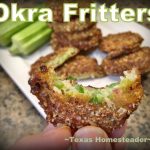 Fried Okra Fritters
Ingredients
Ingredients:
1/4

cup

all-purpose flour

1/4

cup

cornmeal

1

teaspoon

salt

or to taste

2

cups

sliced or diced fresh okra

1/2

medium onion

finely chopped

1

medium jalapeno pepper

minced

1/4

cup

milk

1

egg

course salt for sprinkling

optional
Instructions
Instructions:
Add flour, cornmeal and salt to a bowl & stir to combine.

To flour mixture, add okra, onions & jalapeno pepper. Stir until vegetables are coated.

In a separate bowl, whisk milk & egg. Pour over vegetable mixture. Stir until fully combined.

Add enough cooking oil to a large cast iron skillet for 1/2 deep and heat on medium-high.

Drop approx 1 Tablespoon of mixture into hot oil. Press flat with the back of the spoon. Don't crowd in the pan, work in batches.

Cook until brown on one side.

Flip & repeat

Remove and drain on wire rack. Sprinkle with coarse salt if desired.
~TxH~
This post categorized in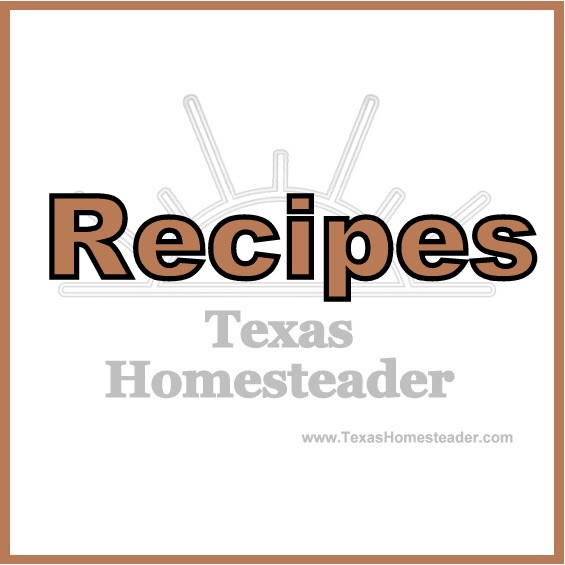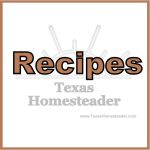 Other Side Dishes We Love
…and MANY MORE!


C'mon by & sit a spell! Come hang out at our Facebook Page. It's like sitting in a front porch rocker with a glass of cold iced tea – lots of good folks sharing!
You can also follow along on Pinterest, Twitter or Instagram.
To receive an email when a new blog post goes live it's EASY to
Subscribe to our blog!