~ by Texas Homesteader ~
I use leftover mashed potatoes to make fried potato cakes. (some call them potato pancakes).
They're quick & easy and a great way to rework leftovers into something delicious. Soft & pillowy inside, crunchy outside. I share both skillet frying and Air Fryer instructions.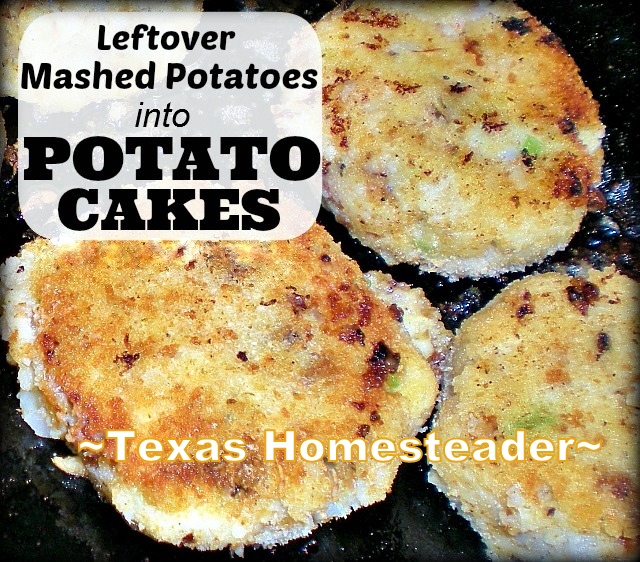 (Note: Some links in this post will take you to other related articles for further information. But links preceded with * are affiliate links. If you click and buy something I could receive a tiny commission.)
I've found RancherMan's absolute FAVORITE way to eat leftover mashed potatoes – POTATO CAKES!
Using Leftover Mashed Potatoes
We don't often eat fried foods but I view it as I view anything else in our healthy diet – moderation in all things.
So occasionally I'll make RancherMan a batch of potato cakes – or some folks call them potato pancakes. They're super easy to whip up.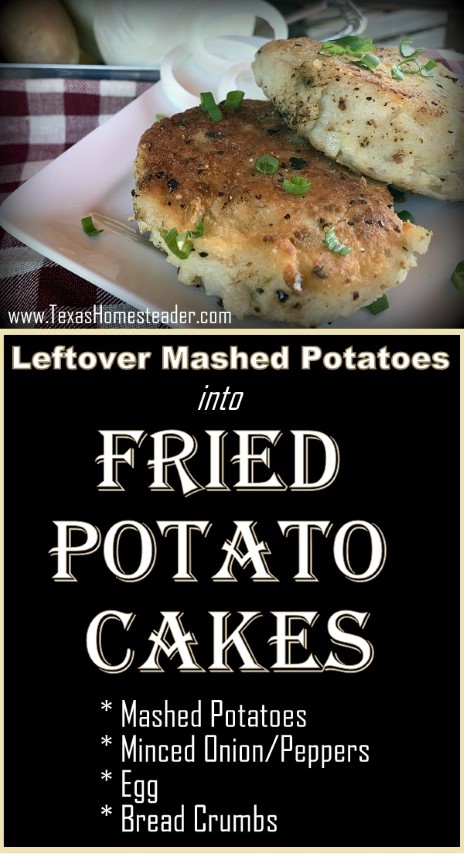 First I pull out leftover cold mashed potatoes. The quantity of potato cakes you can make will obviously depend upon how much mashed potatoes you have leftover. But for this recipe I'll assume 2 cups.
Cook's Note: Keep in mind that the leftover mashed potatoes need to be cold to make them easier to handle.
So to make my potato cakes I need:
2 cups cold leftover mashed potatoes
1 egg
1/4 cup breadcrumbs
3-4 Tablespoons each of finely minced onion/bell pepper (optional)
Additional breadcrumbs to coat outside
Cook's Note: : I always mince the onion/bell pepper small since diced veggies wouldn't really have time to cook in these potato cakes.
After mixing all ingredients the potato cake mixture is rolled into small 1.5″ – 2″ balls.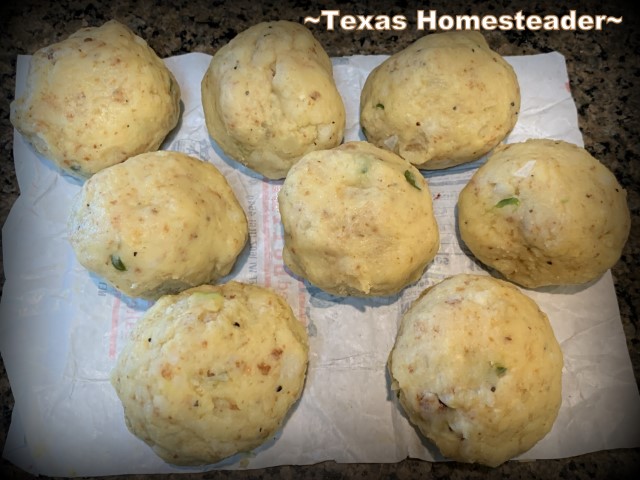 I like to have another saucer of breadcrumbs set aside to coat the potato cakes one final time before frying them.
Cook's Note: Oftentimes I use crushed cornflakes for that final outer coating for my potato cakes. It results in a delightfully crispy crunch!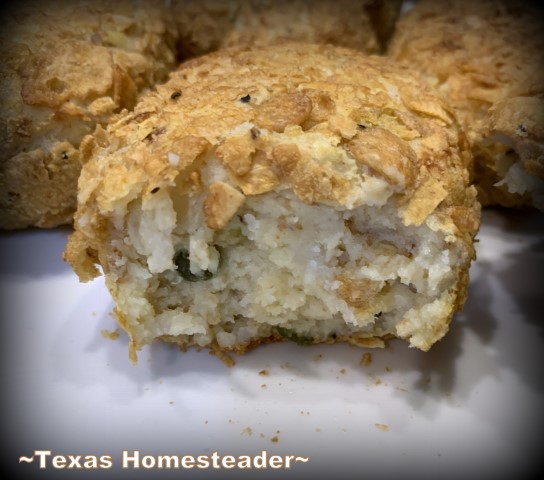 Cooking Potato Cakes In A Skillet
Here's how I cook potato cakes on a stovetop: I take out my cast-iron skillet and add enough Bacon Grease to cover the bottom, about the same quantity of oil as if I were making french fries I suppose.
Then I turn the stove to medium heat.
When the oil is hot I take a potato ball and roll it in my reserved bread crumbs, pressing it gently into a thick patty & being sure to coat all sides. This is an optional step but I like the crust it adds to my potato cakes.
Then I take that patty and drop it into the hot grease.
Cook's Note: Make sure the oil is already hot before placing the potato cakes in the skillet to crisp the crust quickly and ease flipping too.
I continue to make up the remaining potato cakes in the same manner.
After about 3-4 minutes I gently flip the potato cakes to brown the other side.
Cook's Note: Potato cakes are slightly fragile going into the skillet but are more sturdy after they're browned.
When they're ready, I serve 'em up as a delicious side dish with our supper.
Can You Make Potato Cakes In An Air Fryer?
Of course you can make potato cakes in an air fryer instead. This is my preference as it results in less grease being used (and consumed!)
NOTE: My air fryer is a 6-qt *Instant Pot Air Fryer Lid that fits right on top of my Instant Pot. It holds 4-5 potato cakes at a time. You may have to air fry potato cakes in batches depending upon the size of your air fryer & the size and quantity of your potato cakes.
Just prepare the potato cakes the same way but preheat the air fryer to 400 degrees.
Place prepared potato cakes into the air fryer basket, being sure they don't touch.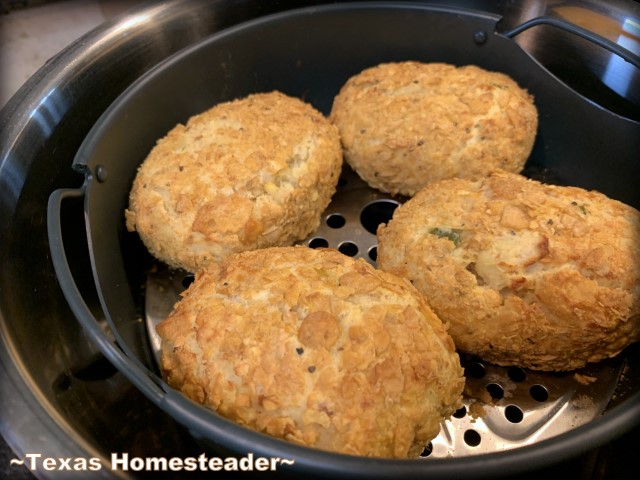 Cook potato cakes in an air fryer at 400ºF for 10 minutes. Then flip potato cakes over and cook the other side for an additional 4 minutes.
Other Flavor Options For Potato Cakes
As I mentioned earlier it's so easy to change 'em up each time to either use what you already have or to flavor them to go with your meal.
Sometimes I add shredded cheese or chopped chives to the potato mixture.
Season them with Italian or Mexican spices to go with a main-dish theme.
Make white gravy & ladle over them.
It's very flexible and a very forgiving recipe.
Making potato cakes from leftover mashed potatoes is such an easy way to make my handsome RancherMan happy at suppertime.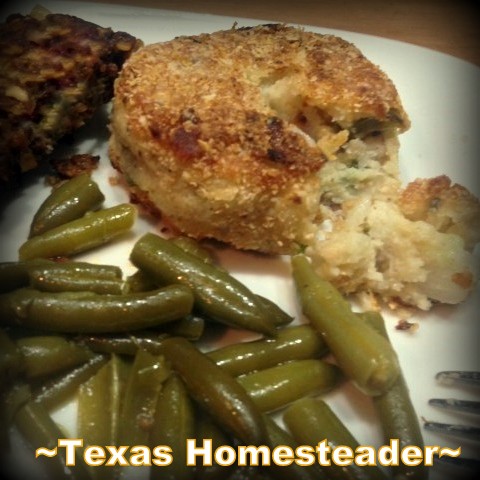 They're crispy on the outside and soft and savory on the inside. We LOVE them.
Since potato cakes are made from leftover mashed potatoes it's a very inexpensive way to remake a leftover item into something new & delicious. Planned Leftovers, y'all!
Here's the base recipe I start with – feel free to add whatever seasonings you like!
Did you make these Potato Cakes? Please rate the recipe in your comment below!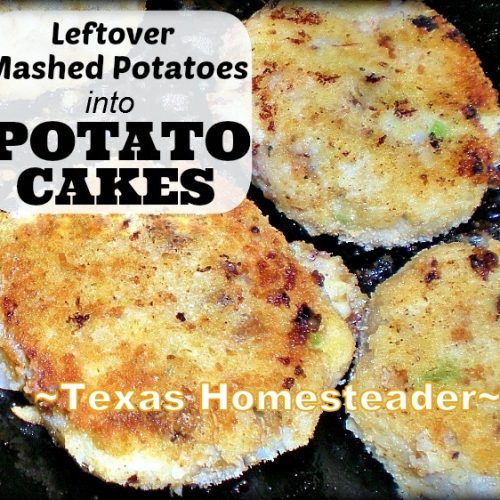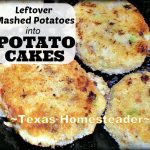 Potato Cakes
Use cold leftover mashed potatoes and remake them into potato cakes. Soft and creamy on the inside, crispy on the outside. A delicious way to eliminate leftover food waste. #TexasHomesteader
Ingredients
Cold Leftover Mashed Potatoes

(about 2 cups)

1

Egg

1/4

Cup

Breadcrumbs

or more if needed to make a thick potato mixture

Minced Onion, Bell Pepper, and/or Garlic To Taste,

(optional)

Salt & Pepper

to taste

Additional Breadcrumbs for Coating
Instructions
Into cold leftover mashed potatoes mix one egg and some minced onion, bell pepper and/or garlic into potatoes. Season with salt & pepper and then mix in enough breadcrumbs to make the mixture thick enough to roll into approximately 1.5" - 2" balls. Set aside about another 1/4 cup breadcrumbs if desired for coating.

Pour enough oil to cover the bottom of your skillet and heat at medium until hot. Take each ball of potato and roll in reserved breadcrumbs to coat, mashing ball into a thick patty and place patty into hot oil. Cook about 3-4 minutes each side or until brown. Serve hot.
~TxH~
This post categorized in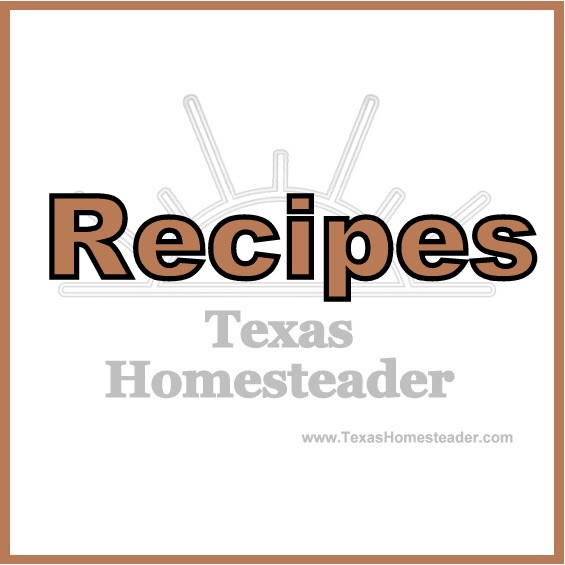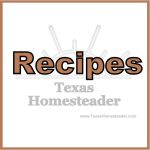 New Meals Remade With Leftovers
Beef
…and MUCH MORE!


C'mon by & sit a spell! Come hang out at our Facebook Page . It's like sitting in a front porch rocker with a glass of cold iced tea. There are lots of good folks sharing! And you can also follow along on Pinterest, Twitter & Instagram
If you'd like to receive an email when a new blog post goes live,
subscribe to our Blog!