~by Texas Homesteader ~
Several weeks ago I found myself with an abundance of potatoes and realized there was no way RancherMan & I could eat them all before they went bad.
So I went into high-gear preservation mode & dehydrated many of them. But some of them went into the freezer.
When I freeze potatoes I cook and mash them but add nothing else – no salt, pepper, milk or butter – just cooked mashed potatoes. I section them in sandwich bags into serving sizes & freeze them into individual bricks.
To use them I'll pull a brick of frozen mashed potatoes out of the freezer the night before and allow it to thaw in the refrigerator overnight. (The thawed mashed potatoes usually release quite a bit of water. That potato water is not wasted but poured into my weekly endless soup pot.)
The potatoes are often enjoyed for supper that night by simply heating them and adding salt & pepper, a small pat of butter and maybe a light splash of milk. I can tell no difference in these potatoes and the potatoes I've cooked fresh & mashed.
But I've found RancherMan's absolute FAVORITE way to eat leftover mashed potatoes – POTATO CAKES!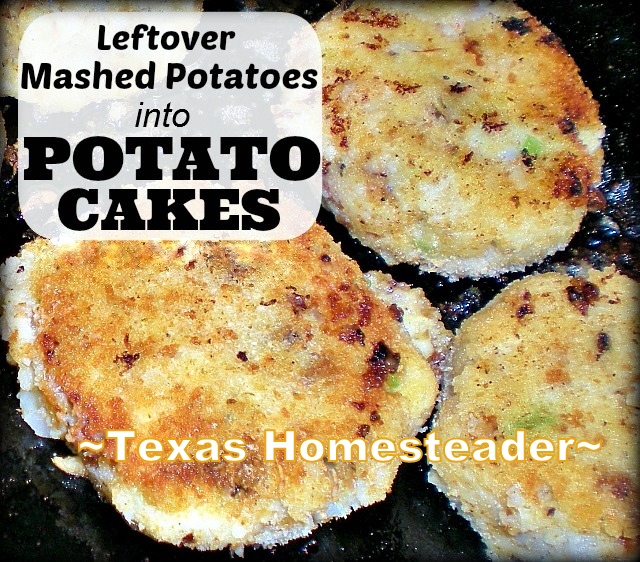 Using Leftover Mashed Potatoes
Now we don't often eat fried foods but I view it as I view anything else in our healthy diet – moderation in all things. So occasionally I'll make potato cakes for RancherMan – they're super easy to whip up.
I pull out those leftover mashed potatoes and if they were previously frozen I'll drain the water from them, and into the bowl the potatoes go.
I'll add an egg and some minced veggies like onion or garlic or maybe bell pepper – it all depends on what I have on hand needing to be used.
Then I'll add salt & pepper and enough fine bread crumbs to make the mixture thick enough for me to roll into small balls. I like to have another saucer of breadcrumbs set aside to coat the potato cakes.
Cooking The Potato Cakes
Here's how I cook them: I take out my cast-iron skillet and add enough Bacon Grease to cover the bottom. Then I turn the stove to medium heat.
When the oil is hot I take a potato ball and roll it in my reserved bread crumbs pressing it into a thick patty & being sure to coat all sides. Then I take that patty and drop it into the hot grease. I continue to make up the remaining potato cakes in the same manner.
After a short time I gently flip the potato cakes to brown the other side. Then I serve 'em up as a side dish with our supper. They're crispy on the outside and soft and savory on the inside. We LOVE them.
Since potato cakes are made from leftover mashed potatoes it's a very inexpensive way to remake a leftover item into something new & delicious. Planned Leftovers, y'all!
Recipe Flexibility
As I mentioned earlier it's so easy to change 'em up each time to either use what you already have or to flavor them to go with your meal.
Sometimes I add shredded cheese or chopped chives. And sometimes I season them with Italian or Mexican spices to go with our main-dish theme. It's very flexible and a very forgiving recipe.
Keep in mind that the potatoes need to be cold to make them easier to handle. And the potato cakes are slightly fragile both going into the skillet as well as serving them up freshly fried. So take care when handling them. But it's such an easy way to make my RancherMan happy at suppertime.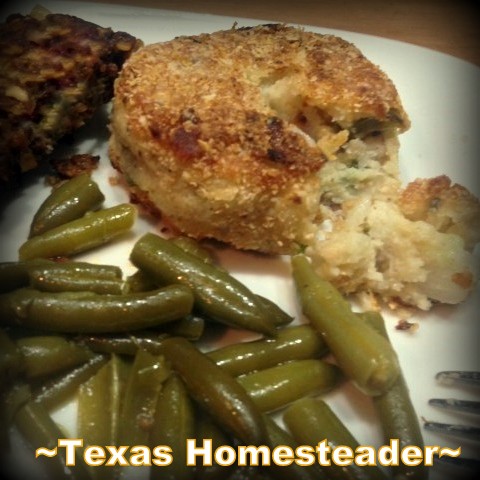 You know I simply CAN'T follow a recipe and am guilty of amending it each & every time I make it.
But here's the base recipe I use:
Potato Cakes
Ingredients
Cold Leftover Mashed Potatoes

(about 1.5 - 2 cups)

1

Egg

1/4

Cup

Breadcrumbs

or more to make a thick potato mixture

Minced Onion, Bell Pepper, and/or Garlic To Taste

Salt & Pepper

to taste

Additional Breadcrumbs for Coating
Instructions
Into cold leftover mashed potatoes mix one egg and some minced onion, bell pepper and/or garlic into potatoes. Season with salt & pepper and then mix in enough breadcrumbs to make the mixture thick enough to roll into approximately 1" balls. Set aside about another 1/4 cup breadcrumbs if desired for coating.

Pour enough oil to cover the bottom of your skillet and heat at medium until hot. Take each ball of potato and roll in reserved breadcrumbs to coat, mashing ball into a thick patty and place patty into hot oil. Cook each side until brown and serve.
~TxH~
New Meals Remade With Leftovers
…and MUCH MORE!


C'mon by & sit a spell! Come hang out at our Facebook Page . It's like sitting in a front porch rocker with a glass of cold iced tea. There are lots of good folks sharing! And you can also follow along on Pinterest, Twitter & Instagram
If you'd like to receive an email when a new blog post goes live,
subscribe to our Blog!