by Texas Homesteader ~
I take the scrap dough from homemade biscuits & make a small pan of cinnamon rolls. They bake right alongside my biscuits and offer us an extra treat with breakfast!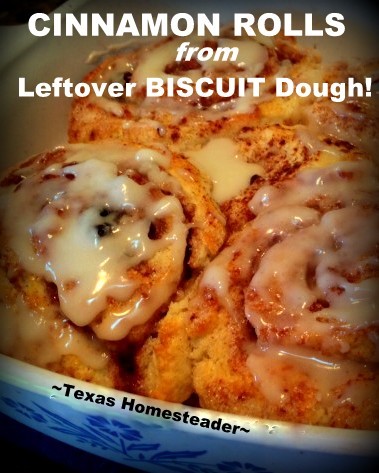 Making Fluffy Homemade Biscuits
I tried unsuccessfully for years to make delicious homemade biscuits for RancherMan. When I say unsuccessfully, I mean they always turned out too dry & crumbly. Or with not enough flavor. Or just plain blahhhhh….
But I've finally stumbled upon the secret of delicious, moist, flavorful homemade biscuits! I make them often for RancherMan.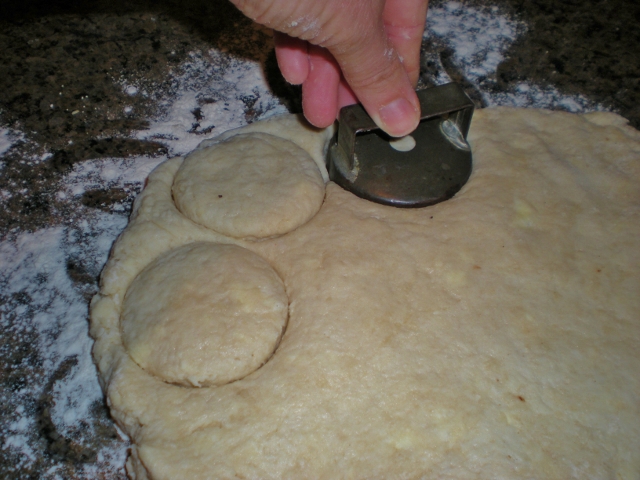 But recently I was serving him breakfast in bed for his birthday and he requested eggs, bacon, gravy and homemade biscuits. As I rolled them out I found I had some biscuit dough leftover (as I always do!)
Usually I'll cut them into more biscuits and place them on a piece of aluminum foil to cook right alongside the others. But I wonder if I could make something different with this small amount of leftover biscuit dough.
I wonder if I can sweeten leftover biscuit dough & make a few cinnamon rolls? Hummm…
Leftover Biscuit Dough Into Cinnamon Rolls
So after I'd patted the dough out and cut them into enough biscuits to fill my cast iron skillet, I gathered all the trimmings together.
I sprinkled a little sugar on the dough trimmings & kneaded it all back together. This will lightly sweeten the dough. Don't worry – more sweet is coming along!
Rolling Dough, Cutting Cinnamon Rolls
I rolled out the dough into a rectangle again. This time instead of rolling it into fat biscuit thickness, I rolled it as flat as I could comfortably get it.
I used a repurposed bread bag between the dough & my rolling pin to make this task easier. It kept the dough from sticking to my rolling pin.
Finally I got it down to about 1/2″ thick. Since this is just biscuit dough, I sprinkle the flattened dough liberally with cinnamon & sugar to sweeten it more.
How To Flavor Biscuit Dough For Cinnamon Rolls
Now that my leftover biscuit dough is rolled into a rectangle I dot the surface with butter.
I'm pretty liberal with the butter since my cinnamon rolls won't be light fluffy yeasty bread textured, but heavier biscuit bread textured. I want the butter to melt & soften my cinnamon rolls.
Now I roll the dough tightly into a long log. I cut the log into about 1″ to 1.5″ rounds and place them in one of my grandmother's Corning Ware dishes.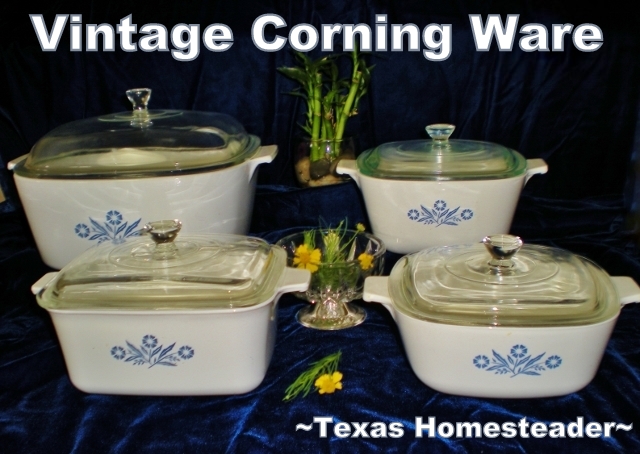 Then right before placing them in the oven alongside my homemade biscuits, I sprinkle the exposed surface with more cinnamon & sugar and dot each one with a small amount of butter.
The butter will melt through the middles adding a little extra mmmmmmmm! That leftover dough makes a small pan of about 4-6 cinnamon rolls – perfect for us!
Now I simply place them into my oven at the same time I place my skillet of biscuits. They both cook at the same time.
Simple Mix-n-Drizzle Icing For Cinnamon Rolls
When they come out of the oven I want a little drizzly icing for the tops. .
So I stir up about a cup of powdered sugar, a few drops of vanilla extract and a couple of drops of milk. Not much now, just enough to make the icing thick enough to stay on top of the cinnamon rolls but thin enough to drizzle. Per-FECTION!
When I serve my handsome man his special breakfast there will be biscuits & gravy, eggs and bacon of course. But then I'll offer a little sumpin-sumpin extra – decadent homemade cinnamon rolls. He LOVES these!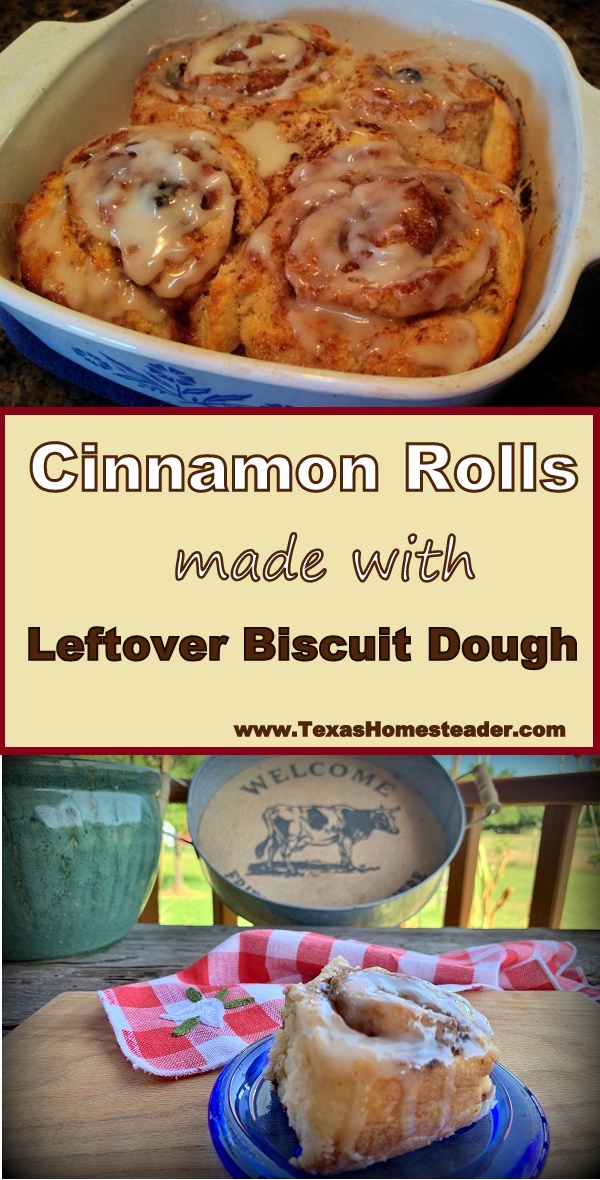 I'm thinking next time I might roll in some of my homemade apple pie filling to make an apple frittery kind of delight, whaddya think?
The apples could add some of the moisture that the excess butter was doing in this version. I think it might be delicious, so I'll try that next time.
In the meantime I love that I've figured out something very fun, delicious and quick to make good use from that leftover biscuit dough. He requests cinnamon rolls every time now!
So if you are making homemade biscuits and wondering what to do with that extra dough, give it a try!
Leftover Biscuit-Dough Cinnamon Rolls
Since there are so many variables (How much dough you have leftover, how sweet you like your cinnamon rolls, etc) there's really not a recipe, per se. But here's the quick instructions how I typically make 'em.
Really making cinnamon rolls with leftover biscuit dough is just this easy:
Ingredients For Leftover Dough Cinnamon Rolls:
Leftover Biscuit Dough

Softened Butter To Taste

Cinnamon to taste

Sugar To Taste
Instructions For Making Leftover Dough Cinnamon Rolls
Roll leftover biscuit dough approximately 1/2″ thick. Dot with butter and spread evenly across the surface of the dough. Sprinkle liberally with cinnamon & sugar.
Roll dough tightly into long log. Cut 1″ to 1.5″ disks from log and place cut side down into hot buttered baking dish. Repeat until dough log is completely cut.
Place a small pat of butter on top of each cinnamon roll and place into oven. Bake alongside your biscuits (mine bake in about 15 minutes at 450 degrees)
Top with frosting made of powdered sugar, a few drops of milk and a few drops of vanilla extract if desired.
~TxH~
This post categorized in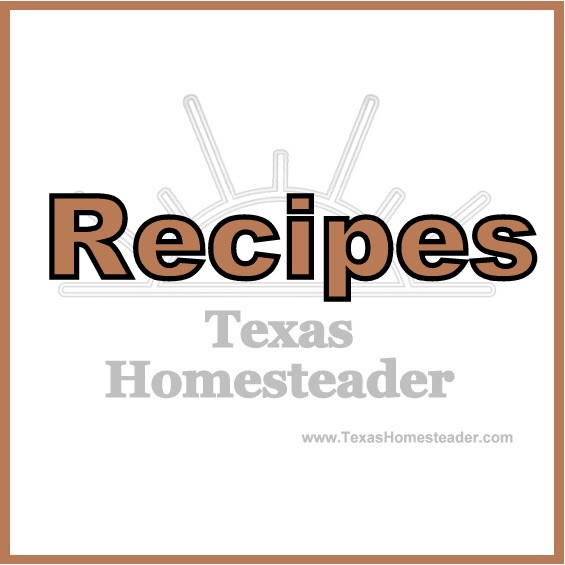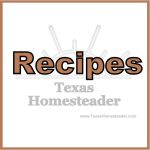 Other Favorite Breads
New Meals Remade With Leftovers
…and MUCH MORE!


C'mon by & sit a spell! Come hang out at our Facebook Page . It's like sitting in a front porch rocker with a glass of cold iced tea. There are lots of good folks sharing! And you can also follow along on Pinterest, Twitter & Instagram
If you'd like to receive an email when a new blog post goes live,
subscribe to our Blog!
Save
Save
Save