by Texas Homesteader ~
Recently I learned that bread machines have apparently changed for the better. Now I find I really love the convenience.
So I tweaked RancherMan's favorite Honey/Oatmeal Sandwich Bread recipe to make a 2-Lb Loaf for a Bread Machine. I use that bread machine to whip up hot, fresh homemade bread for him several times a week.
Since I'm baking bread so often I went looking for ways to shorten my bread-baking tasks. Let me tell ya, whether using a bread machine or mixing & baking it up the old fashioned way, these shortcuts make homemade bread a breeze!

Properly Measuring Flour
To measure flour properly for bread you need to spoon the flour into the measuring cup, then scrape the excess away with the flat edge of a butter knife.
If you just scoop the flour out it will be compacted. That means you'll end up with way too much flour, resulting in a dense, heavy loaf that won't rise correctly.
So although spooning in the flour is the proper way to measure it for bread, it takes so much more time when you're measuring several cups for a recipe.
Weighing The Flour Instead
But weighing the flour instead of measuring is SO much faster! So I measured & weighed the amount of each of the flours for my recipe. Then I made notes of those weights to go with the actual measurements on my recipe card.
Now I simply tare the weight of an empty container on my kitchen scale and start pouring in the flour until it weighs what I've noted in my recipe. FAST!
NOTE: I've heard that the weight of your flour could vary based on type, and even the humidity in your area. Although this is probably only an estimate, here's a link from King Arthur Flour that gives estimated weights of a cup of flour.
For me, I just layer up the jar like this:
2 tsp dry yeast in the bottom of each jar.
Then place the jar on the scale and tare it to '0' weight.
Add all-purpose flour until the scale reaches 1 lb .07 oz
Place jar on hot pad and tamp down just a bit to compact ingredients.
Add 1 3/4 tsp salt
Put jar back on scale and tare to '0' weight.
Add Oat Flour until scale shows 2 oz.
Remove the jar, put a lid on top and store it in the pantry until it's ready to use!
But remember, your weight could vary a bit. This is based on the weather conditions in our home in NE Texas. Your humidity, etc. in Arizona might be different.
So do this:
Measure your dry ingredients one by one. Then after each dry ingredient is measured, put an empty container on the scale and tare to '0' weight. Then pour in that dry ingredient and document the weight on your recipe card.
Repeat until you get all your ingredients weighed and documented. From now on your measuring will go lightening fast!
Pre-Measured Dry Ingredients Ready To Go
Since measuring out the dry ingredients is now so fast, I've pre-mixed several batches of the bread's dry ingredients at one time. Using the weighing shortcut I can make up several bread ingredient packets in just minutes.
Although I'd prefer to store this mix in glass jars, the volume just doesn't quite fit into even the quart jars I have. But I figured at least I'll be able to reuse these small baggies for years.
Then I discovered that the wide mouth quart size gives me just a little more room. It works beautifully!
They're my own inexpensive convenience mix!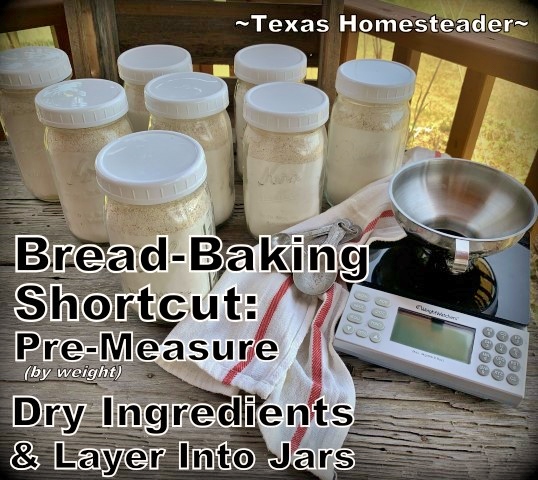 Weighing The Wet Ingredients Too!
Since my dry ingredients are already measured up & waiting for me, all I need to do is add the wet ingredients on bread-baking day. For my bread that means milk, water, honey and a touch of Bacon Grease.
Since weighing the dry ingredients worked out so well, I now measure and weigh the wet ingredients too! The ounces have been noted on my recipe card next to the actual measurements. NOW baking bread is about to be done at lightening speed!
Bread-Baking Day – SIMPLIFIED!
On bread-baking day I bring out the pan that goes into my bread machine. I place it on my scale and tare the weight to zero. Then I pour in the milk until it reaches the ounces noted on my recipe.
After the milk is added I tare the new weight back to zero and pour in the water until it reaches the ounces noted on my recipe. I repeat these steps with the honey and bacon grease too. No measuring cups to dirty up. No measuring spoons with sticky honey to clean. It's all added directly into the baking pan!
So on bread-baking day I just bring out my bread machine's pan and add in (by weight) the wet ingredients. Then I top with my dry ingredients & place the pan into the bread machine. Now I simply push a button & walk away!
Work smarter, not harder…
~TxH~
Other Favorite Breads


C'mon by & sit a spell! Come hang out at our Facebook Page . It's like sitting in a front porch rocker with a glass of cold iced tea. There are lots of good folks sharing! And you can also follow along on Pinterest, Instagram & Twitter
If you'd like to receive an email when a new blog post goes live,
subscribe to our Blog!