by Texas Homesteader ~
*contains affiliate link
I had extra cantaloupe in my garden. So I made cantaloupe bread with a praline glaze. It's similar to zucchini bread, but made with cantaloupe. And it was delicious!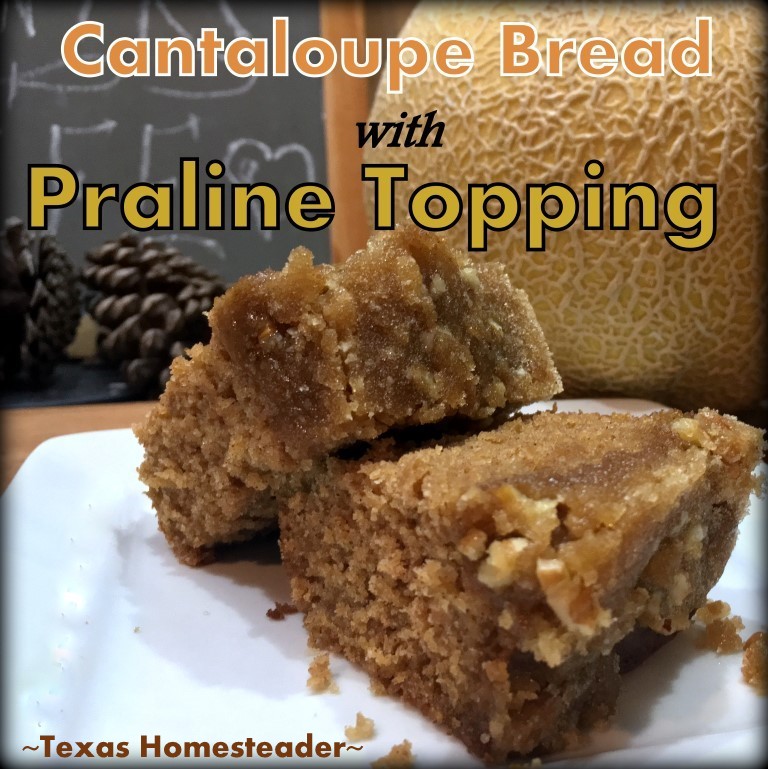 (Note: Some links in this post are for further information from earlier posts I've written. But links preceded with * are affiliate links. If you click them and buy something (almost anything, not just the item noted) I could receive a small commission. But the price you pay will NOT change. It's an easy way to support this blog without anything coming out of your pocket. So click often! Thank you!)
Cantaloupe Excess In The Garden
Usually by the middle of July the searing sun has wiped out anything that struggled to remain during the hot summer months.
But even though it's been hot this year my garden has provided garden deliciousness well into the fall months. Yea!
One of the fall feast-or-famine goodies from the garden is cantaloupe. Now I didn't plant cantaloupe this year, the vines volunteered from my compost. But I let them grow to become a Living Mulch for the rest of the garden.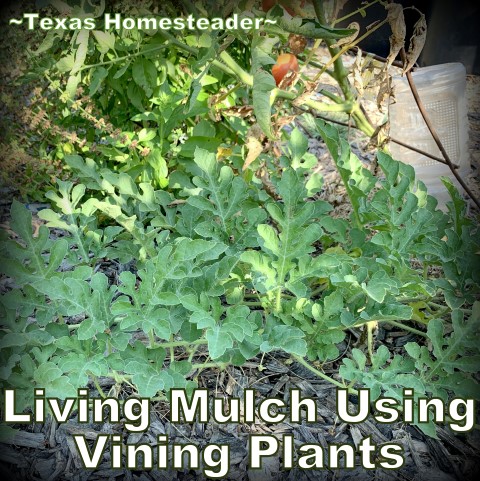 RancherMan eats only a modest amount of fresh cantaloupe. And although I love it, how's a girl to eat that much by herself?? I wondered if there was something I could do with all the excess cantaloupe. As it turns out, there is!
Typically my go-to recipe source is allrecipes.com. I searched their site for some ideas of what to do with excess fresh cantaloupe and found a recipe for Cantaloupe Bread With Praline Glaze. Hummmm…
Although the thought of cantaloupe bread didn't initially sound delicious to me, how different could it be from the delicious sweet-treat bread made using zucchini squash? Maybe I should just check out the ingredients.
The seasonings look good, and I have all the ingredients in my pantry. Let's give it a try!
Cantaloupe Ingredient
I'd already harvested several fresh cantaloupes so I peeled one up and dropped the peeled pieces into my *Ninja blender and blended it until it was smooth. The recipe called for 2 cups of puree so I measured it out for my recipe.
Then I plopped the cantaloupe puree into my KitchenAid mixer. I wanted to substitute applesauce for the oil. So into the KitchenAid with the cantaloupe puree I added the eggs, applesauce, sugar, vanilla and cantaloupe & mixed it all up. That bowl was then set aside.
In another bowl I blended flour, salt baking soda, baking powder, cinnamon & ginger. Then I mixed the contents of the two bowls together to make my batter.
Baking 2 Loaves
I poured it into two lightly greased & floured glass loaf pans & placed them into the preheated oven.
Then I baked the loaves for about an hour. When it was done I brought out the two loaves of cantaloupe bread (breathes deeply) Oh yeah, this might work after all!
Pecan Praline Glaze
While the bread was still hot I whipped up the glaze of melted butter, brown sugar and chopped pecans. The pecan praline glaze was added to the tops of my hot loaves of bread.
Although the flavor of the praline glaze was absolutely amazing, I wasn't happy with the texture of it.
The praline glaze cooled to a crumbly texture that fell from the top when I tried to cut & serve the bread. So I may tweak that part in the future to add more butter or less brown sugar.
I could top my warm cantaloupe bread with my Simple Honey Glaze. It's just honey, butter and brown sugar and whips up in seconds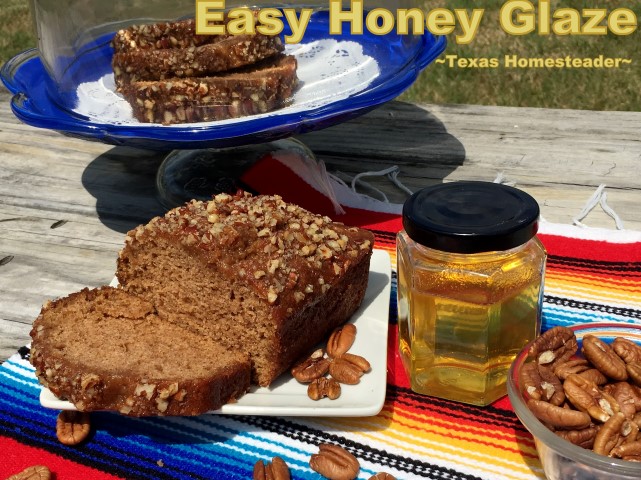 Sometimes I may eliminate the topping completely, who knows??! It's even delicious all by itself!
Here's the recipe as I made it – give it a try.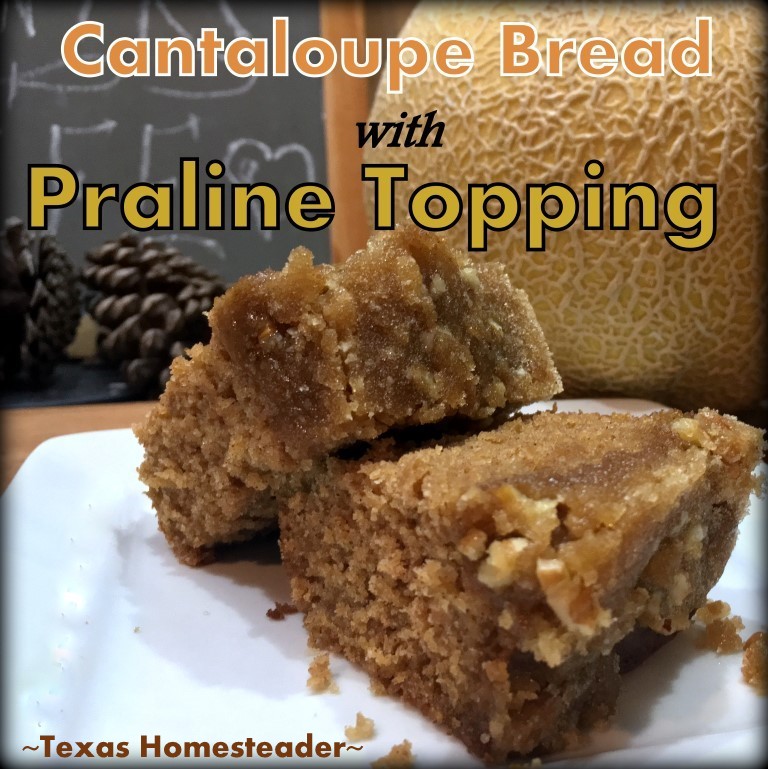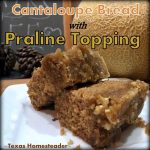 Cantaloupe Bread with Pecan Praline Glaze, makes 2 loaves
What to do with all the cantaloupe in the garden? Puree it and make it into Cantaloupe Bread! Never heard of cantaloupe bread? Don't discount it, now - the seasonings are similar to zucchini bread so give it a try! ~TxH~

Ingredients
In mixer, combine
3

eggs

1

cup

vegetable oil

(can substitute with applesauce)

2

cups

granulated sugar

1

tablespoon

vanilla extract

2

cups

cantaloupe puree
In separate bowl, sift
3

cups

all-purpose flour

1

teaspoon

salt

1

teaspoon

baking soda

3/4

teaspoon

baking powder

3

teaspoons

ground cinnamon

1

teaspoon

ground ginger

Mix together

pour into 2 greased loaf pans & bake @ 325 degrees for 1 hr.
For glaze, mix
1/2

cup

melted butter

(or 1 stick)

1

cup

brown sugar

1/2

cup

chopped pecans

Pour over hot bread as it comes out of the oven
Instructions
Directions
Preheat oven to 325 degrees F. Lightly grease and flour two 9x5 inch loaf pans.

In a large bowl, beat together eggs, vegetable oil/applesauce, sugar, vanilla and cantaloupe. In a separate bowl, sift together flour, salt, baking soda, baking powder, cinnamon and ginger. Stir flour mixture into cantaloupe mixture; stir to combine. Pour batter into prepared pans.

Bake in preheated oven for 1 hour, until a toothpick inserted into center of a loaf comes out clean.

As the bread is cooling make the pecan praline topping. Combine melted butter and brown sugar. Microwave for 3 minutes, stirring at 1 minute intervals; mix in pecans. Pour praline sauce over hot bread. Then let cool for 1 hour before serving.
~TxH~
Other Favorite Breads


C'mon by & sit a spell! Come hang out at our Facebook Page . It's like sitting in a front porch rocker with a glass of cold iced tea. There are lots of good folks sharing! And you can also follow along on Pinterest, Instagram & Twitter
If you'd like to receive an email when a new blog post goes live,
subscribe to our Blog!
*Amazon affiliate link
Save
Save
Save
Save
Save
Save
Save
Save
Save