by Tammy Taylor
OK, so if you follow me on Facebook, y'all know we're doing a grocery no-spend challenge this month.  Which means I'm baking LOTS of homemade bread. But I'm trying to find shortcuts so that I'm not starting over every time. Although baking bread is easy, it seems between pulling out ingredients & bowls, measuring cups & spoons I'm spending way too much time in preparation & cleanup.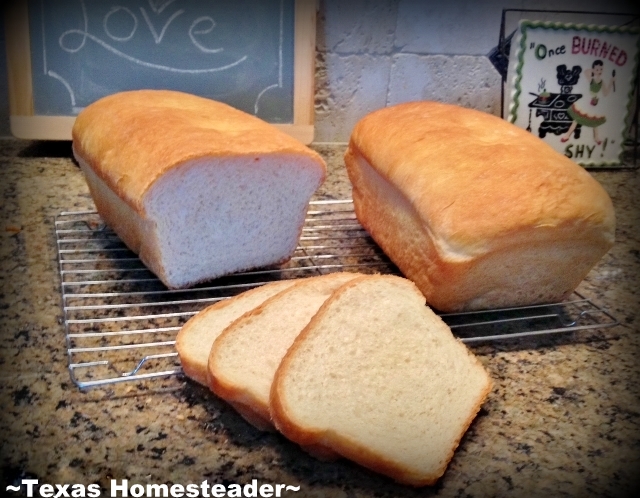 Pre-Make & Refrigerate The Dough?
I wondered if I could make up the dough one day, refrigerate it and bake it up the following day.  I know even though the dough is chilled it doesn't stop the yeast from making the bread rise, it just slows it down.  So I kept having to punch the dough down as it chilled & slowed more & more.
When it was time to bake with this chilled dough I allowed 1 hour 5 minutes instead of my usual 50 minutes and it seemed to rise nicely. When the rise time was over I baked as I normally would. The loaves baked beautifully!
So there ya go – question asked, question answered!  The short answer is YES – refrigerating the dough overnight worked fine! (with a little tweaking).
Weighing The Flour Instead
Measuring the flour correctly in a bread recipe is important.  You can't just scoop the flour out, you'll end up with too much compacted flour and your bread will turn out dense & flat.  To measure flour properly you need to spoon the flour into the measuring cup, then scrape the excess away with the flat edge of a butter knife. 
Now that takes lots of time when there's several cups of flour such as when making bread.  Then one of my dear FB friends told me she measures the flour once, makes notes of the weight and then for future bread-baking days she WEIGHS flour instead. (gasp)  Why, that's BRILLIANT! 
So I totally do that now too. I have a kitchen scale that includes the tare function to zero out the weight of the container sitting on it.  This is now one of my most valuable tools in bread-making shortcuts!  Spooning all that flour into the cup & then scraping it off & dumping it in over & over takes way more time than taring my empty coffee can and just dumping the flour in until it weighs what I've noted on my recipe. 
Then I make notes on my recipe card of the weights to go with the measurements. Weighing the flour instead of measuring is SO much faster! I've heard that the weight of your flour could vary based on type, and even the humidity in your area. Although this is probably only an estimate, here's a link from King Arthur Flour that gives estimated weights of a cup of flour.

Pre-Measuring Ingredients For Next Baking Session
While I have all my measuring cups, etc. out I go ahead & pre-measure the dry ingredients for next baking day. That speeds speed future bread preparation as well as eliminates any extra kitchen cleanup.  I mean, all those ingredients are already out, why not measure up a second batch for next time? I use a Repurposed Coffee Canister (properly labeled of course) to hold the next batch of flour and small a repurposed spice container to hold the salt/sugar and another to hold the yeast. I'll just bring out the pre-measured ingredients & add the wet ingredients & go!
I even have a shortcut document that contains a list of specific utensils, measuring cups, rolling pins, etc. that I'll have to bring out to bake the bread. So I can have everything I need at my fingertips before I even start!

Fill Up That Oven!
My bread recipe makes two loaves, but my oven will comfortably fit 3 bread pans.  Why not go ahead & fill up that oven?  Instead of only baking 2 loaves, I should fill up the oven & bake 3!
So I calculated 1.5 times my bread recipe to turn it from 2 loaves to 3.  I was sure to document the correct measurements for 3 loaves in my recipe, and now it's the quantity I'm always baking.  
Three loaves for the work of 2?  Yes please!  Work smarter, not harder is what I always say…
~TxH~


Favorite Breads
~ ~ ~ ~ ~ ~ ~ ~ ~ ~ ~ ~ ~ ~ ~ ~
C'mon by & sit a spell!  Come hang out at our Facebook Page . It's like sitting in a front porch rocker with a glass of cold iced tea.  There are lots of good folks sharing!  And you can also follow along on Pinterest, Twitter or Instagram
If you'd like to receive an email when a new blog post goes live,
Save