by Texas Homesteader ~
OK, so if you follow me on Facebook, y'all know we're doing a grocery no-spend challenge this month. Which means I'm baking LOTS of homemade bread.
But I'm trying to find shortcuts so that I'm not starting over every time. Although baking bread is easy, it seems between pulling out ingredients & bowls, measuring cups & spoons I'm spending way too much time in preparation & cleanup.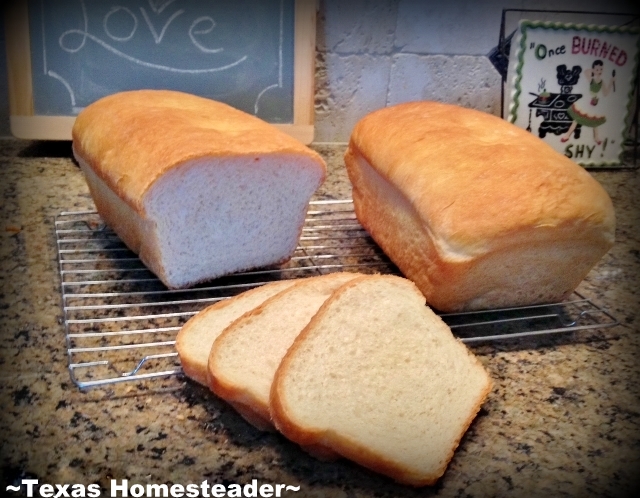 Weighing The Flour Instead
To measure flour properly for bread baking you need to spoon the flour into the measuring cup, then scrape the excess away with the flat edge of a butter knife.
To simplify, I've measured and weighed the various flours I use in my bread. Then I made notes on my recipe card of the weights to go with the measurements.
This is one of my most beneficial shortcuts. Weighing the flour instead of using a measuring cup is much faster!
Now I just tare my empty coffee can on my kitchen scale and dump in the flour in until it weighs what I've noted on my recipe.
I've heard that the weight of your flour could vary based on type, and even the humidity in your area.
Although this is probably only an estimate, here's a link from King Arthur Flour that gives estimated weights of a cup of flour.

Make Pre-Measured Ingredient Packets
Since measuring the flour is so much quicker, why not make up several packets of your bread ingredients? It's like your own convenience mix.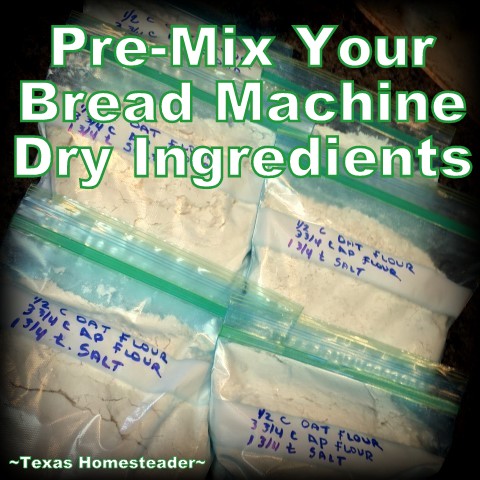 I use a bread machine during the hot summer months so I can place the bread maker outside on our covered patio. That keeps the baking heat outside instead of inside the house.
But whether using a bread machine or making bread the old fashioned way, this shortcut significantly shortens my bread-baking day.
I just weigh out my various flours, salt, etc needed in your recipe and make several pre-measured packets at one time.
Update: I wanted to use repurposed and nearly infinitely reusable canning jars to hold my bread-making dry ingredients. But even the quart jars were just not big enough to hold it all.
But then I found that by using wide-mouth quarts instead of regular mouth size, I got just enough extra room to be able to fit everything into a jar.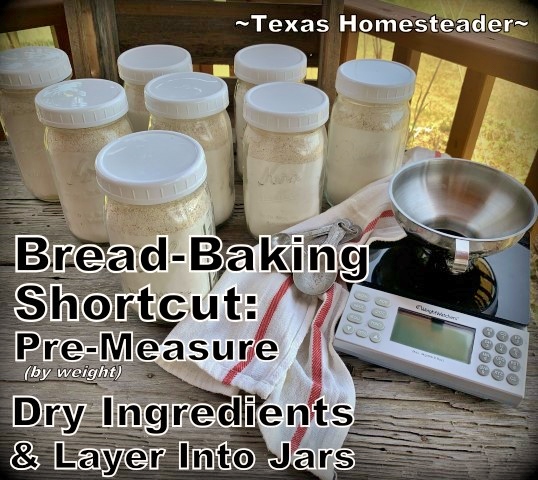 I like this much better. I simply fill about 6-8 wide-mouth quart jars with my dry ingredients and store them in my pantry. It's my own super-cheap convenience item!
Utensil List
I have a list printed and placed along with my bread-baking ingredients. This list contains specific utensils, which measuring cups, my rolling pin, etc. that I'll need to bake the bread.
By consulting this list & bringing out each item I'll be using, I have everything I'll need at my fingertips before I even start!
I've found this streamlines the whole task since I don't have to stop in the middle of my recipe & dig out a measuring cup or rubber spatula.
Fill Up That Oven!
My bread recipe makes two loaves, but my oven will comfortably fit 3 bread pans. Why not go ahead & fill up that oven? Instead of only baking 2 loaves, I should fill up the oven & bake 3!
So I calculated 1.5 times my bread recipe to turn it from 2 loaves to 3. I was sure to document the correct measurements for 3 loaves in my recipe, and now it's the quantity I'm always baking.
Three loaves for the work of 2? Yes please!
Update: Most days I'm making full use of a gifted bread machine to make a 2-Lb Loaf Of Honey/Oat Sandwich Bread. Everything is now EVEN EASIER!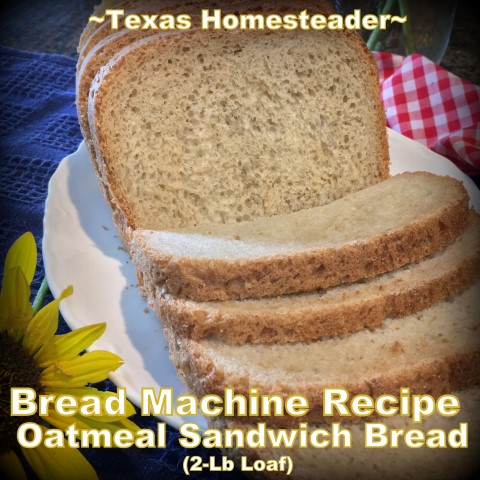 Clean Up Along The Way
When I start making bread, I first fill a tub with hot soapy water. I fill another tub with clean rinse water. Then I place the draining rack in the other side of the sink.
As I complete each task I drop the preparation utensil into the soapy water to soak. Then while my KitchenAid is mixing or the bread is rising I'll wash and rinse those prep dishes and drop them in the draining rack.
Since dishes are washed up along the way, nothing gets dried-on hard, which would make cleaning up even more unpleasant.
And since there are lots of idle times when making homemade bread I can use those minutes to wash or put away that round of utensils. That way there's no drudgery of washing up and putting away a sink full of dishes after the bread-baking is done.
Use those work-saving shortcuts, y'all. Work smarter, not harder is what I always say…
~TxH~
Other Favorite Breads


C'mon by & sit a spell! Come hang out at our Facebook Page . It's like sitting in a front porch rocker with a glass of cold iced tea. There are lots of good folks sharing! And you can also follow along on Pinterest, Instagram & Twitter
If you'd like to receive an email when a new blog post goes live,
subscribe to our Blog!
Save