by Texas Homesteader ~
My smooth spreadable no-cook chocolate frosting takes less than two minutes to make. Plus it uses only simple standard ingredients always in my pantry.
Oh YES I DID!!
Simple Homemade Frosting Instructions
Here's the ridiculously simple instructions on how I make my homemade frosting.
(hold on to your seats, these will be fast directions since there's not much to it!)
First I pull out a few simple frosting ingredients:
Softened butter,

Cold coffee,

Cocoa,

Honey,

Vanilla extract,

Powdered sugar.
Now here's the hard complicated part – I measure all ingredients into a bowl & whip until ingredients are fully combined and frosting is fluffy & spreadable.
All of these easy ingredients are in my pantry. And this no-cook frosting can be made in about two minutes.
I swear, that's all there is to it. See? I told ya – Easy Peasy!
Baker's Tip: It's beneficial to spread this frosting on a slightly warm brownie (or cake).
That's because the warmth of the brownie helps soften the frosting even more and spread more easily. The result is a smoother more chocolaty-licious frosting.
Homemade Chocolate Frosting Benefits
I love this simple chocolate frosting recipe for several reasons:
Simple Ingredients – First, the simple ingredients are always in my pantry. No specialty ingredients here, y'all! Just pure, natural things like butter, powdered sugar, cocoa and pure honey.
No Franken-ingredients here! Only simple ingredients I recognize and can pronounce in my homemade frosting.
Intensified Chocolate Flavor – I love that the addition of that tiny amount of cold coffee really intensifies the chocolate flavor. You just know I'm gonna love more chocolate!
I often get rave reviews from other chocoholics too when I bring a dessert topped with this easy homemade frosting.
Zero-Waste – It's a big deal that by whipping up this homemade frosting (in just minutes, mind you!) that there's no plastic tub to get rid of.
As hard as I've been trying over the years to Reduce Plastic Coming Into Our Home, keeping an eye out for easy ways to eliminate plastic from ever coming into our home in the first place is important to me. This recipe surely makes that easy. (And DELICIOUS!)
Inexpensive – As is often the case with homemade food, this simple chocolate frosting recipe costs just pennies to make.
That's important to me too since RancherMan & I are living here on the Homestead Without A Corporate Paycheck.
But by being mindful of our expenses, we're able to live quite nicely on very little money.
Homemade Is Better – And finally, who doesn't love homemade?
It's so very often heads & shoulders above any mass-produced ingredient you buy at the store. And this chocolate frosting recipe earns that distinction that's for sure!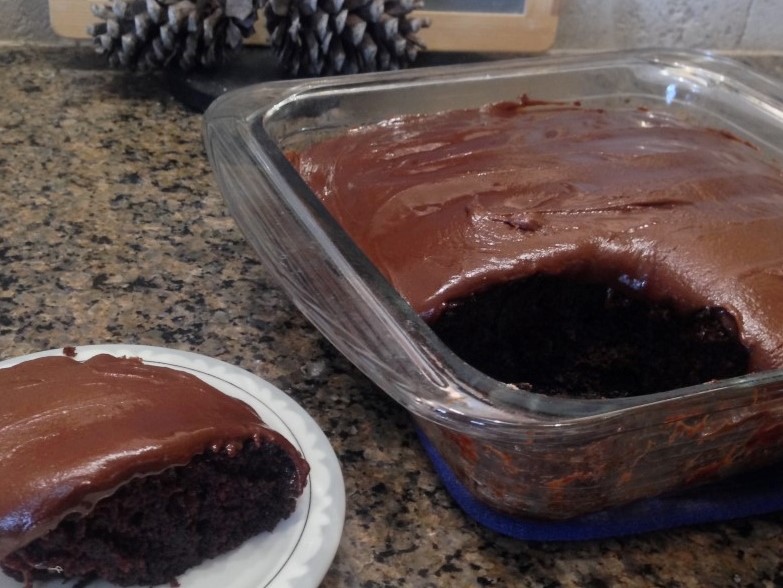 So a recipe that's quick, simple, delicious, inexpensive and zero waste too?
Oh yeah, now THAT'S what I'm talking about!
Desserts That Deserve Chocolate Frosting
As a confirmed CHOCOHOLIC I often whip up this simple mix-n-frost chocolate frosting for three of my favorite simple desserts:
My mama taught me to share, so I'm sharing my simple no-cook chocolate frosting recipe with you below.
Be prepared to hear exclamations of delight when you serve dessert topped with this simple frosting.
You're welcome!
Did you make this dish? Please rate the recipe in your comment below!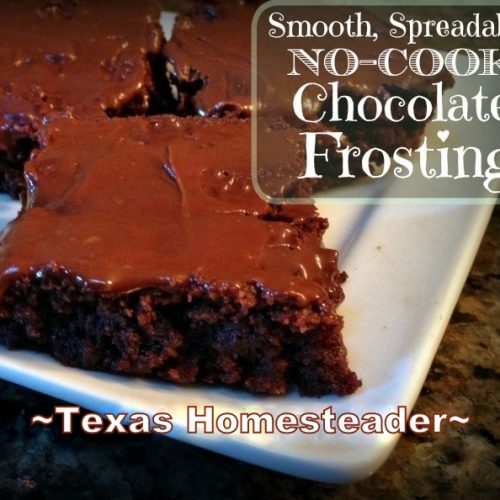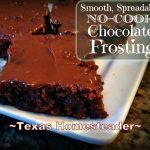 Chocolate No-Cook Frosting: (frosts an 8x8 cake)
I needed a simple chocolate frosting and I'm a big fan of recipes that require no cooking. This decadent no-cook frosting recipe is delicious and comes together in minutes. #TexasHomesteader
Ingredients
Ingredients
1

cup

confectioners' sugar

3

tablespoons

unsweetened cocoa powder

3

tablespoons

butter,

softened

1

tablespoon

strong coffee

(or milk)

1

tablespoon

honey

1

teaspoon

vanilla extract
Instructions
Directions
Combine 3 tablespoons softened butter, 1 tablespoon strong coffee, 3 tablespoons cocoa, 1 tablespoon honey, 1 teaspoon vanilla, and 1 cup confectioners' sugar.

Whip until ingredients are fully combined and frosting is spreadable & fluffy.

Frost cake or brownies while they are still warm.
~TxH~
This post categorized in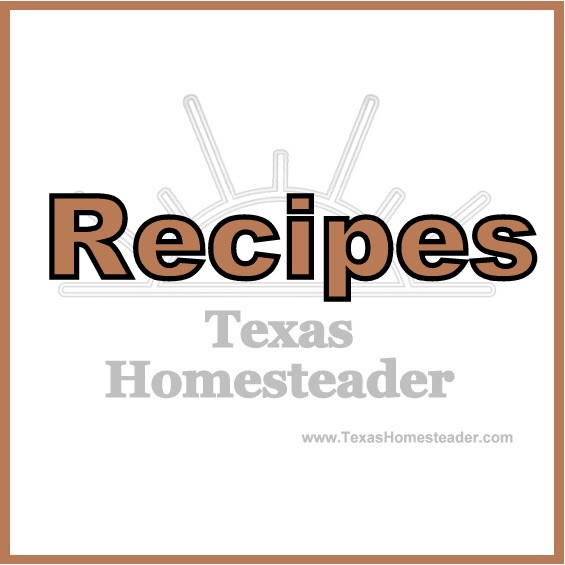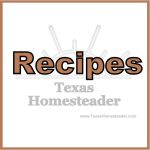 Other Easy Desserts


C'mon by & sit a spell! Come hang out at our Facebook Page . It's like sitting in a front porch rocker with a glass of cold iced tea. There are lots of good folks sharing! And you can also follow along on Pinterest, Twitter or Instagram
If you'd like to receive an email when a new blog post goes live,
subscribe to our Blog!
Save