by Texas Homesteader ~
For Valentine's day a couple of years ago RancherMan made me homemade Mint/Chocolate Truffles. I've always loved a chocolate/mint combination.

Homemade truffles are my favorite gift he gives me. It's something delicious of course, but I love that he makes them for me himself. A true gift from the heart.
Now he knows I'm a confirmed chocoholic. So this time he decided to make me Triple-Chocolate Truffles. (um, YES PLEASE!)
He'll accomplish all that chocolaty goodness by using double-fudge-stuffed chocolate cookies because, well you know, a girl can NEVER have enough chocolate!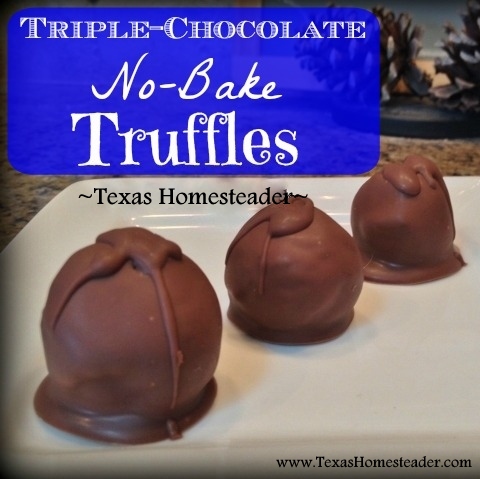 (Note: Some links in this post are for further information from earlier posts I've written. But links preceded with * are affiliate links. If you click them and buy something (almost anything, not just the item noted) I could receive a tiny commission. But the price you pay will NOT change. It's an easy way to support this blog without anything coming out of your pocket. So click often! Thank you!)
Basic Homemade Truffle Ingredients
So into the kitchen he went, armed with the few very basic ingredients needed to make my favorite special treat:
A 15.25-oz package of double-filled fudge cookies, an 8-oz block of cream cheese and a few squares of chocolate almond bark.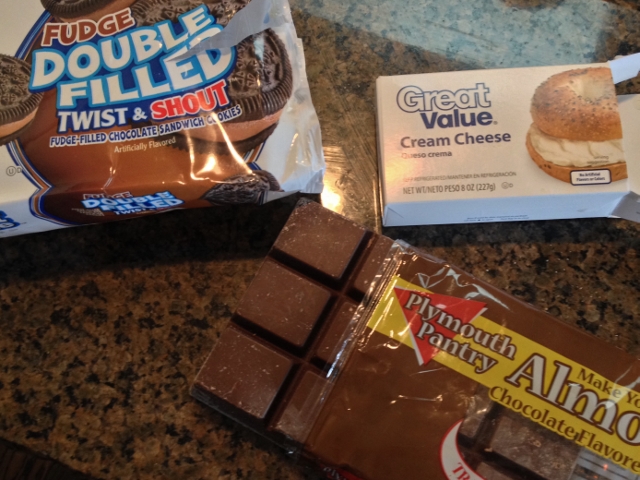 No really, that's all it takes. #canyoubelieveit??
Easy Truffle Mixing
He started by placing the cream cheese in the KitchenAid mixer bowl to cream it thoroughly & smoothly.
Then he used our Ninja blender to completely pulverize the entire package of cookies.
(remember several months ago I asked my Facebook followers what they recommended for a do-it-all blender – they recommended the *Ninja and I'm so glad they did – I bought one & I LOVE IT!)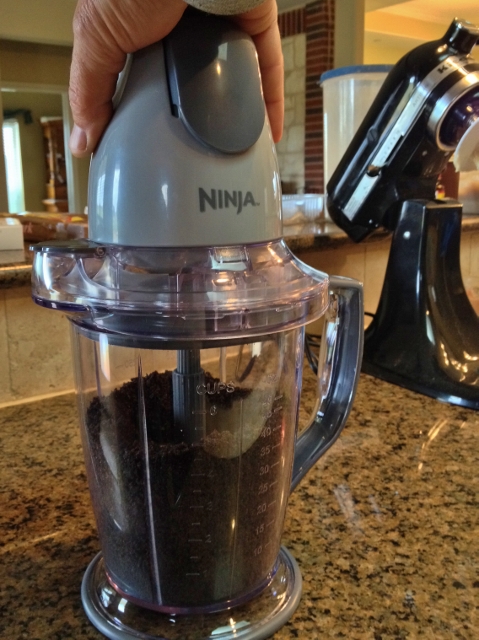 Now he simply dropped the pulverized cookies into the bowl with the cream cheese and mixed them together until it was all smooth.
When the cookies & the cream cheese were thoroughly blended he set the KitchenAid bowl in the fridge for about 30 minutes to harden the mixture somewhat.
This made the mixture a little easier to dip. He then used a cookie scoop to measure out approximately one tablespoon of mixture for each truffle.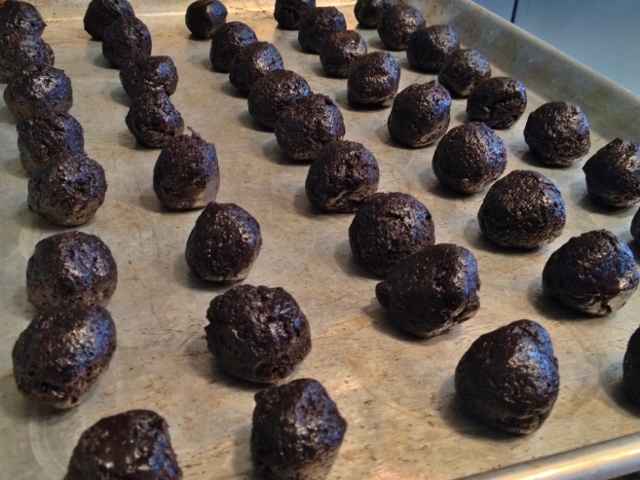 Firming Up The Truffle Mixture
Then he placed the whole baking sheet of shaped truffles in the freezer for about thirty minutes, which firmed up the truffles quite nicely.
While the truffles were in the freezer he melted 5 squares of almond bark in the microwave. Then he stirred in about 2 tablespoons of butter-flavored shortening to smooth the chocolate beautifully.
After the stint in the freezer he used a toothpick to dip each truffle into the melted chocolate to fully coat it.
The dipped truffle was placed on waxed paper, then placed back in the fridge for about 15 minutes to harden the chocolate.
Our Observations
This recipe made 2 dozen chocolate-dipped truffles and they were absolutely DELICIOUS!
You can change up the flavor of your truffles simply by choosing whatever flavor cream-filled sandwich cookies you like.
In the past we reserved some crushed cookie crumbs to sprinkle on top of the finished truffles. Although the presentation was beautiful, I think by not including those reserved cookies in the truffle mixture it made the truffles themselves a little too soft.
This time we used the entire package of cookies to form the truffles and I like the texture better this way.
Here's the recipe we used: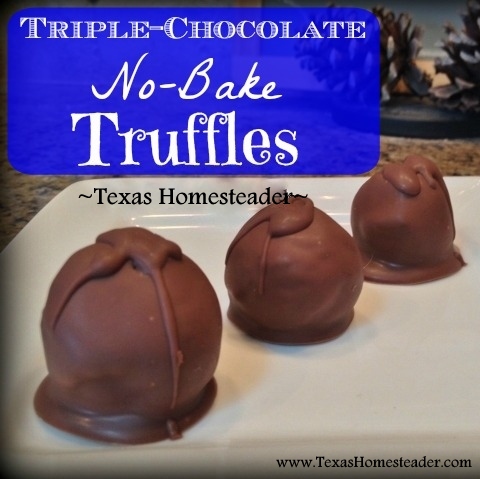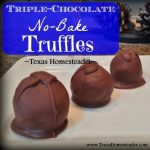 Homemade Triple-Chocolate No-Bake Truffles - makes about 2 dozen
These simple homemade triple-chocolate truffles are so easy to make. Only 3 ingredients! Crushed sandwich cookies, cream cheese and dipping chocolate. Delicious and decadent. #TexasHomesteader
Ingredients
1

8-oz package

cream cheese,

room temperature

1

15.25 oz package

Double Fudge-Filled Sandwich Cookies

5

squares

chocolate almond bark,

melted

2

Tablespoons

Butter-flavored shortening
Instructions
Soften cream cheese & blend until smooth.

Crush entire package of sandwich cookies and add to the cream cheese in the mixer bowl and blend until thoroughly combined, scraping sides of the bowl often.


Cover the bowl & place in the fridge for 30 minutes, or until firm enough to handle easily.

After bringing the truffle mixture out of the fridge, use a cookie scoop to form truffles into approximately 1-Tablespoon balls.

Place shaped truffles in the freezer for about 30-minutes to firm them up.

In the meantime melt 5 squares of chocolate almond bark and stir in 2 Tablespoons of butter-flavored shortening.

Using a toothpick dip each chilled truffle into the melted chocolate & allow to drain slightly before placing chocolate-covered truffle on wax paper. Place back in refrigerator for about 15 minutes to harden the chocolate coating. Store finished truffles in the refrigerator.


Can be brought to room temperature prior to consumption or enjoy them chilled.
~TxH~
Other Easy Desserts


C'mon by & sit a spell! Come hang out at our Facebook Page . It's like sitting in a front porch rocker with a glass of cold iced tea. There are lots of good folks sharing! And you can also follow along on Pinterest,Twitter or Instagram
If you'd like to receive an email when a new blog post goes live,
subscribe to our Blog!
~ ~ ~ ~ ~ ~ ~ ~ ~ ~
*Amazon affiliate
Save