by Texas Homesteader ~
*contains affiliate link
Recently I was so excited that my aunt was coming to visit! She agreed to stay with us at our house for a couple of days.
Now this woman is the ultimate hostess when we visit her. So of course I wanted to assure her stay was as comfortable as possible.
I made a pork roast with veggies so it would be ready for her as soon as she arrived. And I prepared for breakfast by making buttermilk biscuits beforehand and cooking up scrambled eggs in my silicone muffin pan so we could have grab-n-eat breakfast biscuits the next morning.
But c'mon, there needs to be something sweet (and CHOCOLATE) to snack on.
Because I said so, that's why!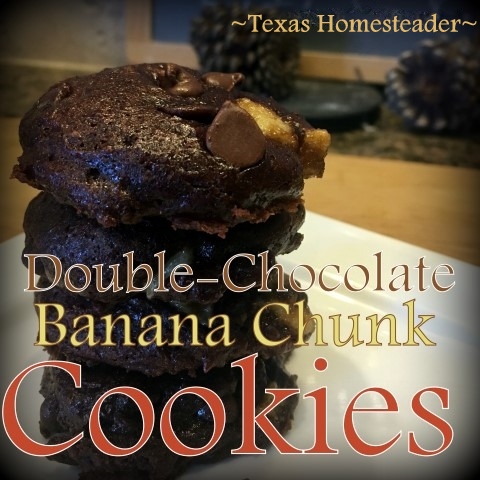 Looking for ideas I stumbled upon a recipe shared over at Running With Spoons for a double-chocolate cookie with banana chunks. Hummm… I'm enticed!
Amanda experimented with her version of the recipe until she got it just like she wanted it. I used her recipe as a base and of course changed it up to suit our tastes.
The result? Everyone loved them at the family gathering. My baby sister, sporting an expression of bliss said, "What's UP with these delicious cookies???!!!" LOL
I promised I'd share the recipe with her, but why not share it with all of you as well??
Cookies With Natural Sweeteners
I love that with the exception of the chocolate chips, these cookies are only sweetened with natural sugars in the banana and with honey.
I knew my aunt is careful about what she eats and I thought this would be a delicious way to offer her something sweet without a ton of refined sugar.
Mixing Up The Cookies
So in a large bowl I combined all-purpose flour, cocoa powder, baking soda and salt. I mixed it well & set it aside.
In a separate bowl I mixed the mashed banana, honey, coconut oil (measured then melted), and vanilla. My coconut oil was solid when I measured it before melting. I'll have to see how (or if) this changes the recipe in the summer months when my coconut oil is typically pre-melted. LOL
Then I combined the contents of both bowls. Finally I stirred in chocolate ships and then added the chopped banana, folding it gently so as to keep the chunks intact.
Chill The Dough, Then Bake
I covered the bowl with an inverted plate and placed it in the fridge for about an hour to firm the batter up a bit before baking.
When it was time to bake the cookies I preheated my oven to 325ºF and brought out my batter and some cookie sheets.
(Note: Some links in this post are for further information from earlier posts I've written. But links preceded with * are affiliate links. If you click them and buy something (almost anything, not just the item noted) I could receive a small purchase. But the price you pay will NOT change. It's an easy way to support this blog without anything coming out of your pocket. So click often! Thank you!)
I used my *1.5 Tablespoon cookie scoop to measure out the dough for each cookie. After the cookies were loaded onto the cookie sheet I placed three or four chocolate chips on top of each cookie.
Finally I used my clean hands to press the cookies slightly. These cookies won't spread much while they're baking. This step assures that the cookies are 'cookie shaped' when they're done! LOL
Then I placed the cookie sheet in the oven and baked the cookies for 12-15 minutes. When they came out of the oven they seemed overly shiny to me.
I was afraid that meant they might be undercooked. But it turns out the shininess is just the banana in the mixture.
The cookies turned out beautifully fluffy, soft & chewy. And they were a HIT with our guests!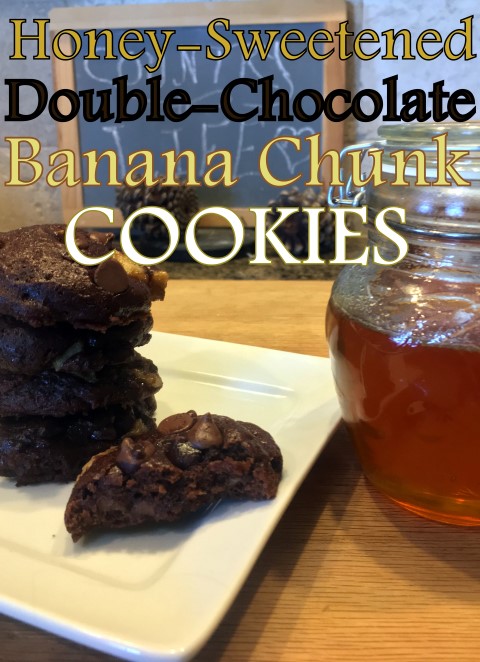 The 3 or 4 chocolate chips I'd placed on top of each cookie added quite a bit both to presentation as well as taste. So be sure not to skip that step! That explosion of chocolate with the first bite is just what I was after.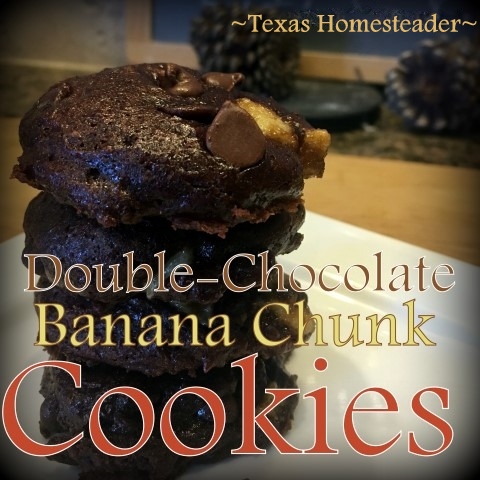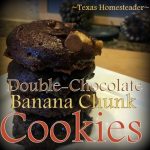 Soft & Chewy Double-Chocolate Banana-Chunk Cookies
Yield: about 20 cookies using 1.5 Tablespoon cookie scoop
With the exception of the chocolate chips, these cookies are only sweetened with natural sugars in the banana and with honey.  They are beautifully fluffy, soft & chewy & they were a HIT with our guests! #TexasHomesteader
Ingredients
Ingredients:
1.5

cups

All Purpose Flour

1/4

cup

unsweetened cocoa powder

1/2

tsp

baking soda

1/2

tsp

salt

1

medium

ripe banana,

mashed (about 1/2 cup)

1/2

cup

honey

1/4

cup

coconut oil,

measured then melted

2

tsp

vanilla extract

2/3

cup

chocolate chips

1

medium

banana,

cut into small chunks

extra chocolate chips for topping cookies

(optional)
Instructions
Directions
In a large bowl, combine 1.5 cup flour, 1/4 cup cocoa powder, 1/2 tsp baking soda, and 1/2 tsp salt, mixing well. Set aside.

In separate bowl, mix the mashed banana, 1/2 cup honey, 1/4 cup coconut oil, and 2 tsp vanilla.

Combine the wet ingredients with the dry ingredients, mixing until combined. Add 2/3 cup chocolate chips and stir to incorporate them into the batter. Fold in the banana chunks very gently to keep the chunks intact. Cover the bowl and place it in the fridge to chill for 30 minutes to an hour to firm the dough.

Preheat oven to 325ºF. Using a 1 1/2 Tablespoon scoop, drop the dough onto your prepared baking sheet. The cookies won't spread as they bake so you'll want to use your fingers to flatten the dough slightly.

Finally, press 3 to 4 extra chocolate chips into the top of the cookies.

Bake for 12-14 minutes.

Remove cookies from the oven. Cool the cookies on the baking sheet for about 10 minutes. Then transfer cookies to a baking rack to cool completely.
~TxH~
Other Easy Desserts
*Amazon Affiliate
Save
Save
Save
Save
Save
Save
Save
Save
Save
Save
Save