by Texas Homesteader ~
*contains affiliate link
When it's hot outside I make a cheap, healthy, frozen sweet treat. It's a healthier version ice cream using frozen bananas & berries.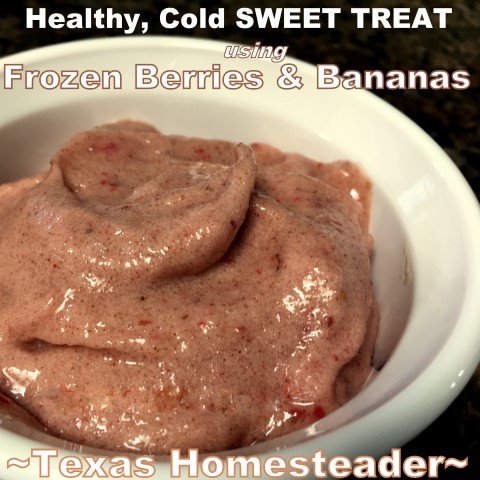 (Note: Some links in this post will take you to other related articles for further information. But links preceded with * are affiliate links. If you click and buy something I could receive a tiny commission.)
Healthier Version Of Ice Cream
It's hot, hot HOT out there, y'all! Here in NE Texas it seems it went from winter to summer with nary a mild spring day between!
So I'm focusing these days on serving cooler foods and cold desserts. But I wanna keep it healthy too.
RancherMan loves, loves, LOVES ice cream, especially when it's this hot outside. But it's just not healthy to indulge in such a high-fat treat too often.
So I started making a cold dessert 'ice cream' using frozen bananas for the sweetness and frozen berries for an extra punch of flavor.
Choosing Cold Sweet Treats
I've written before about making a mock fat-free ice cream using frozen bananas and pudding mix. The pudding makes the ice cream more creamy and less icy.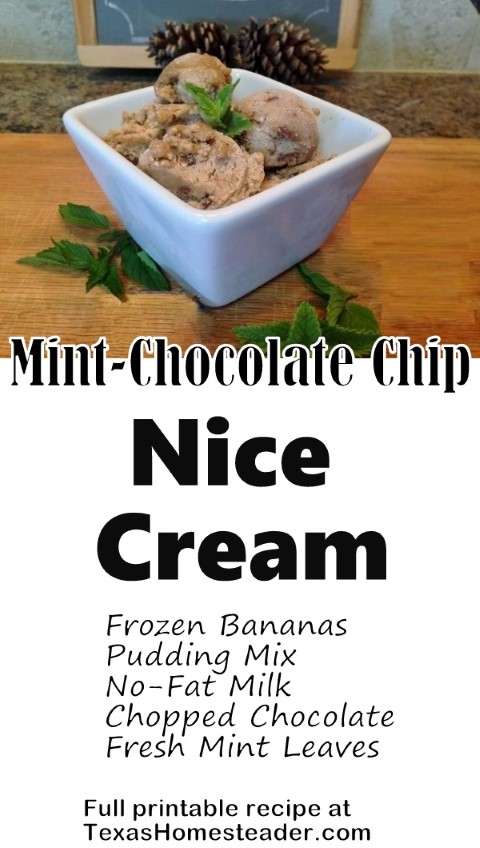 But I was looking for something even a little healthier.
Making this healthier sweet frozen treat using frozen bananas and berries literally takes only minutes.
That's important y'all – I don't want to spend time in the kitchen.
Healthy Version Of Ice Cream Using Blended Frozen Fruit
A cold, sweet treat that's healthy & cheap plus fast & easy to prepare? Yes please!
I literally just loosely chop the fruit & plunk everything into my Ninja at one time. Done & done!
Plus it's super cheap. When our local grocery store begs customers to buy those over-ripe bananas by offering them for almost nothing, I snatch them up.
When I get them home I peel them, seal them in a freezer bag & toss them in the freezer. I do the same thing with other various quick-sale fruits & berries.
It seems this ripe fruit is even more sweet than its less-ripe counterpart. And I'm helping eliminate food waste by snatching up food that the store may have had to throw away soon.
Making Healthier 'Ice Cream'
On this day I brought out three of those frozen bananas, a handful of frozen strawberries, some vanilla extract & some of our honey from our own apiary along with my *Ninja Blender.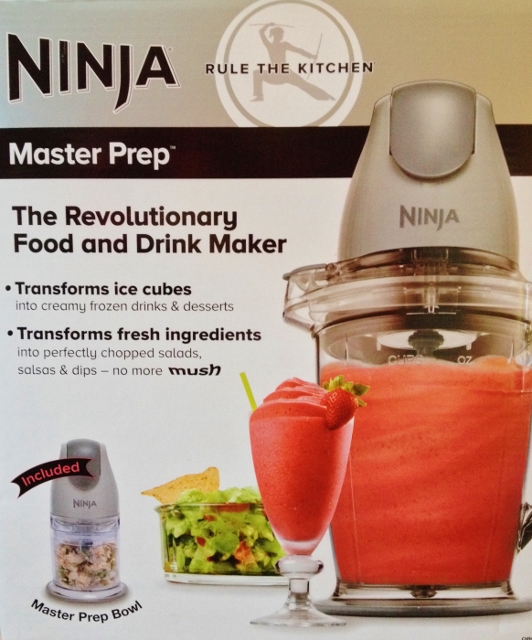 (Have I mentioned lately how much I LOVE that thing??!!)
If you'll remember I initially bought my Ninja because my regular blender just wasn't blending our 'ice cream' smoothly enough.
This Ninja rocks, y'all! (I try to share all the items we use & love in our Homesteading Tools tab above – feel free to check out our faves!)
How Do You Blend Frozen Fruit?
Blending frozen fruit has never been easier, y'all! I chopped the bananas & tossed them into my Ninja blender. Then I chopped several frozen strawberries – about a heaping cup's worth. You can add as much as you like though.
I added the chopped strawberries to the Ninja. And I also tossed in 1/2 teaspoon of vanilla extract and a couple of tablespoons of honey because RancherMan likes his desserts sweet.
Then I give it all a quick whir until it was all blended together.
How Soon Can You Eat Your Frozen-Fruit Ice Cream?
This makes a soft-set type of ice cream ready to eat right then, right there.
But if you want your sweet treat more firm you can toss it into the freezer for about an hour.
Flavor Options For Frozen Blended Fruit
If you have flavored liquid creamers it's super fun to toss in a couple of tablespoons for a little extra sumpin' but it's totally not necessary. In the past I've added French Vanilla or Hazelnut and RancherMan really seemed to like it.
But it's delicious one way or the other. And quick to prepare too. Here's the recipe:
Did you make this sweet treat? Please rate the recipe in your comment below!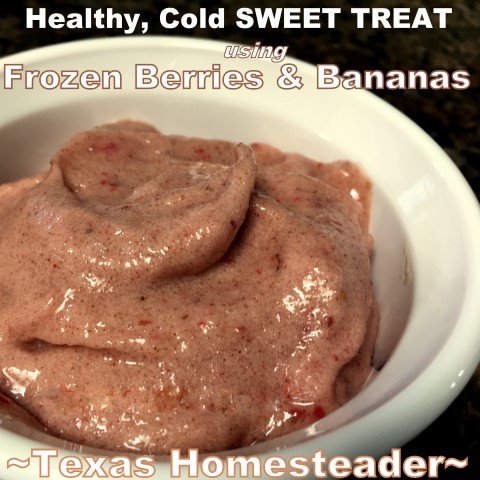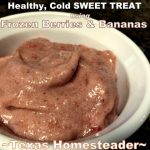 Healthy Banana & Berry 'Ice Cream'
When it's hot outside it's refreshing to eat ice cream. But it's not healthy to eat it every day. How about this sweet treat - frozen bananas and berries blended into smoothy ice-creaminess. #TexasHomesteader
Ingredients
3

Frozen Bananas,

chopped

1

heaping cup

Frozen Strawberries,

chopped

1/2

teaspoon

Vanilla Extract

2

Tablespoons

Honey

(optional for added sweetness)

2

Tablespoons

French Vanilla or Hazelnut Flavored Liquid Creamer

(optional)
Instructions
Add all ingredients to blender and blend until smooth. Can be enjoyed immediately as soft-serve consistency, or placed in freezer for 1 hour for a firmer treat.
~TxH~
This post categorized in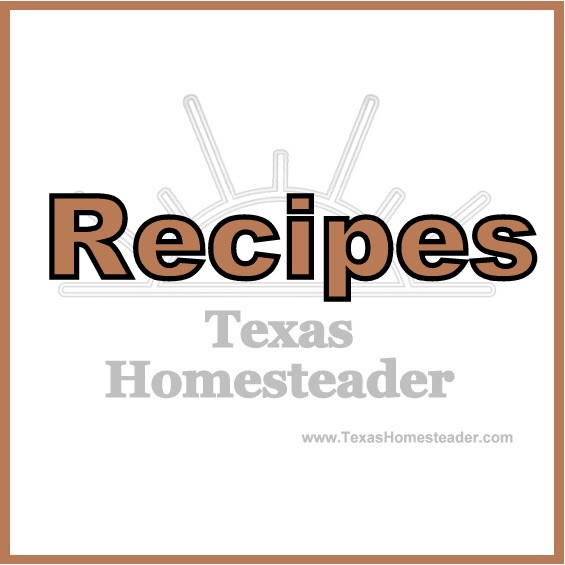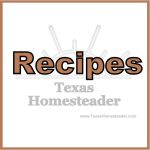 Other Easy Desserts


C'mon by & sit a spell! Come hang out at our Facebook Page . It's like sitting in a front porch rocker with a glass of cold iced tea. There are lots of good folks sharing! And you can also follow along on Pinterest, Twitter or Instagram
If you'd like to receive an email when a new blog post goes live,
subscribe to our Blog!
*amazon affiliate link