by Texas Homesteader ~
These egg-free meringue cookies are made light & fluffy using only 4 ingredients – sugar, lemon juice, vanilla extract & substituting aquafaba in place of egg whites.
You can either use the sweetened whipped mixture as egg-free meringue for desserts or dollop them onto lined trays and dry them into delicious and airy meringue cookies.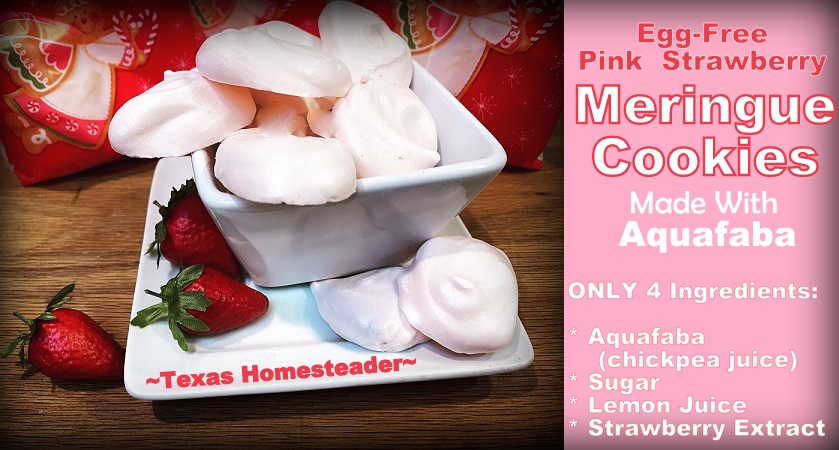 What Is Aquafaba?
Believe it or not, aquafaba is simply the juice drained from a can of chickpeas.
I've never made meringue cookies before, but then I saw you could make them with the juice drained from a can of chickpeas.
REALLY??! Does it really work to use aquafaba for egg-free meringue?
Yes, incredibly, it does. Whipped sweetened aquafaba makes a delightful egg-free substitute as whipped topping, or dolloped onto lined trays and dehydrated into meringue cookies. It's so easy!
Will Aquafaba Whip Into Stiff Peaks?
Yes, aquafaba easily whips into stiff peaks. It also helps to add a stabilizer such as ½ teaspoon of lemon juice.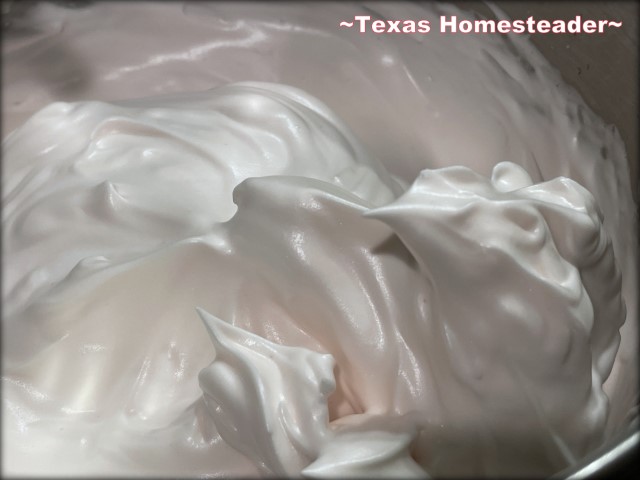 And for sweet treats it's nice to add an alcohol-based flavor extract such as vanilla, almond or strawberry for extra flavor.
Some say to use only cans of unsalted or low salt chickpeas, but I find that the standard can has just enough salt content to compliment the sweetness of the aquafaba whipped topping.
But I would caution against using cans of specially-seasoned chick peas with added spices. You're looking for regular chick peas.
Can Whipped Aquafaba Be Used As Whipped Topping?
You can absolutely use aquafaba as a dollop of whipped topping when serving desserts.
I can use aquafaba whipped topping on room temperature or chilled desserts such as:
It makes a very light, fluffy sweet and egg-free topping for room temperature or chilled desserts!
But heat will deflate your whipped aquafaba cream. So make sure it's only placed atop a chilled or room temperature dessert as it's served.
How Do I Make Meringue Cookies Using Aquafaba?
Aquafaba (juice from cooked chickpeas) can be substituted in place of egg whites when making meringue cookies. There are only FOUR ingredients!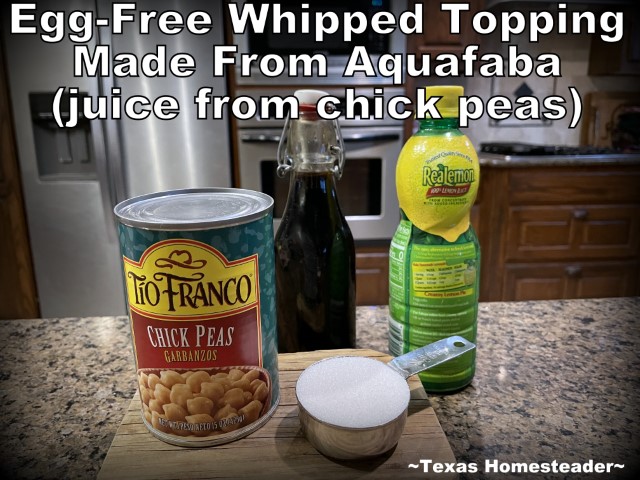 ¾ cup aquafaba (juice drained from a can of chickpeas)

1/3 cup sugar

½ teaspoon lemon juice

1 teaspoon flavor extract such as vanilla, almond or strawberry (or other non-oil flavored extract)
Aquafaba syrup whips up into a light fluffy meringue consistency just like egg whites do.
I simply strained and measured the juice from a can of chickpeas (also known as aquafaba).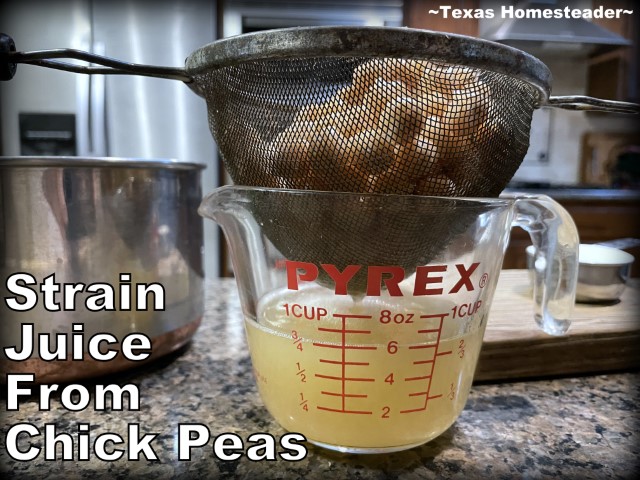 Then I added the aquafaba to a small pan with granulated sugar, heating & stirring until the sugar melted.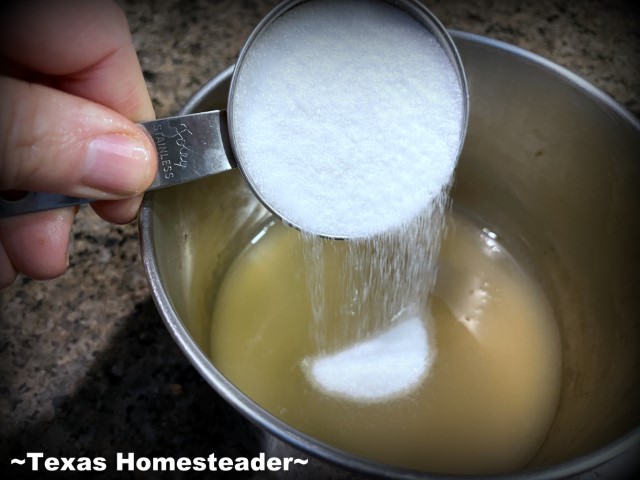 The pan was removed from the heat and I added lemon juice and alcohol-based flavor extract. On this day I used strawberry extract.
Finally I poured the sweetened syrup into my stand mixer bowl & whipped it into stiff peaks.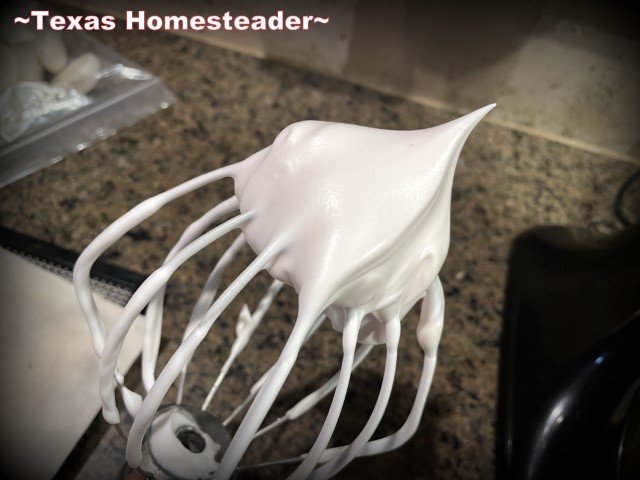 To make meringue cookies just dollop the creamy aquafaba onto lined baking sheets and dehydrate until the cookies easily pop off the lined trays.
The dry time depends upon many variables – how big your meringue cookies are, the strength of your dehydrator and even the relative humidity in your home.
But for me it takes about 3 ½ hours.
Baker's Note: You're not COOKING the meringue cookies, only dehydrating them.
What Do Aquafaba Meringue Cookies Taste Like?
You may wonder if aquafaba cookies taste like, well, chickpeas.
I'm emphatically telling you – NO WAY!
They taste like delicious lightly crispy cotton candy cookies that are airy, light and melt in your mouth.
I flavored some of my meringue cookies with vanilla extract, some with mint extract and the rest with strawberry extract.
Baker's Note: Any oil at all that touches these meringues will keep them from turning out right. I wipe down my clean beaters, bowls and dehydrator sheets with vinegar and allow them to dry before proceeding to make sure there's no lingering oil on my utensils.
Do I Need A Piping Bag To Make Meringue Cookies?
No, you don't have to have a piping bag, although that's the easiest way to make the meringue cookies. But here are several ways to make the fluffy dollops for these cookies:
A piping bag with decorative tips

A 1.5 Tablespoon cookie scoop

Just use a serving spoon
I don't have a piping bag and I made these meringue cookies just fine using a serving spoon. I used the edge of the spoon to give the meringue top a decorative swirl.
How Long Do You Dry Aquafaba Meringue Cookies?
To make meringue dollops into cookies: Dollop aquafaba meringue onto lined trays and dry (don't cook) in 160ºF oven or dehydrator until they pop off the trays easily.
My dehydrator set at 160ºF took 3½ hrs per batch of these meringue cookies
The cookies are very light and airy – like lightly-crispy cotton candy that melts in your mouth.
Other Ways To Use Aquafaba
Other than making egg-free whipped topping or meringue cookies, I've used whipped aquafaba as the whipped egg whites requirement in my Cinnamon/Sugar Candied Pecans.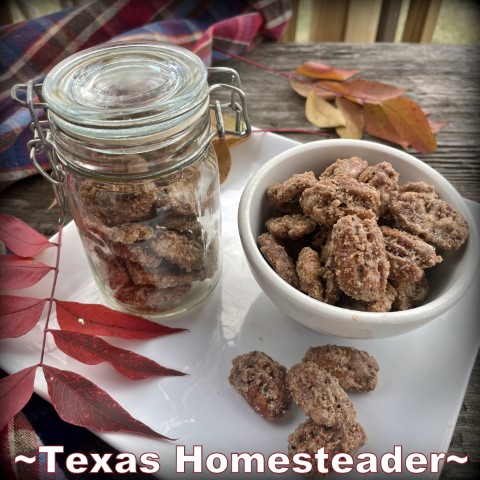 No more using only part of an expensive egg to make the coating for my candied pecans. This aquafaba works perfectly for that.
I use the drained juice for the candied pecans and then season and Air Fry the Drained Chickpeas for a crunchy savory snack. Nothing wasted!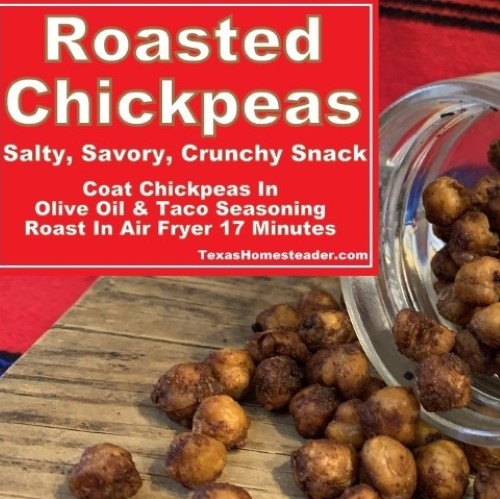 Give aquafaba a try! It's an egg-free, quick & inexpensive way to enjoy either an egg-free whipped cream substitute or dry into crispy meringue cookies.
Did you make these egg-free cotton candy meringue cookies? Please rate the recipe in your comment below!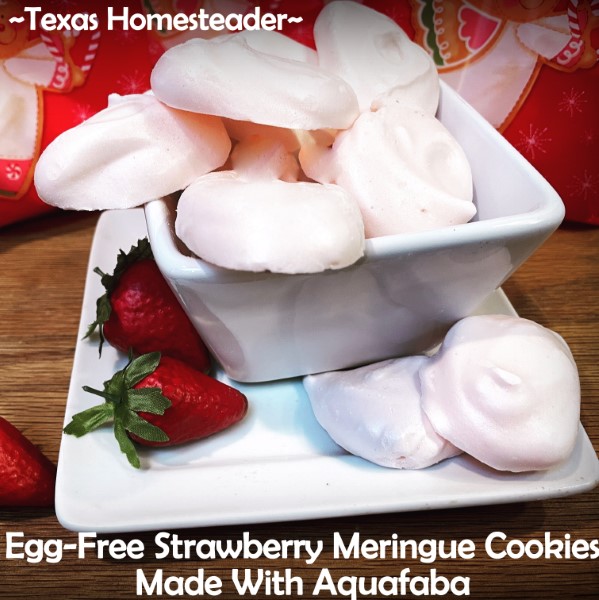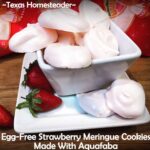 4-Ingredient Egg-Free Meringue Cookies Made With Aquafaba
Looking for an easy egg-free meringue cookie recipe? These cotton-candy flavored meringue cookies are made with aquafaba (juice drained from cooked chickpeas). It whips up in minutes, then you dry them slowly in a dehydrator or oven.
Dehydrating Time
3
hours
30
minutes
Ingredients
Ingredients
¾

cup

aquafaba

(plain strained juice from can of chickpeas)

⅓

cup

granulated sugar

1

teaspoon

alcohol based flavor extract

such as lemon, vanilla, or almond

½

teaspoon

lemon juice
Instructions
Instructions
Line baking sheets or dehydrator trays with parchment paper or silicone baking mats. Wipe down mats & bowls with vinegar to make sure no oil remains.

Shake a 15-oz can of chickpeas. Using a mesh strainer measure out ¾ cup aquafaba (juice from cooked chickpeas). Pour aquafaba into a small pan.

Add ⅓ cup granulated sugar to the aquafaba & heat over medium heat, stirring until the sugar has completely dissolved.

Remove from heat and add 1 teaspoon vanilla extract & ½ teaspoon lemon juice, stirring to blend. Then pour the aquafaba syrup into a mixing bowl.

Using a stand mixer and whisk attachment, whip on medium speed until the mixture is foamy. Then turn the mixer up to high and whip until you get stiff peaks that keep their shape and don't bend when you lift the whisk. (about 5-7 minutes)

Place meringue dollops on lined baking sheets using a 1⅓ tablespoon cookie scoop, a large tablespoon or piping bag.

Dehydrate cookies using oven or dehydrator set at 160°F. until cookies are dry and can be removed easily from lined trays. (This depends on temperature you're using, size of cookies, etc. It takes me about 3.5 hours.)
Recipe Notes
NOTE: Can use oven to dry instead of a dehydrator but at a temperature of less than 210°F. If your oven doesn't go that low keep the oven door ajar using a wooden spoon to lower heat inside the oven.
NOTES:
Oil will keep your meringue cookies from fluffing or will make them fall. Make sure to use only alcohol-based flavoring extracts and wipe down trays, bowls, etc. with vinegar before proceeding to assure no oil residue is present.
Cookies are best cooked / served the same day. Or cool completely and store in an airtight container such as sealed plastic bag to keep cookies from absorbing moisture out of the air. If they do become sticky, give them a quick stint in a150-160 degree oven to dry them out again.
OPTIONS:
Gel or powder food coloring will add color to cookies
Different flavors of extract are fun to flavor meringue cookies - vanilla, almond, lemon, etc. Just make sure it's an alcohol based extract with no oils.
Chopped nuts, candy canes or candies can be lightly sprinkled on top of meringue cookies before drying.
~ TxH~
This post categorized in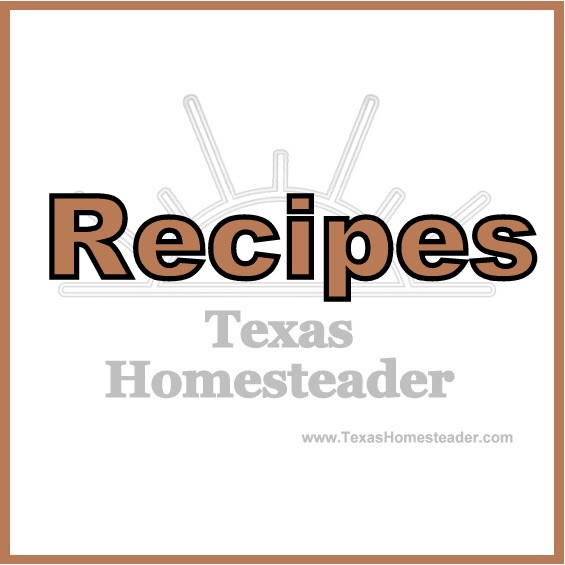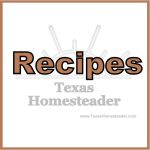 Snacks We Love
~ ~ ~ ~ ~ ~ ~ ~ ~ ~ ~ ~ ~ ~ ~ ~


C'mon by & sit a spell! Come hang out at our Facebook Page. It's like sitting in a front porch rocker with a glass of cold iced tea – lots of good folks sharing! You can also follow along on Pinterest, Twitter or Instagram.
If you'd like to receive an email each time a new blog post goes live it's EASY to
Subscribe to our blog!