by Texas Homesteader

Aaaahhhh, summer fun.  Picnics, swimming, baseball and cookouts.  Who doesn't love summer?  But summer in Texas also means hot, hot, HOT!  Of course living & working on a ranch means that RancherMan & I work outside during these dog days of summer so we're always looking for ways to keep cool.
A few weeks ago I started playing with recipes for making my own healthier Popsicles.  I used RancherMan as a very willing guinea pig for several batches until I perfected it.  (Taste-Testing Homemade Fudgesicles?  RancherMan's got a tough job, huh?  Poor guy!)  I wanted to make my own popsicles for several reasons:  They're healthier, produce less landfill trash, are much less expensive and c'mon let's be honest – it's EASY!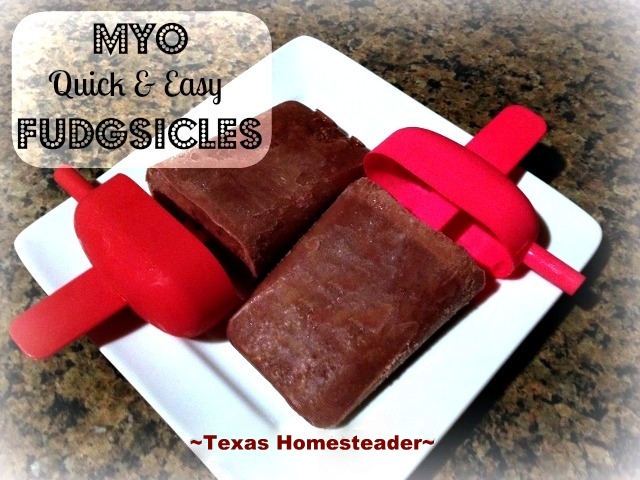 Fudgesicle Recipe Trial & Error
The first attempt was waaaaay too sweet (and prepare yourself for this) too chocolate. Whaaaa…??? Is it even POSSIBLE for something to be TOO chocolate??  Stay with me now – although I love all things chocolate, the cocoa was so overpowering that even though the fudgesicle was too sweet the cocoa made the popsicle almost bitter.
The second batch was better, but the flavor of the yogurt was a little too prominent for my taste.  And although the cocoa proportion was improved I also wanted more intensity in the actual chocolate flavor. Hummm…  back to the drawing board I go.
Today is batch 3 – and I think we've got a winner!  RancherMan declares that these are not as icy as previous batches, more creamy with a good balance of sweet & chocolate.  Here's what I did:
Keeper Fudgesicle Recipe
I like to mix everything into my large 4-cup glass Pyrex measuring cup. It just makes everything easier since it already has a handle and pouring spout.  So I start out by mixing the cocoa & yogurt together first.  I feel the yogurt helps blend the powdery cocoa more thoroughly.   Since I make my homemade yogurt  in 1/2-pint canning jars (which measures 1 cup) I don't even need to measure the yogurt.  So I just plop it into the bowl with the cocoa and get to blending.
After the yogurt & cocoa are thoroughly combined I simply refill the yogurt jar with skim milk to get a 1-cup measure & add it in.  Finally I add the other ingredients into my bowl.  There's local honey for a natural sweetener, vanilla for flavor and coffee to intensify the chocolate flavor. Oooh really??  Chocolate AND coffee in the same recipe?  Oh my, I'm in heaven!
Now all that's left to do is mix until it's all thoroughly combined. Yeah, you can see how I slave in the kitchen for this cold summer treat. But that's just me – I'm a giver!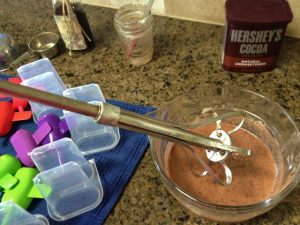 I already have a convenient pouring spout on my measuring cup.  So pouring the fudgesicle mixture into my popsicle molds is a snap.  After they are all filled I just place the molds in the freezer until they're frozen.  Then all that's left to do is ENJOY!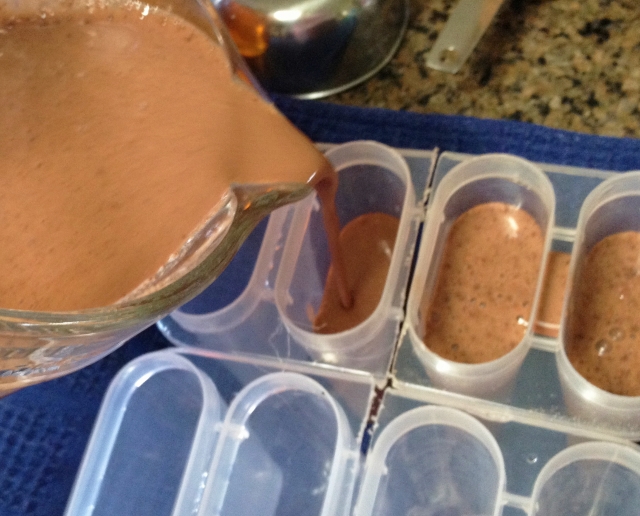 I love that I can give RancherMan the sweet cold treat he craves.  Plus  it's much healthier than store-bought versions since it uses wholesome ingredients and is sweetened with local honey.  (UPDATE:  Now that we have our own apiary, our own honey is used for these fudgesicles!)
Without further adieu – my slaving-in-the-kitchen homemade fudgesicle recipe follows.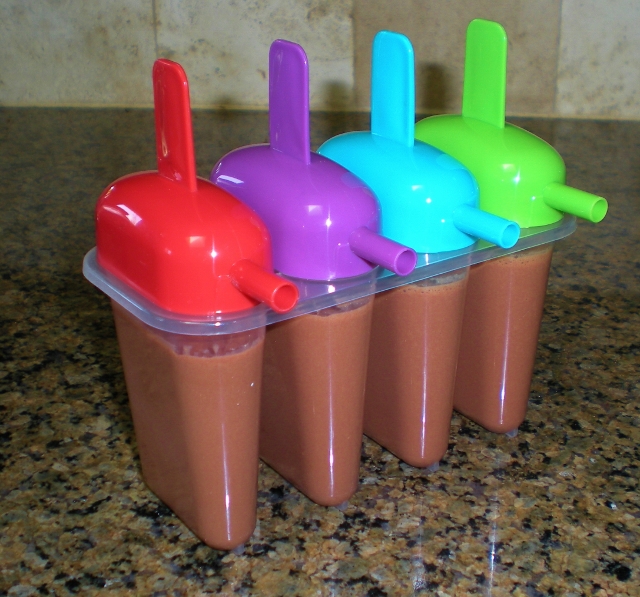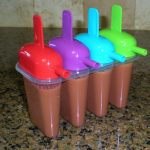 Homemade Healthier Fudgesicles (fills 12 popsicle molds)
When it's hot, hot, HOT outside, make these delicious chocolatey Fudgesicles. Healthier & cheaper than their commercial counterparts and oh-so-refreshing!

Ingredients
2/3

cup

honey

1/2

cup

unsweetened cocoa

2

cups

low-fat yogurt

2

cups

skim milk

2

teaspoons

vanilla

2

Tablespoons

coffee
Instructions
Mix all together in a mixing bowl until thoroughly blended. Carefully pour into popsicle molds and place in the freezer for 3-4 hours until frozen. ENJOY!
~TxH~
Snacks We Love
~  ~  ~  ~  ~  ~  ~  ~  ~  ~  ~  ~  ~  ~  ~  ~


C'mon by & sit a spell!  Come hang out at our Facebook Page. It's like sitting in a front porch rocker with a glass of cold iced tea – lots of good folks sharing!  You can also follow along on Pinterest, Twitter or Instagram.
If you'd like to receive an email each time a new blog post goes live it's EASY to Subscribe to our blog!
Save
Save