by Texas Homesteader ~
*contains affiliate link
I make fresh pico de gallo in minutes using fresh garden vegetables. Fresh deliciousness such as ripe tomatoes, onion, garlic, jalapenos and cilantro. Go ahead, ENJOY your veggies!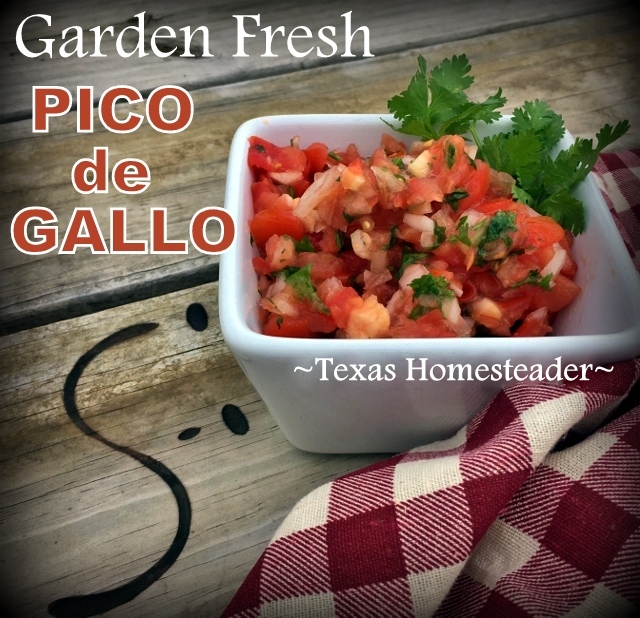 (Note: Some links in this post will take you to other related articles for further information. But links preceded with * are affiliate links. If you click and buy something I could receive a tiny commission.)
What Is Pico de Gallo?
RancherMan & I love pico de gallo. (pronounced peek-o-day-GUY-o) It's a zesty mix of tomatoes, onion, garlic and jalapenos and it's one of our favorite ways to enjoy garden veggies.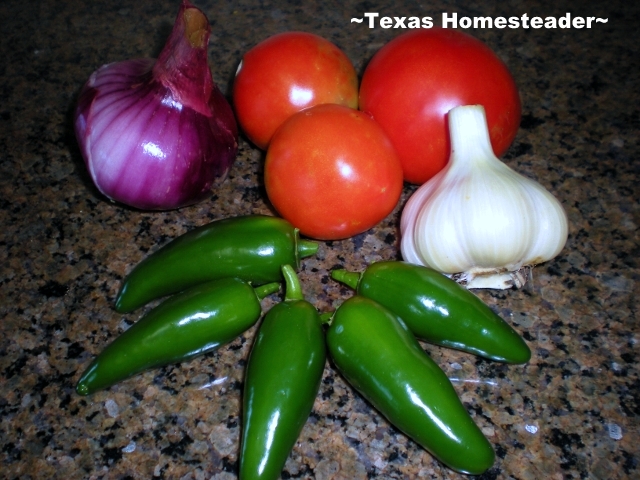 This year RancherMan even requested that I plant a pico de gallo garden to assure we can enjoy that culinary delight whenever we like. I was, of course, happy to oblige him!
I always have onions, garlic and jalapenos planted anyway. Of course being a southern gardener I have tomatoes planted every year as well.
So I'll make sure I have cilantro planted in the garden. (plus cilantro also Makes Coriander, so it's a double-duty garden choice!)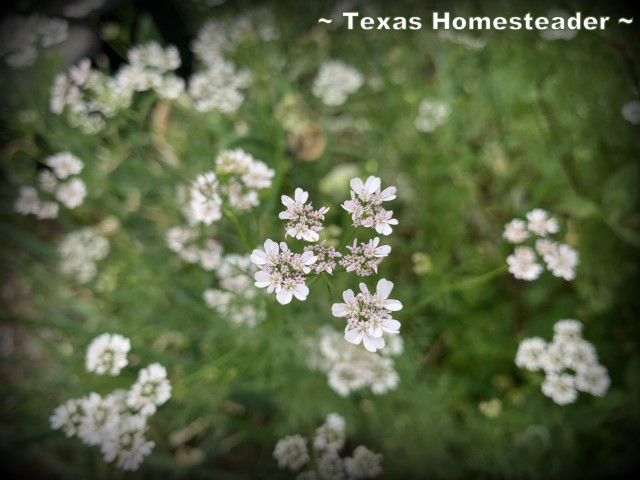 What Goes Well With Pico de Gallo?
I like to use pico de gallo as a flavor punch with Tex-Mex Dishes. But it's a great snack too.
Recently we were invited to a family cookout so we told them we'd bring fresh homemade pico de gallo.
You're not gonna believe how quickly it all comes together!
How To Make Homemade Pico de Gallo
RancherMan's recipe for a batch of homemade pico de gallo is simple:
4 roma-styled tomatoes,

1 small onion,

1 clove of garlic,

1/2 cup cilantro,

1/2 of a jalapeno

Juice from 1/2 lime
Although the quantities above are for a single batch of pico de gallo, more times than not we make multiple batches at one time. Why not have some in the fridge to enjoy ourselves?
Easier Vegetable Chopping
But all that chopping & mixing. Ugh! Isn't that gonna take lots of time? And more importantly, isn't that gonna make a big, juicy mess?
Nope. Hang onto your seats, folks.
RancherMan makes a batch of pico de gallo in about 3 minutes.
No, really!
I bring in the ingredients that we have growing in the garden and fetch a fresh lime I'd purchased from the store. Everything gets a quick wash and it's ready & waiting for RancherMan to begin his magic.
We've found that if you remove most of the seeds from the tomatoes that the pico de gallo is less watery.
And if I'm growing them in the garden, roma tomatoes offer a thicker result than slicing tomatoes too.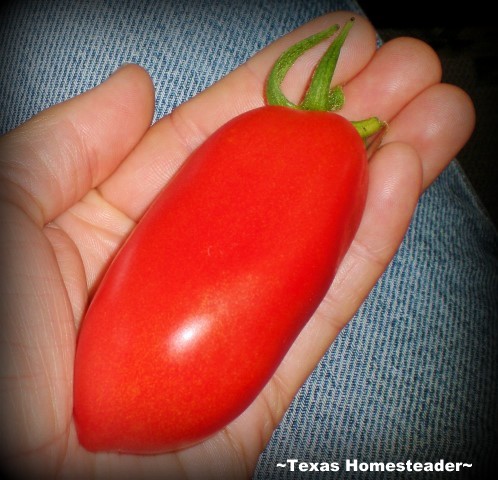 When I'm deseeding the tomatoes I'm not too worried about getting every last seed, so this step doesn't take long.
Preparing Pico De Gallo Ingredients
RancherMan quarters the tomatoes and I help him remove most of the seeds. I prefer to do this with clean hands instead of trying to use a knife to cut the seed section away.
So I hold the tomato & with my thumbs sweep the seed section into my compost bucket. (I'm pretty sure that's where all my compost volunteer plants come from! LOL)
Then we bring out the secret pico-de-gallo-weapon: our *pico de gallo chopper.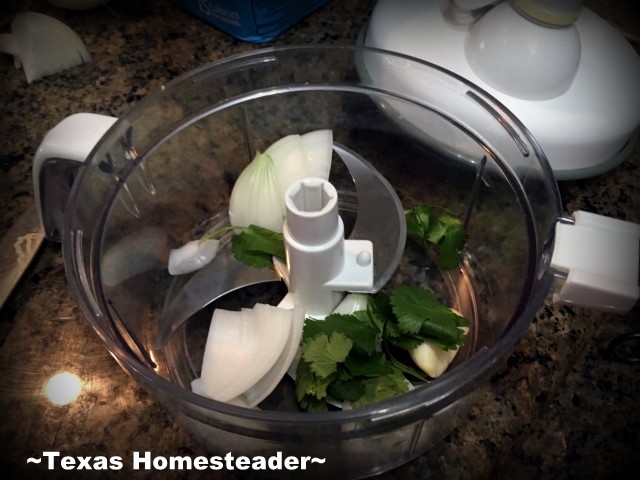 He roughly quarters the peeled onion and tosses it into the chopper. Then we toss the de-seeded tomato quarters in as well.
He follows that with coarsely chopped fresh cilantro & a jalapeno sliced in half.
If you like your food spicy, don't remove the seeds. It's the seeds and membranes that hold the most spiciness in a jalapeno.
But if you want a milder pico de gallo you can quickly & easily remove the seeds and membranes of the jalapeno.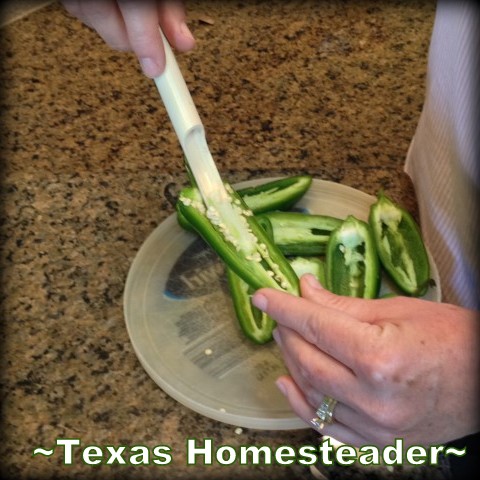 Then RancherMan tosses in a peeled clove of garlic. Finally he gives the whole thing a hefty squeeze of lime juice from half of that lime.
Easiest. Pico de Gallo. EVER!
Now comes the magic part, y'all. He snaps the lid onto our pico maker and with a couple of turns of the handle… BOOM! Everything is perfectly chopped & mixed. We just dump it into a serving bowl and we're ready to go.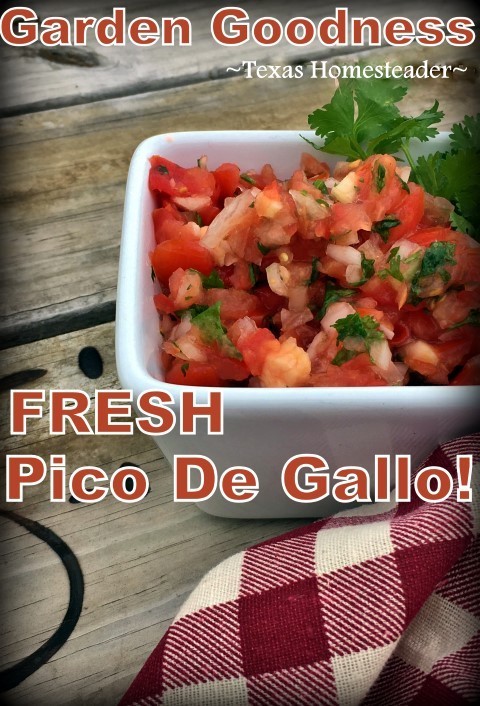 Now I know I sound like an infomercial here but DANG we love this chopper! RancherMan just made fresh pico in about 3 minutes!
Where Did We Find That Amazing Chopper?
Let's go back in time about 15 years ago… RancherMan & I were at the state fair watching a cooking demonstration. It was one of those, "It chops, it dices, it's the best appliance in your kitchen" kind of demonstrations. But he made it look so easy!
We like pico de gallo, maybe we should buy one of these things. But $45?? That's a lot of money for a small manual hand-turned chopper.
But even though we were wary, we plunked down our money & brought it home. I felt like such a sucker spending that much money for something that might not deliver as promised in the real world!
But I was pleasantly surprised that it worked just like he said it would. We've spent years using this thing to make our own fresh pico de gallo!
I'm happy to say it's still one of our most valued items in our kitchen!
The Blade Makes The Difference
Thankfully the price has come down over the years. (a LOT!) But we've found there are also many imitations out there now.
We've tried others when we picked 'em up at garage sales for cheap. But we weren't happy with the results.
Personally, I think the shape of the blade is the key.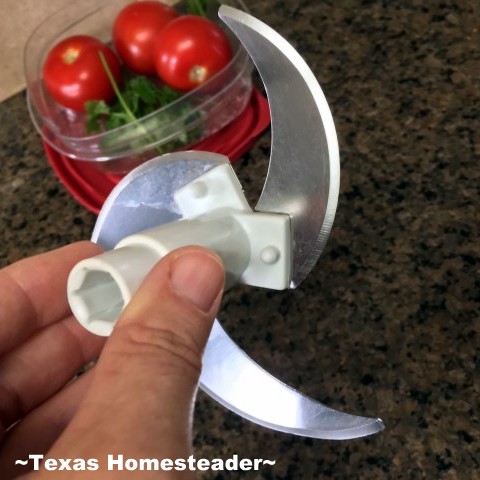 These curved blades work better in our opinion than the squared serrated blades in many of the models out there today.

Enjoy Your Homemade Pico de Gallo
So if we're gonna eat our veggies, why not enjoy them? This pico is a healthy way of enjoying that home-grown goodness.
Of course you don't need a pico de gallo chopper to enjoy it – just get out a sharp knife and cutting board & get busy. It's delicious and a healthy way to actually ENJOY eating your vegetables!
Did you make this dish? Please rate the recipe in your comment below!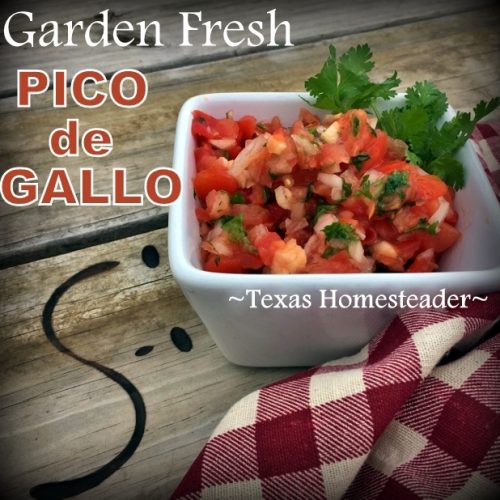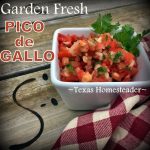 Fresh Vegetable Pico de Gallo Recipe
A quick & easy, DELICIOUS way to enjoy your veggies!  Homemade pico de gallo made in just minutes using garden vegetables such as tomato, onion, garlic & jalapeno.  Bon Apetit! #TexasHomesteader
Ingredients
4

medium

tomatoes

, quartered (remove most seeds)

1

small

white onion

, peeled & quartered

1

clove

garlic

1/2

jalapeno

(deseeded if less heat desired)

1/2

cup

fresh cilantro

, coarsely chopped

squeezed juice from 1/2 lime
Instructions
Quarter fresh tomatoes and remove seed section with clean hands. Quarter onion. Peel garlic clove & de-seed jalapeno (if desired). Loosely chop cilantro.

Add all ingredients to pico chopper. Squeeze juice of 1/2 lime over ingredients & place lid on chopper. Turn handle until ingredients are thoroughly chopped & mixed. (Optional - chop all ingredients with sharp knife instead)

Pour ingredients into serving dish, garnish with cilantro and enjoy cold!
~TxH~
This post categorized in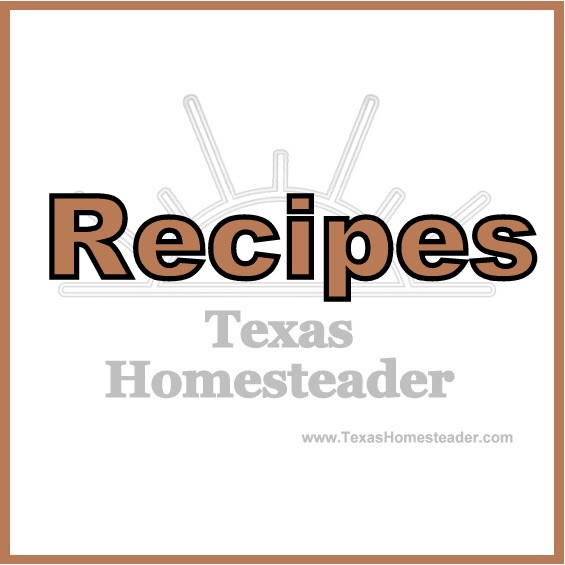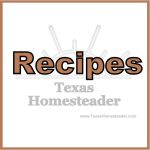 Snacks We Love
~ ~ ~ ~ ~ ~ ~ ~ ~ ~ ~ ~ ~ ~ ~ ~


C'mon by & sit a spell! Come hang out at our Facebook Page. It's like sitting in a front porch rocker with a glass of cold iced tea – lots of good folks sharing! You can also follow along on Pinterest, Twitter or Instagram.
If you'd like to receive an email each time a new blog post goes live it's EASY to
Subscribe to our blog!
Save
Save
Save