by Texas Homesteader ~
A cinnamon spice fresh pear cake captures the Taste of Fall with its moist texture, chunky pears and flavorful cinnamon. I've reduced the fat by replacing the oil with healthy applesauce. What a delicious way to use this season's pears!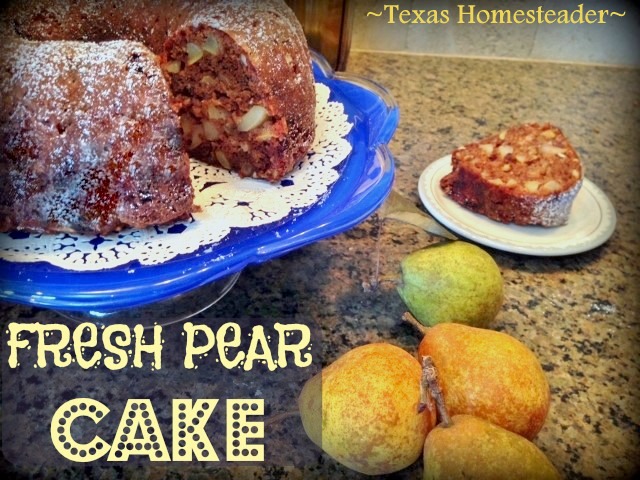 Pears Ripen In The Fall
Pears are one of my favorite fresh fruits. Although I don't have a producing pear tree yet, when it's pear season I often have friends that offer for me to harvest some of their fresh pears.
There are many ways I can preserve them for later, but I also use them fresh for snacking or cooking. This pear cake is a favorite – all moist & cinnamonny. A true taste of fall!
How To Preserve Fresh Pears
I've been allowed to harvest from several friend's trees around town so I've been making and canning lots of pear products: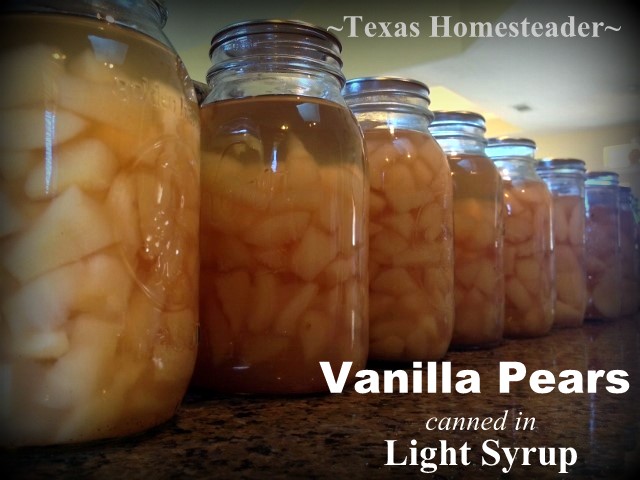 We'll enjoy those preserved pears all winter long. And some jars of those home-canned goodness could also end up in some of our Homemade Christmas Baskets this year.
Sampling My First Chunky Pear Cake
But a friend mentioned that someone had given her several pears and she was going to make a pear cake with them. I'd never even heard of pear cake, and I wasn't sure I was even tempted by the thought.
But a couple of days later I met up with her and she mentioned that she'd made the pear cake. Then she asked if we wanted to try it.
Hummm… Pear cake?? Sure, I guess…
WOW – it was amazing! All cinnamon & spice fall-tasting deliciousness with soft chunks of pear. And RancherMan went crazy over it too.
So of course I wanted to make my own pear cake for him. Thankfully my friend shared her recipe with me (thanks Sue!)
Replacing Oil In Baked Goods With Healthy Applesauce
I amended her handwritten recipe since it didn't indicate what size pan to bake it in. (although she did tell me later that a tube pan would be appropriate.)
Plus since the pear cake would be plenty moist with all that fruit included I substituted all of the oil in her recipe with Homemade Applesauce.
I also reduced the amount of nuts and added a bit of vanilla.
So I'll share the recipe as I amended it. RancherMan says it's delicious and it's a KEEPER!
Pear Cake Ingredients
This moist & delicious pear cake recipe has simple, wholesome ingredients:
4 cup chopped pears

2 eggs

2 cups of sugar

2 Tablespoons cinnamon

2 cups of all-purpose flour

2 teaspoons of baking soda

1 tsp vanilla

1 tsp of salt

1 cup of chopped nuts
I simply added the ingredients in order, stirring with my spatula after each addition. That's all there is to it y'all!
Do I Need To Peel Fresh Pears For Pear Cake?
Are you wondering if you need to peel your pears to make this delicious pear cake? Well, yes and no.
My friend told me I didn't even need to peel the pears so I didn't. And it was delicious!
But I suppose if your pear skins are thick or russeted you might want to peel them to eliminate that tough-pear texture in your cake.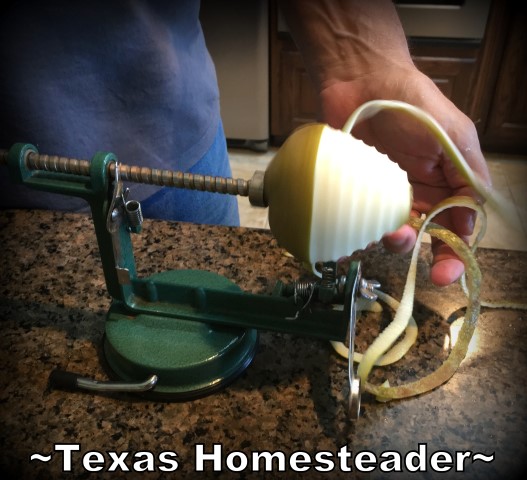 Baking A Chunky Pear Cake
To bake my pear cake I greased & floured a 10″ tube pan and poured in the batter. I baked the cake in a 350ºF. oven for 1 hour.
I allowed the cake to cool for about 15 minutes in the pan before inverting the tube pan onto a baker's rack to release the cake and allow it to completely cool.
Then I sprinkled a little powdered sugar on top just to make it prettiful and served up a warm slice to RancherMan. His verdict? DELICIOUS!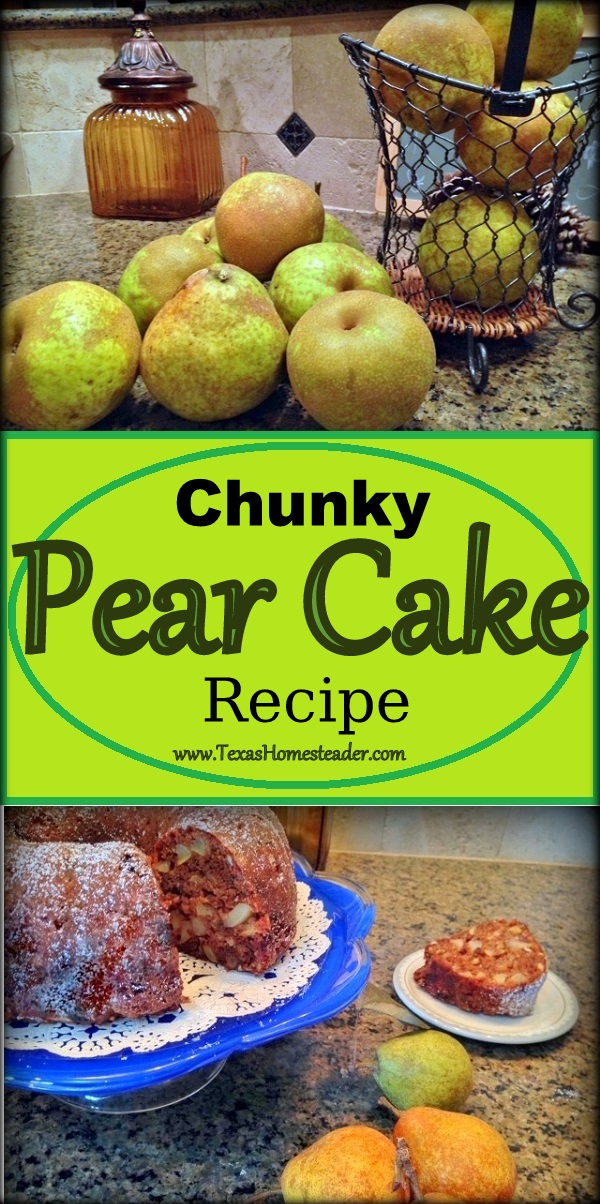 Can You Freeze Pear Cake?
Yes you can easily freeze this pear cake. Just wrap tightly (make sure to add a label) and toss it in the freezer. It should stay delicious for 6 months or so in the freezer.
Since these cakes freeze beautifully I often make one for the freezer too. That way I'll have a homemade cake ready for unexpected company.
What a delicious way to use up those fresh pears of the season!
Did you make this Pear Cake? Please rate the recipe in your comment below!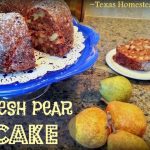 Fresh Pear Cake
Do you find yourself with a bundle of those fresh delicious pears? Make pear cake, it's surprisingly moist & delicious! And I replace all the oil with healthy applesauce. #TexasHomesteader
Ingredients
4

Cups

Chopped Fresh Pears

(peeled if the skin is tough)

2

Eggs,

Beaten

2

Cups

Sugar

1/2

Cup

Applesauce

2

Tablespoons

Cinnamon

2

Cups

All-Purpose Flour

2

Teaspoons

Baking Soda

1

Teaspoon

Salt

1

Teaspoon

Vanilla

1

Cup

Chopped Nuts
Instructions
Preheat oven to 350 degrees F.

Gently fold ingredients in order given, stirring after each addition with a large spoon or spatula (do not beat with mixer). Batter will be thick.

Pour into a well greased and floured 10" tube pan and bake for 1 hour or until toothpick inserted in center comes out clean.

Cool in the pan for 15 minutes and then invert tube pan onto a plate to release cake, then allow to cool completely. Sprinkle powdered sugar on top for garnish if desired.
~TxH~
This post categorized in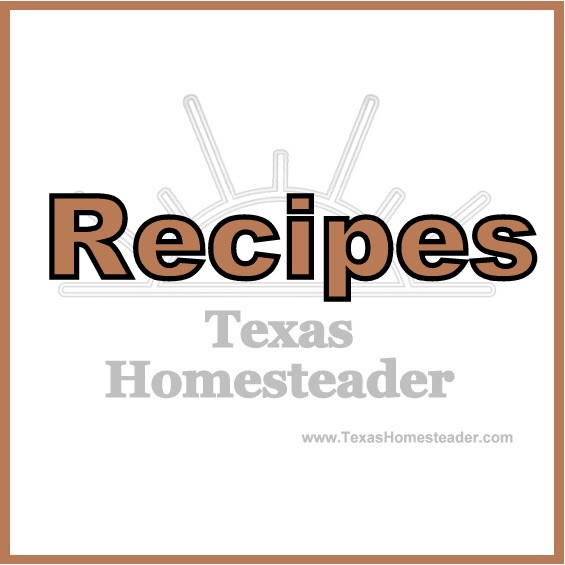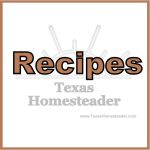 Other Easy Desserts
Cakes, Pies, Cobblers
Muffins, Breads
Cookies
Puddings
Ice Cream & Other Desserts
Dessert Toppings


C'mon by & sit a spell! Come hang out at our Facebook Page . It's like sitting in a front porch rocker with a glass of cold iced tea. There are lots of good folks sharing! And you can also follow along on Pinterest, Twitter or Instagram
If you'd like to receive an email when a new blog post goes live,
subscribe to our Blog!
Save
Save
Save