by Texas Homesteader ~
This blueberry crisp recipe features a thick sweet blueberry filling topped with a crispy buttery oat crust. It's a simple recipe that's easy enough for a regular weeknight dessert but special enough for company.
I enjoy a good fruit crisp. And I love blueberries. This simple blueberry crisp dessert is the best of both worlds.
What Is A Fruit Crisp Dessert?
A fruit crisp is similar to a cobbler, but with a crumbly crispy topping of oats usually mixed with brown sugar and butter.
It bakes into a deliciously sweet thickened fruit filling topped with a crispy buttery oat crust.
What's The Difference Between A Crisp & A Crumble?
Depending on who you ask, some may use the term crisp or crumble almost interchangeably.
I believe technically a crisp is the proper term when the dessert includes oats in the topping. But no matter what you call it – this blueberry crisp recipe is amazingly delicious.
What Ingredients Are In A Blueberry Crisp?
Filling:
Blueberries – obvs!
Granulated Sugar – adds sweetness & body
All-Purpose Flour – for thickening
Lemon Juice & Zest – to aid in thickening & add a touch of lemon flavor
Vanilla Extract – Gotta love a hint of vanilla!
Topping:
Oats – the body of the crispy topping
Softened Butter – encourages browning & crispiness
Brown Sugar – for sweetness with a molasses touch
All-Purpose Flour – to add crispness
Cinnamon – a fave with many desserts
Chopped Nuts – optional but adds a nice nutty crunch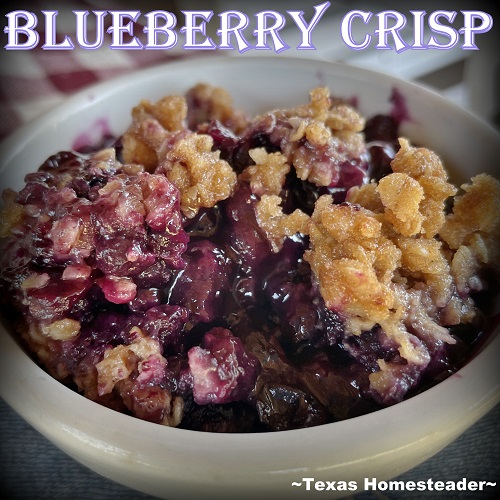 Can You Use Frozen Fruit In Your Fruit Crisp?
I most often freeze my blueberries so I can use them all year long. So when I make blueberry crisp I almost always use frozen berries. It turns out perfectly.
Baker's Note: Keep in mind that frozen fruit can release lots of moisture when it's cooked. So if a recipe calls for only fresh fruit or berries you'll want to follow the recipe to keep your filling from being too watery.
But you're in LUCK! This recipe actually gives you the frozen-blueberry shortcut!
How To Make A Blueberry Crisp?
In 2-Quart Baking Dish (about 8″x8″) make the fruit filling:
Make Filling
Toss frozen blueberries with lemon zest, lemon juice & vanilla extract.
Mix flour & sugar, sprinkle over blueberries, then fold to coat
Make Topping:
In a separate bowl make the topping:
Mix butter, brown sugar, oats, flour, cinnamon & nuts (if using)
Sprinkle topping over blueberry mixture.
Bake:
Place in 375°F oven & bake 35-40 minutes, or until top is nicely brown and filling is bubbly.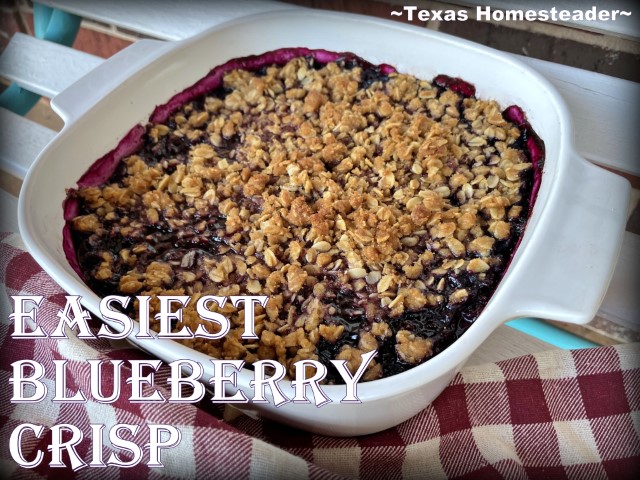 The complete printable recipe is below!
Why You'll Love This Recipe
Taste – The thick sweet blueberry filling topped with a crispy buttery oat topping is sure to please.
Fast – Only 10 minutes or so of hands-on time and a delicious dessert is on the table fast.
Simple – I typically use frozen blueberries for this crisp – no need to thaw!
Inexpensive – I love fresh blueberries, but frozen berries are often cheaper than their fresh counterparts.
Flexible – Since you're using frozen berries you can enjoy this crisp all year long!
What Kind Of Fruit Can You Use In A Crisp?
You can use various fruits or berries for a fruit crisp, or even mix two or more! Our favorite fruits to bake into a crisp are:
Apples
Blueberries
Peaches
Strawberries
Why Is My Fruit Crisp Topping Soggy?
Too Much Butter– Yeah, I've done it too. I've gotten carried away with the butter when making the topping thinking it would make it even more buttery.
But all it did was make it soggy. Too much moisture in your crisp is a soggy topping waiting to happen. So it's best to stick to the recipe.
Locking In Steam – If you'll be covering your baked crisp, make sure it's thoroughly cool first. If it's warm steam will collect on the lid and drop onto your crisp topping, guaranteeing a soggy result.
Improper Reheating – A microwave encourages moist heat, an oven encourages drier heat. So if you're heating up leftover crisp and want to maintain that amazing crispy topping, opt for oven reheating.
Changing A Recipe – Frozen fruit releases lots of moisture when it's cooked. So if a recipe calls for fresh fruit or berries you should use only fresh since the recipe has not made allowances for the extra moisture frozen fruit or berries will have. If a recipe references frozen fruit you should be fine to use frozen.
Other Favorite Desserts
If you love this blueberry crisp you'll love these favorite Homestead Kitchen desserts too!
Peach Cobber Baked In Cast Iron
A complete list of our favorite desserts follows this post. Check them out! But without further adieu, here is the easiest recipe for blueberry crisp ever. Enjoy!
Did you make this easy Blueberry Crisp? Please rate the recipe in your comment below!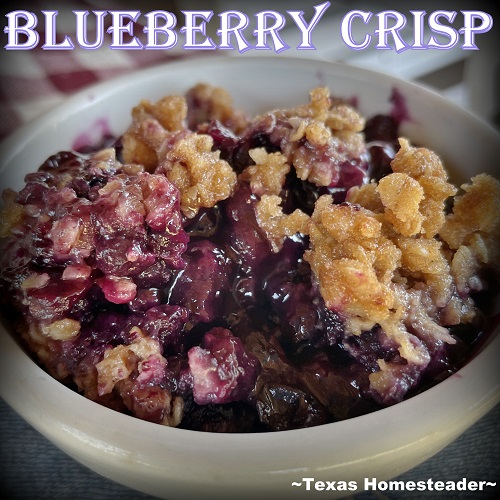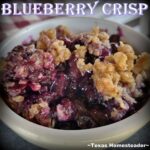 Easiest Blueberry Crisp Using Frozen Blueberries
You'll love this easy blueberry crisp with thick blueberry filling and a buttery oat crust. This recipe can be enjoyed all year long because it uses frozen blueberries. And frozen berries are cheap! Only 10 minutes hands-on time for a dessert your family will love. #TexasHomesteader
Ingredients
Filling
5

cups

frozen blueberries

2

tablespoons

sugar

3

tablespoons

flour

1/2

lemon

zested & juice extracted (about 2 teaspoons zest, 2 tablespoons juice)

½

tsp

vanilla extract
Topping
¾

cup

brown sugar,

(can add up to ¼ cup more for a sweeter oat topping)

½

cup

all-purpose flour

½

teaspoon

cinnamon

1 ½

cup

rolled oats

½

cup

1 stick or 4 oz butter, softened

1

cup

chopped nuts

optional
Instructions
Preheat the oven to 375°F.

In a small bowl mix 2 tablespoons sugar and 3 tablespoons flour. Set aside.

In a 2-quart 8"x8" baking dish add 5 cups frozen blueberries, the zest and juice of half a lemon & ½ teaspoon vanilla extract.

Sprinkle granulated sugar/flour mixture evenly over blueberries and fold to completely coat blueberries. Set aside.

In separate container combine ¾ cup brown sugar (can add up to ¼ cup more brown sugar for a sweeter crust), ½ cup flour, ½ teaspoon cinnamon, 1½ cup oats, 1 stick (1/2 cup) softened butter, and 1 cup nuts (if using). Mix until crumbly. Sprinkle dry mixture evenly over blueberries.

Bake 35-40 minutes or until the top is golden brown and the filling is bubbly. Cool slightly and serve warm. (The filling continues to thicken as it cools.)
Recipe Notes
This recipe fills a 2-quart casserole dish, but as the blueberries cook they'll bubble up slightly and then reduce. So there should be plenty of room for your blueberry crisp!
This post categorized in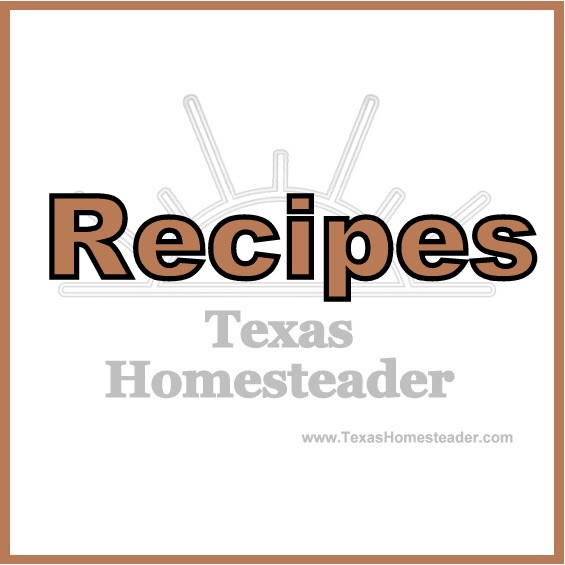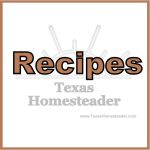 Other Easy Desserts
Cakes, Pies, Cobblers
Muffins, Breads
Cookies
Puddings
Ice Cream & Other Desserts
Dessert Toppings


C'mon by & sit a spell! Come hang out at our Facebook Page . It's like sitting in a front porch rocker with a glass of cold iced tea. There are lots of good folks sharing! And you can also follow along on Pinterest, Twitter or Instagram
If you'd like to receive an email when a new blog post goes live,
subscribe to our Blog!