by Texas Homesteader ~
Many have asked what a typical day on our Northeast Texas Homestead looks like. Of course every day is different, but come along with me and see what a day in the life of this Texas Homesteader looks like today.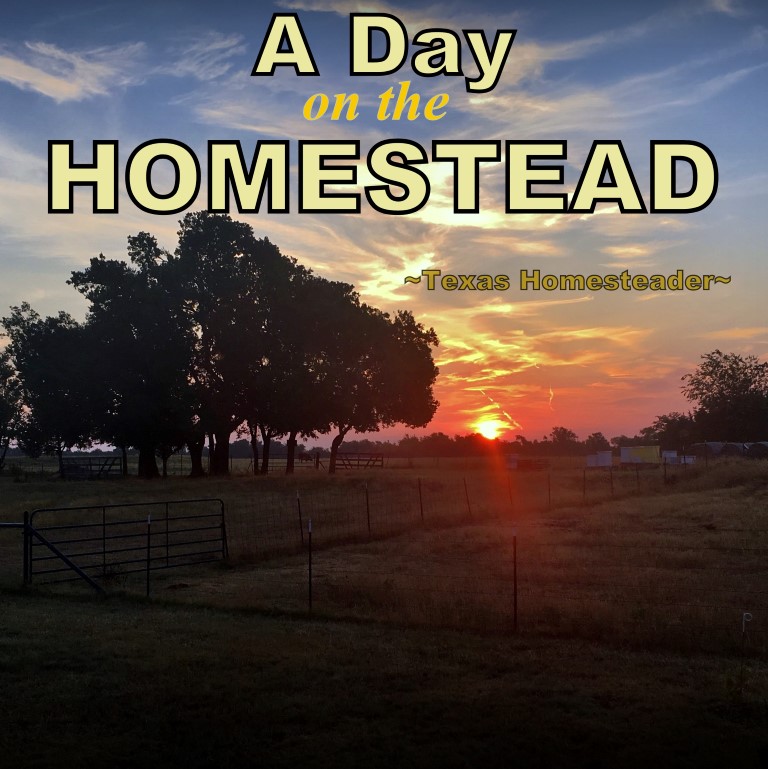 Early Morning Wakeup
Mornings during the hotter months of the year start out early. I need to be doing outside chores during the cool of the morning and stay away from the mid-day oppressive heat & humidity of a Texas summer day.
But when the weather shifts, morning hours slow down. This morning I got up around 5:00 a.m. and started the coffee.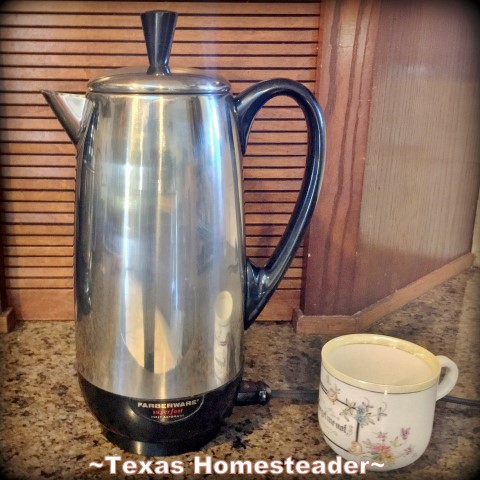 Pre-Dawn Computer Work
When the coffee was ready I pour a steaming cup and walk to my 'office'.
These days my office has a beautiful view! I'll use these early morning hours while awaiting the sunrise to work on our website. Posts are written or updated, photos edited, posts shared on social media channels, etc.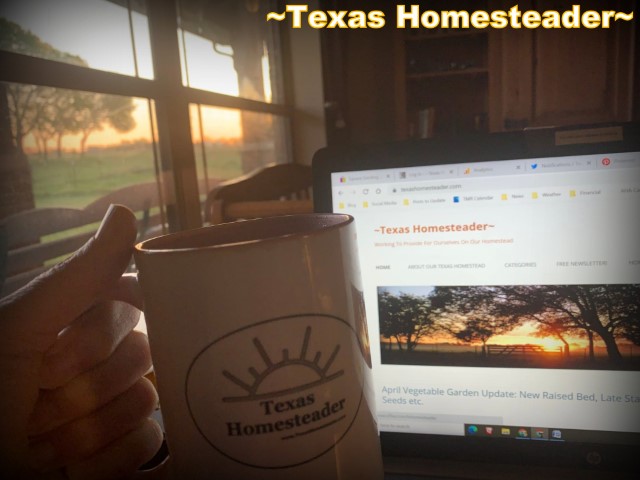 I love this early morning time most of all. It's quiet, calming and productive.
Caring For The Chickens
When the sun comes up I stroll through my garden into the chicken yard. I'll open the chicken feeder containing their layer pellets and often give them a small chicken-scratch treat too.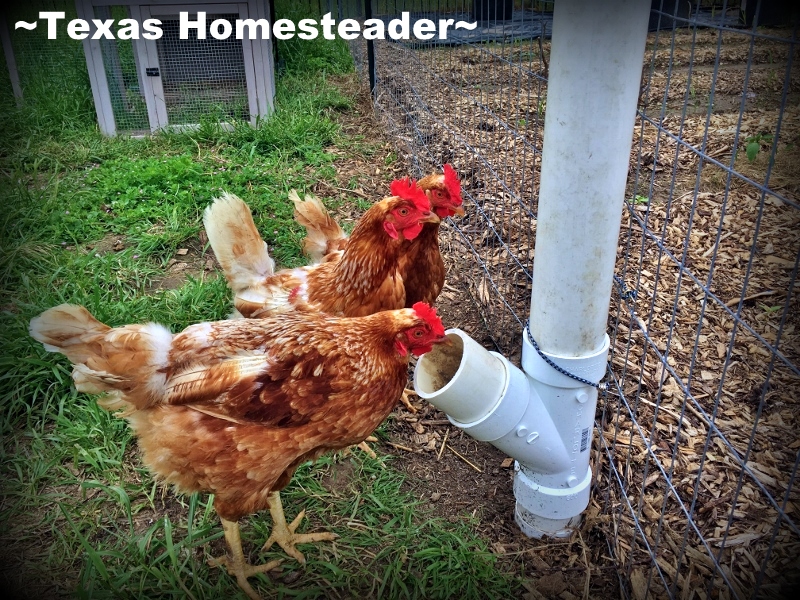 Then I harvest any eggs and clean out their nesting boxes. I find it best to clean out the nesting boxes every day to keep their coop (and their eggs) clean.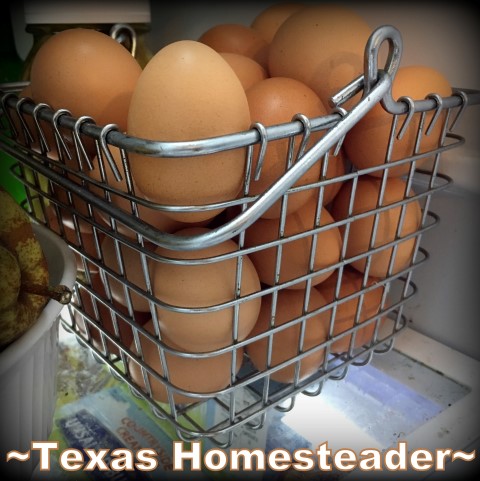 I use a compost tumbler to place chicken droppings/nesting material into. It will make that black-gold compost I love so much and should be ready for the garden in the spring.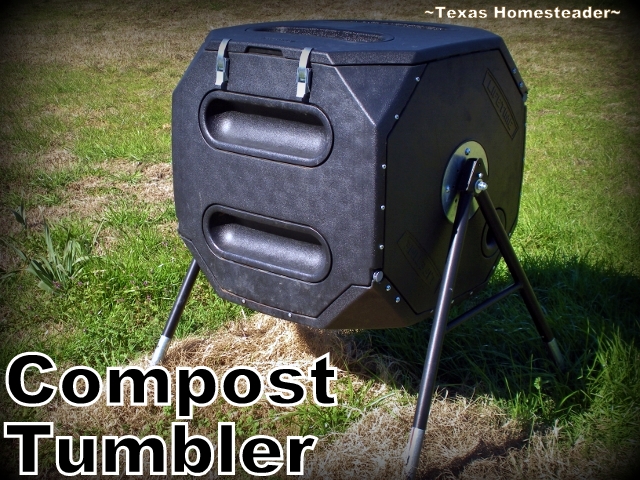 Allowing Chickens Into The Garden
Our chicken yard is attached to our Homestead garden. But it's largely dormant now since the drought this year has eliminated almost everything growing there.
So I've been allowing the hens inside the garden fence to scratch around in the dirt. They're removing bugs, larvae and eggs that could plague next year's garden. And they love their job!
Taking Advantage Of Cooler Mornings
This morning the temperatures were in the upper 60's. So I took advantage of the cooler morning temps and opened a few windows and flipped on the whole-house fan.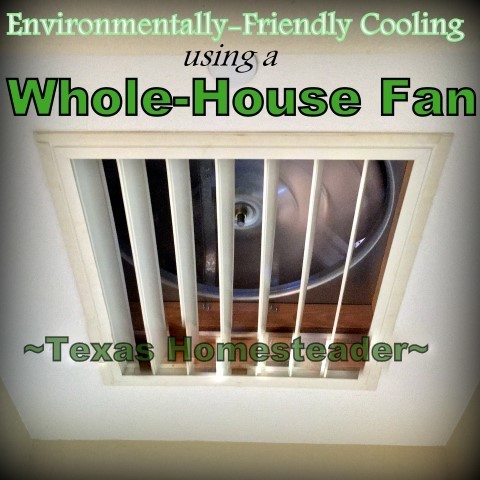 That fan pulls the cooler air through the house and pushes the warmer air through the fan opening and into the attic.
Once the house is cooled we turn the fan off again and close up the windows. Since the temperatures will get into the 90's today this should keep our home cooler without the use of expensive air conditioning.
Pregnancy Checking Cattle
Today's main chore will be pregnancy checking some cattle. RancherMan has already loaded the hay rings and drawn the herd into a pasture closer to the working corrals.
This will make it easier to move a select & move the ones we're testing.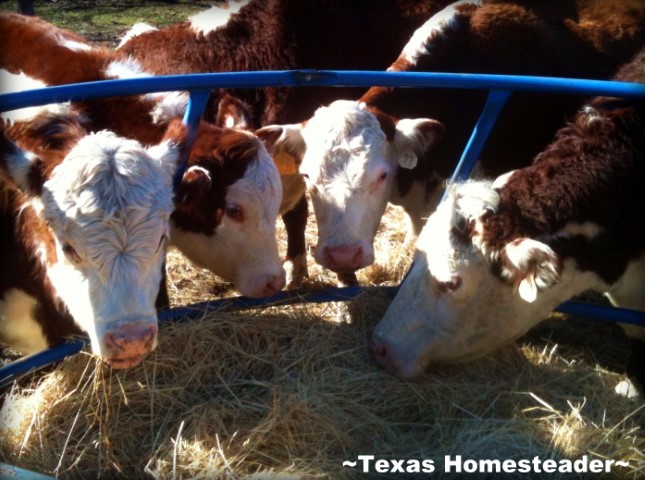 When it's time to test them RancherMan will operate the pasture gate while I take a sorting stick and walk out into the herd.
One by one I'll choose a cow we're wanting to test and walk her toward the gate. RancherMan will open the gate when she gets there and she'll walk on through. It's great having calm cows!
When all cows to be checked are separated we'll take them into the working corrals and pull a small blood sample from them.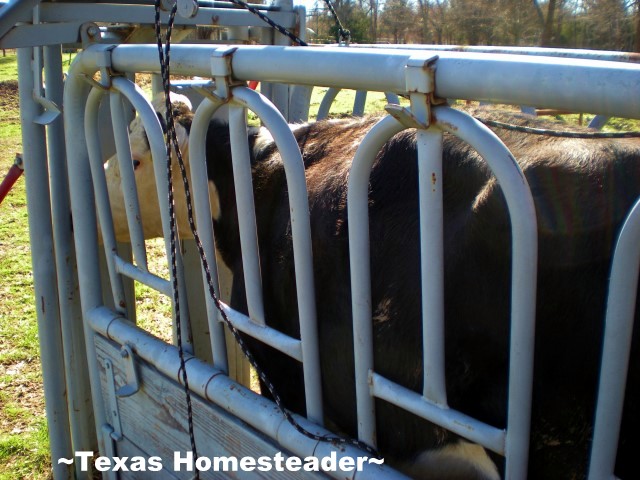 We'll also take this opportunity to look the cows over for any health issues. And today we'll replace some faded ear tags before releasing them back into the pasture with the rest of the herd.
Once back inside we'll mix a few drops of blood with a special chemical to determine pregnancy status.
Older Heifer Blended With The Herd
One of our yearling heifers is finally old enough to put with the bull. So we'll move her from the heifer pasture into the pasture with the main herd.
We want to hold a younger heifer back another month before she's ready to be blended with the herd.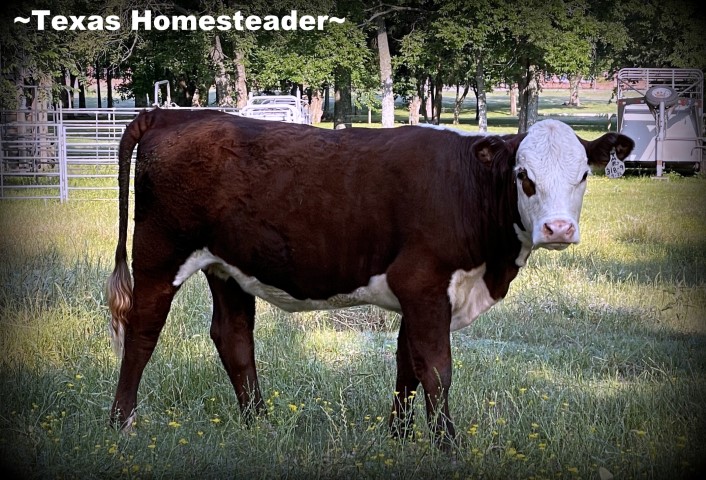 Selling Things We No Longer Use
RancherMan gathered up a few things we'd sold. Selling items we no longer need and getting them into the hands of others who can use them is good for our budget, good for the buyer and good for the environment too.
How We Get By Without A Corporate Paycheck.
Breaking For Lunch
When it's time for lunch I'd decided on a hearty but healthy soup.
I used cooked chicken, a couple of fresh carrots, two red potatoes, a can of veggies, a little water and a bullion cube to make a large pot of soup.
I seasoned it with dried herbs from the garden – oregano, thyme and rosemary. I'll add leftover veggie sides for a few days making my favorite Endless Soup.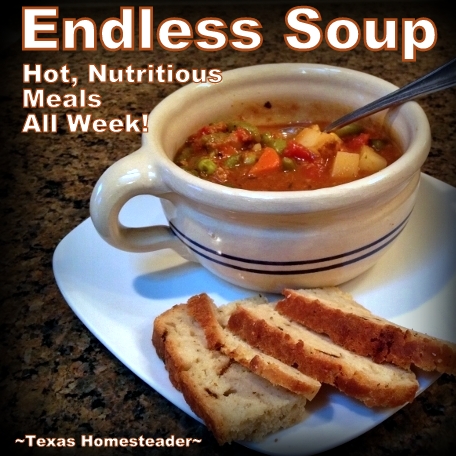 RancherMan scarfed up two hearty bowls and there will be plenty for several lunches. Yea – no cooking for me!
Afternoon Chores
Some days afternoon chores involve fixing fences, gardening, moving hay, checking the bees and such.
But on this day the rest of the afternoon was filled with tidying the house, scrubbing the kitchen, tending to financial matters and planning a supper menu.
The Benefits Of Free-Ranging Our Chickens
The chickens came out of their chicken yard for some free ranging around 4:00. I only allow them to free range for part of the day to keep them closer to the house and more protected from predators.
They spend that time chasing down grasshoppers, crickets and any other little bug they find. It results in fewer bugs, healthier chickens and healthier eggs for us too!
Can you spot the yolks of a free-range chicken's egg compared to a commercially-produced egg in this photo?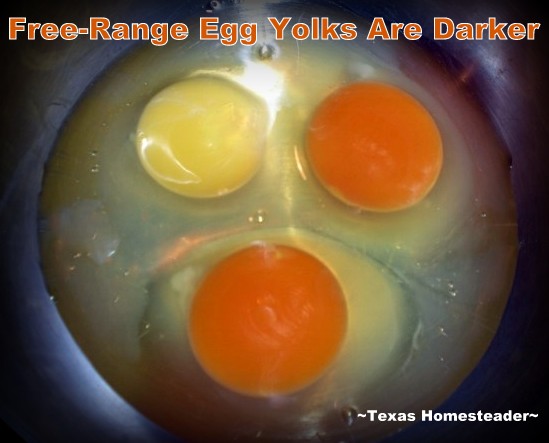 Yeah, that's a win/win!
Planning An Inexpensive Supper
In planning supper I scan the fridge for food needing to be consumed first. I found some leftover BBQ from entertaining family over the weekend and a few slices of our favorite Jalapeno Cheddar Bread.
So I toasted some bread and ladled on the BBQ, topping it with BBQ Sauce.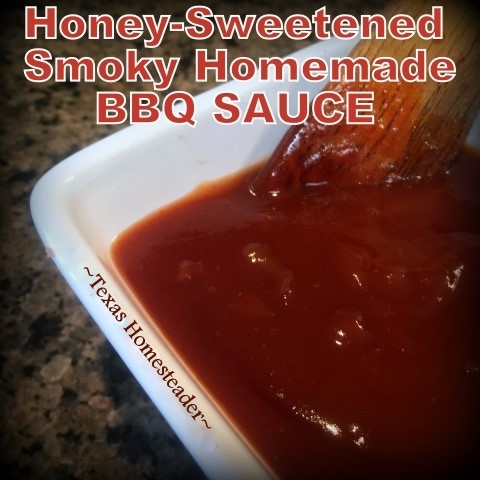 Dee-LICIOUS! And by checking the fridge for supper ideas I've saved time in the kitchen, saved a little money & eliminated food waste as well.
I heated up some leftover baked beans and added a cold salad with chopped boiled eggs & all the veggies plus my favorite One-Minute Creamy Salad Dressing.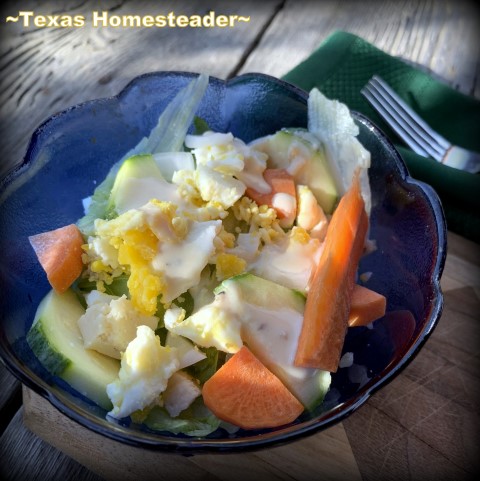 Eatin' well at the Homestead, y'all!
Slowing Down At The End Of The Day
(Note: Some links in this post will take you to other related articles for further information. But links preceded with * are affiliate links. If you click and buy something I could receive a tiny commission.)
Now that supper's done and the kitchen is cleaned, things really slow down. We'll take our showers and spend some relaxing time schnoodling on the couch and watching a little TV.
We're currently streaming the series 'Bull' from Amazon Prime and enjoying it immensely. It's a drama inspired to the early career of Dr. Phil.
And since we have Prime we're watching it commercial-free as part of our normal Prime membership.
NOTE: If you don't already have it, you can totally *Try Amazon Prime For FREE for 30 days. Then place Amazon orders & get your free shipping, etc. Keep prime for 30 days FOR FREE & try it out – streaming movies, music, free shipping – the whole 9 yards! If you don't want to continue you can cancel within 30 days and pay nothing for the Amazon Prime membership trial run.
Finally with a yawn it's off to bed. Tomorrow will be a brand new day!
~TxH~
Other Homesteading Posts
Old Homesteads/Past Lives
Self Sufficiency
Animals, Chickens, Cows
Gardening/Food
Precious Resources/Conservation

C'mon by & sit a spell! Come hang out at our Facebook Page. It's like sitting in a front porch rocker with a glass of cold iced tea – lots of good folks sharing! You can also follow along on Pinterest, Twitter or Instagram.
If you'd like to receive an email each time a new blog post goes live it's EASY to
Subscribe to our blog!