by Texas Homesteader ~
I've learned how much healthier free-range eggs are. But I've learned so much more about them too. Read all the benefits of raising your own backyard flock of free-ranging chickens.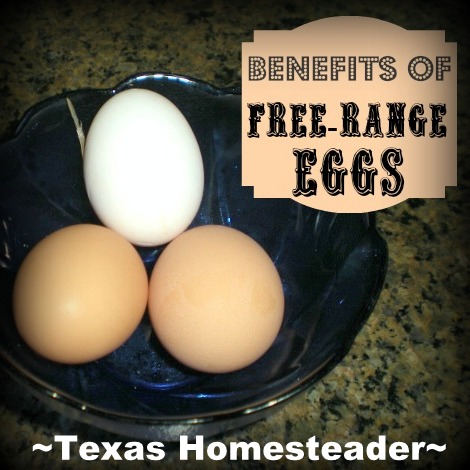 Enjoying Freshly-Laid Eggs
We love eggs and eat them often. Some of our favorite ways:
How Often Do Chickens Lay Eggs?
RancherMan & I are slowly learning what veteran chicken-raisers have known all along about raising our own chickens. And about fresh free-range eggs.
I learned that it took our Ideal 236 breed chicks 21 weeks to be old enough to produce their first egg.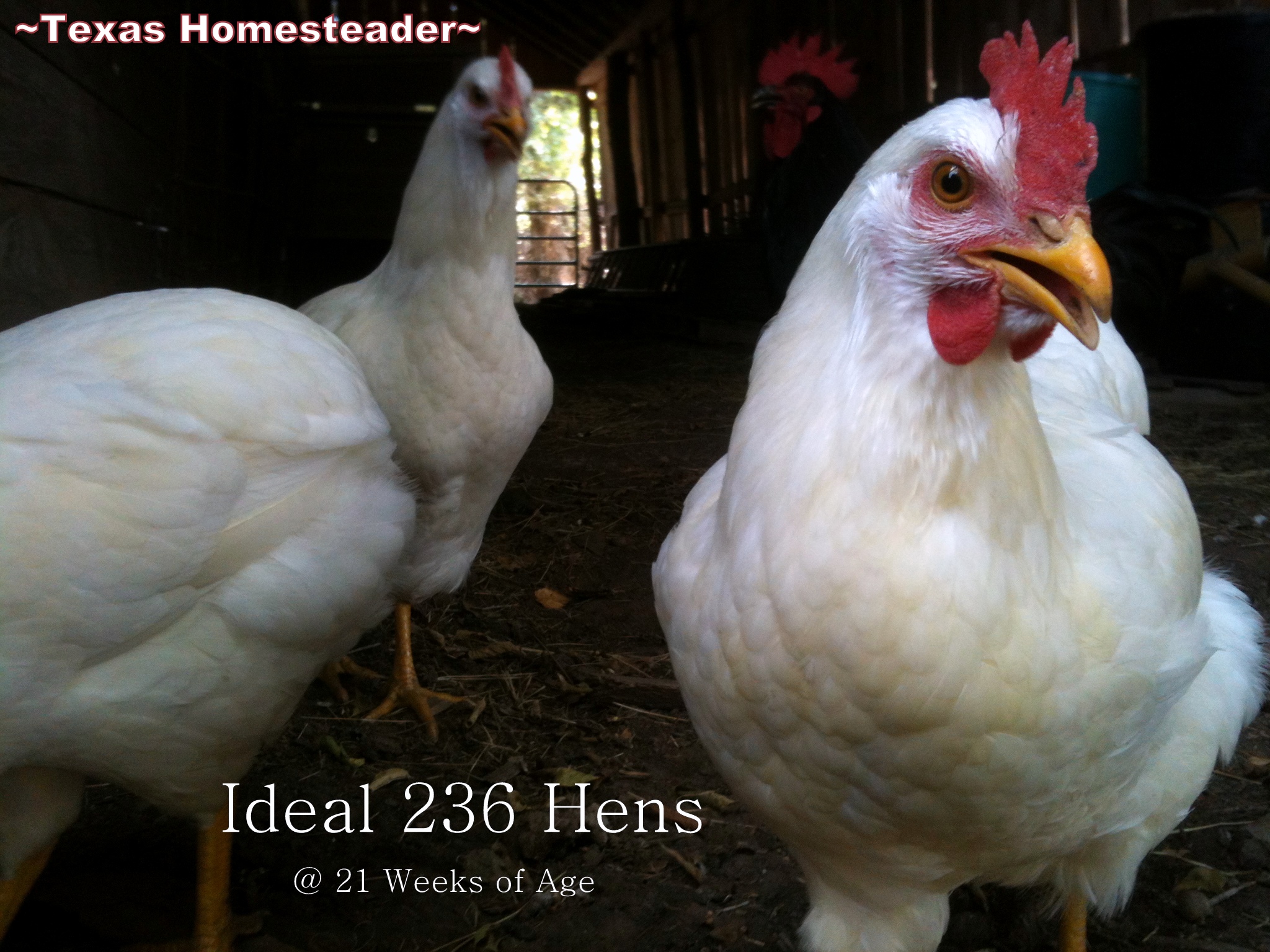 And I also learned that chickens don't just lay eggs in the morning. In fact their egg-laying time isn't even a balanced 24-hour time span. (or maybe they just like to sleep in from time to time – who knows?? LOL)
But I learned even more about the eggs themselves. For instance I didn't know:
How To Tell What Color Eggs My Chicken Will Lay?
Although there's no difference in taste or nutrition whether white shell or colored shell, I was very surprised to learn that the color of the shell was dictated by the color of the chicken's ear lobe. I'll admit I didn't even know chickens HAD ear lobes!
Chickens with white lobes usually produce white eggs and chickens with red lobes usually produce brown eggs.
Note in the first picture above that I have 2 brown eggs and one white. Sure enough, we had three Ideal 236 chickens, two with red lobes and one with white. Fascinating!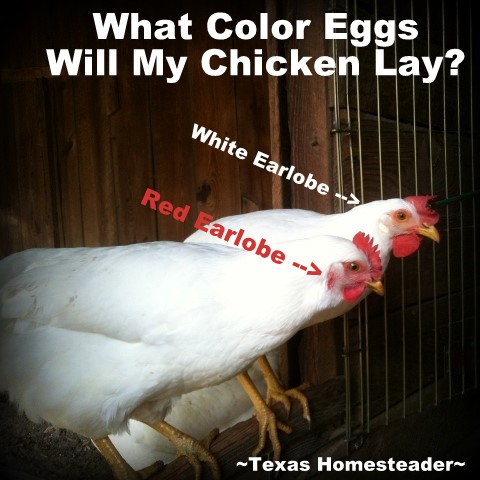 Are Free-Range Eggs Healthier?
Free-range eggs are actually much more healthy than their commercial counterparts according to an article in Mother Earth News.
The article stated that pastured poultry lay more nutritious eggs which contain less of the bad stuff:
1/3 less cholesterol
1/4 less saturated fat
Not only that but free-range also contain much more of the GOOD stuff.
2/3 more vitamin A
Twice as much omega 3 fatty acids
3 times the vitamin E
A whopping 7 times more beta carotene
4-6 times more vitamin D
Difference In Look & Taste Of Free-Range Chicken Eggs
Free-range eggs look and taste distinctively different than store-bought eggs. Can you tell in the photo below which of the 3 eggs are from our free-ranging hens and which is a store-bought egg?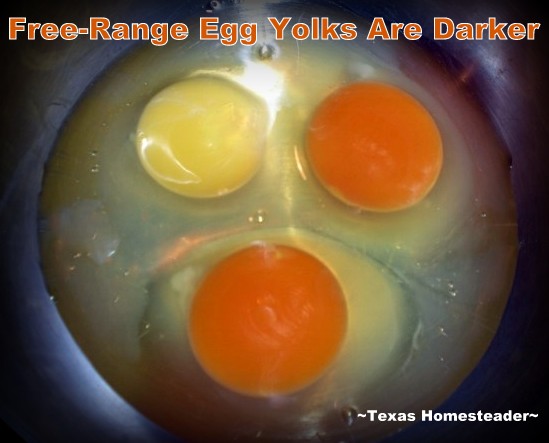 Free-range eggs typically have a much darker yolk. It's said that's due to their healthier natural diet that includes plenty of greens and the protein of bugs & such.
And the difference in taste of a free-range egg vs a store-bought egg is comparable to the difference in taste of a garden tomato vs a store-bought tomato. 'Nuff said!
Do You Need To Wash Your Backyard Chicken Eggs?
After the chicken lays the egg its shell is protected by a coating of an invisible substance called 'bloom'. This magical protection seals the egg from outside bacteria, but even a tiny bit of moisture will remove it.
It's said that as long as you don't wash the egg, it doesn't even need to be refrigerated. It makes sense – when the chicken lays the egg it goes into a state of suspended animation as she lays a new egg in her nest every day.
After several days the hen goes broody & sits on the eggs. Obviously her eggs don't rot in the nest. All fertilized eggs will then proceed to grow into baby chicks.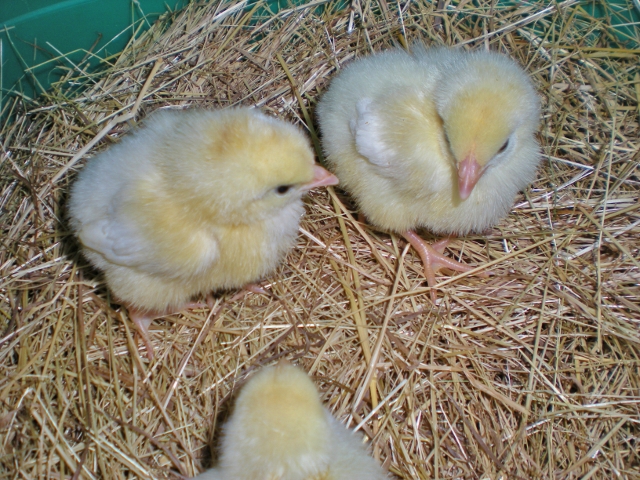 Because we remove the eggs each day there's no opportunity for an accumulation of eggs but it's fascinating how nature works!
It's said that store-bought eggs MUST be kept refrigerated because the commercial eggs have been washed, therefore removing the bloom.
But free-range eggs don't even have to be refrigerated as long as you don't wash them. For this reason it's helpful to keep the nesting box clean of any droppings so the eggs will stay clean.
But even if there is a spot of mud or droppings on the egg when I retrieve it, I'll only wipe it with a dry cloth when I bring it into the house. Any washing of the egg will have to hold off until I'm actually ready to use it.
There are many who say free-range eggs will stay fresh for weeks without refrigeration because of the bloom. Supposedly in many countries fresh eggs are never refrigerated.
But to be honest, I still put my chicken's eggs in the refrigerator because I just can't wrap my head around NOT refrigerating them.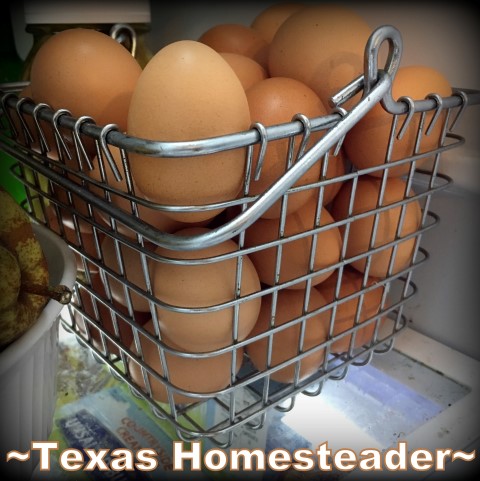 Raising Chickens Every Year
We enjoyed our chickens so much last year that we decided to raise chickens every year. We bought young pullets and are already seeing the first small eggs coming from them.
I'll keep RancherMan supplied in egg salad for sandwiches and of course we'll offer to bring the deviled eggs to any luncheon we're invited to.
I'll also begin freezing the eggs again to preserve the overage. And if they produce well enough I might sell my extra eggs to others. It will not really be much profit, but I'm looking for just enough to cover some of the chicken's expenses.
We love having chickens, they're so interesting to watch. And they forage for bugs and scorpions around the house – gotta love that. Oh, and then there's those fresh eggs to enjoy too…
~TxH~
Chicken-Care Posts


C'mon by & sit a spell! Come hang out at our Facebook Page. It's like sitting in a front porch rocker with a glass of cold iced tea – lots of good folks sharing! You can also follow along on Pinterest, Twitter or Instagram.
If you'd like to receive an email each time a new blog post goes live it's EASY to
Subscribe to our blog!
Save
Save