by Texas Homesteader~
*contains affiliate link
Most people know that chickens slow down their egg production in the winter months. So I'm trying to preserve the more-than-we-can-use quantity of eggs I'm blessed with now for those leaner times.
I've written before about preserving the eggs from our pastured flock by making a large batch of breakfast burritos and freezing them. They make a quick grab-n-eat meal before church so your stomach isn't rumbling so loudly the sermon can't be heard!
But you can only eat so many breakfast burritos. So I began looking for other ways to preserve those precious eggs so that none would go to waste.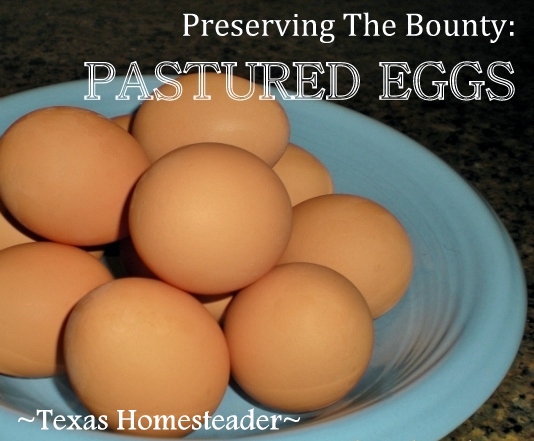 I know you can't freeze eggs in their shell. But I found that they freeze very well out of the shell. Here's what I did:
I took out a single egg, cracked it into a bowl and mixed it up with a fork. Then I poured that single egg into a silicone muffin baking pan. I didn't add anything additional – no milk, no seasoning. Just egg.
Planning To Easily Remove Frozen Eggs
I repeated the procedure six times to fill up the muffin pan. Then I placed my pan on a small baking sheet to support it and set it in the freezer to allow it to freeze overnight.
The next morning I brought out the muffin pan and popped the frozen egg disks out of the pan.
(Note: Some links in this post are for further information from earlier posts I've written. But links preceded with * are affiliate links. If you click them and buy something (almost anything, not just the item noted) I could receive a small purchase. But the price you pay will NOT change. It's an easy way to support this blog without anything coming out of your pocket. So click often! Thank you!)
The large size of the muffin cups makes for a nice thin disk that will thaw quickly when needed. And the flexibility of the silicone pan helps make popping out the frozen disks an easy thing to do.
I found these *muffin pans
on Amazon. They were cheap and they're SO HANDY!
Labeling Frozen Contents
Once they were all popped out of the muffin pan I froze them in a repurposed bread bag. And that bag was further enclosed in a sturdy freezer bag.
Now you all know that when things hit the freezer it's often impossible to tell that frozen chunk of food is.This is where my double-bag freezing system shines.
Not only does it doubly-protect against freezer burn but the area between the two bags gives me a space to slip in a piece of paper documenting what's enclosed. The paper indicates that each disk is 1 egg.
But ya know, I do this for everything that hits my freezer, and yes I think I'm clever – LOL!
Using My Previously-Frozen Eggs
When I need to cook with them I know each disk is one egg. I simply bring out the number of eggs I need for my recipe, pop them into a bowl and allow them to thaw in the fridge overnight. It's preferable to be able to plan ahead for them to thaw in the fridge but if I need it quicker I can pull out the number of eggs I need and place them in a bowl set on the counter for a short amount of time to allow them to thaw.
Since these eggs were frozen VERY fresh, a short time to thaw on the counter shouldn't be a problem. But of course you don't want to leave them out too long – food safety is important!
The thin disk size frozen from my large muffin pan thaws pretty quickly so I've never had a problem. But a thicker chunk of frozen egg would take longer to thaw. So please use caution & plan ahead.
So there ya go – if you find yourself with more eggs than you can eat fresh or there's an amazing sale on eggs that you just can't pass up – save a few bucks by preserving them for later!
~TxH~
Other Kitchen Hacks


C'mon by & sit a spell! Come hang out at our Facebook Page. It's like sitting in a front porch rocker with a glass of cold iced tea. There are lots of good folks sharing!
And you can also follow along on Pinterest, Twitter, Instagram
If you'd like to receive an email when a new blog post goes live,
subscribe to our Blog!
*Amazon affiliate
* A word about our Affiliate Link – We are currently enrolled as an Amazon Affiliate. Occasionally I will insert an affiliate link into one of my posts if I think it may be of interest to you, I receive nothing from the manufacturer. If you click on any of my affiliate links and buy something (almost anything, not just what was linked) I get a small referral percentage from Amazon. But here's the really important part – the price you pay for your items is UNCHANGED.
When you buy something through the affiliate link it's a great way to support this blog without anything coming out of your pocket so please click often!
Save