by Texas Homesteader ~
*contains affiliate link
Recently I was trying to chop some purple onions for the freezer. I had so many of them and used as many as I could fresh.
But I also wanted to make sure they didn't go bad before I could use them all. Plus it's so nice to have chopped onions as close as my freezer to simply toss into any recipe.
As I was trimming those tough neck parts & the hard-to-chop dense section on the bottom where the roots once were, I paused before I tossed the wasted parts into my compost bucket.
There might still be a way to put these wasted parts to good use…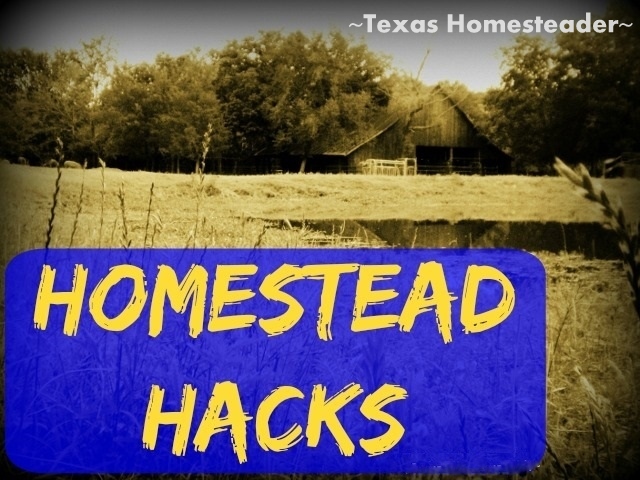 I've written before about using a warm but turned off oven to dehydrate small amounts of veggies for free. I can then just place those dehydrated veggies into a jar and rehydrate them at a later time to use in my Endless Soup, etc.
But I always toss these onion trimmings in the compost bucket. These tougher parts of the onion are not really useful in cooking.
Or ARE they??
What if they were ground into a powder? I've done this with white or yellow onion parts from garden trimmings but maybe I can also use these purple onion parts… I'm going for it!
Dehydrating Tougher Onion Trimmings
I took all the tough trimmings and placed them on my small cast-iron comal (a shallow cast-iron skillet). Since I was cooking supper at the time, I put that comal in a still-hot but turned off oven to use residual heat to dehydrate them for free.

When they were completely dry I tossed them into an *electric coffee grinder that I use for just this purpose.
Well, I actually have several different coffee grinders for various grinding purposes. It's one of my most useful kitchen appliances that's not actually used for its intended purpose. LOL!
I ground the dried onion pieces finely and voila – purple onion powder!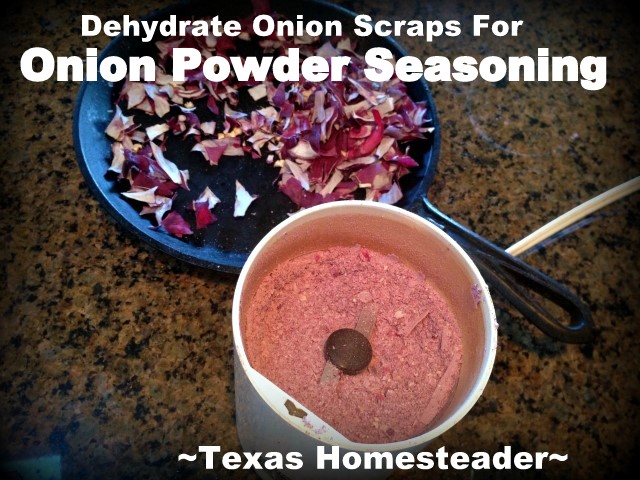 I placed the powder in a repurposed spice bottle, slapped on a label and BOOM!
Back in 'the day' I used to buy onion powder for convenience in adding onion flavor to different dishes. But using this procedure I haven't bought the commercial stuff in years.
I love that because I used the more colorful outer layers the onion powder is a brighter color. I know it will add a richer color when I use it to season beef stew or the like.
Plus it's just one more way to REDUCE FOOD WASTE and you've gotta love that!
~TxH~
Other Kitchen Hacks


C'mon by & sit a spell! Come hang out at our Facebook Page. It's like sitting in a front porch rocker with a glass of cold iced tea. There are lots of good folks sharing!
And you can also follow along on Pinterest, Twitter, Instagram
If you'd like to receive an email when a new blog post goes live,
subscribe to our Blog!
Save
Save