by Texas Homesteader ~
*contains affiliate link
Five is not a large number, and 5 frugal things aren't difficult for most households to accomplish. I'm hoping this short list of easy frugal things we did at our own home one day might inspire you to look at your own tasks. Perhaps you'll start tackling just 5 easy things to save money in your own home.
As an added bonus, almost always those money-saving tasks are environmentally friendly as well. So without doubling your effort you're able to double your effect! Gotta love it, right?? See what today's short list of 5 frugal things are in our home…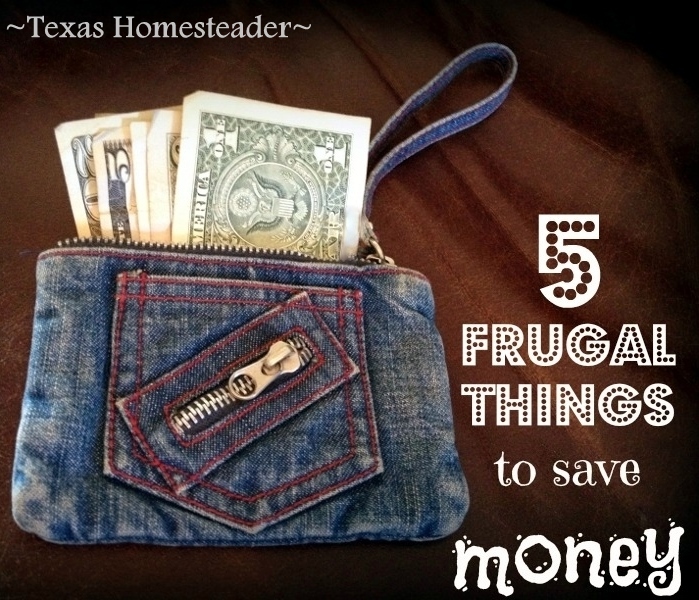 Keeping My Beautiful Bedspread – First if you Follow us on Facebook you know I repaired our bedspread instead of just tossing it and buying another one. You see, these days bed coverings have almost completely gone to comforters and while those can be beautiful it's not the look we wanted. Do you know how hard it is to find an actual bedspread anymore??
Anyway, we bought this one oh-so-many years ago & I've always loved it. It reminds me of the ones I had on my bed as a child. But over the years the top suffered several torn / frayed places where we'd pulled it up to cover ourselves or make the bed each morning.
Now back in 'the day' I might have simply shaken my head over the lost spread, tossed it in the trash and gone shopping for another to replace it. But over the past several years I've become very aware of my environmental self and it no longer makes sense to throw away this 'whatsit' to buy another 'whatsit' to replace it when I still LOVE this one.
So I folded down the top & sewed several reinforcements along a very thick 6″ deep hem thereby reinforcing the top, stabilizing the frays and giving my favorite bedspread many more years of faithful service! Don't you think it looks great with my grandmother's handmade quilt folded at the foot of the bed?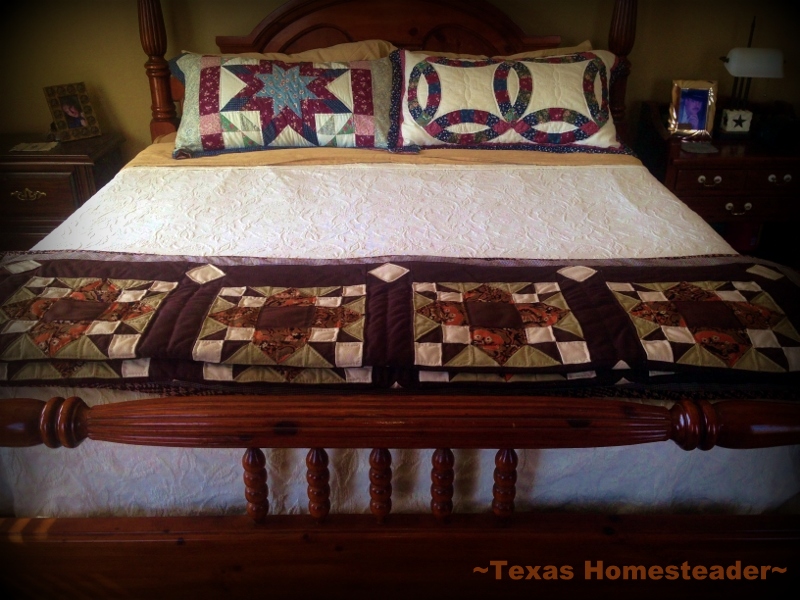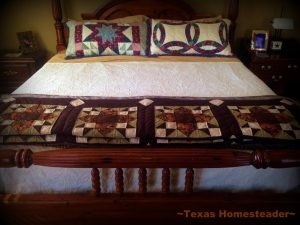 Soup Bones For Broth – I made broth with wild pork soup bones returned to us from the meat processor. I'll chill the broth overnight so I can skim & pressure can it for the pantry tomorrow.
Sun Tea Brewed For FREE! – I also took advantage of a warm sunshiny day & made sun tea. I use this large picante jar to make my sun tea because the hourglass shape just makes it easier and safer to carry in & out of the house.
I simply place filtered water in the clean jar, add my tea bag & set it outside during a sunny day. Even though the temps only got to the lower 60's the solar effect in the jar still brewed my tea for me.

Tea is a very inexpensive beverage choice in our household. And the used tea bag simply goes into my *tumbling composter. So there's not even any waste heading to the landfill. Using a repurposed container & sending nothing to the landfill makes my crunchy green heart happy.
(see notice about sun tea at the end of this article)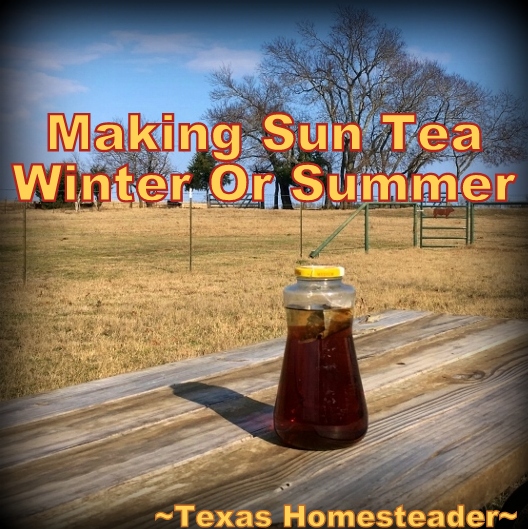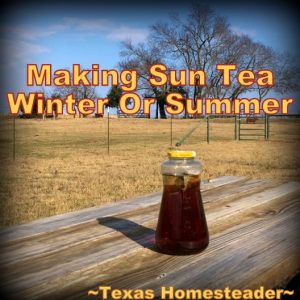 Sell Unused Items For Someone Else To Love

– RancherMan & I scoured our garage for still-useful items that we were no longer using and took them to the local auction. They will sell those items, take a small percentage for their efforts and we'll get a check. Garage cleaned plus cash in the bank? Double win! (high fives all the way around, y'all!)
Simple Clothing Repairs – I repaired the shirt RancherMan snagged on the barbed wire while he was running the rototiller in the garden in preparation for veggie planting. I am first attempting to repair it using a patch cut from a dryer sheet (similar to the way they use this type of patch for embroidery) and some fabric no-sew glue. I'll see if this holds it and if not I'll have to buy matching thread & try to sew the rip closed. But actually sewing the repair would make the repair much more visible. Fingers crossed that this seam-glue patch works!
There are many more things that we do in the natural rhythm of our days that can be considered frugal. Things such as cooking supper from scratch and putting on a light sweater instead of turning up the heat during the cool of the morning. But this is a quick list of 5. I figure five frugal things is easy for anyone to incorporate into their day. And the more you do so, the more it just becomes part of life.
What frugal victories did you accomplish today? Are you finding it easier to incorporate frugality without giving it much thought anymore?
~TxH~
Other Frugal Tips
…and many MORE!


C'mon by & sit a spell! Come hang out at our Facebook Page. It's like sitting in a front porch rocker with a glass of cold iced tea. Lots of good folks sharing! You can also follow along on Pinterest, Twitter or Instagram.
If you'd like to receive an email each time a new blog post goes live it's EASY to
subscribe to our blog
Save
Potential Sun Tea Concerns
There are some who have commented that brewing sun tea does not allow it to get hot enough to kill the bacteria in water. It's said that it must be boiled 3-5 minutes in order to be safe, then refrigerated immediately until consumed. So as I typically do, I went to the experts – my extension agent.
Apparently according to my extension agent (who is an AWESOME resource) the source of potential problem microbes isn't the water, it's the actual tea leaves. She recommends bringing the water to 195 degrees and steeping the tea for 3-5 minutes, then pouring into a pitcher over ice & refrigerating.
Of course you'll want to use your own judgement about making sun tea. If you have concerns about your individual health, your doctor is always your best source of advice.
For us, sun tea is still king. I continue to make sun tea several times each week, the same as I've done for years.